Looking to spend a weekend in Penticton? We've got the perfect 3 day Penticton itinerary for you!
While 3 days in Penticton doesn't offer a lot of time, it does provide enough to experience some of the best places in the city.
Crafted with years of experience hosting friends and family in our home city, this 3 day Penticton itinerary has been put together with first time visitors in mind. It offers a great introduction to the city and features some of our ultimate favourite things to do.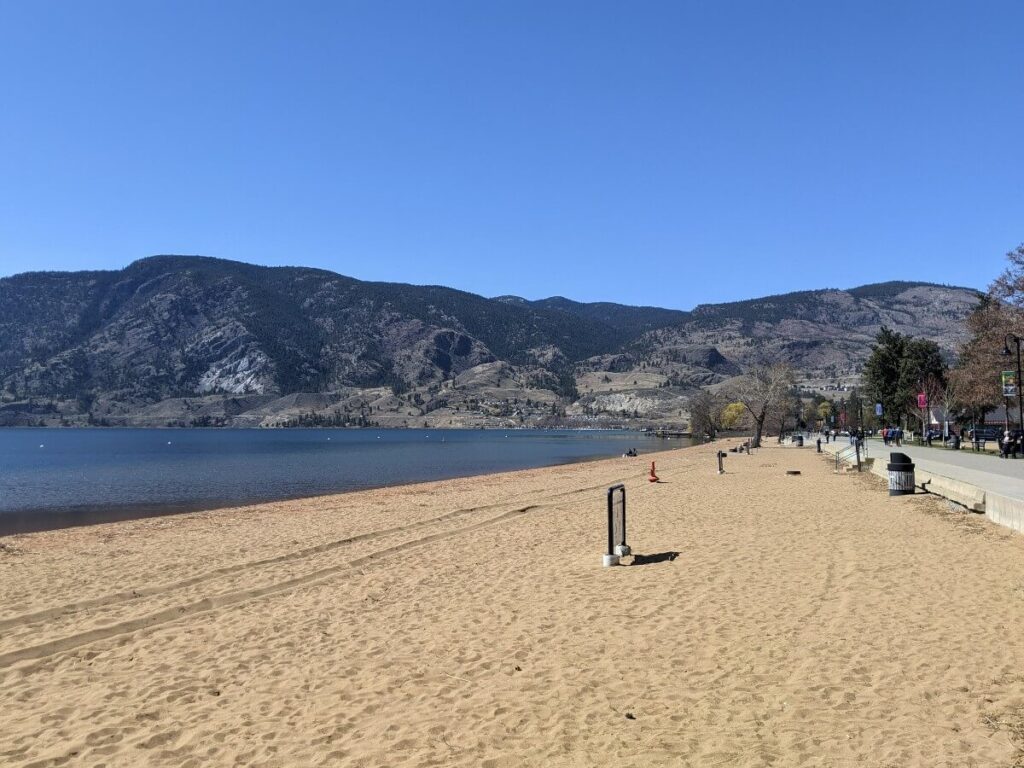 Last updated June 2022. For the most up-to-date information, contact individual businesses before visiting. There are some affiliate links in this post. If you make a purchase, we may receive a small percentage of the sale.
The Best Itinerary for a Weekend in Penticton
This Penticton weekend itinerary includes three days of activities and restaurant recommendations. It's designed to be tweaked to your own preferences and requirements.
Please note that while it is possible to do many of the following activities all year round, this 3 day Penticton itinerary is best suited for visitors arriving in the warmer months (June, July, August and September).
Not a first time visitor to Penticton? You may still find it helpful to plan how to spend 3 days in Penticton.
Day 1 – Afternoon
Anticipating a late afternoon arrival, this 3 day Penticton itinerary will start slow. Before or after checking in at your accommodation, take a trip to Munson Mountain. The parking lot is just a few minutes drive from downtown Penticton. This small detour has a huge payoff.
Munson Mountain is an extinct volcano offering panoramic views across the city and both lakes, as well as the rugged mountains beyond. It's also home to the iconic Penticton sign, which can be spotted from miles around.
Visiting Munson Mountain provides an excellent overview and orientation for the rest of your weekend in Penticton. Best of all, it's very approachable too. The first views are seen within three minutes after leaving the parking lot, accessed via a completely flat, paved pathway.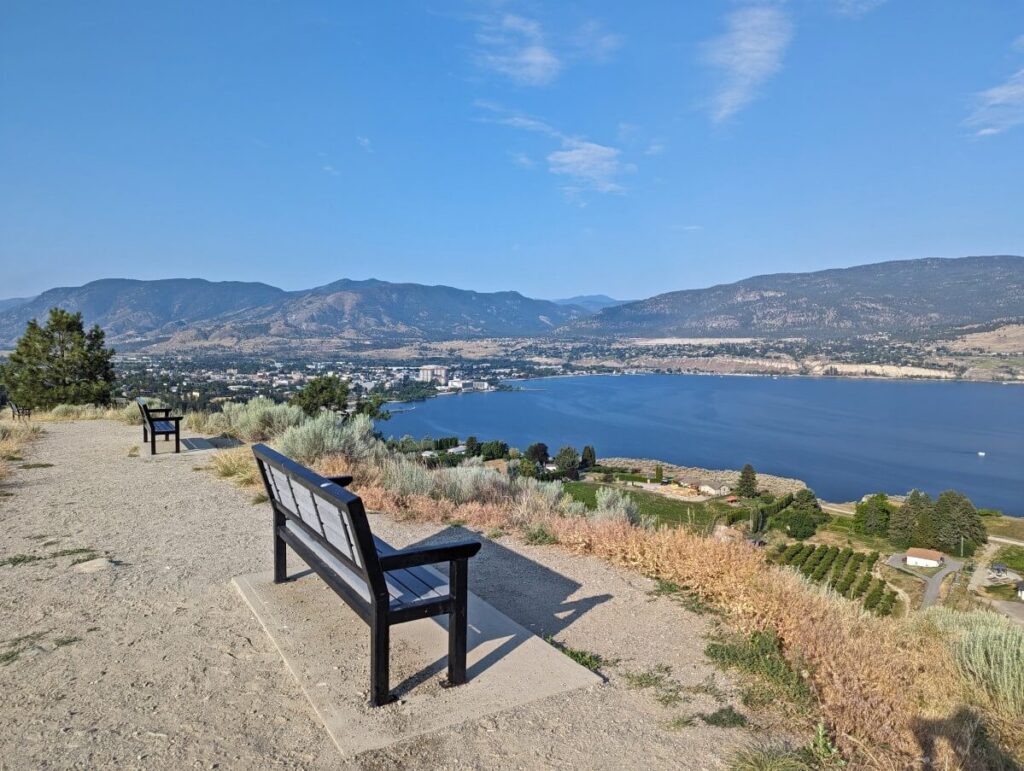 Day 1 – Evening
It's time to celebrate your arrival in Penticton! As well as as good selection of bars and restaurants, Penticton's downtown core is home to five excellent craft breweries.
Each of these breweries have at least one patio, offering the chance to enjoy a tipple or two in the evening sun. Food is also available, so you can stay for dinner or move on to another spot.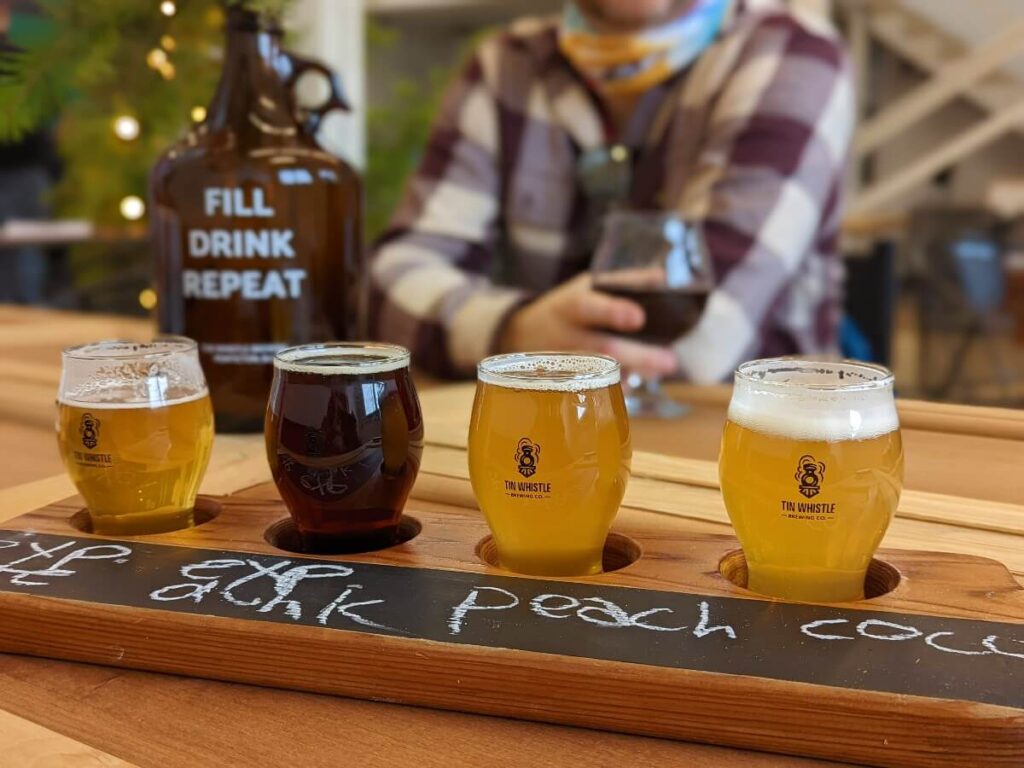 If you have your heart set on a particular destination (or time), I would suggest making a reservation during the summer months.
Our favourite downtown (or downtown adjacent) restaurants include: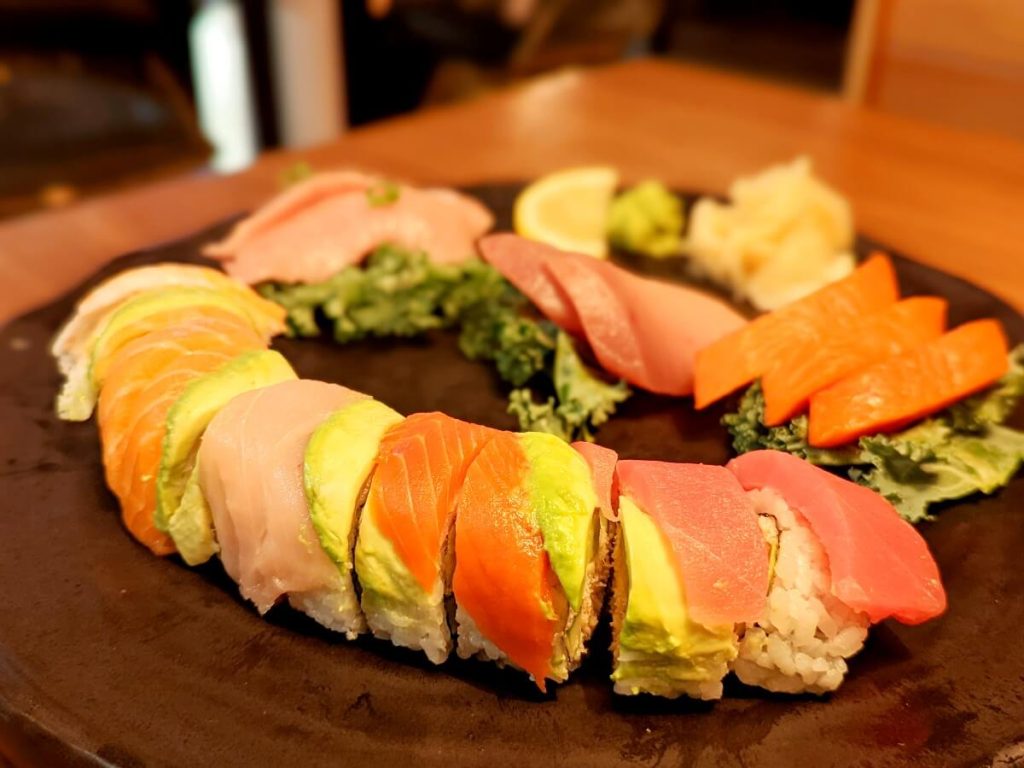 If leaving the downtown area is an option, consider Sonetto at Play Estate Winery, which specialises in upscale Italian dishes. The elevated location is absolutely stunning with incredible panoramas of Skaha Lake and surrounding mountains.
Looking for more dinner ideas? Check out our Penticton restaurant recommendations.
Day 2 – Morning
Start your second day in Penticton with the Penticton Farmers' Market.
Located on the 100 block of Main Street (next to Gyro Park), it runs from 8.30am to 1pm every Saturday from mid April to the end of October. Expect to see up to eighty vendors proudly presenting products that have been made, baked or grown.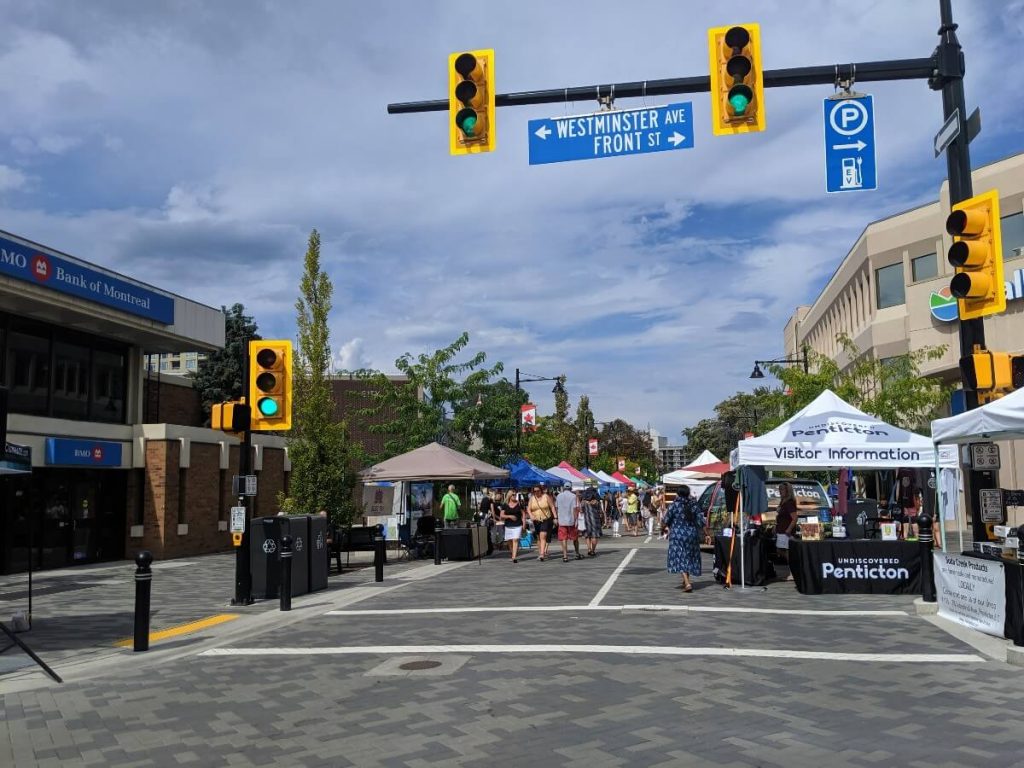 The Farmers' Market is joined by the Downtown Community Market from early May to late September. Adding another three blocks of local vendors and food trucks, this combined market is one of the largest in British Columbia.
Expect to spend an hour or two here, longer if you stop to enjoy a coffee or a snack. Seis Ceilo is located right on Main Street, with Wayne and Freda just a short walk away. For something more substantial, head to Loki's Garage for the tastiest brunch dishes in town (go before the market as it does get busy).
When visiting the market in the summer months, be sure to bring a hat, sunscreen and water. There isn't a lot of shade. It helps to visit the market earlier rather than later (before 10.30am). This is the best time to go regardless as some of the most popular vendors sell out early.
Day 2 – Afternoon
Saturday afternoons are for wine tasting (not into wine? Read ahead to day 3 and fill your second day with these activities instead).
The Naramata Bench, one of the best wine regions in Canada, is only a short drive uphill from downtown. Nicknamed 'Napa of the North,' there are more than 40 boutique winery tasting rooms located along this 15km long stretch of agricultural land.
The easiest way to go wine touring is to take a guided wine tour. The main benefit, of course, is the built-in designated driver. Wine tours also offer the chance to learn some local, insider knowledge about the wineries. The comfortable, air conditioned transportation is a bonus as well.
If you're planning to explore independently, anticipate visiting four or five different wineries. The pandemic resulted in many wineries introducing reservation systems. Most still accept walk-ins but guests with reservations will always have priority. If you don't want to wait around, consider making reservations.
With so many wineries to explore, there's sure to be one that is the perfect match for you. We love Origin for its modern yet down to earth vibe, reasonably priced wines and excellent views. D'Angelo Winery is a great pick if your group prefers red wines.
Lunch is taken on one of the many winery patios or lawns. Be sure to have a reservation for the winery restaurants on weekends in July and August. If you're a group of more than four people, I would reserve during the week too.
Day 2 – Evening
After a fun afternoon on the Naramata Bench, it's time to return to lake level and relax at your accommodation before dinner.
If you have the time, I'd suggest taking a short stroll along Okanagan Lake before dinner. Start at the western side of the promenade, at the historical SS Sicamous sternwheeler. Continue 1km along the paved lakeshore to the Peach or turn around when desired. Art sculptures line the month, with new contributions every year.
In the summer months, I'd highly recommend having a reservation for dinner on Saturday night.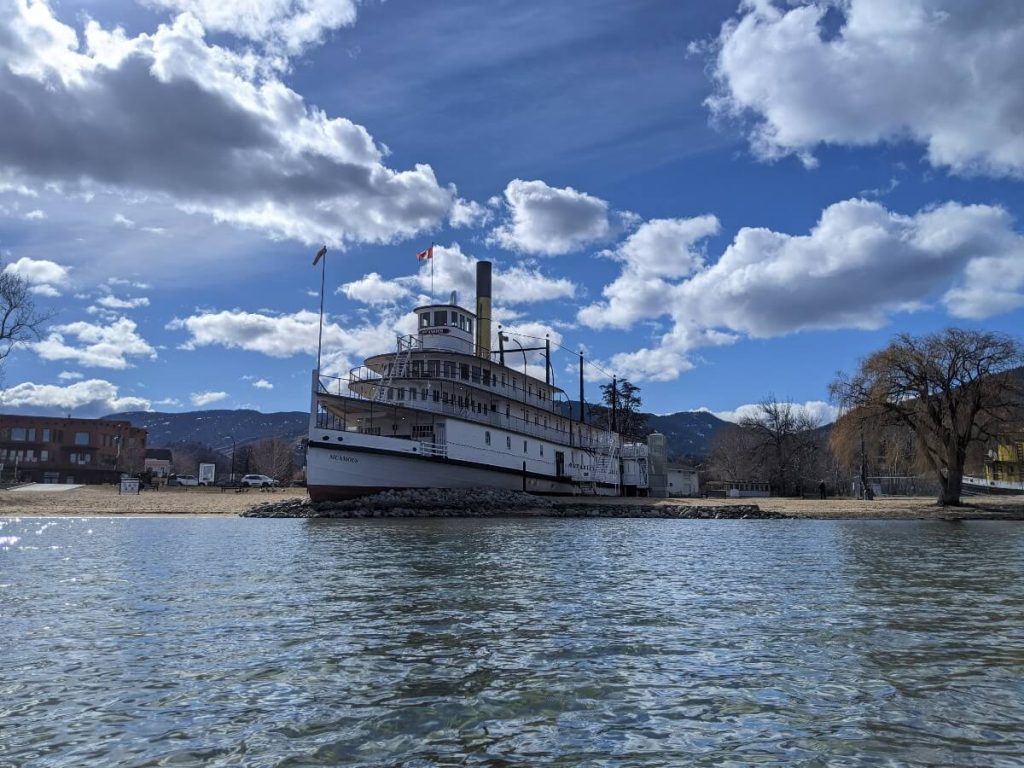 Day 3 – Morning
Today is a relaxed day, designed to provide some down time before heading home. As all good Sundays begin, this one starts with brunch. There are many great local options for brunch in Penticton, with our favourite being Loki's Garage.
This relatively new restaurant serves the best Eggs Benedict in town, as well as other brunch classics like Chicken and Waffles. Dishes have an exceptional level of execution, with perfectly cooked eggs, fresh made-that-morning bread, homemade hollandaise and more. Portions are generous and prices very reasonable. Be sure to get there early.
Alternatives include the Hooded Merganser and the Nest. The Hooded sits on stilts above the surface of Okanagan Lake, offering some of the best restaurant views anywhere in Penticton. Both brunch spots make their dishes with as many local ingredients as possible.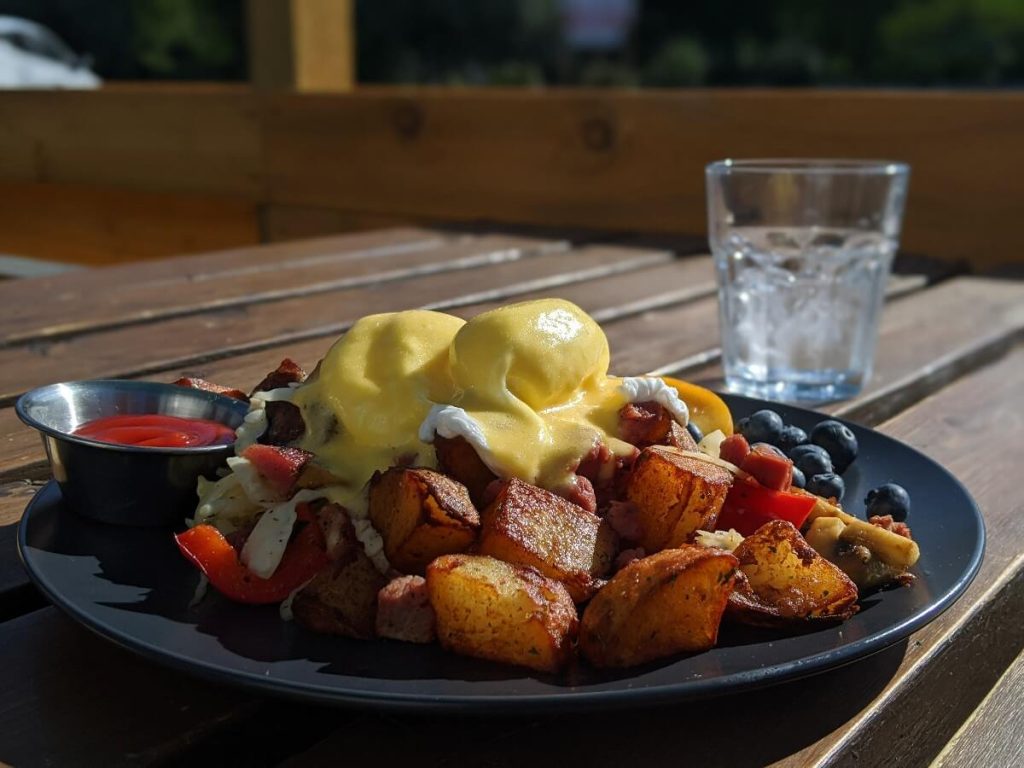 Day 3 – Afternoon
For the rest of your time in town, plan to stay close to the water. That could mean spending a few hours at one of Penticton's excellent lake beaches or floating the Penticton River Channel.
Another idea would be to rent a paddleboard or kayak (possible on either lake) and spend some time leisurely exploring the shoreline, stopping to swim when desired.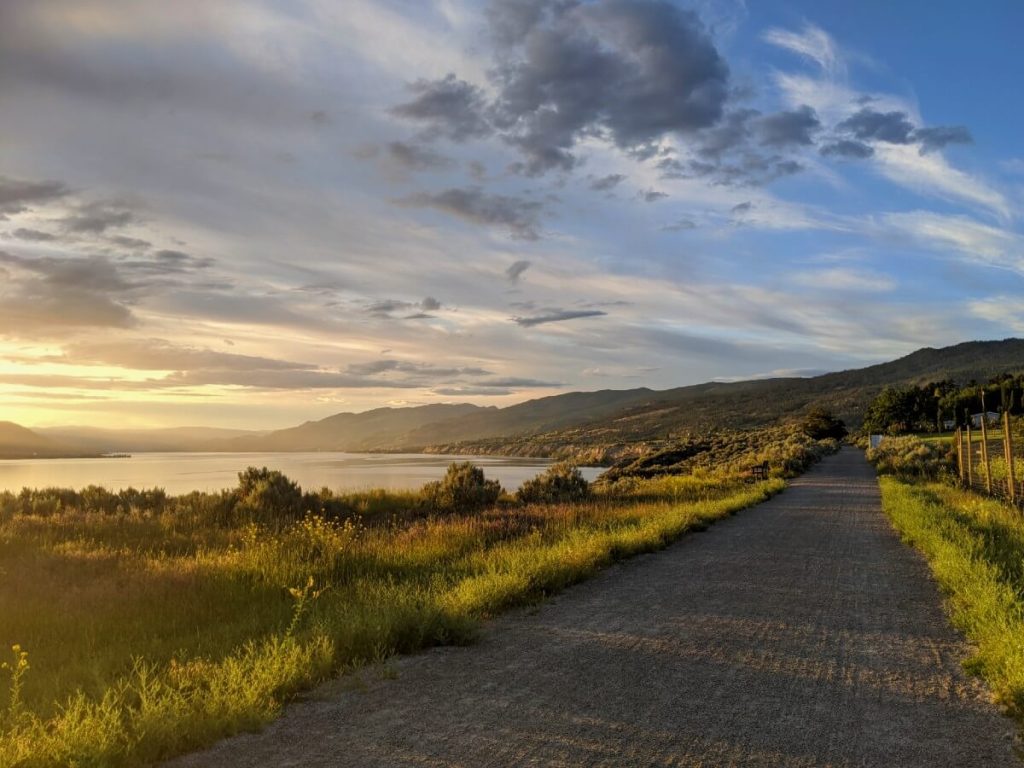 Not a water baby? Stay on dry land with an easy walk along the Kettle Valley Rail (KVR) Trail from Vancouver Place to McCulloch Trestle.
The full distance is 5km return, but you could simply turn around at a point that suits you. The almost completely flat path winds through vineyards and below the iconic Penticton sign, all while offering wonderful views of Okanagan Lake.
There isn't a ton of parking on Vancouver Place so I would suggest walking from downtown if you can. That adds another 1km each way. If your group prefers cycling over walking, it's possible to rent bikes (including those of the electric kind) downtown.
And that's the end of this 3 day Penticton itinerary!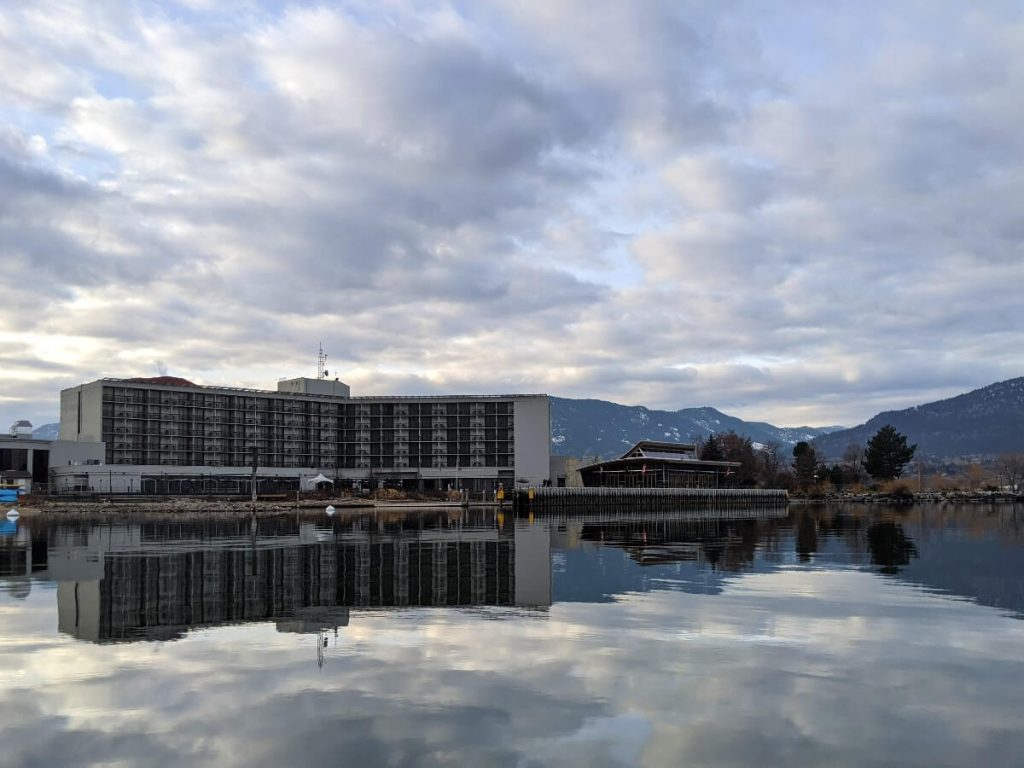 Where to stay in Penticton
For this particular Penticton weekend itinerary, it makes sense to stay close to downtown. Not only will it reduce the amount of driving needed (and who wants to drive on vacation!) everyone will be able to enjoy a drink or two with dinner, if desired.
Staying in the downtown area also means that you'll be close to Okanagan Lake, one of Penticton's highlights. The lake is most tranquil in the early morning (before 10am) and in the evening (after 7pm).
Here are our top picks for accommodation in the downtown area:
Penticton Lakeside Resort – Located on the shores of Okanagan Lake, just one block from downtown Penticton. The Farmers Market is held just across the road! Even if you don't manage to get a room with a lake view, the Lakeside Resort is still a beautiful place to stay as it is surrounded by municipal parks. There are three places to dine within the resort itself and a private beach with marina
Tiki Shores Beach Shores – This relaxed, family friendly resort has a heated outdoor pool, and BBQ area as well as an on-site Asian fusion restaurant. It is situated on the 'motel strip' section of Lakeshore Drive, directly opposite Okanagan Lake. A range of room configurations are available, from smaller studios with kitchenettes to three bedroom suites with private lawn area
Looking for more accommodation options in Penticton? Click the previous link to discover more recommendations

Looking for the best accommodation in Penticton?
Discover Penticton