Situated between two gorgeous lakes, the city of Penticton has an abundance of beaches to enjoy. With summer temperatures often soaring past 30°C, Penticton's beaches are well used by locals as well as visitors.
After seven years of living in Penticton, we've a lot of time swimming, sunbathing, paddling and walking on beaches here. Not just in summer either; we love to visit the beach in spring, fall and winter too!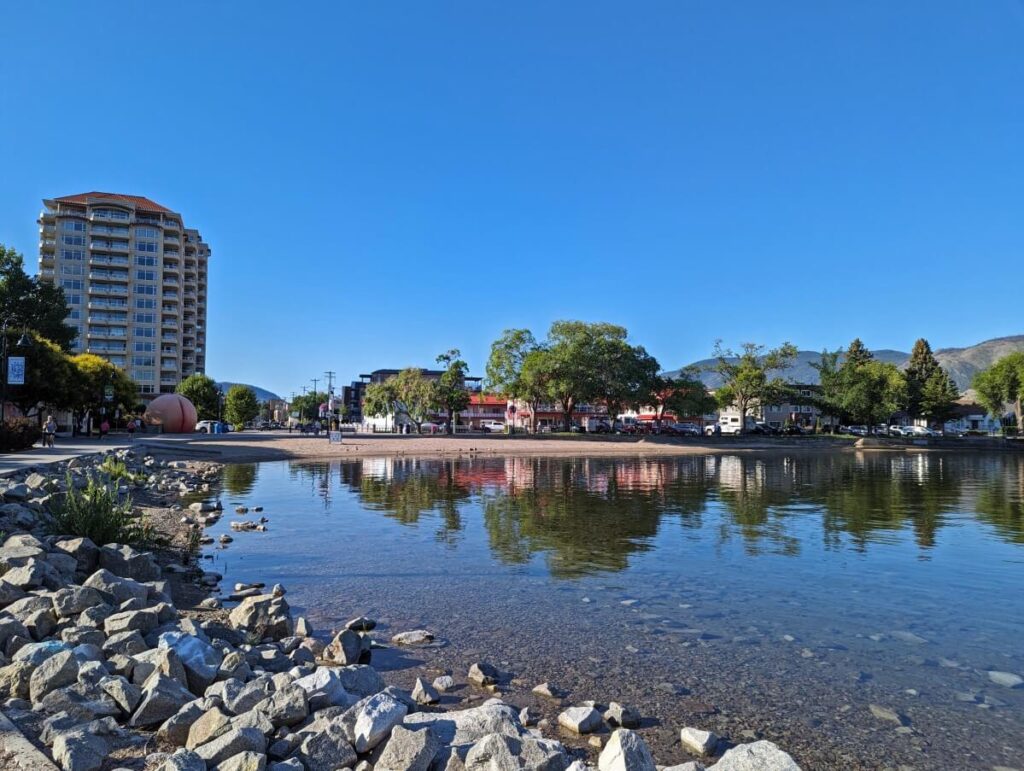 In this post, I'll share our favourite Penticton beaches with you as well as our top beach picks for food, sunsets, people watching, events and more!
A couple of things to know upfront:
There is no lifeguard supervision on any of Penticton's beaches. The closest beach with lifeguards is in Peachland (40km away)
Dogs are not allowed on beaches except at designated pet beaches
Most Penticton beaches have free parking nearby
The concessions and rental facilities mentioned in this post are open seasonally, from the end of June to the start of September
Since 2021, it is possible to drink in designated locations on select Penticton parks and beaches
Finally, it can get very hot during the summer months in Penticton. Bring sunscreen, a sun hat and plenty of drinking water!
This post last updated July 2023

Okanagan Beach
Okanagan Beach is Penticton's most popular stretch of sand, located on the northern side of the city. The beach is 1km long, with a designated swimming area and elevated promenade along the full length.
Lakeshore Drive also borders the beach, with half a dozen motels on the other side. Such easy access and choice of nearby accommodation means that Okanagan Beach is a pretty busy place in summer.
As a local, I do feel that the popularity is justified. The soft sand slopes gently into Okanagan Lake, which features a shallow swimming depth. The views down the lake towards Summerland and Naramata are simply gorgeous, with other focal points being nearby Mount Nkwala (the mountain on the western shore) and the hoodoos above Highway 97.
The beach is widest at the western end, around the SS Sicamous sternwheeler. This is also the shadiest area, with large trees providing separation between the beach and the elevated promenade. On the eastern side (by the Peach), one small section of beach is separated from the main stretch.
There are a number of water slides along the shore, as well as a floating platform. During the summer months, an inflatable water park is situated just offshore (admission fees apply) on the west side.
Numerous restaurants are located right on Lakeshore Drive, with smaller concessions set up along the promenade, including the iconic Peach. Downtown is just a short stroll away.
On the downside, Okanagan Beach is not a place for solitude. Yes, it can be wonderfully quiet in the morning but it is usually pretty bustling by lunchtime.
Location: Lakeshore Drive West (Google Map directions)
Parking: Angled parking on Lakeshore Drive W opposite beach
Facilities: Three nearby washroom buildings, water slides, drinking fountains, floating platform, elevated promenade, picnic tables, trash bins, inflatable water park (admission fee), multiple restaurants and concessions, bike and paddleboard rentals, Lakawanna Water Park behind beach, paved accessible ramp on beach
Swimming: Sandy underfoot, shallow entrance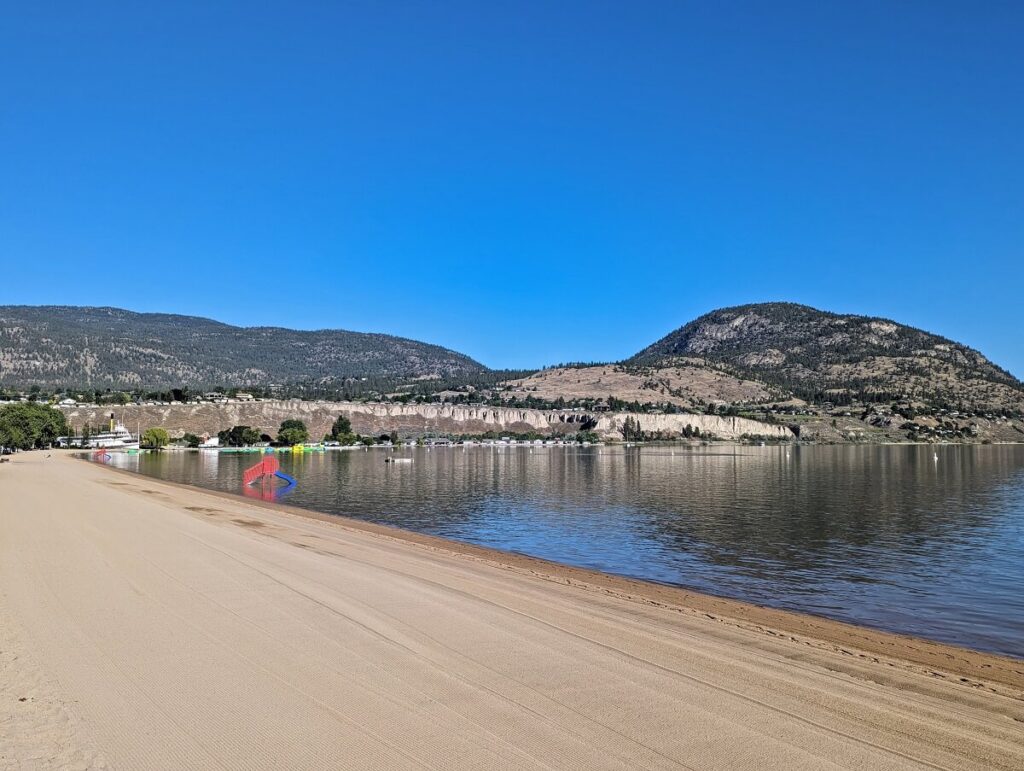 Okanagan Lake Park Beach
Okanagan Lake Park Beach is also situated on the northern side of Penticton, to the east of Okanagan Beach. The two beaches are separated from one another by Rotary Park (home of the Peach concession) and Lakeside Resort.
Like Okanagan Beach, Okanagan Lake Park Beach also consists of golden sand. It also enjoys the same beautiful views down Okanagan Lake. Being only 200m long, however, it is a much smaller beach. The western side offers day moorage for boats, with the eastern side featuring a fenced off-leash area for dogs.
This beach is backed by Okanagan Lake Park, which is a very popular location for major events. The city's annual Elvis Festival and Peach Festival are held here, as well as a myriad of smaller events. The park and the beach are separated by a paved walkway and line of trees.
Okanagan Lake Park Beach is a lovely place to stop and take in the views, but it isn't my top choice as a place to hang out for a lazy beach day. The presence of the boats and the dog park means that it can be a bit noisy. I really enjoy visiting in the morning, however, before most dog and boat owners arrive.
Having said that, Okanagan Lake Park (behind the beach) is a great place for groups to hang out. It's not very well used so there is plenty of space to set up games or a picnic. Of course, you can also venture onto the beach when desired. The nearby washroom building is convenient as well.
Location: Lakeshore Drive East (Google Map directions)
Parking: Paid meter parking on Lakeshore Drive East and surrounding roads. Drive west on Lakeshore Drive West for free parking
Facilities: Washroom building, benches, trash bins, fenced dog beach, day moorage for boats
Swimming: Mostly sandy, becomes deeper more quickly than Okanagan Beach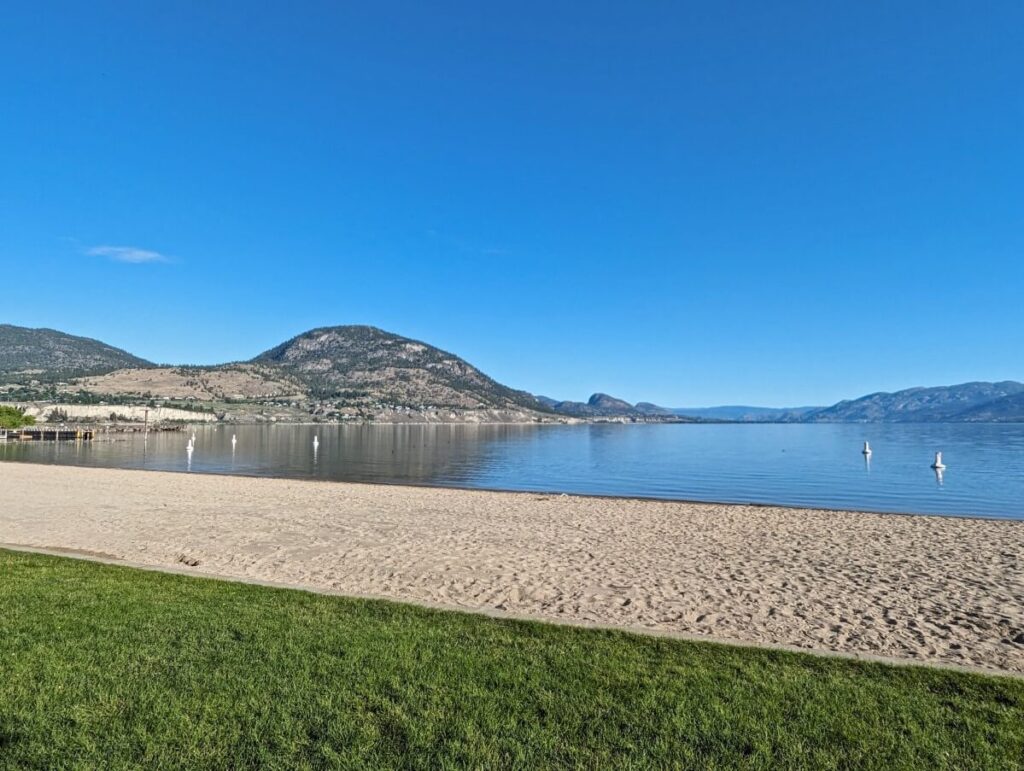 Marina Way Beach
This is our local Penticton beach; during the summer months, we visit almost every day. Marina Way Beach features a small strip of sandy beach, bordered by a park on one side and the marina on the other.
Attracting more locals than visitors, Marina Way Beach has a laid back feel and is usually quieter than the main Okanagan Beach. There is a marked swimming area, with beach slide and platform. The water is shallow, with one deeper section about 30m from the shore (it becomes shallow again afterwards).
Although I love this Penticton beach, it does have some downsides. First of all, the facilities are very limited. Most notably, there are no public washrooms (the closest ones are 500m away, in Okanagan Lake Park Beach).
Second, the boats leaving and entering the marina whip up some wake as they go. While it's not a huge deal, it can get annoying during busy times and/or windy days, when the water is already wavy.
My last comment is that there isn't a lot of shade on this Penticton beach. There is one small tree on the sand, a line of trees behind the beach and a small cluster on the eastern side.
For me, the chilled out ambience outweighs these inconveniences. I also really like the adjacent Marina Way Park. It's usually very quiet and a good place to play bocce/fly kites/have a picnic.
Location: Marina Way (Google Map directions)
Parking: Small lot next to beach, larger lot on other side of Marina Way Park
Facilities: Designated swimming area, floating platform, beach slide, beaches behind beach, trash bins, bike rack, café
Swimming: Sandy with occasional small rocks. Shallow entrance, then deeper, then shallow again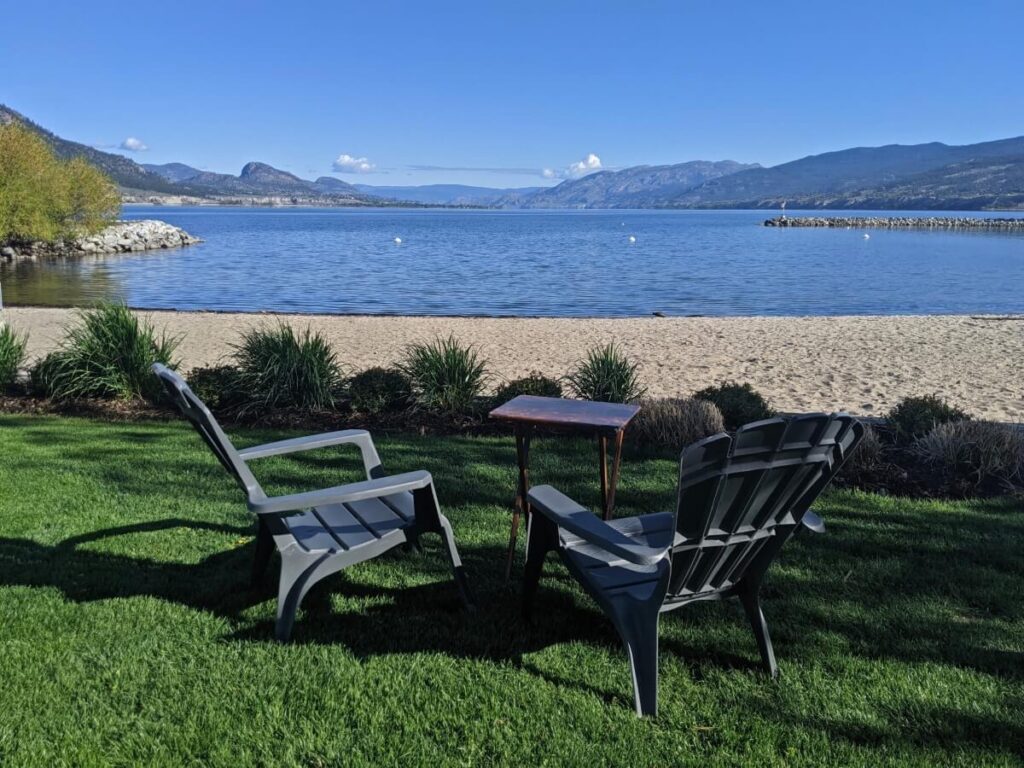 Skaha Beach
Skaha Beach is Penticton's premier beach destination. This sweeping 500m long beach is situated at the southern end of the city, on Skaha Lake. The beach offered spectacular views straight down the lake, towards Okanagan Falls.
Often cited as one of the best beaches in Canada, the most special thing about Skaha Beach is that it is backed by parkland. Yes, it's still an urban area but the 21 acre park really does provide wonderful separation from the nearby roads and houses.
The park also offers plenty of amenities including several playgrounds, a splash park, volleyball courts, tennis courts, walking paths, baseball diamond, fire pits and more.
Skaha Beach itself features exceptionally soft golden coloured sand. The beach is quite wide, especially on the eastern side. There are beach slides and floating platforms on the water. One disadvantage is that there isn't a lot of shade, with only a few large trees right on the beach.
A wide, paved and slightly elevated boardwalk lines the beach. Picnic tables and benches are scattered along this walkway and throughout the park. There are two concessions in the park, with the most famous being the local ice-cream business Tickleberry's. The Skaha Lake Marina is found at the eastern side of the beach, also the location of the new Dragonboat Pub.
Location: Elm Avenue (Google Map directions)
Parking: Large parking lot on Elm Avenue, with smaller lot on South Beach Drive and angled parking on Parkview Street
Facilities: Floating platforms, beach slides, picnic tables, trash bins, washrooms, paved walking path, concessions, playgrounds, splash park, volleyball courts, tennis courts, basketball court, baseball diamond, fire pits, pavillion
Swimming: Sandy. Shallow entrance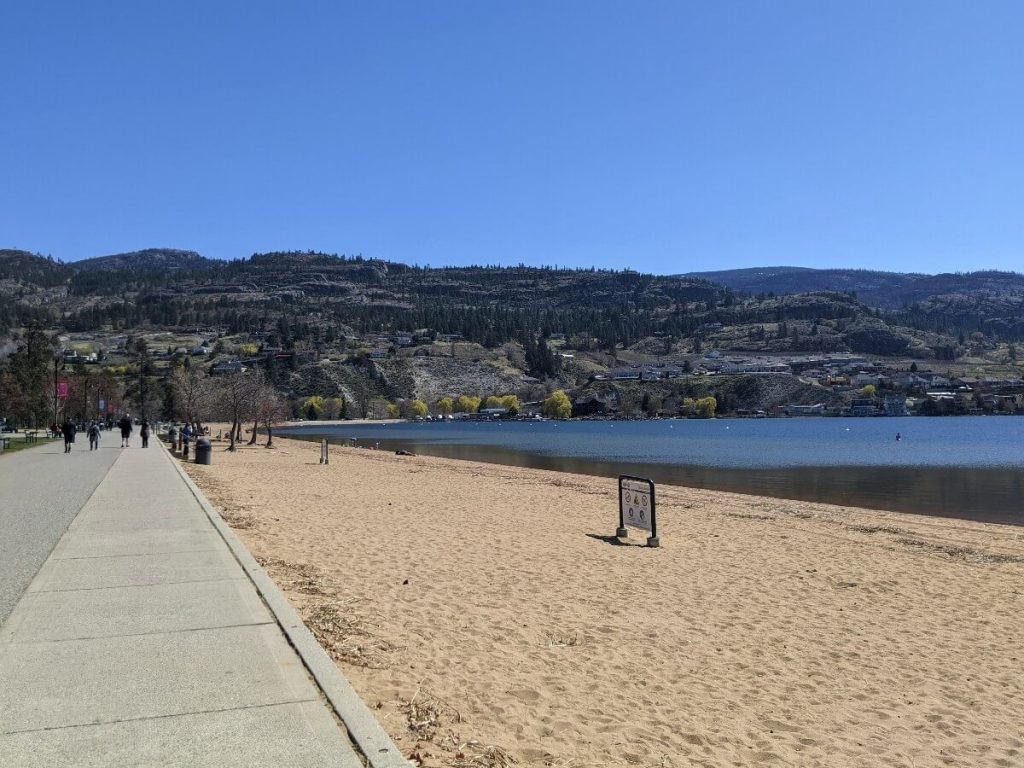 Sudbury Beach
This Penticton beach is located just to the west of Skaha Beach. A cluster of waterfront houses separates the two beaches. Sudbury Beach is about half the length of Skaha but is much wider. It also features the same golden coloured soft sand and beautiful views of Skaha Bluffs and Okanagan Falls.
Sudbury Beach is bordered by Skaha Lake Road, but the width of the beach means that it is not as noisy as it would be otherwise.
The beach is very flat and has some scattered trees for shade. There is a water slide and floating platform. In the summer months, a small concession and paddleboard/kayak rental facility are located near the parking area.
While Sudbury Beach lacks the amenities of Skaha and Okanagan, many people love its simplicity. This beautiful beach on Skaha Lake is just to be enjoyed for what it is.
Location: Sudbury Avenue (Google Map directions)
Parking: Mid sized parking lot on Sudbury Avenue
Facilities: Washroom building, beach slide, floating platform, concession, paddleboard rentals, fire pits, volleyball courts
Swimming: Sandy. Shallow entrance
Three Mile Beach
The last Penticton Beach I will be featuring here is Three Mile Beach. Situated on the Naramata Beach, Three Mile Beach is a 10 minute drive from downtown Penticton.
With Three Mile being located on a peninsula, this is a beach of two halves. The most southern half looks out to Penticton and is a designated off leash dog beach. It also has day moorage for boaters. This beach is quite narrow and a bit rocky.
The beach on the other side of the point faces north and offers views of Naramata, Summerland and many sandy bluffs. It is sandier than the other beach. There are plenty of trees separating the beach from the parking area above.
Unofficially, this is a long time nude beach. Expect to see some unclothed people swimming and sunbathing here. If that isn't your cup of tea, I'd suggest heading to Manitou Beach in Naramata or one of the many beaches in Penticton.
Location: Three Mile Road (Google Map directions)
Parking: Angled and parallel parking available in small lot at end of Three Mile Road
Facilities: Stairs to beach, outhouse, trash bin
Swimming: Small pebbles, some rock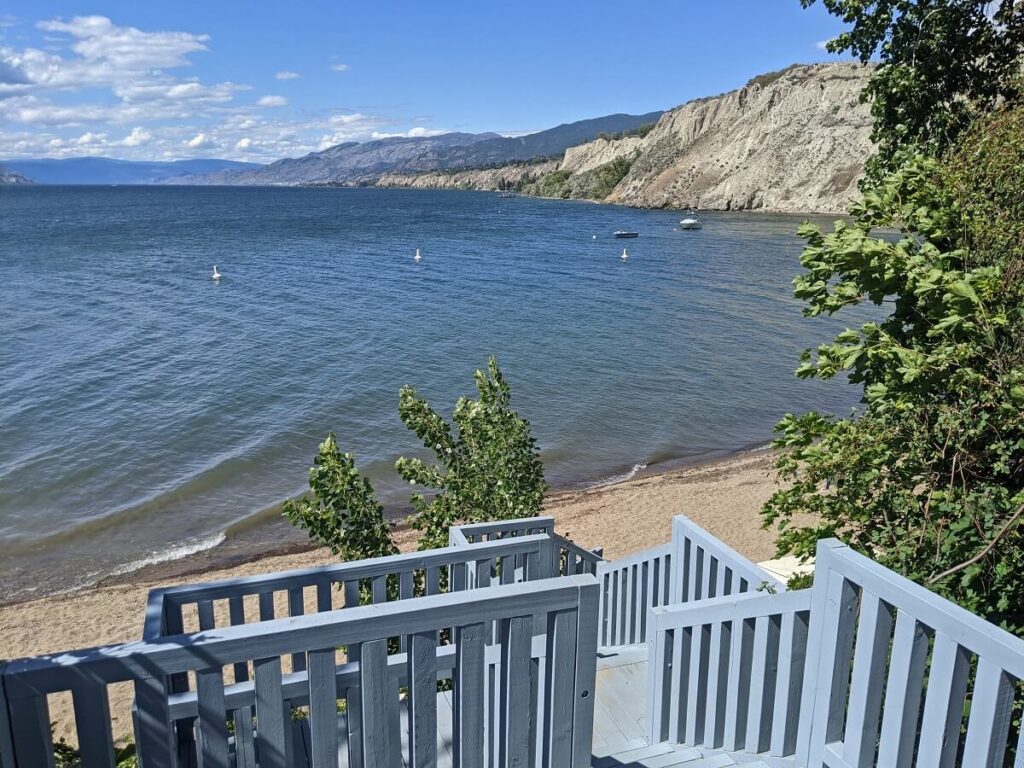 Other local beaches worth visiting
Penticton doesn't have exclusivity on beautiful beaches in this area. Check out these additional recommendations for more beach fun while visiting the Okanagan Valley.
Manitou Park Beach, Naramata
For a change of scenery, consider a trip to Manitou Park Beach in Naramata. This wide stretch of light coloured sand slopes gently into Okanagan Lake and has a good scattering of trees for shade. There are beautiful views across the water to Mount Nkwala and also Giant's Head Mountain in Summerland. Benches and picnic tables line the shore.
Manitou Park Beach has a more relaxed feel than most of the beaches in Penticton. There is a floating dock and beach slide for kids to play on. Behind the beach is a large grassy area, with a baseball diamond, volleyball court and two playgrounds.
Other facilities include a newly built washroom building with change rooms. There is a paved path around the perimeter of the park, which provides easy access for anyone with a stroller or wheelchair.
There is no concession at Manitou Park Beach, but Real Things Pizza delivers right to the sand! Alternatively, the beach is just a five minute (600m) walk to Naramata.
Location: Old Main Road (Google Map directions)
Parking: Medium sized lot behind the park
Facilities: Washroom building, change rooms, beach slide, floating dock, picnic tables, bins, sports facilities, playgrounds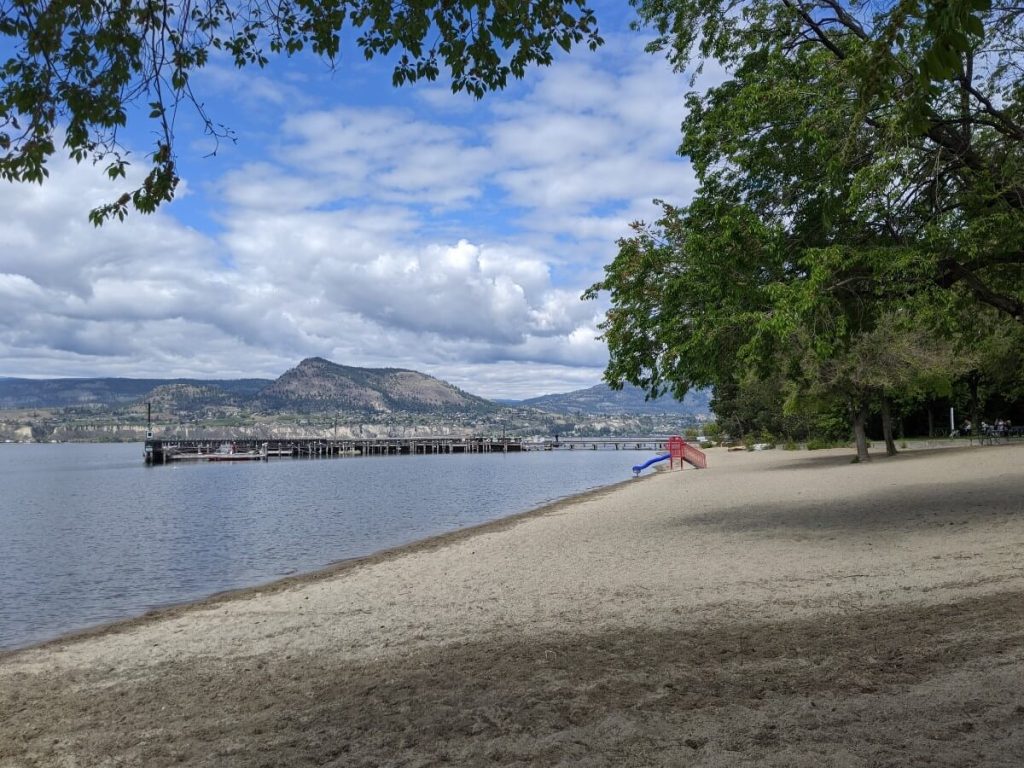 Sun-Oka Beach, Trout Creek
Situated in a provincial park of the same name, Sun-Oka Beach is the most beautiful 'natural' beach in the Penticton area. I say natural as it is not walking distance to an urban location. At Sun-Oka, you can fully enjoy the beauty of Okanagan Lake and truly get away from it all!
The main beach at Sun-Oka is 600m long and features soft golden sand. It faces to the south, so receives lots of sun all day. There is a swimming area marked with buoys.
The beach is very wide and is separated from the parking area by lawn areas and many large shady trees. There are numerous picnic tables perched on the beach and behind the beach (some with BBQ attachments).
The western part of the beach is designated for boaters only, with Sun-Oka being a popular place to go waterskiing. There is still plenty of space for regular beach visitors though.
Sun-Oka Beach is particularly popular with dog owners as there is a designated pet beach. It is found to the east of the main beach, around the point. To reach the pebbly pet beach, walk the 200m trail along the edge of the rare old growth cottonwoods. Dogs must be on a leash and owners are required to pick up after them.
Location: Just off Highway 97 (Google Map directions)
Parking: Huge parking lot with space for 200+ vehicles, separate area for RVs
Facilities: Change building with flush toilets, outhouses, water taps, playground, paddle boat rentals, concession, picnic tables, bins, fire pits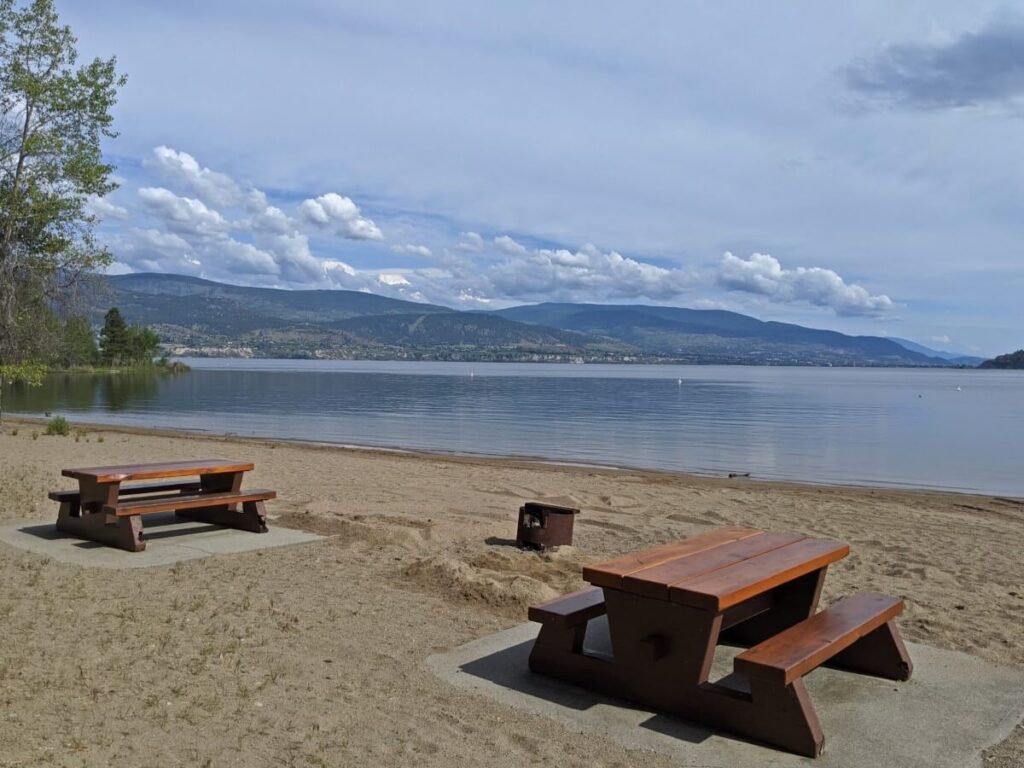 The best beaches in Penticton
Depending on what you're looking for, here are my top picks for the best beaches in Penticton.
Best for young families: Skaha, Okanagan or Manitou
Best for people with dogs: Skaha or Sun-Oka
Best for food choice: Okanagan
Best for ice cream: Okanagan or Skaha
Best for sunset: Okanagan, Okanagan Lake Park Beach or Marina Way Beach
Best for sunrise: Skaha
Best for natural surroundings: Sun-Oka
Best for non-beach activities: Skaha
Best for parking: Skaha or Sun-Oka
Best for enjoying an adult beverage: Okanagan
Best for events: Okanagan Lake Park
Best for paddling: Okanagan or west side of Skaha
Best for walking: Okanagan (1km promenade, can extend another 1km to Marina Way Beach)
Best for people watching: Okanagan
Best for watersports (rentals): Okanagan
Best for clothes optional: North side of Three Mile
Best for a beach fire: Only allowed in designated pits at Sudbury, Skaha, Okanagan and Sun-Oka
Best for plane watching: Sudbury and Skaha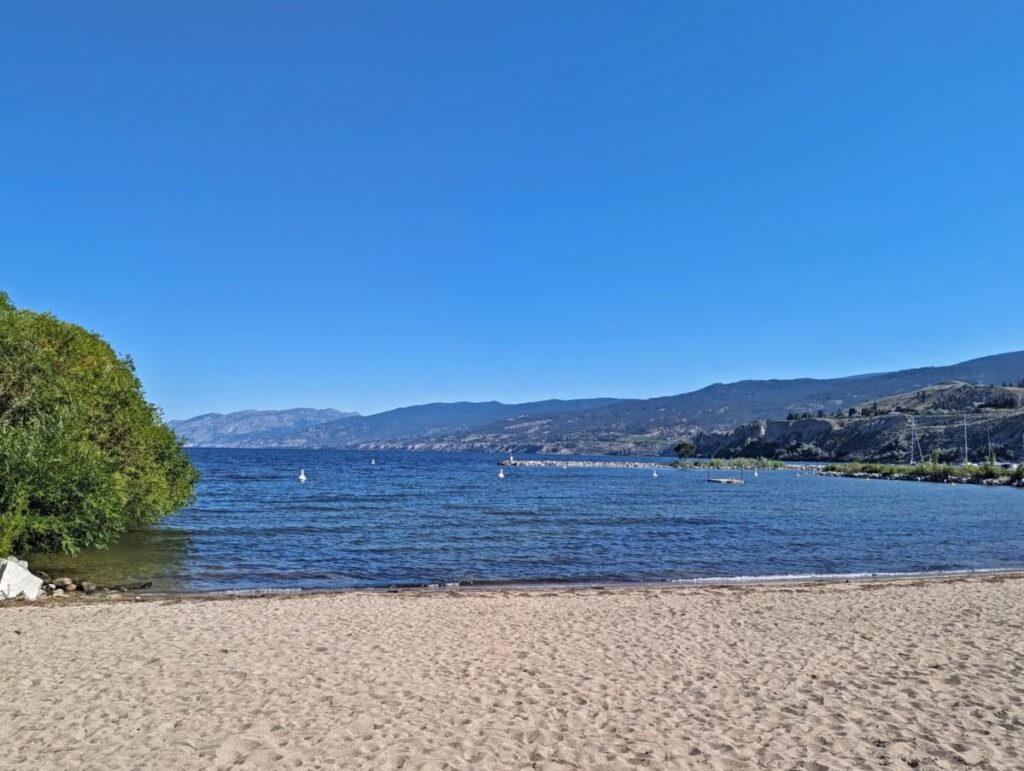 Discover Penticton
Looking for the best accommodation in Penticton?