Penticton is a welcoming gateway to easy hiking adventures, boasting scenic lakeside promenades, viewpoint paths and accessible rail trails. Whether you seek leisurely strolls or family-friendly outings, Penticton's easy hiking trails promise a enjoyable and effortless experience.
This post showcases 10 easy Penticton hiking trails. The majority of featured trails are located in city limits or within a short drive (20 minutes or less).
Most are 5km or less (2 hours max) and are completely level or predominately flat. While I would consider all of these trails to be suitable for families, I have noted the ones that I think are the best options.
Over 7+ years of living here, JR and I have hiked many local trails. We have also introduced many friends and family to our favourite pathways and viewpoints. This post features all time favourite easy Penticton hiking trails; some we walk almost every week!
Published September 2023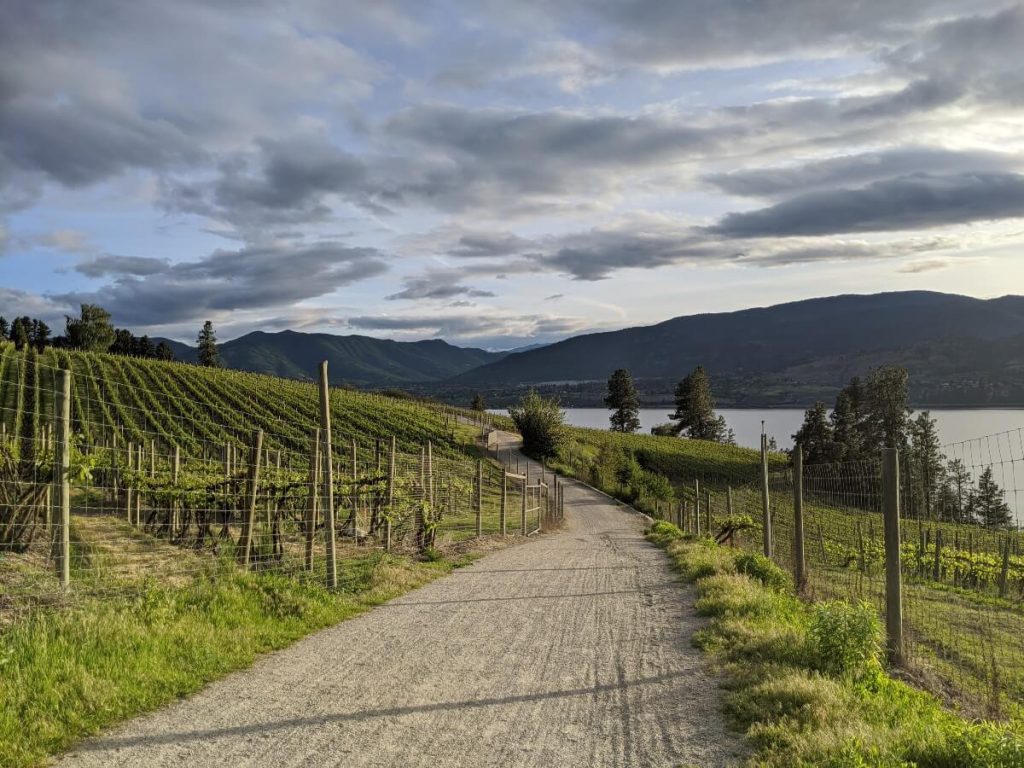 Hiking in Penticton: Essential tips
When planning to hike one of these easy Penticton hiking trails, keep in mind the following:
Most of these trails do not have a lot of shade. The summer months are usually very hot in Penticton. I would recommend starting early when hiking in June, July, August and September and avoiding the hottest time of the day (3pm). Bring plenty of water, a sun hat and sunscreen
Snakes can sometimes be seen on Penticton's hiking trails. This includes the venomous (but very shy!) Western Rattlesnake. Keep an eye out for snakes on pathways, especially in the spring and fall when they like to sunbathe
Other animals live around these trails. Deer are relatively common in and around Penticton, with black bears occasionally spotted. For the latter, signage will usually indicate if one has been seen lately
Keep dogs on a leash. The following trails all require hikers to keep dogs on a leash. Some locals do take their dogs off leash on remote/quieter sections of the KVR Trail so be aware you may come across off leash dogs in these areas. Please pick up after your dog
Ticks are common in the Penticton area, especially in spring. Stay on the trail and avoid grassy areas. Check your clothing (and body) after hiking
All of these easy Penticton trails have cell phone signal. Having said that, it's still a good idea to tell someone where you're going as well as your expected return time, especially if hiking solo
Remember to Leave No Trace of your hike. This means staying on trail and taking care to pack out everything you bring in (including trash)
Keep children and pets under control. Some of these easy Penticton hiking trails have steep drop-offs near the path (Munson Mountain, McCulloch Trestle, Little Tunnel)

10 of the Best Easy Penticton Hiking Trails
This section includes an overview of 10 different Penticton hiking trails, each with essential details concerning length, difficulty, trailhead, parking and available facilities. The map below displays the trailhead locations.
Okanagan Lake Promenade
Only in Penticton for a short time and want to stretch your legs and see some great views? A walk on the Okanagan Lake Promenade is a must! This paved path stretches 1km from the historic SS Sicamous sternwheeler to the iconic Peach, with Okanagan Lake on one side and Lakeshore Drive on the other.
If this walk sounds a little short for you, it's very easy to extend the route in either direction. My recommendation would be to continue along the lake beyond the Peach, towards Lakeside Resort.
The paved path extends all the way to Marina Way Beach, via Rotary Park, the 65m long Kiwanis Walking Pier, Okanagan Lake Park and the Ikeda Japanese Garden. The latter is one of my favourite stops as it features a beautiful koi pond. This extended walk is 5km return total.
Length: 2km return (+ 3km for longer route), allow 45 minutes
Difficulty: Very easy (wide, flat paved pathway)
Trailhead location: SS Sicamous or the Peach
Parking: Along Lakeside Drive
Facilities: Benches, bins, flush washrooms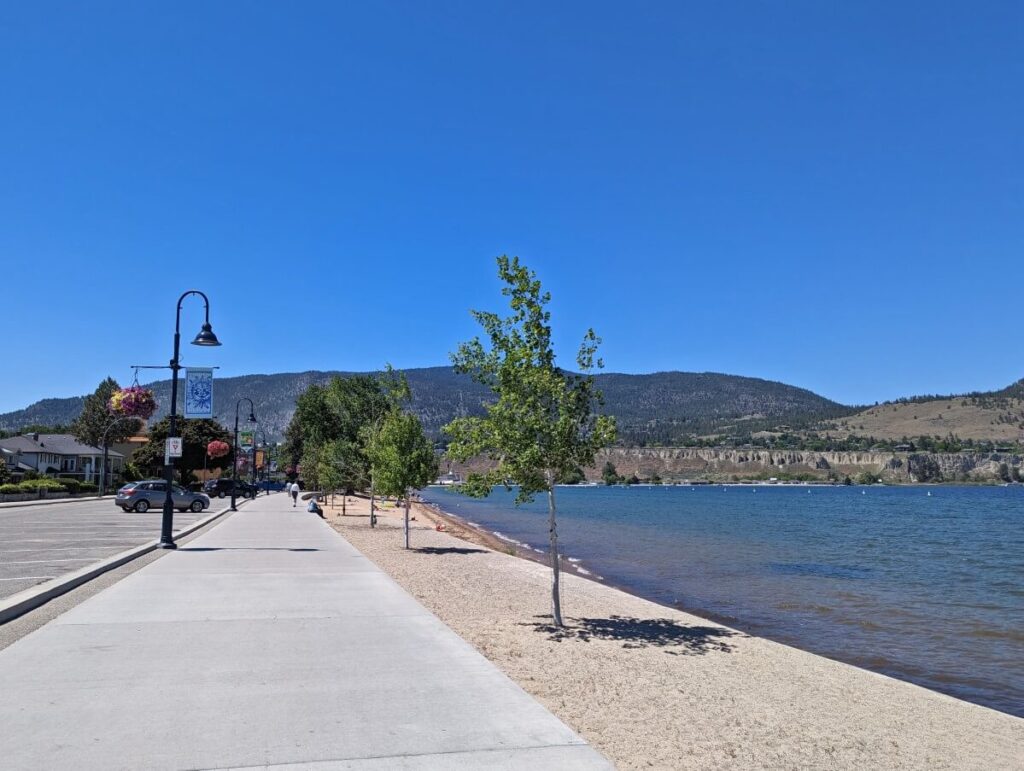 Munson Mountain Viewpoint
Munson Mountain is undoubtedly the most impressive and easily accessible viewpoint in Penticton. This 496m high extinct volcano is host to the giant Penticton sign, which was built by the Board of Trade in the 1930s for promotional purposes.
This easy Penticton hike travels to the very top of Munson Mountain. From the parking lot, a flat paved path leads to a gazebo and viewpoint. The panoramas reveal Okanagan Lake, the city of Penticton and even Skaha Lake in the distance. This viewpoint is both wheelchair and stroller friendly.
From here, the trail turns to gravel as it starts climbing along the spine of the mountain. The final ascent to the summit is quite steep with loose rock. It is only a very short section but I'd recommend wearing proper shoes (something with grip, not flipflops!) if you plan to go right to the top.
The views are even better at the summit, with Summerland and Giant's Head Mountain to the north and the many vineyards of Naramata to the east. The Penticton sign sits just below; a narrow side trail leads to top of the letters.
Length: 900m return
Difficulty: Easy (short, uphill trail with one steep section)
Trailhead location: Munson Mountain Road
Parking: Small dedicated parking lot
Facilities: Benches, shelter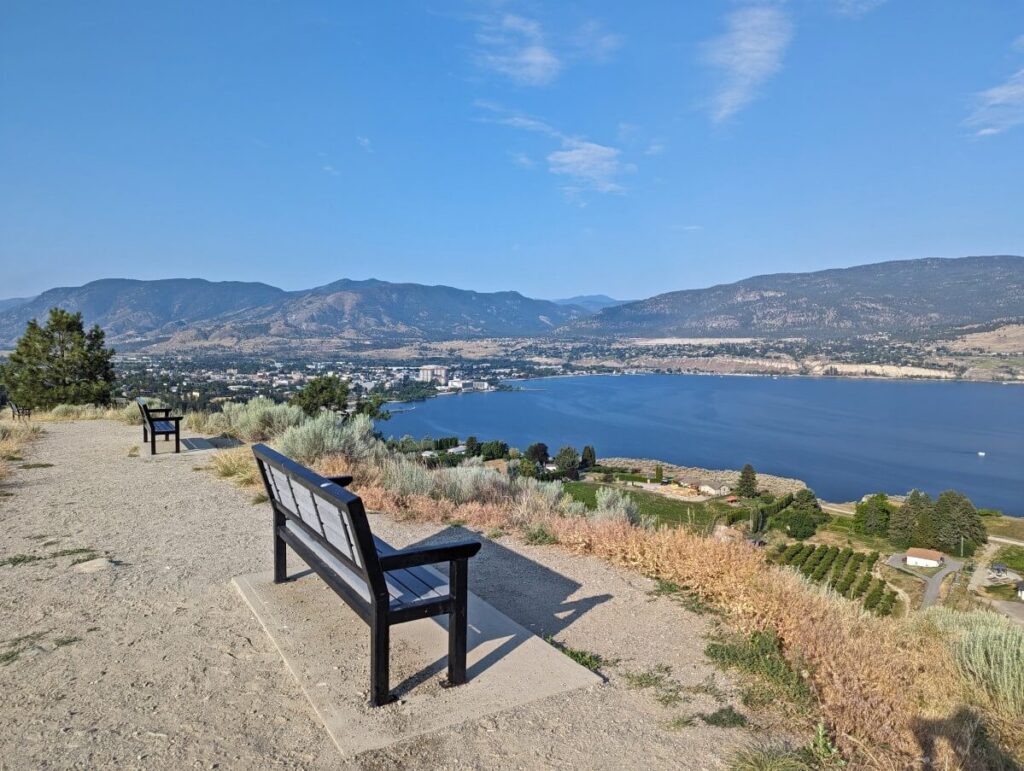 Channel Pathway
One of the easiest hiking trails in Penticton has to be the Penticton Pathway. This 6km gravel trail runs along the western side of the Penticton Channel, the body of water connecting Okanagan and Skaha lakes.
Located on Penticton Indian Band land, the Pathway is very popular with cyclists and dog walkers (leash required). During the summer months, people float down the channel on inflatable tubes.
There are multiple places to start a walk on the channel. I like to start on Riverside Drive and head south, but an alternative would be to park at Skaha Lake Road and walk north. While I have suggested 5km as a return distance, plan to hike as far as you like! The entire route is flat.
One downside to the Channel Pathway is the propensity for it to be quite windy. Penticton is a bit of a windy city in general, with gusts commonly blowing in from the north or south. Since the Channel is orientated north to south, it can get pretty chilly in the winter months!
Length: 5km, allow 1.5 hours
Difficulty: Very easy (completely flat gravel trail, partially paved)
Trailhead location: Riverside Drive
Parking: Loco Landing parking lot or street parking
Facilities: Washroom in parking lot, bins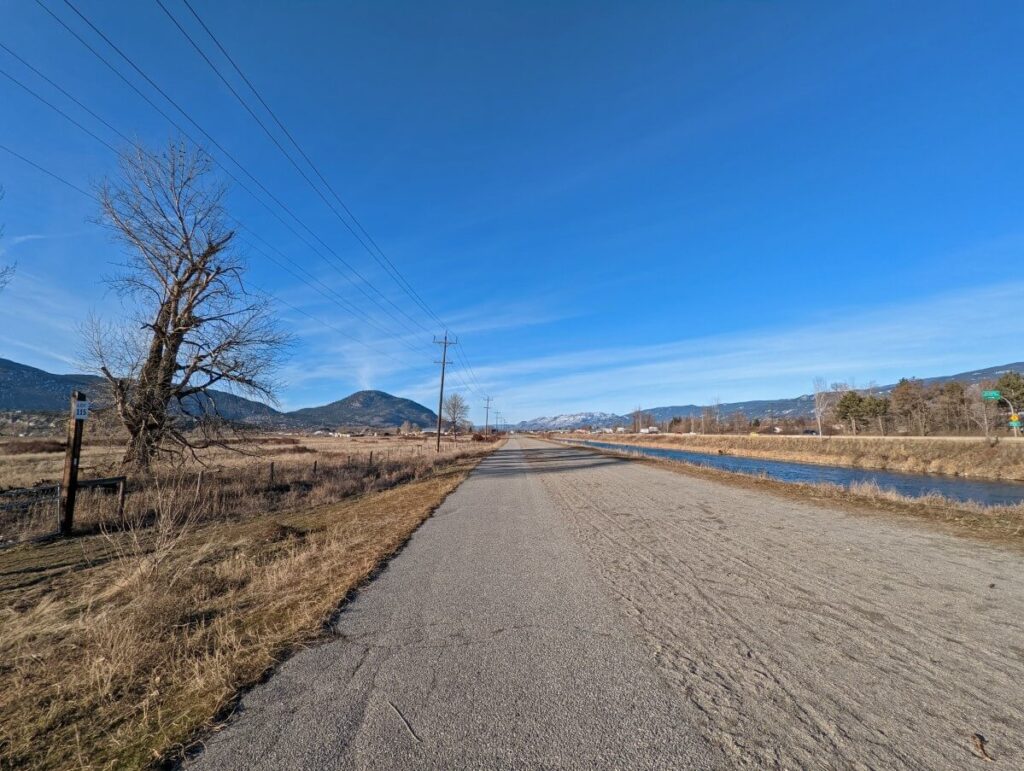 McCulloch Trestle, KVR Trail
The most scenic walk close to downtown Penticton is found on the multi-use, almost completely flat Kettle Valley Rail Trail (KVR). It's perfect for families and folks of all ages.
Enjoy gorgeous views of Okanagan Lake, Okanagan Mountain Park, Summerland and Penticton as well as Munson Mountain and the iconic Penticton sign. Sagebrush and vineyards line the almost completely flat route as it travels towards the wooden trestle bridge over Randolph Creek.
If you're enjoying your walk, why not continue further along the KVR Trail? Abandoned Rail Brewing is located right on the pathway and is only an additional 1.2km return (about 20-25 minutes walk). Enjoy a beer or freshly made pizza on their family friendly patio.
Length: 5km return (+ 1.2km to Abandoned Rail), allow 1.5 hours
Difficulty: Very easy (mostly flat, wide gravel trail)
Trailhead location: Vancouver Place
Parking: Limited at trailhead, additional parking on Vancouver Avenue
Facilities: Benches, bins, flush washroom building en route, signage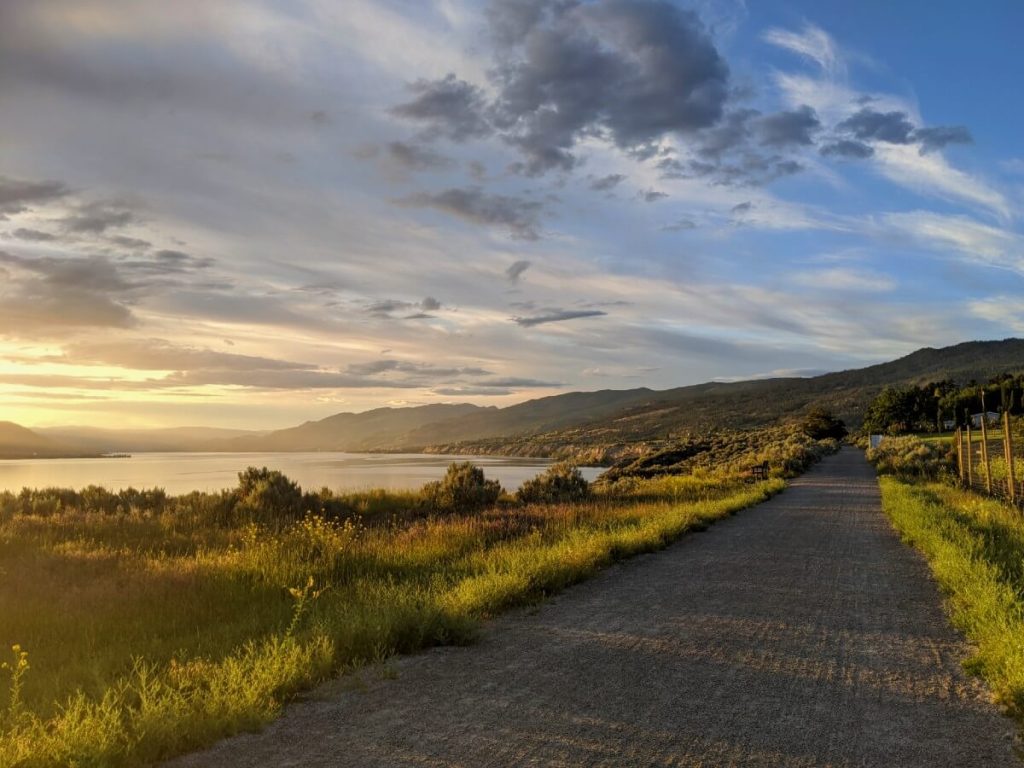 Naramata Creek Falls
The Naramata Creek Falls trail leads through a shady forest to a hidden waterfall just beyond busy Naramata Road. It's a local's favourite, especially during the heat of the summer.
To reach this multi-layered cascade, a couple of creek crossings are required. For this reason, I wasn't sure whether to include Naramata Creek Falls in this list of easy Penticton hikes. It can only really be considered easy if you find crossing a creek easy!
The alternative trail that avoids the creek crossing is steep and narrow, with significant drop-offs. I would consider it to be moderate in difficulty.
Please note that the creek can often be flowing too fast in spring/early summer to cross safely. More details in our full Naramata Creek Falls guide.
Length: 2.5km return, allow 1 to 1.5 hours
Difficulty: Easy with some harder sections (details above)
Trailhead location: Just off Naramata Road, Naramata
Parking: Small dedicated parking lot
Facilities: Outhouse at trailhead, picnic table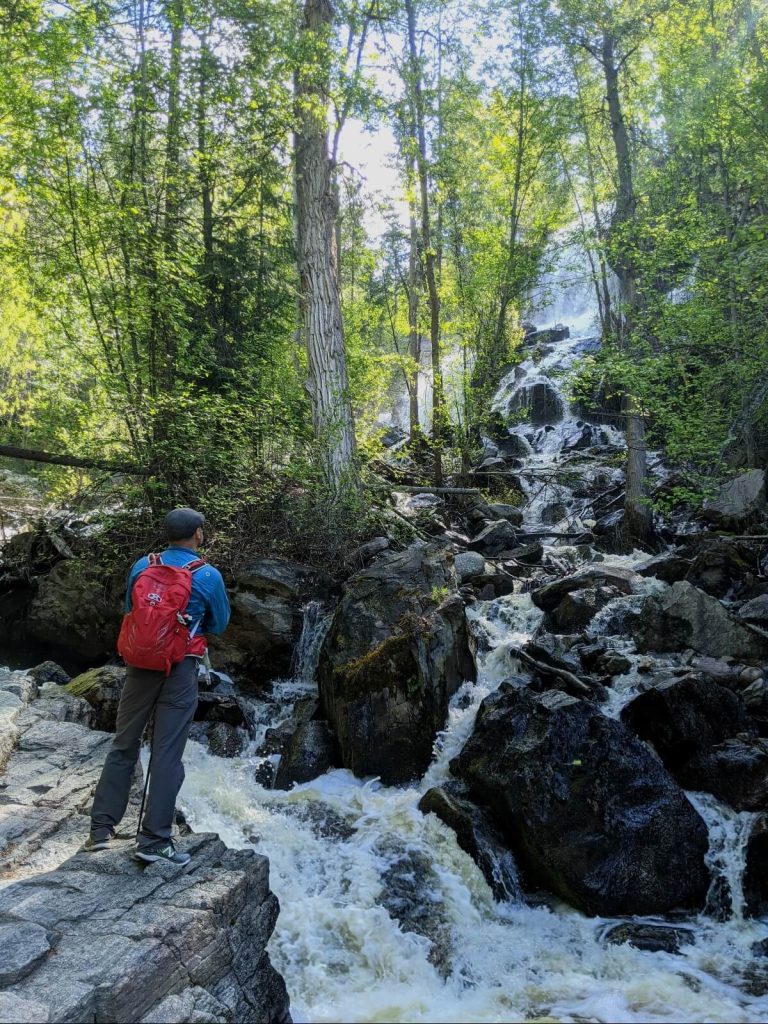 Little Tunnel, KVR Trail
The highlight of this scenic section of the Kettle Valley Rail Trail is the 100+ year old Little Tunnel. Blasted straight through the rock, this rugged tunnel is an impressive sight! Sitting 600m above Penticton, the views of Okanagan Lake and the vineyards of Naramata are pretty spectacular as well.
This easy Penticton hike is on the longer side. As with the rest of the KVR Trail, however, the pathway is very flat and therefore straightforward to walk. There are several picnic tables on the other side of the Little Tunnel, so consider bringing lunch or a snack with you (this is one of our favourite picnic spots in Penticton).
Located at a higher elevation, it can be noticebly cooler here in spring and autumn than Naramata and Penticton. For the same reason, snow is more likely to be present on the trail during the winter months. Read our full Little Tunnel hiking guide for more information and tips.
Length: 8.8km return, allow 2.5 to 3 hours
Difficulty: Very easy (flat, wide gravel path)
Trailhead location: Smethurst Road, Naramata
Parking: Large dedicated parking lot
Facilities: Benches, outhouse at trailhead, en route and just beyond the tunnel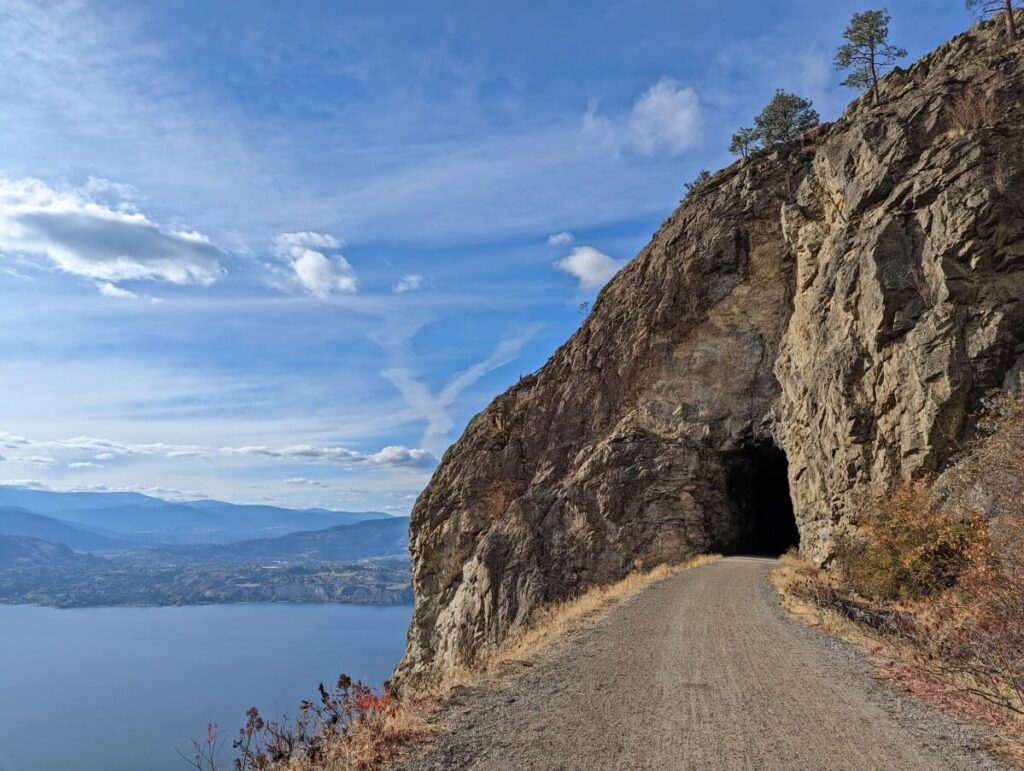 Giant's Head Mountain Summit
In the mood to summit a mountain? Look no further than Giant's Head in Summerland! This local landmark is the remnant of an ancient volcano eruption. From the southeast, try to spot the face-like profile on the side of the mountain that gives the peak its name.
Giant's Head Mountain Park is host to half a dozen trails leading to the 850m high summit. If you're looking for an easy hike, however, I'd recommend driving the 2.6km paved roadway almost all the way to the top.
From the first (and larger) parking area, a 560m long dirt path leads to the fenced summit area. This path is uphill, with 50m total elevation gain. Plan to walk slow and steady! A Canadian flag, time capsule and numerous viewpoints await at the summit. Enjoy vistas of vineyards, Trout Creek and Okanagan Lake.
Please note that the Giant's Head Mountain road is usually open 12pm to 9pm from Monday to Saturday, from April to October. At the time of writing, the road is closed due to wildfire risk.
Length: 1.1km return from first parking lot, allow 30 minutes plus driving time
Difficulty: Easy (short uphill on dirt path)
Trailhead location: Giant's Head Mountain, Summerland
Parking: Dedicated parking lot
Facilities: Outhouse in parking lot, signage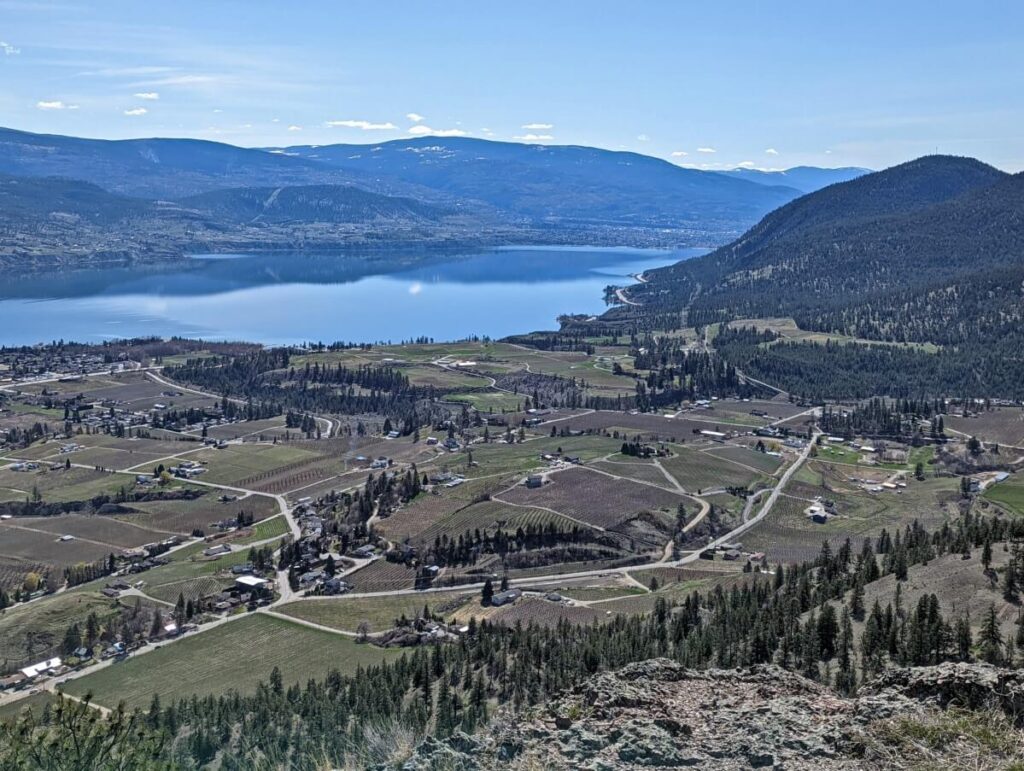 Fenwick Road to Conkle Mountain Gazebo, KVR Trail
The multi-use Kettle Valley Rail Trail travels through Summerland as well. This particular section is definitely my favourite in the area.
The trailhead for this easy hike is located on Fenwick Road. Look for the large Trans Canada Trail sign with 'Fenwick Trailhead' noted on it. Walking away from the residential area, you'll soon be on a sagebrush lined path at the base of Conkle Mountain.
Keep right when the trail splits and follow the flat path to a gazebo with an outstanding view of Summerland. This would be another great place for a picnic. If you feel like a longer hike, continue further along the KVR Trail.
Length: 3km return, allow 1 to 1.5 hours
Difficulty: Very easy (almost completely flat gravel path)
Parking: Parallel parking on Fenwick Road
Trailhead location: Fenwick Road, Summerland
Facilities: Picnic tables and outhouse at gazebo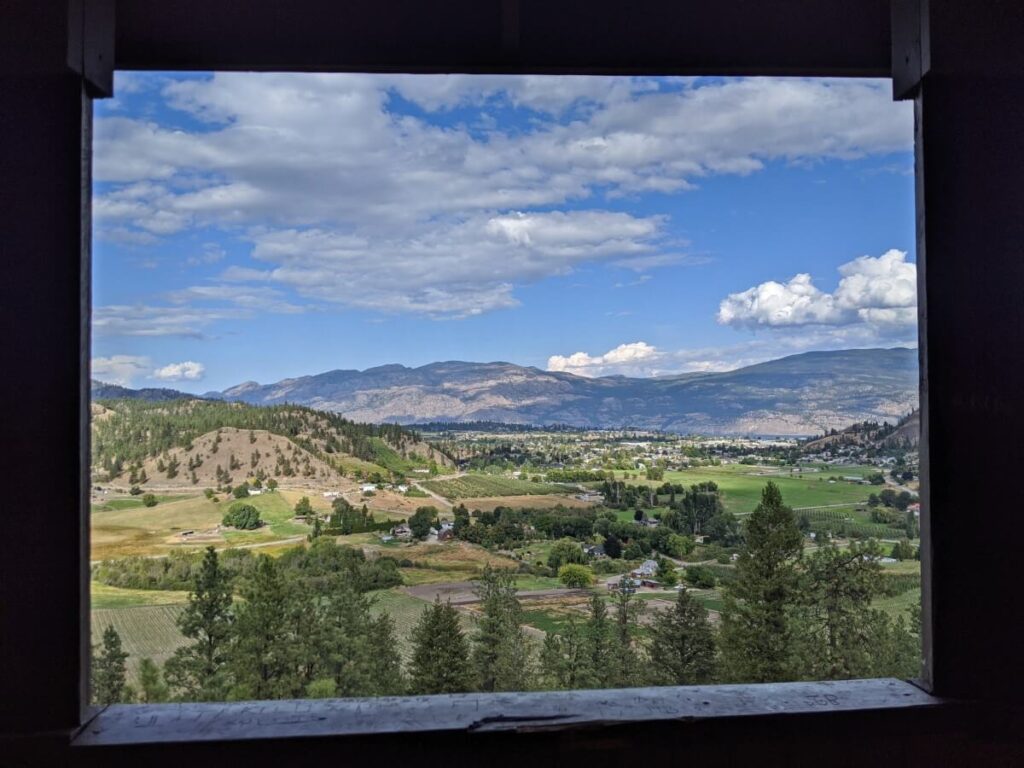 Hardy Falls
While perhaps a little far from Penticton (I broke my 20 minute rule here), Hardy Falls is the most accessible waterfall hiking trail in the area. The path is both short and flat, making it accessible for families and people of all ages. I would say that it is both stroller and wheelchair friendly.
The shaded trail follows Peachland Creek through a canyon and over multiple bridges to a small cascade. The best time to visit is in late spring (May, June), when Hardy Falls is at peak flow.
Peachland Creek is an important habitat for Kokanee salmon. Autumn is another great time to visit as this is when the salmon return to spawn. Be sure to stay out of the creek from September to May to avoid disturbing fish and eggs. One step could kill hundreds of salmon!
Length: 0.8km return, allow 20-30 minutes
Difficulty: Very easy (flat gravel path with bridges)
Parking: Dedicated street parking opposite trailhead
Trailhead location: Hardy Street, Peachland
Facilities: Interpretive signage, viewing platform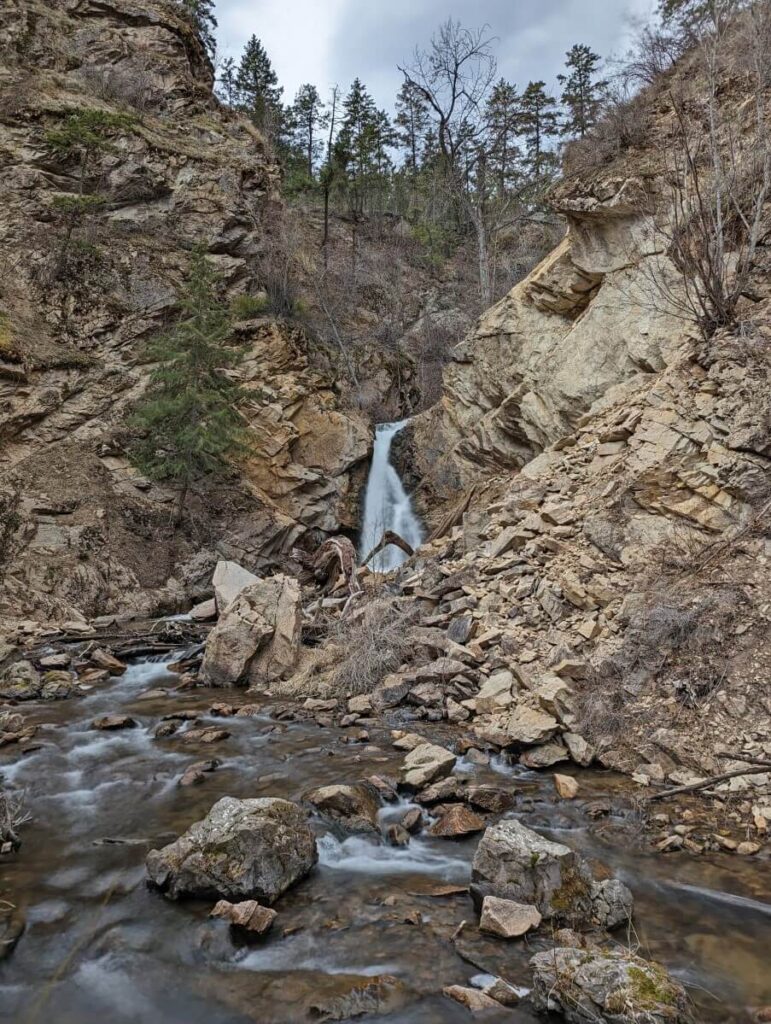 Kaleden to Okanagan Falls, KVR Trail
As this post proves, the KVR Trail provides many great hiking experiences in the Penticton area. The Kaleden to Okanagan Falls section is another top pick of mine. It is the longest suggested hike on this list.
This part of the KVR stays low and close to the shore of Skaha Lake. There are great views across the water, with the rugged rocks of Skaha Bluffs easy to spot to the northeast and the peculiarly shaped Peach Cliff to the southeast.
The turnaround point is the long wooden trestle bridge that leads into Okanagan Falls. If you have the energy for a longer hike, consider heading to the OK Falls Hotel for lunch. It's 2.5km return from the trestle bridge. There are closer alternatives for food if that sounds a little far.
While I have noted below that the trailhead is in Pioneer Park, keep in mind that the true trailhead is at the end of Ponderosa Avenue. There's no parking available here so Pioneer Park is a better starting point.
Length: 9.2km return, allow 2.5 to 3 hours
Difficulty: Very easy (flat, wide gravel path)
Parking: Dedicated street parking
Trailhead location: Pioneer Park, Kaleden
Facilities: Benches, public washrooms at trailhead (in season)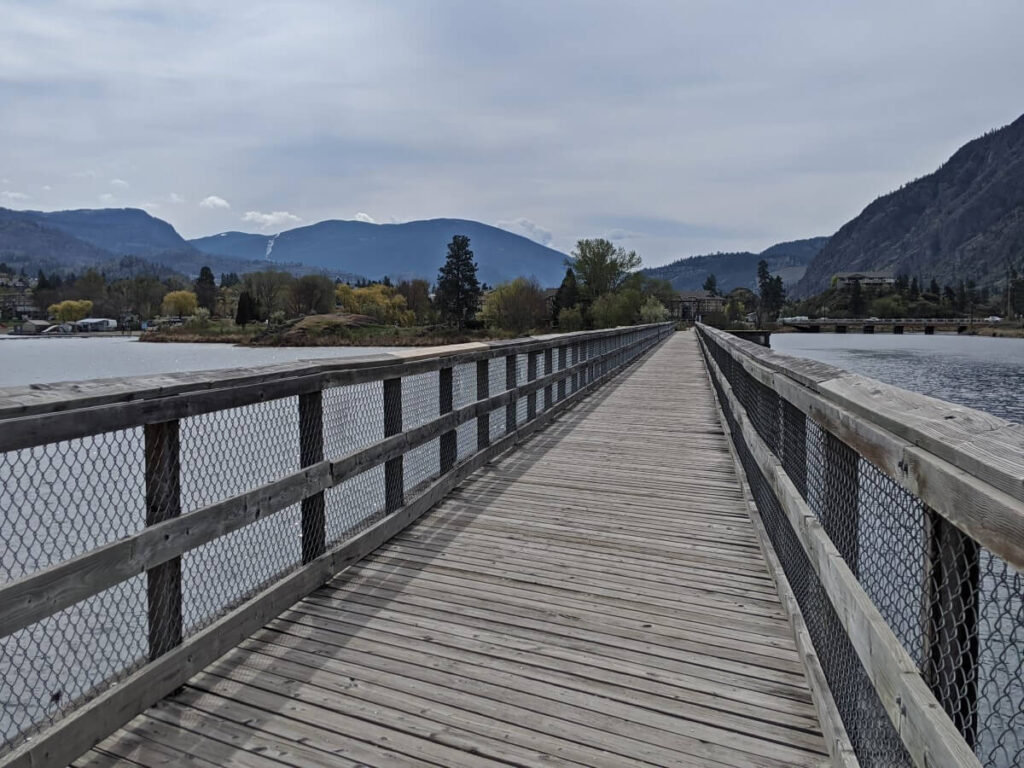 Looking for the best accommodation in Penticton?
Discover Penticton