The Naramata Bench isn't just a beautiful place to explore, it's an incredible place to stay too. Enhance your trip to the Naramata Bench with a night or two beside the vineyards.
Not only are the views spectacular, but there's the added convenience of being close to wineries, hiking/biking trails and Okanagan Lake.
There is a variety of accommodation available on the Naramata Bench, from B&Bs and guesthouses to motels, resorts and even winery accommodation.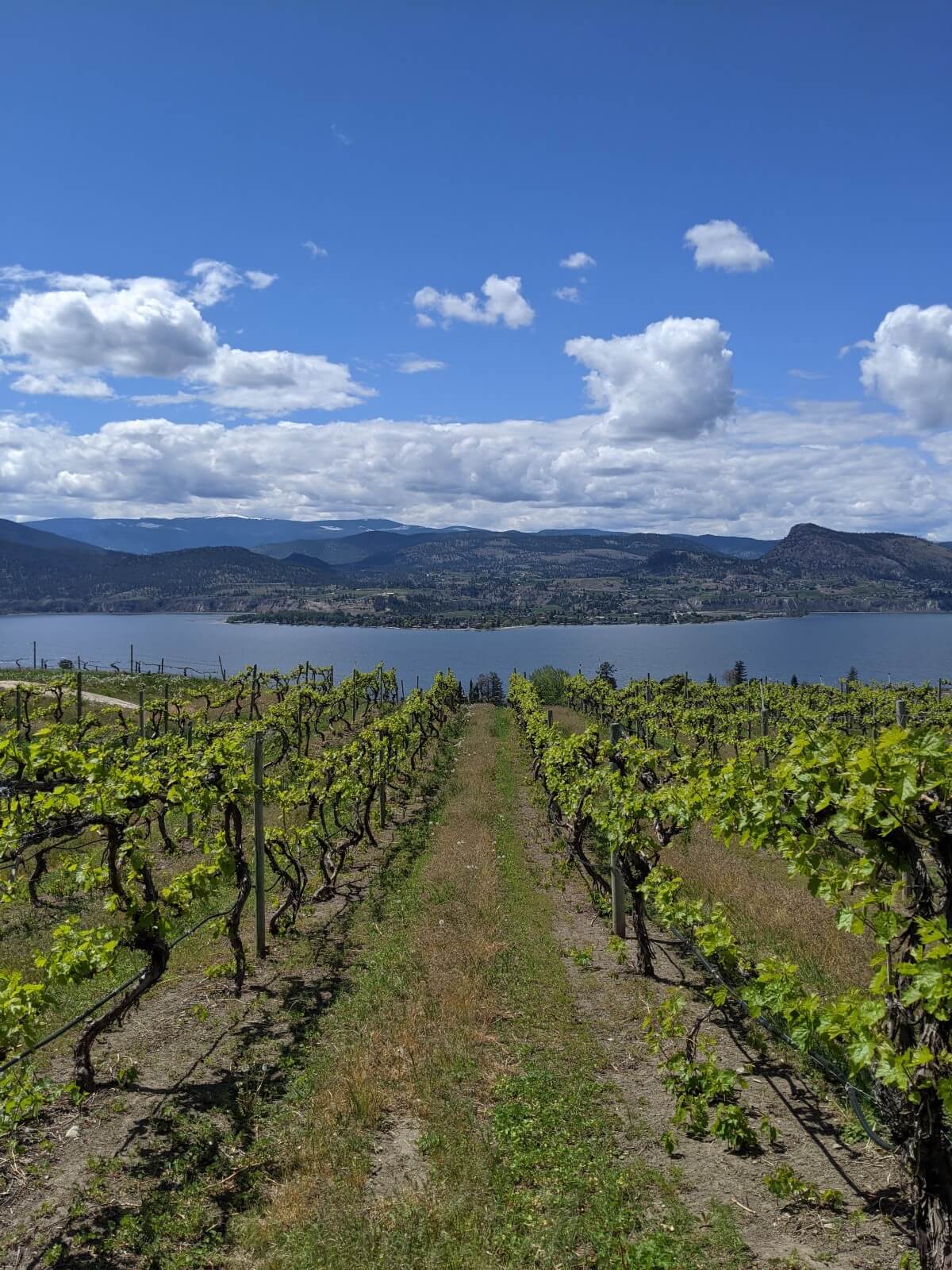 This post will showcase some of the best accommodation options on the Naramata Bench, including within the village of Naramata.
If you want, use the index below to skip ahead to the Naramata Bench accommodation type of your choice.
Last updated August 2023. For the most up-to-date information, contact individual businesses before visiting. There are some affiliate links in this post. If you make a purchase, we may receive a small percentage of the sale.

Choosing Naramata Bench accommodation
When thinking about where to stay during your visit to the Naramata Bench, consider:
Is wine tasting the sole focus of your trip? If yes, staying in Naramata or on the Naramata Bench is ideal for the ultimate wine touring experience. Imagine enjoying a glass of local wine on your own private patio overlooking beautiful Okanagan Lake and vineyards!
How you plan to visit the Naramata Bench wineries? A driving tour can easily be started from anywhere in the Naramata area or Penticton. Cyclists and walkers will want to stay in the northern side of Penticton if not on the Naramata Bench itself. Wine tour buses pick up and drop off at the major hotels
What kind of experience are you looking for? For the classic Okanagan summer experience (swimming in the lake, boating, beach fun), consider Sandy Beach Lodge & Resort in Naramata or head to Penticton. For a relaxing break away from the crowds with the possibility of breathtaking views, consider staying on the Naramata Bench itself
Something I think is important to note is that the Naramata Bench itself has limited restaurant and food options. There are no convenience stores between Penticton and Naramata.
Some of the winery restaurants have limited opening times in the evening due to license restrictions. Staying on the Naramata Bench itself is an incredible experience but it is a good idea to be aware of the available facilities ahead of time.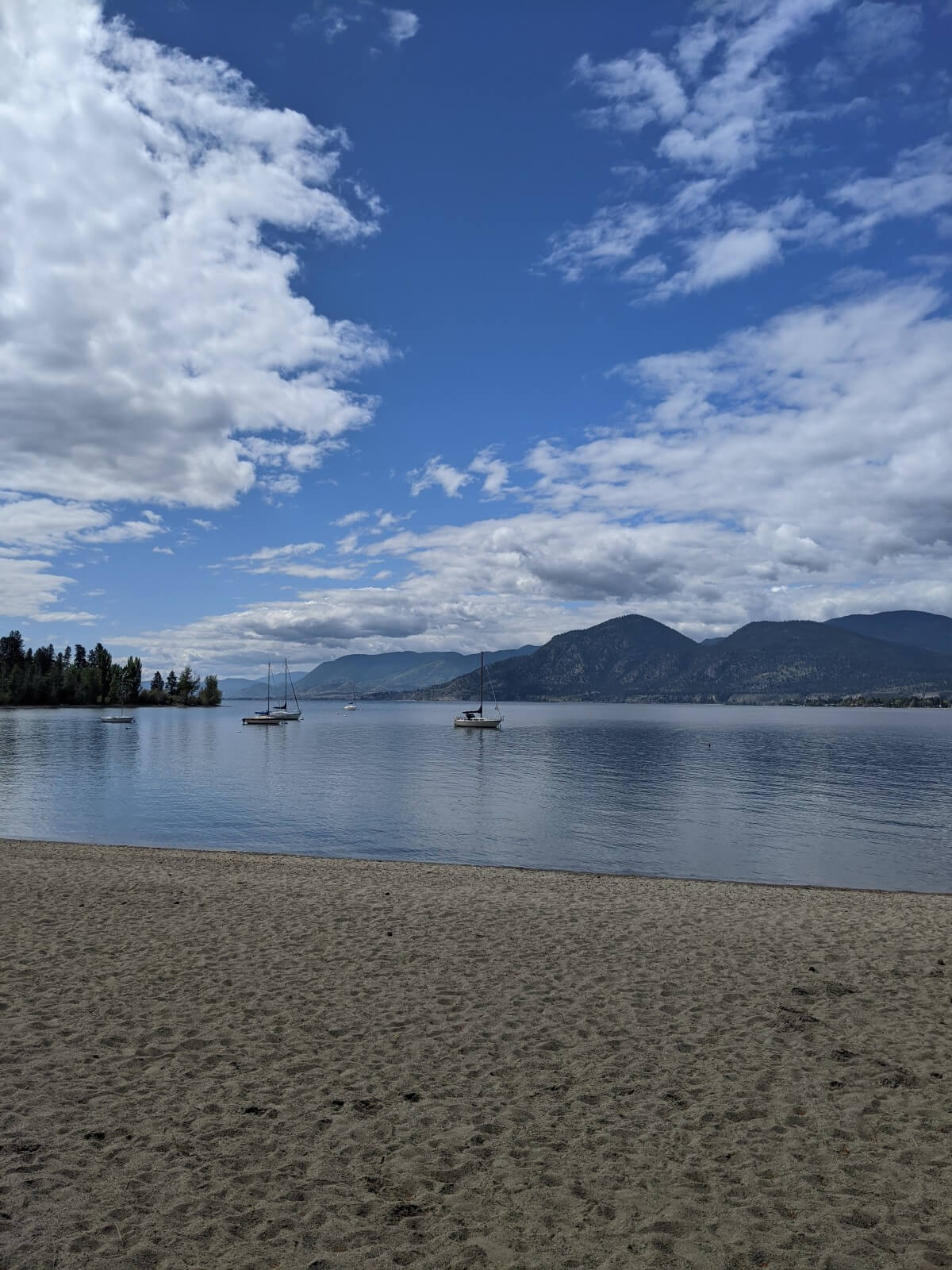 Winery accommodation
There is simply nothing better than opening a bottle of wine overlooking the vineyard that the grapes were sourced from. The following Naramata Bench accommodation options are all located on winery property, with tasting rooms just a short walk away.
The Inn at Therapy Vineyards
The Inn at Therapy Vineyards features five luxurious suites featuring high end features such as spa-lake bathrooms, wine fridges, king sized beds and granite countertops.
The suites are modern and spacious, with plenty of windows to take in the beautiful views outside. Each guest room has direct access to a deck or patio area.
Breakfast is included with every stay, served in the communal dining area. Outside, there is a huge hot tub and cosy fire pit area.
The Inn is less than 30 seconds walk from the Therapy's tasting room, where guests receive free tastings plus a 10% discount on wine purchases. Therapy Vineyards itself is just around the corner from Naramata and about 20 minutes driving distance from Penticton.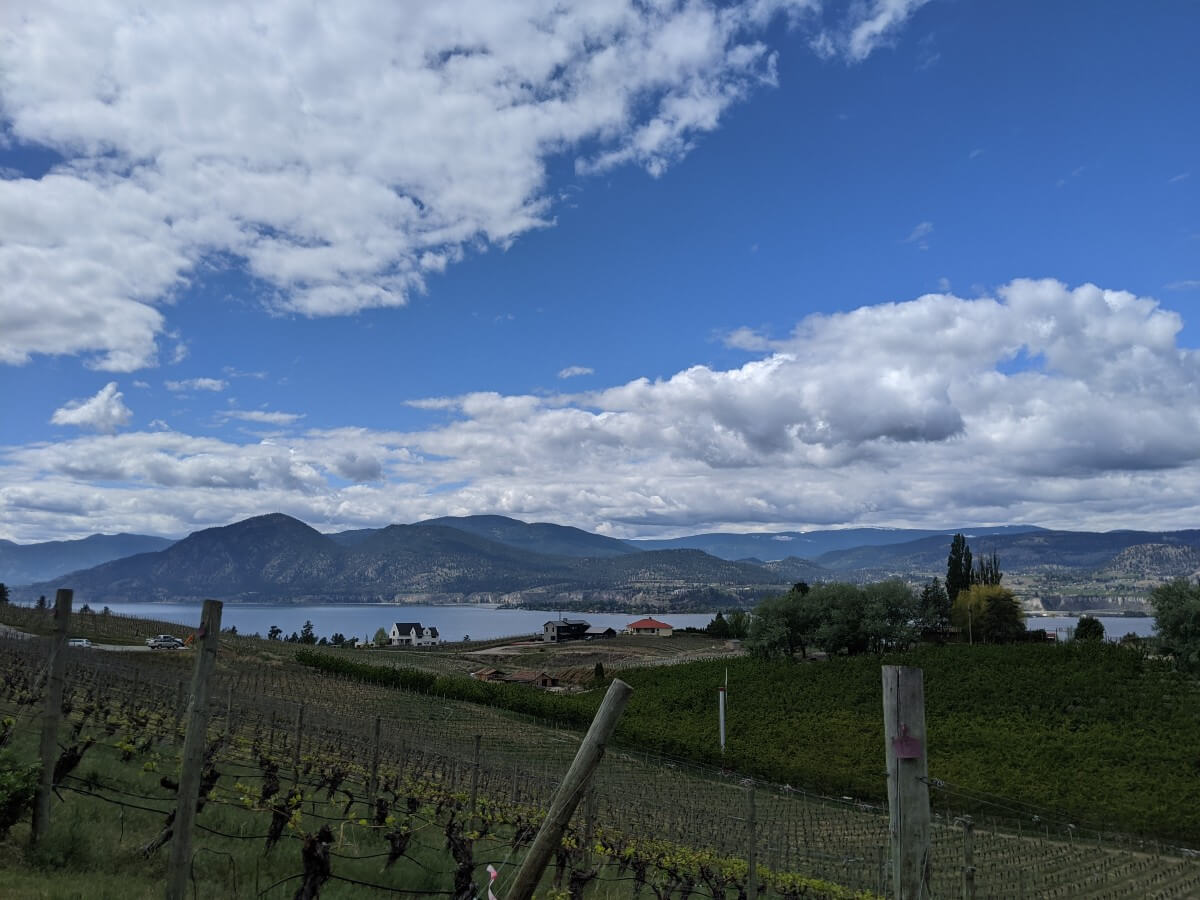 D'Angelo Winery Guest House
Situated on a 27 acre property with stunning views of Okanagan Lake, the D'Angelo Winery Guest House is a ideal place to get away from it all. The three floor Guest House is surrounded by vineyards and features a three bedroom suite (which can also be rented as a two bedroom) as well as a number of smaller bachelor suites.
All of the suites are self contained, with full kitchens, private bathrooms and individual patios. There is shared use of a large (seasonal) in-ground pool, surrounded by sun loungers.
The property is just a short walk to the Kettle Valley Railway (KVR) Trail, which provides access to other wineries and plenty of opportunities for leisurely walks and bike rides. It's even possible to walk to Penticton from here (about 4km, 50 minutes).
The D'Angelo Winery tasting room is located in the adjacent vineyard. Wine tasting here is free for all visitors but guests will enjoy being so close by! There is an Italian food truck parked at the winery at lunchtime during the summer.
Moraine Estate Winery Guest Suite
Moraine Winery has a spacious two bedroom guest suite located in the main wine shop building, just steps away from the tasting room. Only ten minutes drive from downtown Penticton, the suite offers the perfect base for touring the Naramata Bench or the southern Okanagan area in general.
Not only is the location exceptionally convenient, but it's absolutely breathtaking too. Both the living area and master bedroom have huge floor to ceiling windows overlooking the surrounding vineyards, which are backdropped by Okanagan Lake and the mountains beyond.
Modern yet comfortably furnished, the suite has everything you need for a short or extended stay in the area. The full kitchen provides the flexibility to eat out at one of the local winery restaurants or cook in the suite.
Suite guests receive a complimentary bottle of wine, a tasting at the winery next door and 10% discount on wine purchases.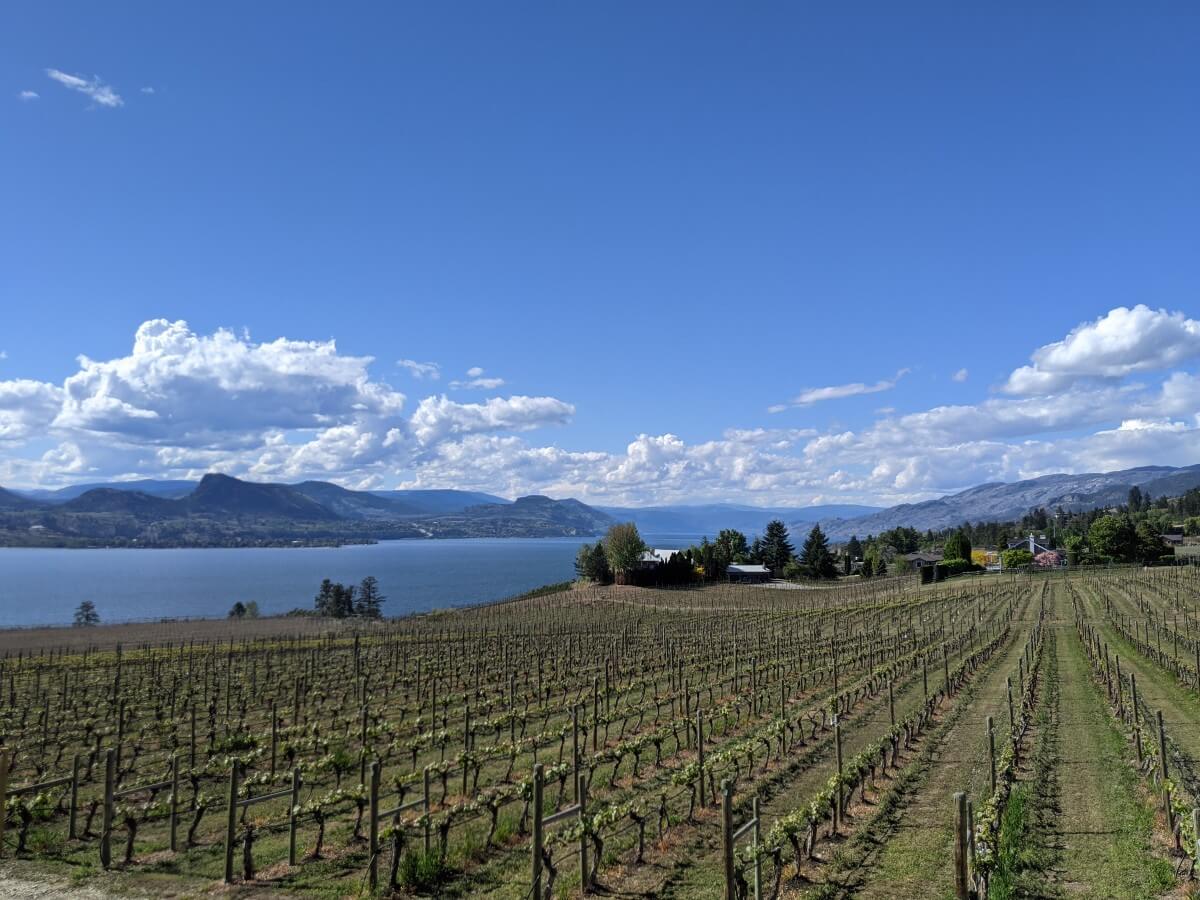 Four Shadows Vineyard and Winery Guest House
Four Shadows has a small private guest house named 'Pinot Blanc.' Separated from the tasting room by a gently sloping vineyard, the cottage looks out over the beautiful rolling landscape of the Naramata Bench as well as Okanagan Lake and the mountains beyond.
With one bedroom and one bathroom, Pinot Blanc is the ideal destination for a romantic getaway. The cottage is completely self contained with a full kitchen in the main living space. There is a lovely shaded deck with a BBQ, overlooking the vineyard and tasting room.
With Four Shadows being only minutes from downtown Penticton, this guest house offers exceptional convenience while still being very private and rural.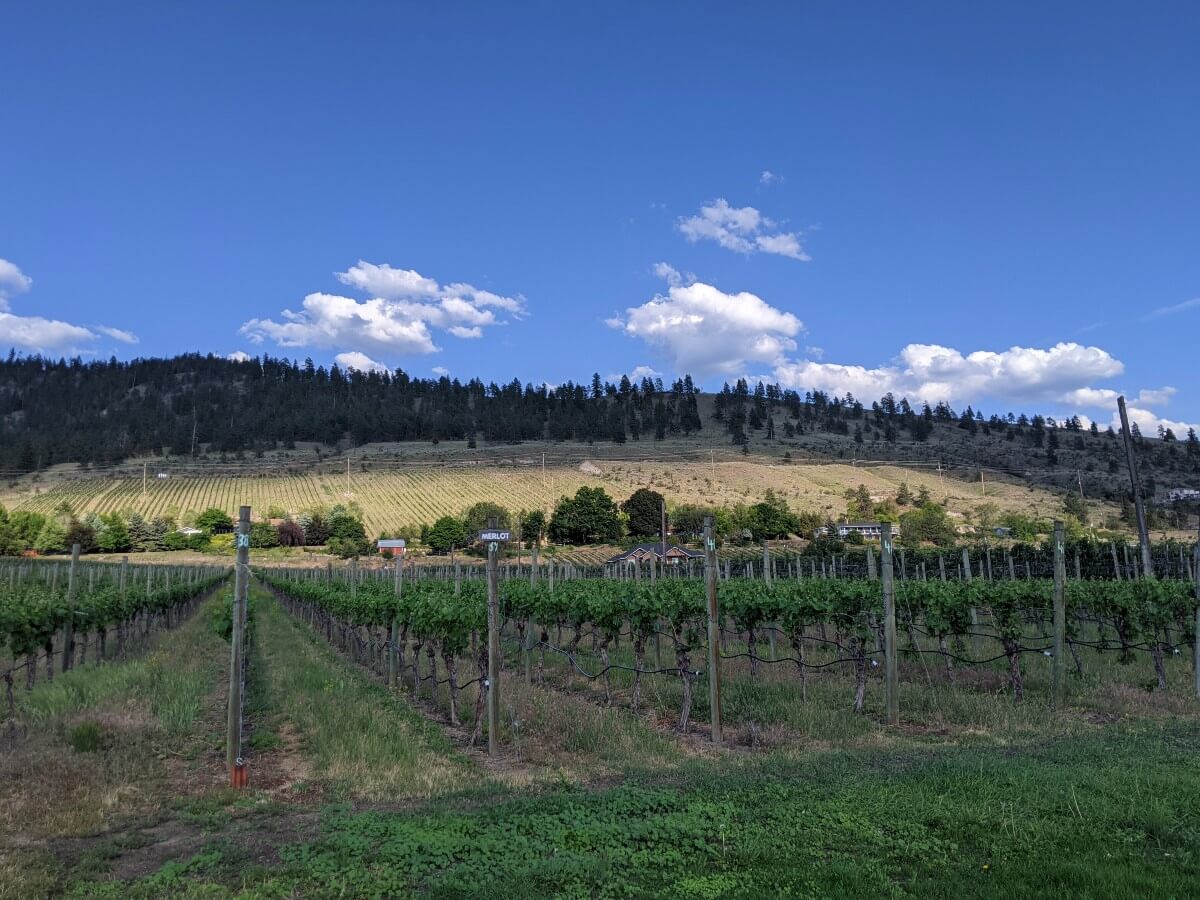 Wesbert Winery Guest Suites
Three beautiful guest suites sit on the second floor of Wesbert Winery, each with a private balcony overlooking the three acre working vineyard below. Okanagan Lake and Mount Nkwala form an impressive backdrop.
Upscale features include king size beds, freestanding bathtubs and a complimentary continental breakfast. There are shared coffee making facilities and a small kitchenette in the communal area on the landing.
Wesbert's wine tasting room is just down the stairs. If wine tasting is what you're here for, there are as many as four other wineries within only 5-7 minutes walk – Hillside, Howling Bluff, Origin and Singletree. Many more can be accessed via the nearby KVR Trail.
Even though the winery is located right on Naramata Road, the guest suites are on the other side of the building and remain perfectly peaceful. Just around the corner is Three Mile Beach, which has a dog friendly section as well as a clothes optional side.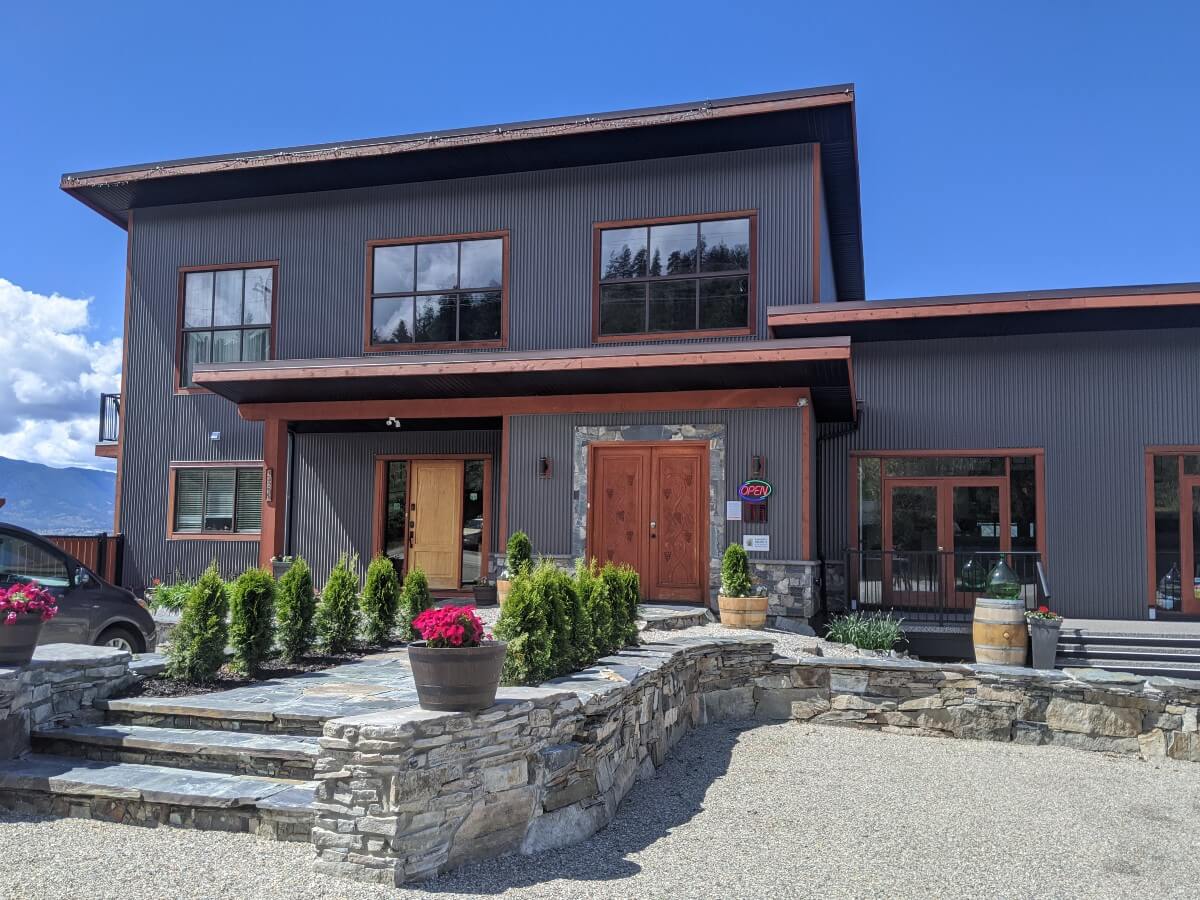 B&Bs, guest houses and inns
The most common type of accommodation found on the Naramata Bench is bed and breakfasts (B&Bs). This section features the best of Naramata Bench's B&Bs, plus owner operated guest houses and a historic inn.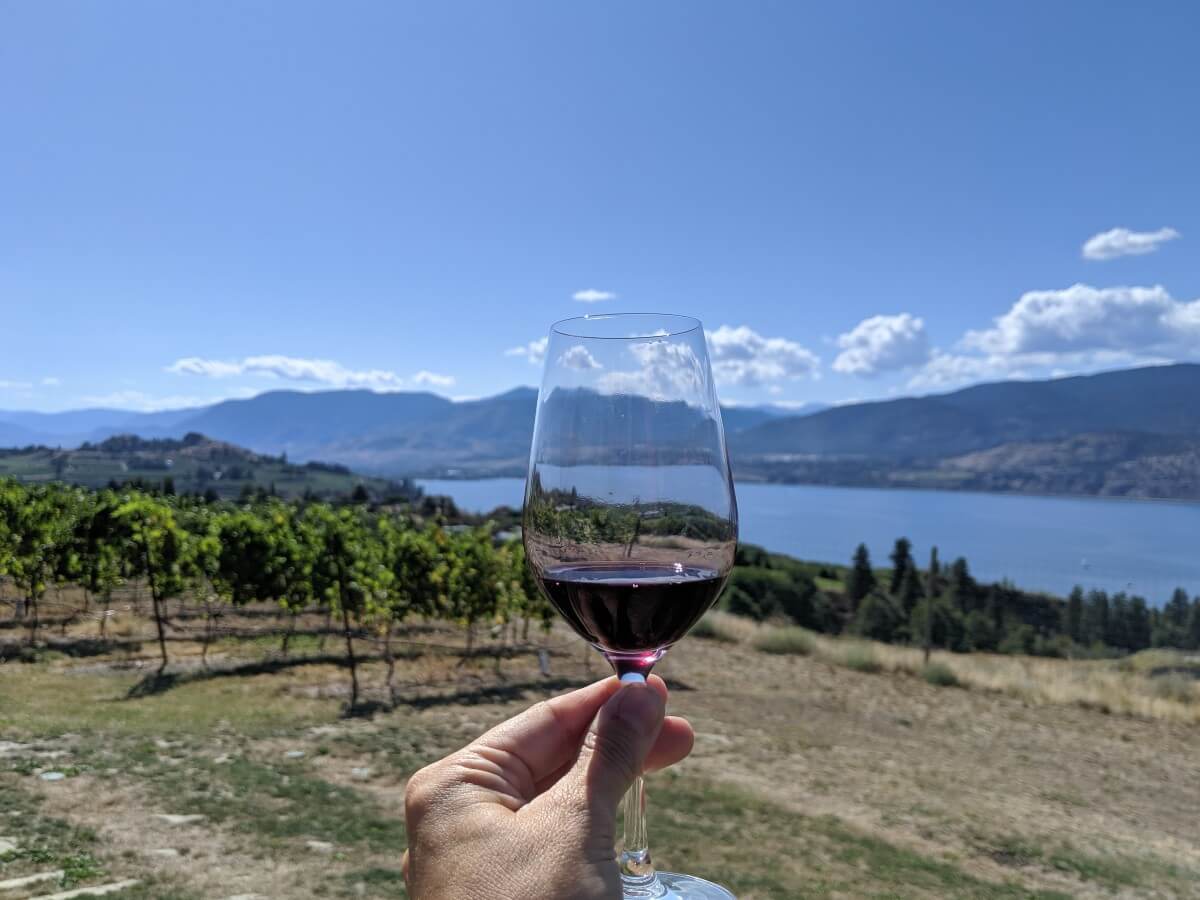 Bench d'Or
Bench d'Or is a spectacular log guesthouse property incorporating four spacious one-bedroom suites, each uniquely decorated and featuring custom elements such as jacuzzi tubs and gas fireplaces.
The Penthouse, located on the second floor, is the most luxurious, with a private sauna. The suites on the lower floor all have private garden patios, with access to a shared sauna.
Guests can also enjoy the property's hot tub and salt water pool, as well as stunning Okanagan Lake views from the outside spaces. Breakfast is included with every stay at Bench d'Or.
This property is highly recommended online, with guests praising the attentive and welcoming nature of the owners. The Naramata Road location is also excellent, with easy accessibility to both Naramata (5 minutes drive) and Penticton (15 minutes).
Naramata Inn
The gorgeous 110+ year old Naramata Inn boasts twelve uniquely sized rooms, all tastefully renovated to combine period charm with modern comforts.
Each room has access to the Inn's upper veranda, where views of Okanagan Lake and the surrounding mountains can be enjoyed.
In line with the Inn's age, the rooms are on the small side. But this is more than made up with clawfoot tubs (soaker tubs in some rooms), luxe linens and heritage charm.
The Naramata Inn's new owners are dedicated to providing a new style of 'R&R&R.' The third R stands for the on-site restaurant, which specialises in seasonal cuisine made with hyper-local ingredients.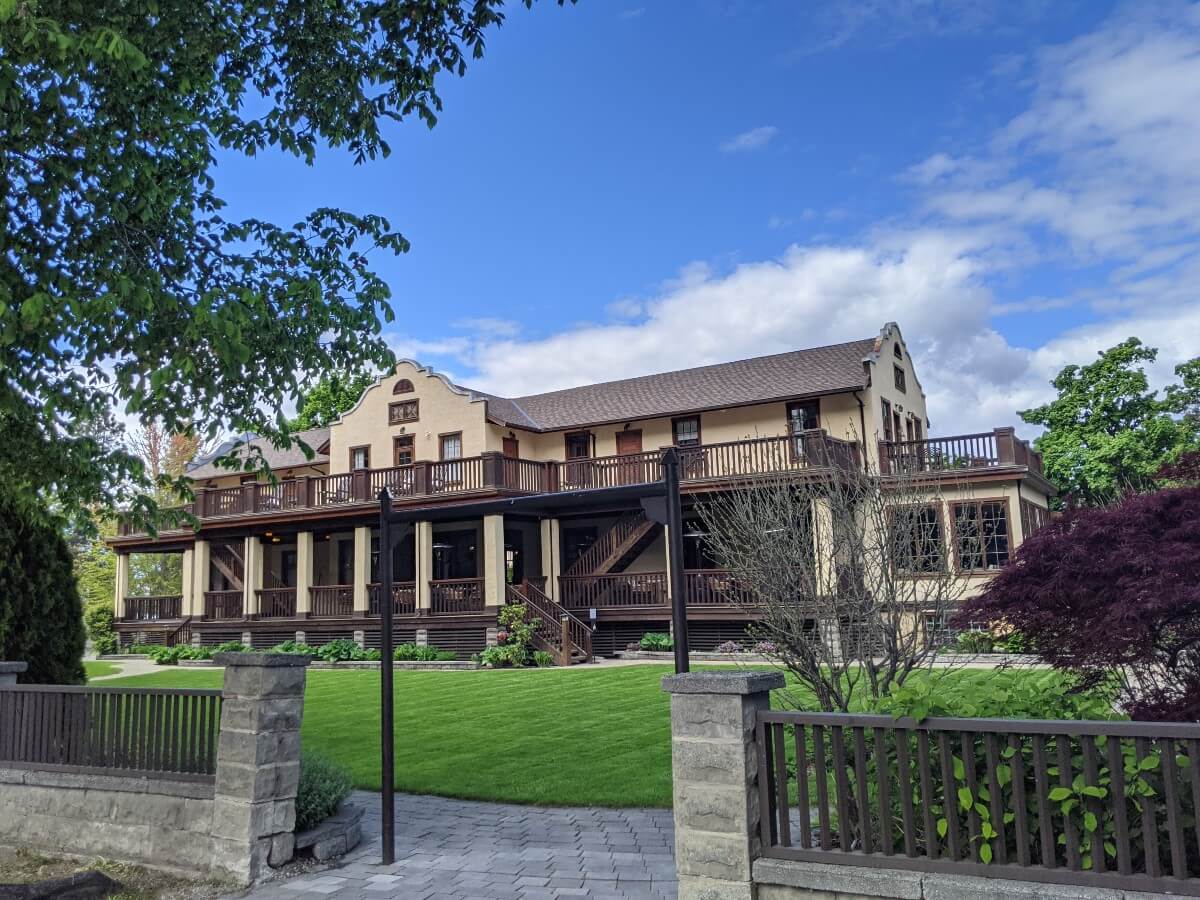 Modern Farmhouse Bed and Breakfast
This property is host to two beautifully modern units, a King room and a Family suite. Both enjoy access to an outside deck, garden and hot tub. The friendly hosts also share use of their kitchen if needed. Breakfast is included with every stay.
In terms of location, the Modern Farmhouse is well placed. It's at the northern end of the Naramata Bench, just off the Aikins Loop. Four wineries and a distillery are all situated within short walking or biking distance. The village of Naramata is a very short drive away (7 minutes or less!)
Dogs: No
Children: Yes

Motels and resorts
There are no chain hotels to be found on the Naramata Bench! In this section, you'll find renovated motels and a two resorts.
The Village Motel
Located in the heart of Naramata, the Village Motel is within walking distance to many local attractions, including Okanagan Lake. Wineries are just a short bike ride or drive up the hill.
This well kept property includes nine rooms (a mix of studios and suites) surrounding a pretty courtyard. This shared space is perfect for relaxing in the sun, after a long day wine touring or bike riding. The Village Motel has bike storage available.
Conveniently located next door is Just Baked, a cute take out coffee shop serving espresso coffee, steeped tea and juices as well as freshly baked cakes, bars and brownies.
Naramata Courtyard Suites
A renovated motel with a modern look, Naramata Courtyard Suites is situated in the center of Naramata. The beach is just a short walk away, as well as a number of Naramata restaurants and cafes.
There are eight units total, comprising of studio rooms and one/two bedroom suites. The latter have well equipped kitchenettes. There's also a common courtyard outside with BBQs to use on sunny days, while enjoying a glass of wine (or two) from a local winery.
Naramata Courtyard Suites also has a comfortable guest house, perfect for larger groups. It sleeps up to eight guests and has a private BBQ area.
Please note that the suites are open seasonally, from the start of May to the start of October. The guest house is available to book year round.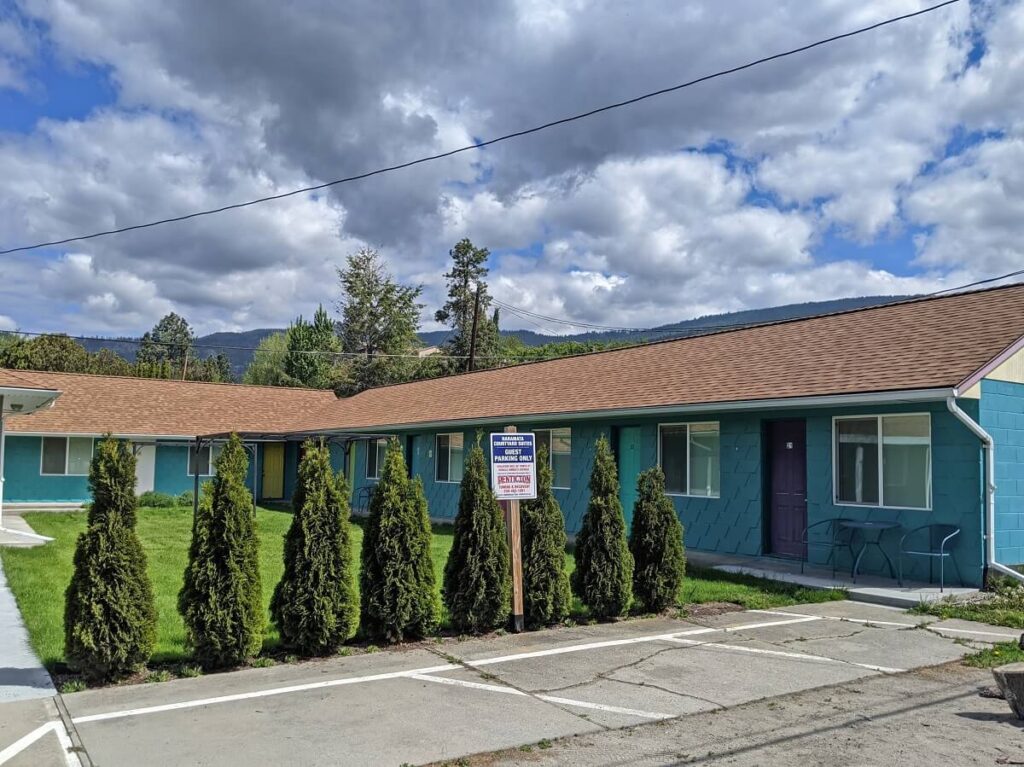 Sandy Beach Lodge & Resort
The only Naramata accommodation of its kind, Sandy Beach Lodge & Resort has been resting on the shores of Okanagan Lake since the 1950's.
Choose between simple, yet comfortable en-suite rooms in the main log lodge or spacious two-bedroom cottages located throughout the expansive property. Both offer beautiful views of the lake and access to resort facilities.
In addition to 400 feet of sandy beachfront, guests can enjoy an outdoor heated pool and hot tub, two tennis courts, basketball courts, table tennis, bocce and various water activities.
Travelling to Naramata with children? Sandy Beach is one of the most family friendly places to stay in Naramata. In addition to all of the facilities above, there are children's play areas and guest laundry facilities. Playpens are also available on request.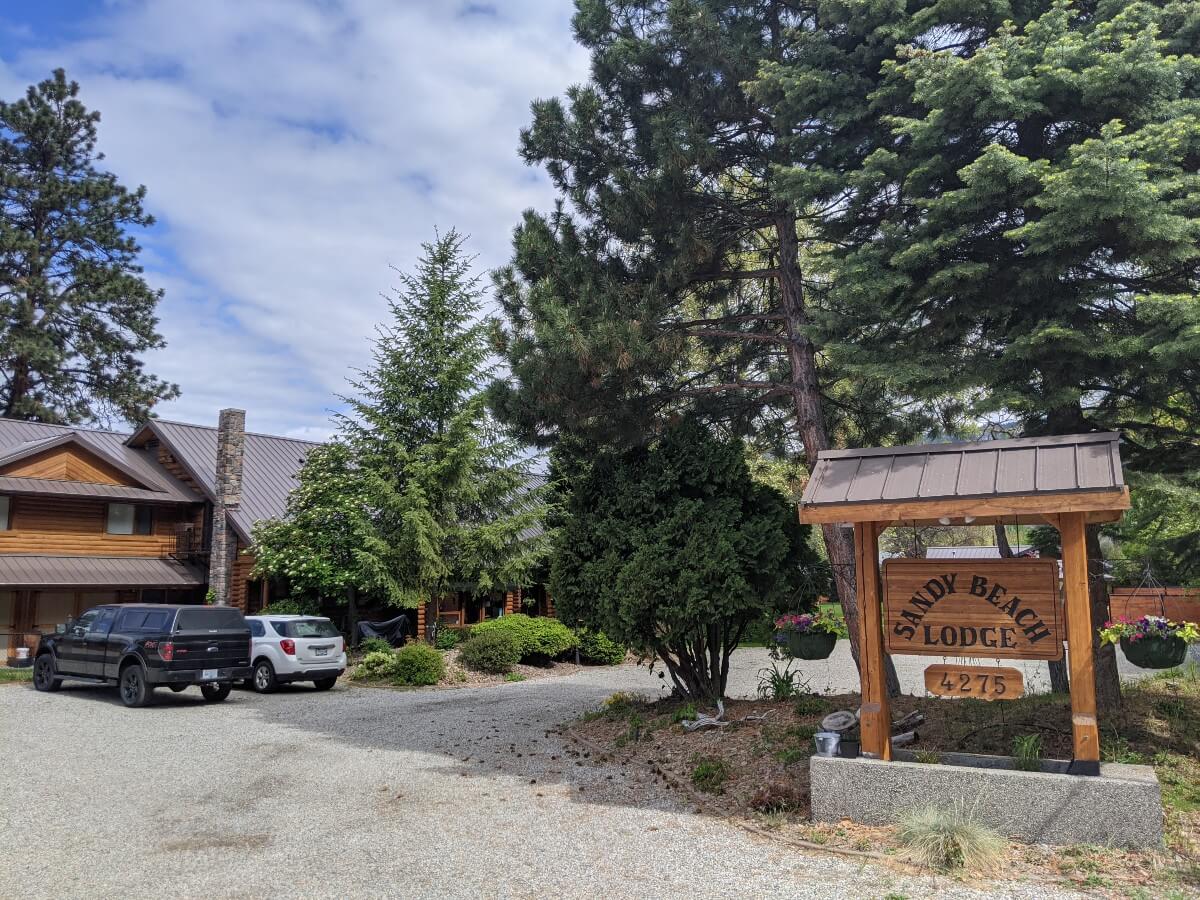 Naramata Centre
The Naramata Centre is a real one of a kind place in the Okanagan Valley. The 23+ acre property hosts accommodation and also runs a packed program schedule (art workshops, yoga, children's clubs, concerts, song circles and more). The vibe is on the spiritual side, offering an 'inclusive, welcoming place to connect.'
There are a few different types of accommodation available, ranging from motel-style units with kitchenettes to larger suites and cottages.
The Naramata Centre is located adjacent to Okanagan Lake, with a beach situated right on the property. The village of Naramata is within easy walking distance.
I found it difficult to categorise the Naramata Centre within this post, but felt that the various activities and facilities made it more of a resort than anything else.
Dogs: No
Children: Yes
Phone number: 250-496-5751
Address: 460 Ellis Ave, Naramata, V0H 1N0

Vacation rentals
Want a private place of your own with spectacular lake and vineyard views? Check out these gorgeous vacation rentals!
Naramata Paradise Property
Heading to the Okanagan Valley for a vacation with your extended family or a large group of friends? This vacation property may be the perfect fit.
With four bedrooms and four bathrooms, there is plenty of space and privacy for everyone. Better still, at the back of the property is a huge deck area with private swimming pool. The deck overlooks a vineyard, with Okanagan Lake and surrounding mountains as a backdrop.
The location is pretty good too, being in easy driving distance of many wineries. The KVR Trail runs parallel above the property, with the nearest access point being about five minutes drive.
Dogs: No
Children: Yes
Gjoa's Vineyard Suite
If I could pinpoint the best place to be located on the Naramata Bench, this would be it!
This dreamy adults only vacation rental is surrounded by a seven acre vineyard, with back deck views of Okanagan Lake. It is just within quick walking distance of half a dozen wineries and a craft cidery as well.
The KVR Trail is just across the street, perfect for bike trips up the Little Tunnel or into Penticton. Alternatively, use the KVR to access even more wineries! Two touring bikes are available from the owners.
The suite includes a spacious bedroom with two queen beds, plus well equipped kitchen and comfortable living spaces. There is secure storage for your own bikes if you bring them.
Gjoa's Vineyard Suite has a five night minimum.
Dogs: No
Children: No
Three Bedroom House with Pool
For the ultimate Naramata Bench vacation, consider this amazing three bedroom rental. It's a great choice for three couples or extended family.
The property sits high above Okanagan Lake in a quiet neighbourhood, offering spectacular views of the water as well as orchards and vineyards. The KVR Trail is just up the road, with the Little Tunnel not far away.
The star feature of this vacation rental is the huge deck, which features a private swimming pool, hot tub, dining area and BBQ. There is a fire pit as well. Enjoy striking sunsets and a glass of wine with one of the best views around!
Dogs: No
Children: Yes

Still haven't found what you are looking for?
Looking for the best accommodation in Penticton?
Discover Penticton