River tubing is a classic summer experience in British Columbia. Floats can be fast and exciting or long and lazy.
Some travel through beautiful rainforest on wild rivers while others are found a little closer to town. Either way, river tubing offers a fun way to beat the heat.
Penticton is home to what must be the laziest river float in BC. Built in the 1950's to control water flow between Penticton's two lakes, the Channel hosts the province's biggest floating party every summer.
The slow, shallow river is the perfect place to relax, listen to music, drink, chat and sunbathe. Best of all, floating on the Penticton Channel is completely free!
This post last updated July 2023. There are affiliate links below. If you make a qualifying purchase via these links, we may receive a small percentage of the sale.

A one of a kind experience in Penticton, BC
The Penticton Channel float features on many Canadian 'must do' lists. For many of our summer guests, it is definitely one of their essential Penticton experiences.
Something of an oasis, the man-made river runs alongside the highway from Okanagan Lake (north) to Skaha Lake (south). The float is surprisingly peaceful, with ducks and geese swimming alongside tubers.
The water is relatively clear and quite shallow, perfect for snorkelling and swimming if tubing gets a little boring for some. Alcohol is technically not allowed on the river, but this rule isn't very strictly followed, to say the least…
Floating on the Channel is a great alternative to another day at the beach.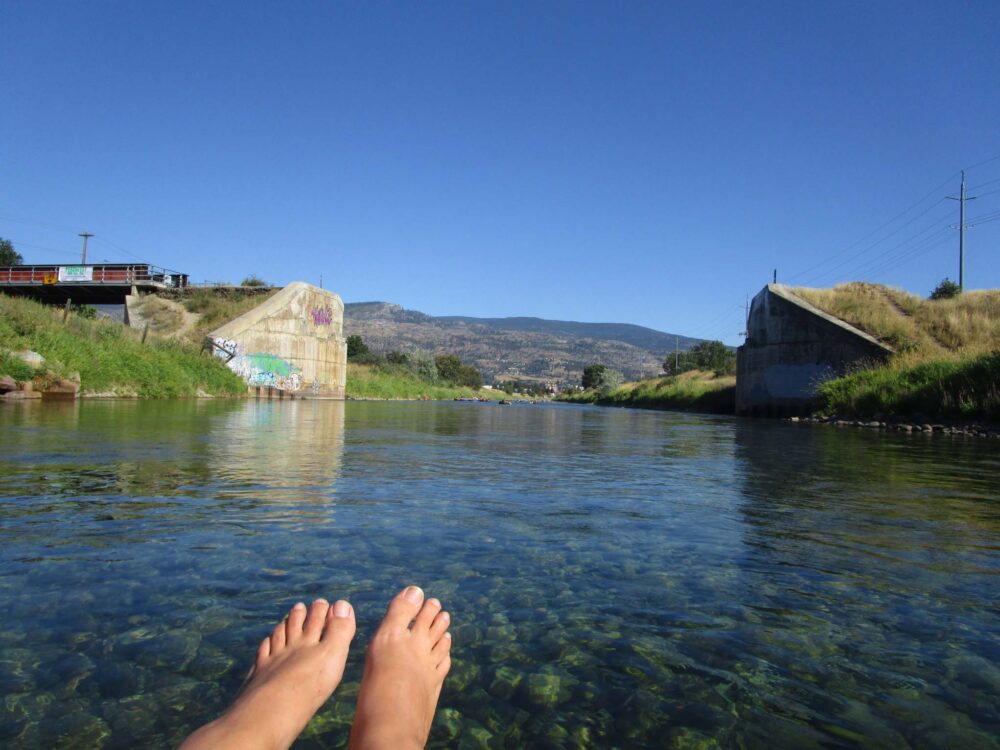 Penticton Channel Float: Essential details
In this section, I'll share what you need to know about the Penticton Channel Float.
First of all, the Penticton Channel Float is 5.4km long.
Penticton Channel tubers can either stop at the half-way point on Green Mountain Road or float the full distance to the Highway 97 crossing before Skaha Lake.
The first section of the Channel is faster than the second half – the speed depends on the time of year. It is usually faster earlier in the season (June, July) than later on (August, September).
The Penticton Channel float starts at the sandy coloured Coyote Cruises building on Riverside Drive (Google Map directions). There are concrete stairs leading into the channel behind the building for easy launching.
Mid Way Point – Green Mountain Road
During July, it usually takes about 45 minutes to float to the Green Mountain Road bridge. This is most often referred to as the 'midway' or 'halfway' point.
Green Mountain is a popular place to finish for anyone short on time or families with young children.
Look for the steps on the right-hand side of the channel (approximately 50m before the bridge). There is a convenience store and a gas station here as well as some dirt parking.
This land is owned by the Penticton Indian Reserve. For 14 years, "Relvis" used to sing from the 'Hound Dogs' restaurant patio here and entertain Channel floaters. Elvis impersonator Ralph Ramsey retired in 2018.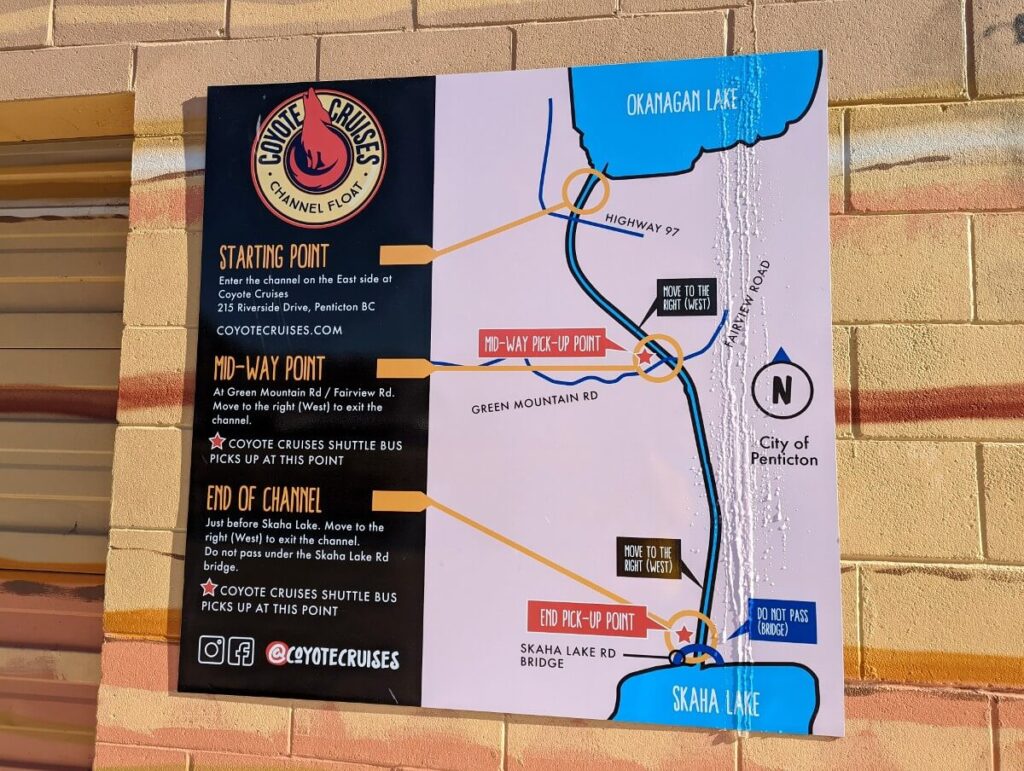 Full Float – Skaha Lake
The full float to the Highway 97 bridge near Skaha Lake takes around 2 to 4 hours, with the shorter time more common in June/early July and the slower time frame from mid July to August.
The Penticton Channel Float ends just before the bridge due to the dangerous currents between here and Skaha Lake.
There are numerous warning signs as you float towards the Highway 97 crossing. Look for the steps on the right-hand side before the bridge. There are no permanent facilities here, but a portacabin toilet is usually available.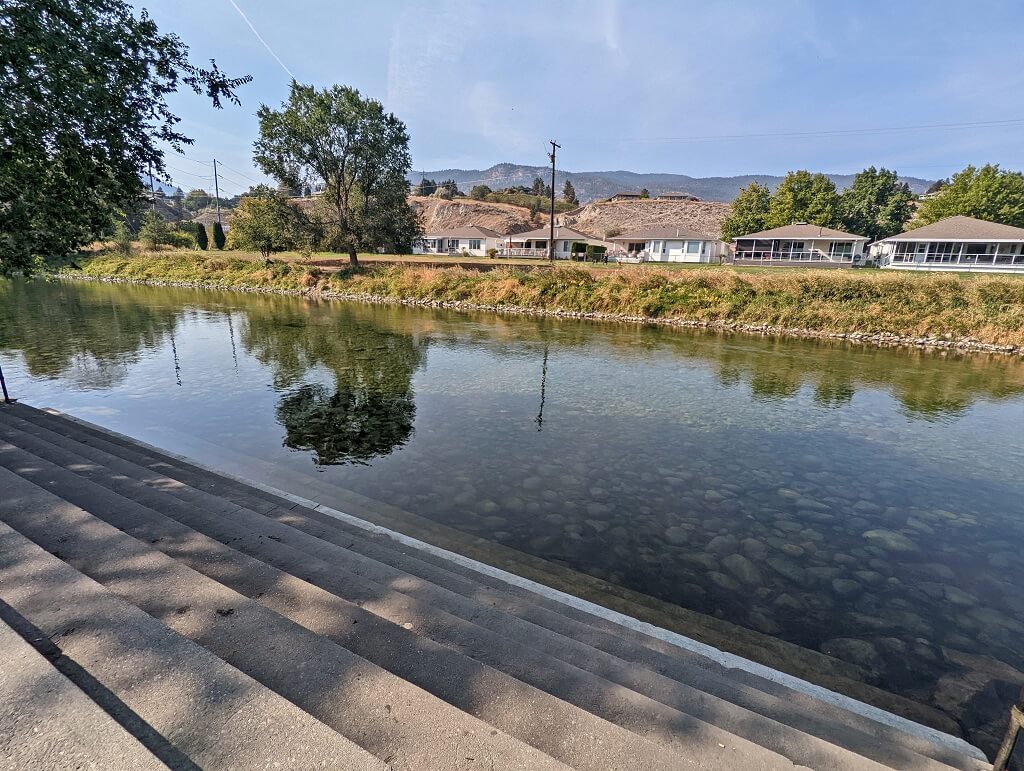 Penticton Channel float transport options
The easiest and cheapest way to float the Penticton Channel is to park a vehicle at either end – one on Riverside Drive and the other at either Green Mountain Road or in the parking lot just off Highway 97.
There is free parking available all along Riverside Drive. There is a big lot at Loco Landing as well, plus waterfront parking along Lakeshore Drive. The closest washrooms can be found a short walk away outside Loco Landing, near the Riverside Drive and Lakeshore Drive roundabout.
Note that there is not much parking on Green Mountain Road.
The Highway 97 parking lot immediately next to the Penticton Channel (Google Map directions) has space for around 40-50 vehicles. It can be pretty busy in summer so there is an alternative lot further west along Highway 97 (Google Map directions).
Coyote Cruises bus
The Coyote Cruises bus runs from the half-way and full distance points back to Riverside Drive. Tickets can be purchased from the sandy coloured ticketing building on Riverside Drive. Bus pick-up is from at the end point only. The one-way bus ticket costs $9.50 (single float only).
Coyote Cruises also rents tubes.
As of 2023, the price for a combined tube rental and bus ticket is $19 per person (choice of single or double tubes). Quad tubes with bus are available for $25 per person. It is possible to pay online before arriving at the Penticton Channel Float start.
Other transport options
If you do not have two vehicles and don't want to use the bus, taxis often hover around both finishing areas. With signal all the way along the Channel, you could also call one while still on the water (use a waterproof case like this one!)
For a VIP experience, check out Float Penticton. They offer private shuttles from anywhere within the Penticton city limits. Tube rentals are also available, with free tube inflation if you already have your own. Organise a shuttle via their website or visit them in the parking lot opposite the Days Inn on Riverside Drive.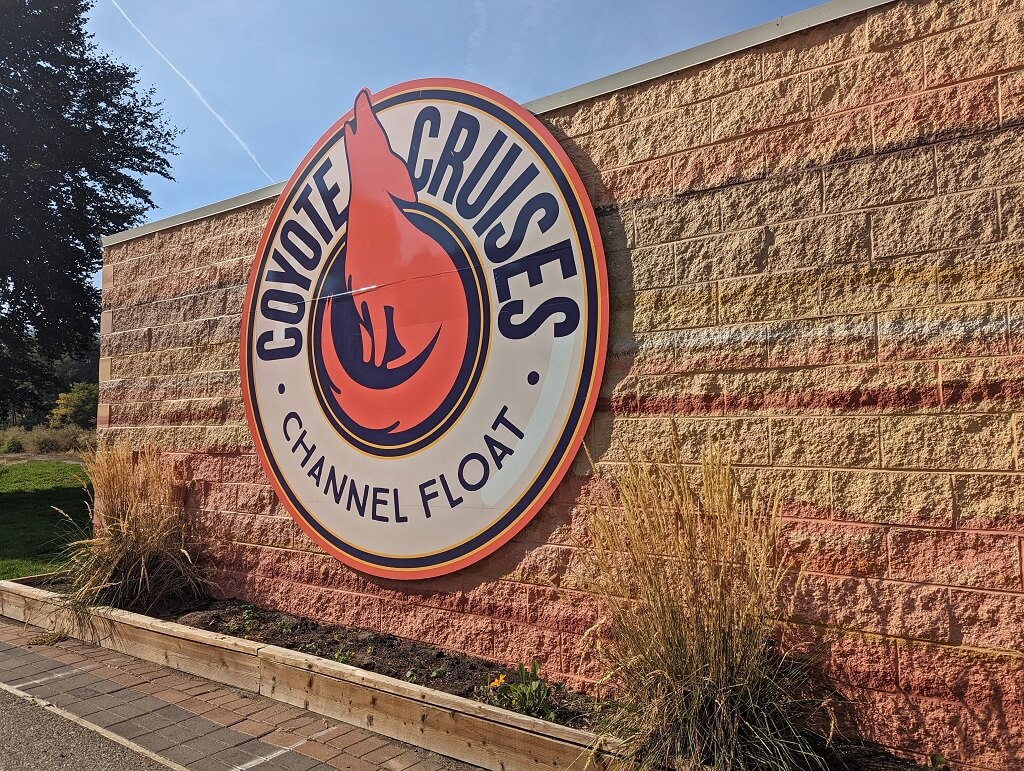 Penticton Channel float: Other things to know
The most popular time to float the Penticton Channel is weekends in July and August. Weekdays during these months are busy too, but not as much as the weekends
We commonly see people floating the Channel during hot days in June and September as well. The weather is less predictably hot but it's still a good time to go, unless the Channel is flooding
It's a little cool in May and October to float due to the temperature of the water. May can also be dangerous due to the water speed and/or flooding
Tubes can be purchased at Pharmasave and Riverside Liquor Store, only a few minutes walk away from the launching point.
The Riverside retail park next to the Channel entrance also has a Quality Greens (fruit, sandwiches, groceries etc.), Dominos Pizza, Subway, A&W and Booster Juice
Need to inflate your tube? Float Penticton offers inflation services in the parking lot opposite the Days Inn on Riverside Drive
The Penticton Channel Float passes under four bridges on its journey towards Skaha Lake
As a side note, I think it is important for visitors to know that homeless people sometimes camp underneath these bridges. I would rather mention it and let visitors know upfront rather than be surprised to discover it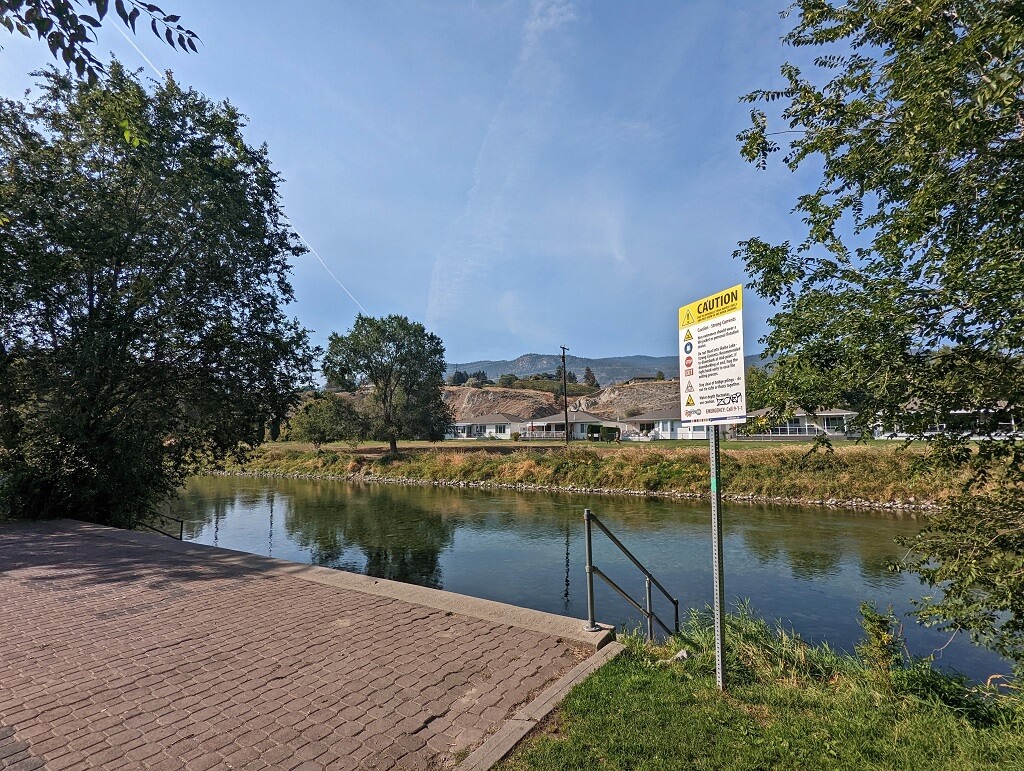 Safety information
Keep in mind that it gets just as hot on the Channel as the beach (30-35c in summer) and there is no shade at all. Be sure to bring sunscreen and plenty of water.
Tying tubes together is a common thing to do, but it is not recommended as it can be dangerous (apparently, it causes 90% of rescues!)
There are four bridges along the float and tied tubes can get caught on the bridge pilings. This is more common earlier in the season when the water level is higher and faster but can happen at any time during the summer.
Non-swimmers should wear a lifejacket or personal flotation device (PFD). Stay close to children and non-swimmers at all times.
Remember to hang right at the end of the float, to exit just before the Highway 97 bridge. There are strong currents between the bridge and Skaha Lake. If you do accidently go too far, stay calm, keep floating and paddle to the beach on Skaha Lake when you can.
Call 911 if you need help or see other floaters having difficulty in the water.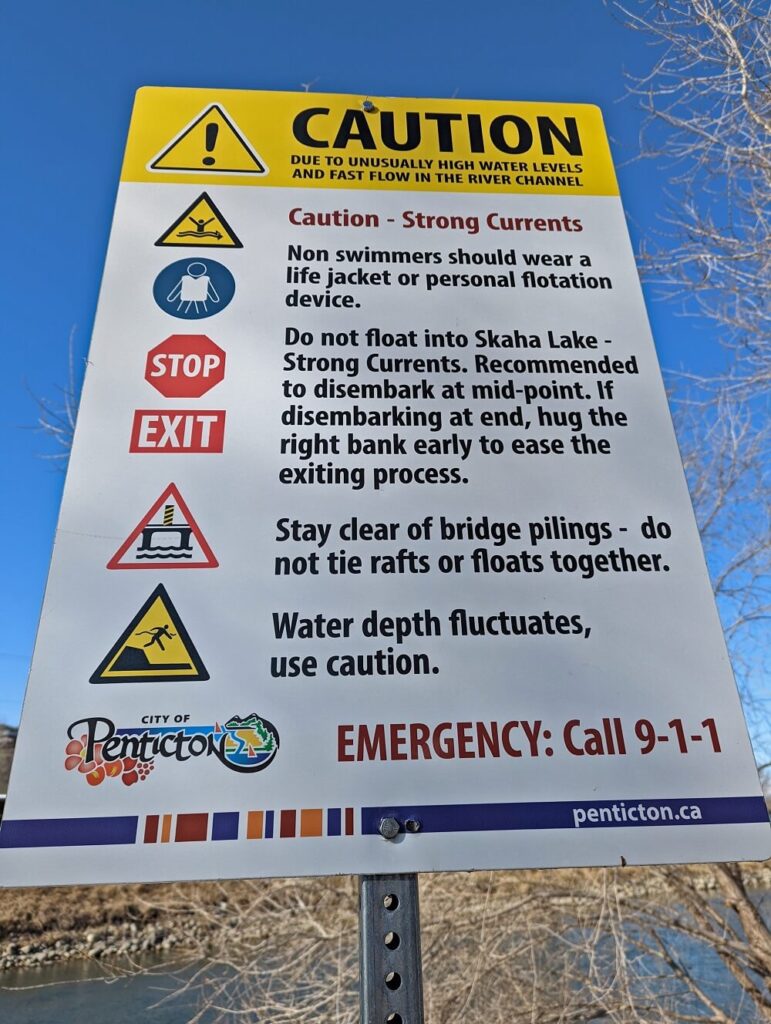 Looking to book a stay in beautiful Penticton?
Lakeside Villa Inn and Suites – Great value option
Penticton Lakeside Resort – Awesome waterfront location
House Victoria Bed and Breakfast – Highly rated on Booking.com

Discover Penticton