Host to an incredible amount of agricultural bounty, Naramata Bench is a foodie haven. This has attracted some of the best talent in the industry, from celebrity chefs to award winning artisan producers.
No matter your budget or preferred style of dining, the Naramata Bench will have something to satisfy your appetite. This post features the best Naramata Bench restaurants and cafes – be sure not to read it hungry!
Last updated June 2022. Please note that the following information may change at any time due to Covid19 related policies and procedures. For the most up-to-date information, contact individual businesses before visiting. There are some affiliate links in this post – if you click one and make a purchase, we may receive a percentage of the sale at no extra cost to you.
Winery restaurants
The Naramata Bench has 40+ wineries, mostly boutique, over a 20km stretch. Some of these wineries have on-site restaurants, usually serving lunch and dinner with paired wine options.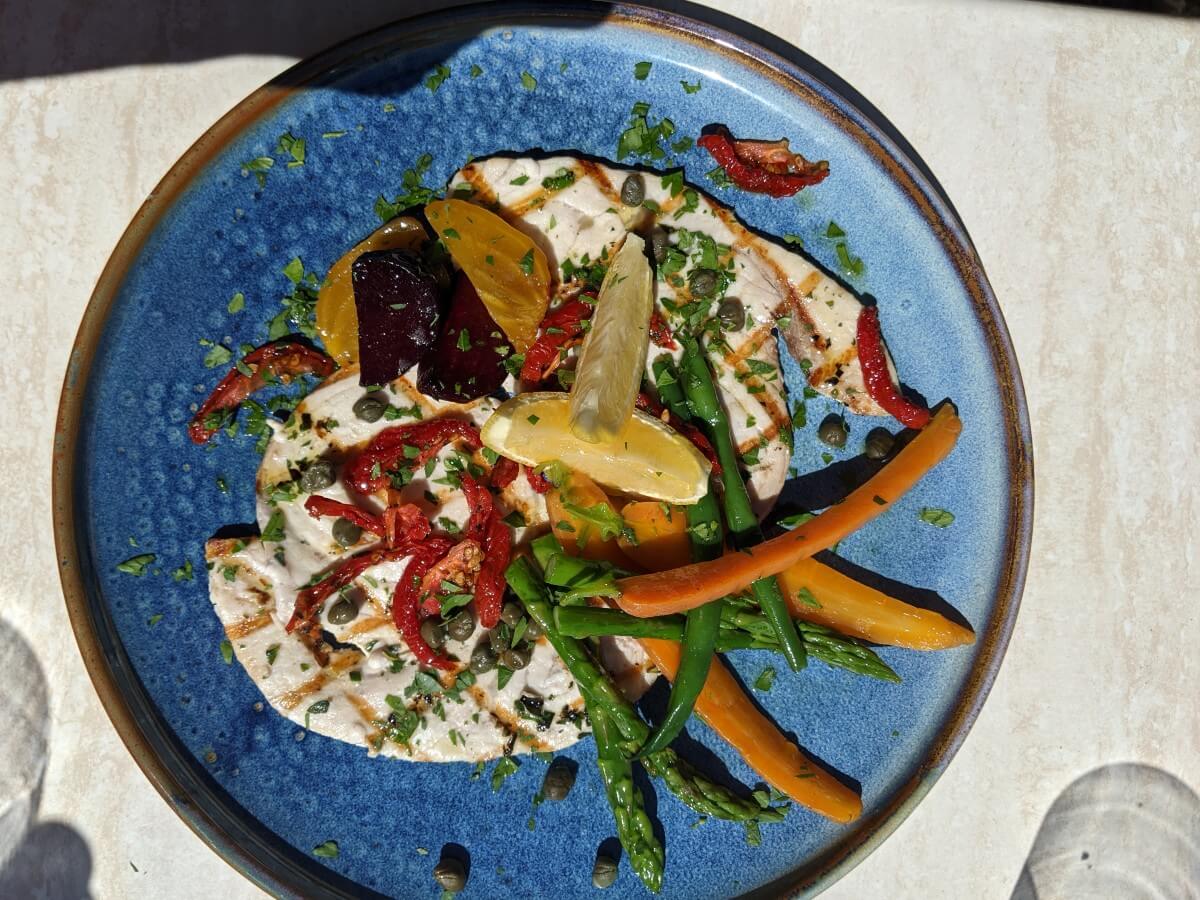 The Patio Restaurant at Lake Breeze
It's easy to imagine being in Italy while dining at Lake Breeze's Patio Restaurant, which is nestled between Mediterranean style buildings and gorgeous Okanagan Lake views.
Inspired by local produce and ingredients from Lake Breeze's own two acre homestead farm, you can expect fresh, seasonal flavors at the Patio. The compact but creative menu, created by chef Mark, features three courses of vegetarian, fish and meat dishes.
Our personal favourite dish was the crab and custard, served on house sourdough toast and dressed with crispy kale and parsley puree. Light and flavourful, it was the perfect appetiser for our light wine touring lunch.
Restaurant guests can choose to savour a two or three course meal. There is the option to add on wine pairings (5oz glass per course), as chosen by the winemaker, or enjoy a full bottle of wine instead.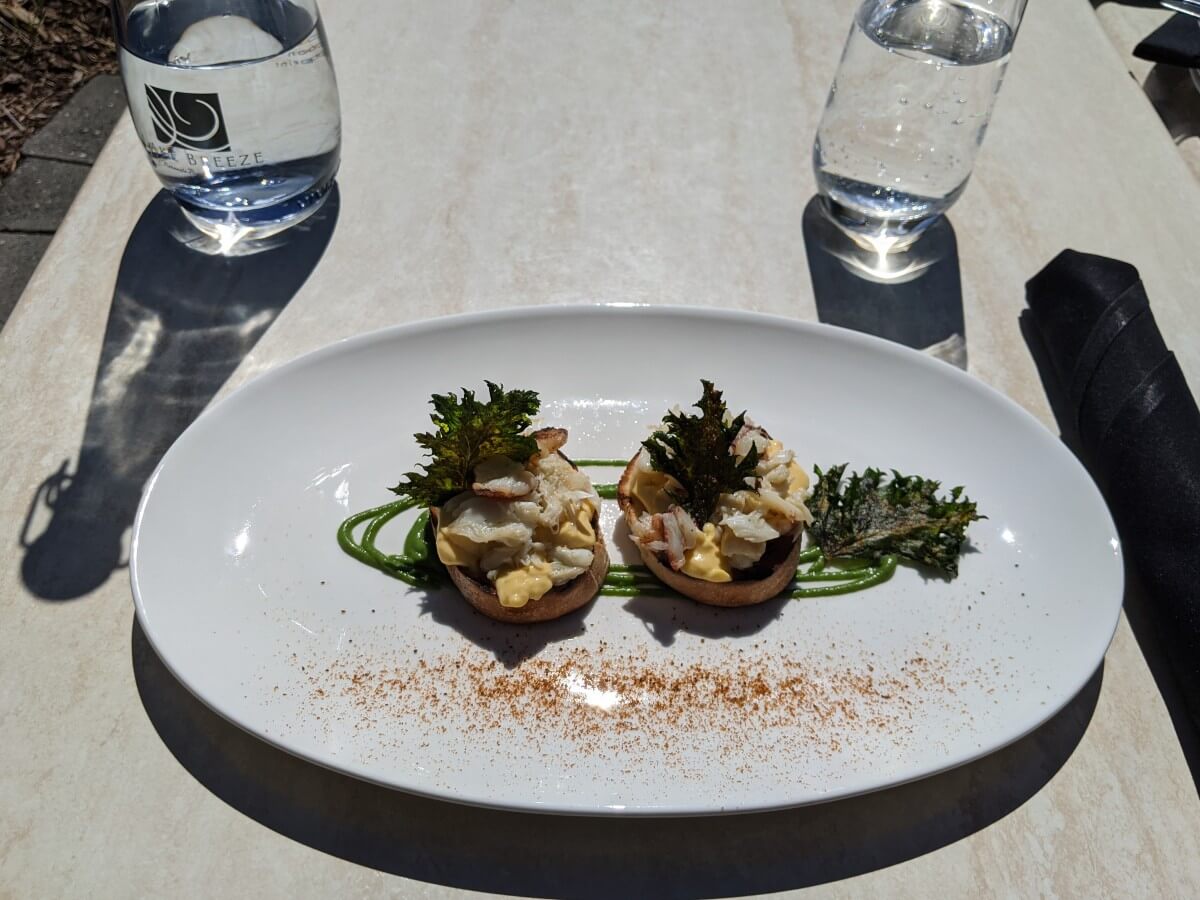 The Patio is open for lunch, from 11.30am to 3pm daily. There is outdoor seating only, to showcase the stunning setting. Food is served rain or shine, with umbrellas available. Being partially surrounded by trees, some of the tables enjoy plenty of shade, while others receive more sun.
Reservations are strongly recommended, particularly on weekends. Walk-ins are still welcome when space allows. Reservations can be made online or by phone.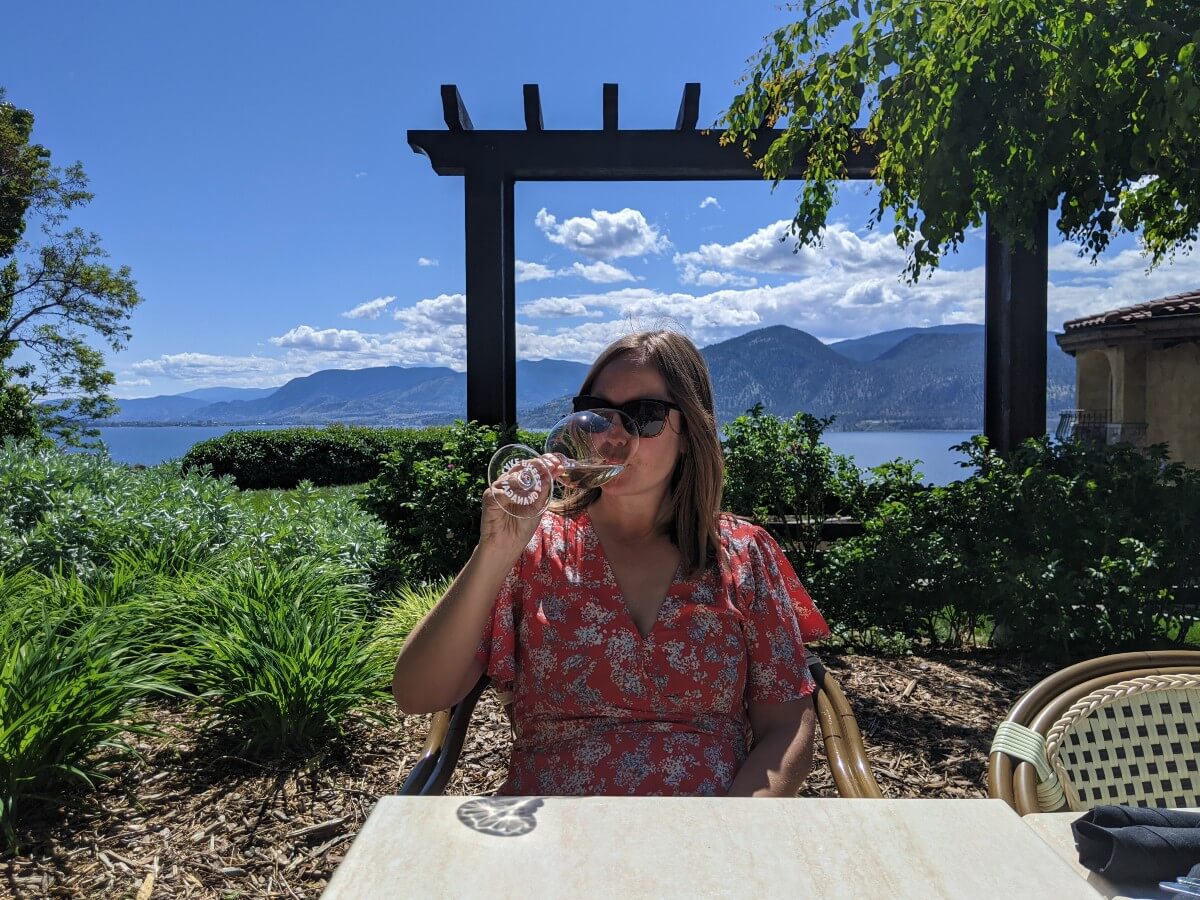 The Restaurant at Poplar Grove
When it comes to impressive views of the Naramata Bench, the Restaurant at Popular Grove definitely has that breathtaking view that most of us dream of! Located on the slopes of Munson Mountain (home of the Penticton sign), the patio overlooks vineyards, Okanagan Lake and the surrounding mountains.
Previously known as the Vanilla Pod, the Restaurant is now under the helm of Chef Rob Ratcliffe, who hails from the UK. The unique menu blends nostalgic flavours with international influences to create upscale reinventions of classic dishes such as roasted pork belly and Scotch egg.
The menu is fairly extensive with snacks, small plates, large plates, sides and desserts. There is a mix of vegetarian, fish and meat dishes, with vegans recommended to check with their server.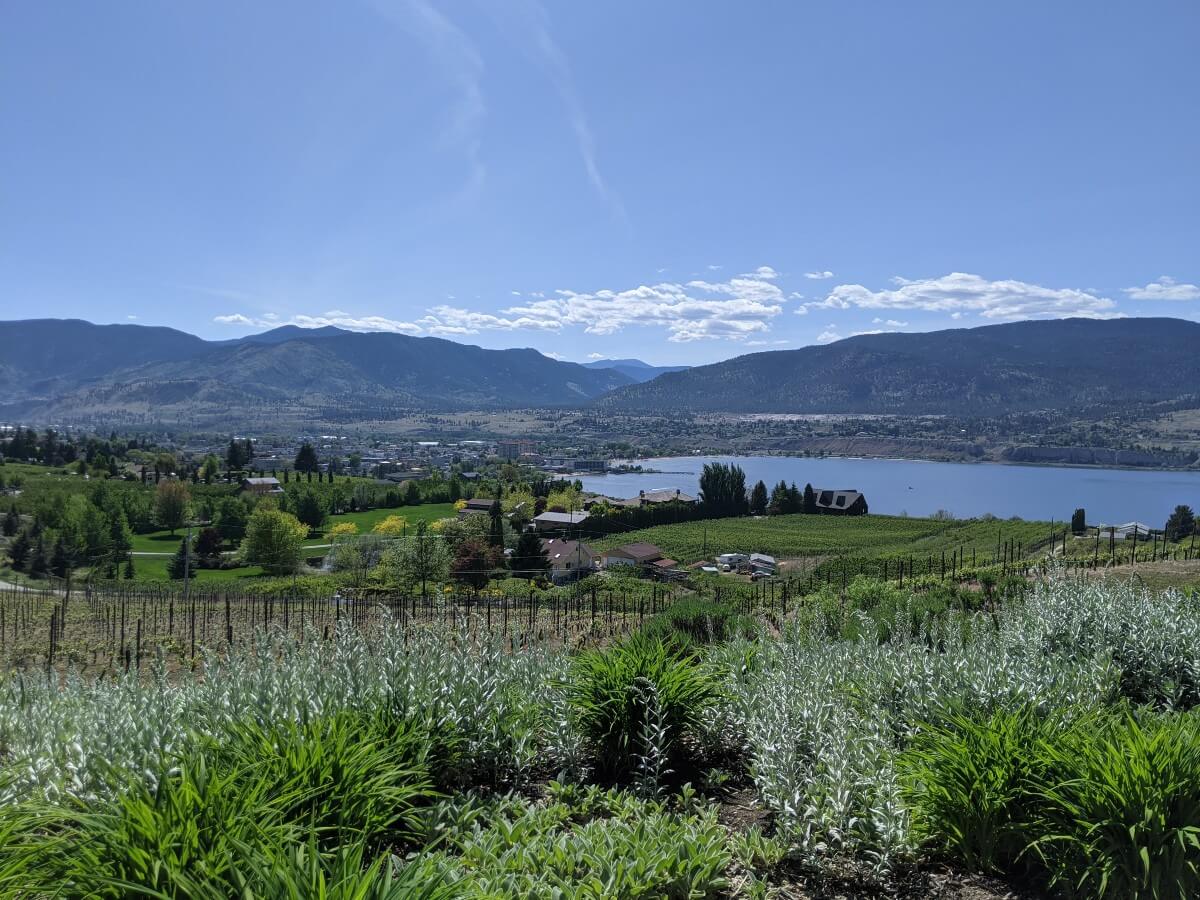 The menu is accompanied with by Poplar Grove's impressive portfolio of wines as well as a few other local picks. Locally produced beer and cider is also represented well, with Naramata Bench and Penticton producers listed.
Seating is available both on the spectacular patio and also inside the airy and bright restaurant space. The floor to ceiling windows ensure great views even from inside! Poplar Grove tries to honour requests for patio seating when possible, but there are no guarantees.
During the main wine touring season (June to September), the Restaurant serves both lunch and dinner daily, with longer operational hours on weekends.
Poplar Grove is one of the most popular Naramata Bench wineries and so recommendations are highly recommended. Larger parties (5 or more) are asked for a per person deposit.
The Bistro at Hillside Winery
Hillside is one of the most iconic and oldest wineries on the Naramata Bench. With its imposing architecture, central location and high quality wines, Hillside is a popular stop for both wine tasting and dining.
The Bistro at Hillside, led by Chef Evan Robertson, highlights locally sourced ingredients on a menu designed for sharing. Not only does this bring convivial, family style dining to the table, but it also helps to create a symphony of flavours across dishes, complimented further by paired wine.
Even the main courses have been designed with sharing in mind, such as the skillet whole chicken dish or the tomahawk steak (both serves two). The menu features vegan, vegetarian, fish and meat options.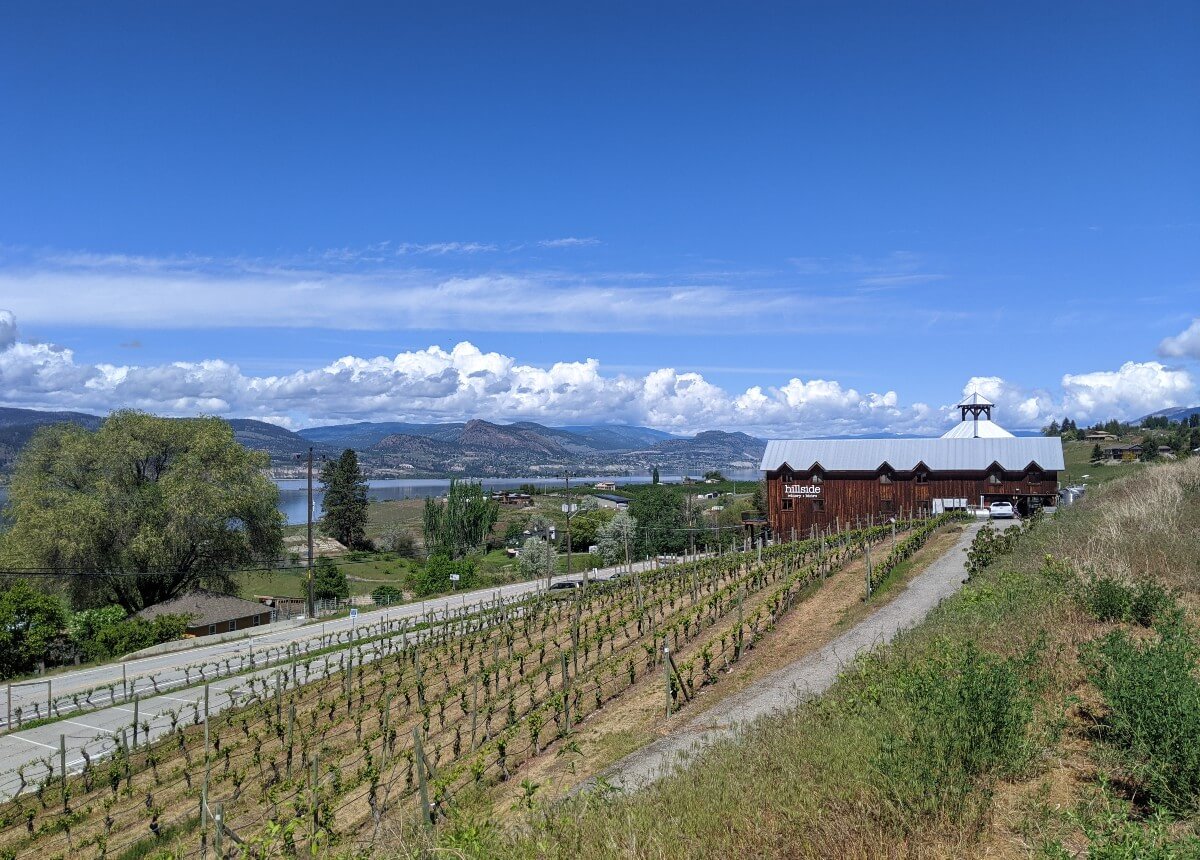 Situated to the side of Hillside's wine shop and tasting room, the Bistro offers both indoor and outdoor dining. Patio dining is weather dependent. The upper and lower patios both offer vineyard and Okanagan Lakes views.
At the current time, Hillside's Bistro is open from Wednesday to Sunday for dinner only. Reservations and pre-orders are required.
"Grab n' Go" lunches are also available from Wednesday to Sunday, to be enjoyed elsewhere. Think charcuterie boards and picnic nibbles (olives, popcorn and more), freshly prepared and ready to eat.
The Bistro at Serendipity Winery
Serendipity Winery's Bistro is one of the newest winery restaurants along the Naramata Bench. Located slightly off the beaten track, it's a great option for wine tourers looking for somewhere a little more undiscovered.
Chef Tristan Bunkowski has combined international flavours with local ingredients to create an upscale yet rustic menu. These light dishes are designed to be shared, with 1.5 to 2 dishes recommended per person. Each dish has been deigned to pair with Serendipity's wine list.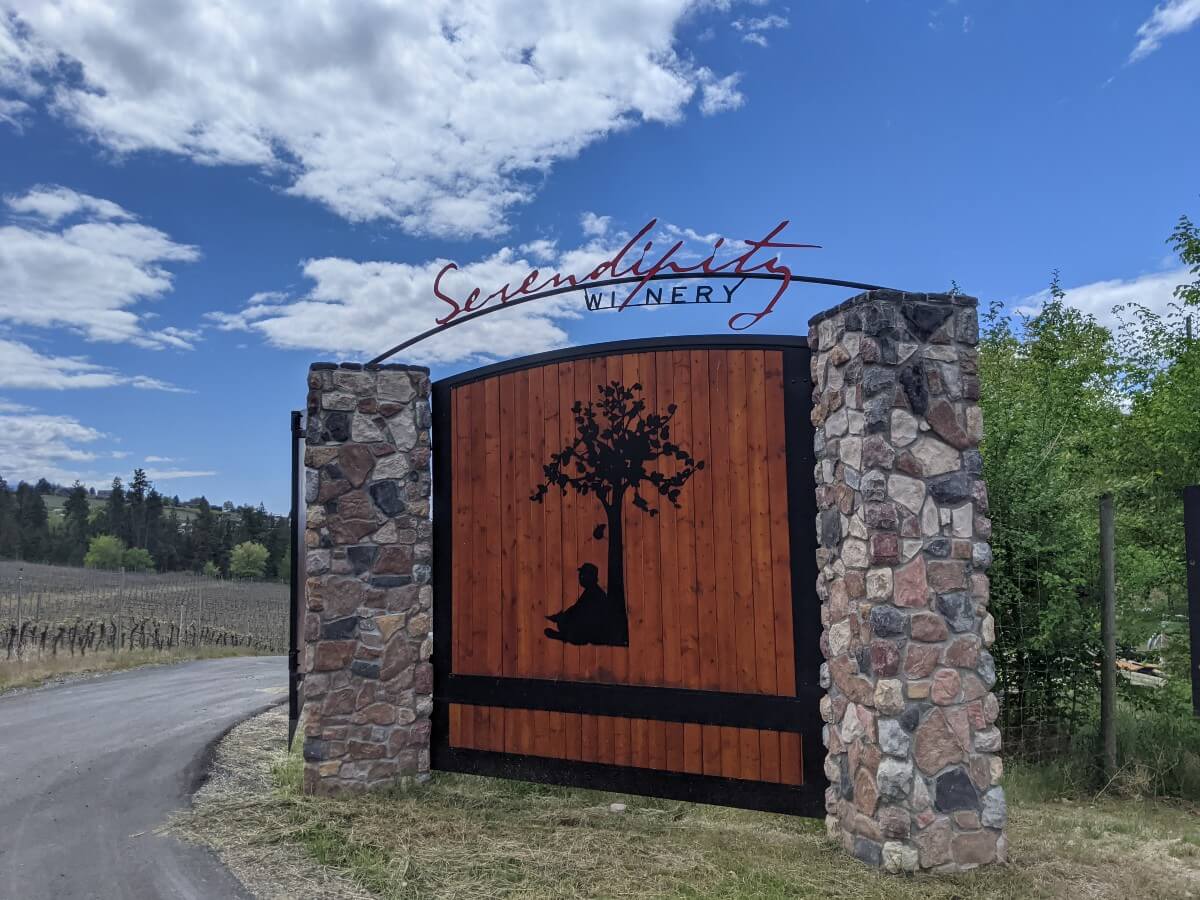 The Bistro is open all week long, with the full menu available from Thursday to Sunday, for both lunch and dinner (or an afternoon snack!)
On Monday to Wednesday, there is the option to enjoy a charcuterie board featuring locally sourced cheese, meat, fruit, preserves and crackers.
Dining at Serendipity is possible rain or shine, since the Bistro's outdoor patio is both covered and heated.
Reservations for the Bistro are recommended by phone or email but walk-ins are still welcome if seating is available.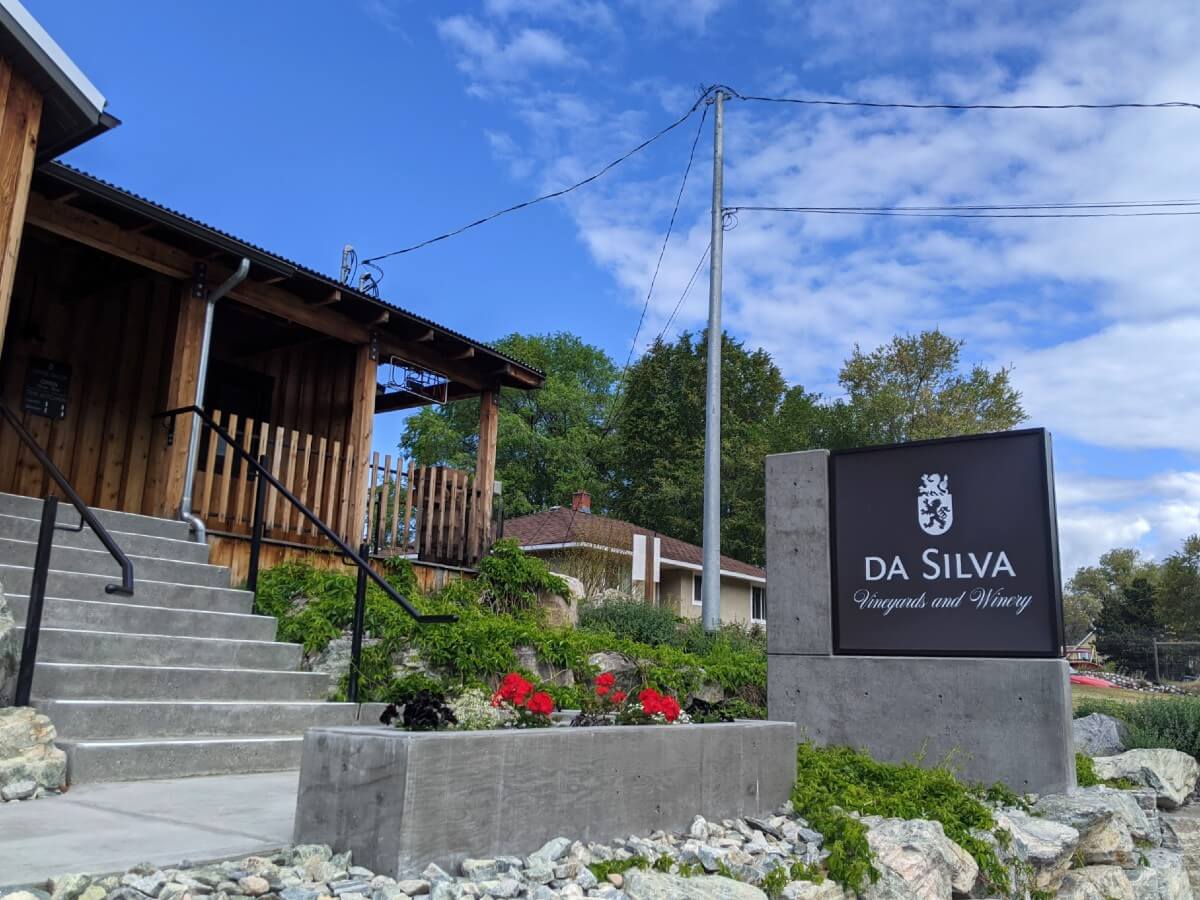 The Kitchen at Da Silva Winery
The Da Silva family originally immigrated from Portugal to Canada over 70 years ago, with 'only a suitcase in hand.' This heritage is not only reflected in their winery portfolio, but also at the Kitchen, Da Silva's on-site restaurant.
The Kitchen's specialty is Portugese tapas (as many as 30 different options!), served with Mexican flair from Chef Abude Adame.
Tapas are served in random order and are intended to be shared. The pace is slow, creating a relaxed social atmosphere usually only found in southern Europe.
Guests can also choose to try the "Chef's Choice" and experience a variety of dishes, with a few surprises along the way.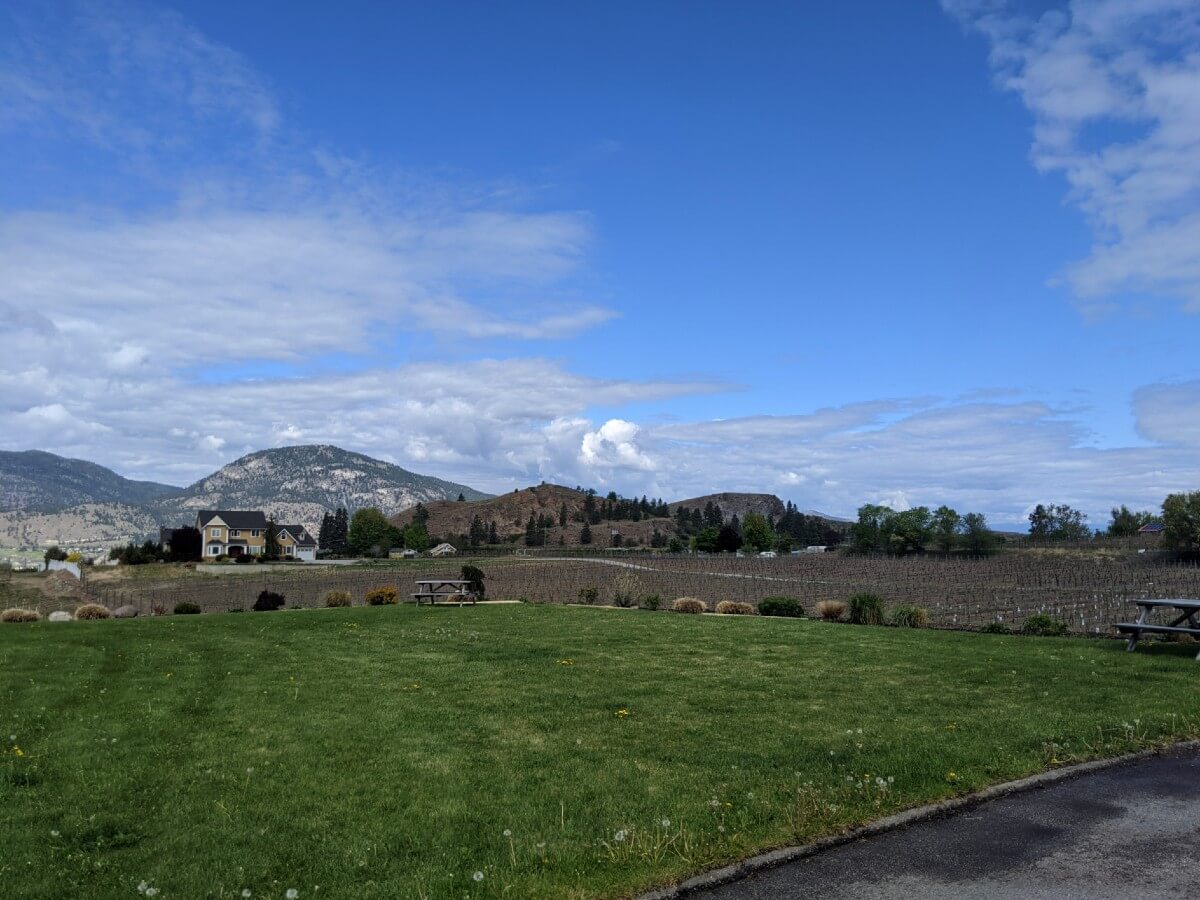 Interestingly enough, most of the menu is naturally gluten free. There are plenty of meat and seafood focuses dishes, as well as good selection of vegetarian and vegan options.
Currently, dining is available on the patio only. The view is wonderfully calming, looking out over vineyards to the back of Munson Mountain and over to the mountains surrounding Penticton.
Reservations are recommended and can be made by phone. Lunch is served seven days a week, with dinner served Monday to Saturday only.
Light bites and food trucks
Don't have the appetite or the time for a sit down meal while exploring the Bench? No problem. Keep reading to discover some awesome options for lighter meals and snacks!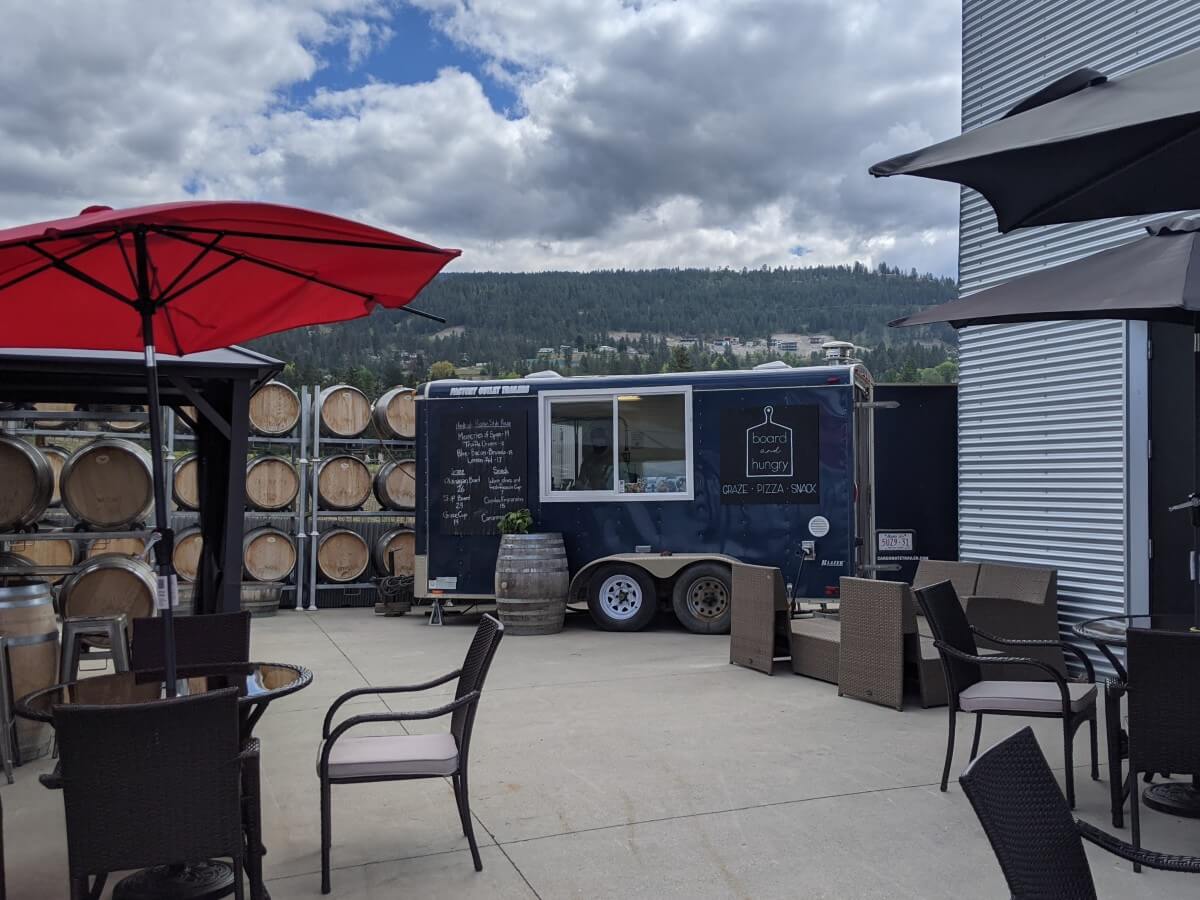 Therapy Vineyards
Take a break from wine therapy with a bite to eat at the Board and Hungry food truck at Therapy Vineyards. Open every weekend, Board and Hungry serve Roman style pizzas and grazing boards plus a selection of tasty snacks and one-off specials.
Therapy offers a choice of two patios – one on the ground floor next to the food truck and another on the roof of the tasting room. The latter has incredible views of Therapy's vineyards and Okanagan Lake. Wine can be purchased by the glass.
Howling Bluff Estate Winery
Perfectly placed for a lunchtime wine touring break, Howling Bluff Estate Winery sits in a sunny canyon just off Naramata Road. This family owned boutique winery features a large, multi-level dog friendly patio surrounded by vineyards with a teasing view of Okanagan Lake.
Howling Bluff has partnered with Penticton's La Cucina European Market to create delicious charcuterie plates. With generous portions of meat, cheese, olives and pepperoncini, these plates are ideal for two person to share. Wine can be purchased by the glass or bottle. It is also possible to enjoy a tasting at the same time.
Legend Distilling
Looking for a change from the wineries? Check out Legend Distilling. This family owned craft distillery has a beautiful patio deck and lawn overlooking Okanagan Lake. Both are dog friendly.
Refreshing cocktails are accompanied by sandwiches, salads, sharing platters and ice cream. Beer lovers will also find offerings from a myriad of local breweries. If you don't have time to enjoy the relaxed picnic area, take-out is available.
Origin Wines
Enjoy charcuterie with sweeping Okanagan Lake views at Origin Wines. The hand crafted charcuterie boxes are produced by Tony's Meat & Deli (Penticton) and come in three different sizes.
Packed with savoury and sweet treats, each box comes with at least one bottle of Origin wine. Tastings can also be added for an additional fee.
The only downside? Origin's charcuterie boxes need to be pre-ordered 48 hours in advance.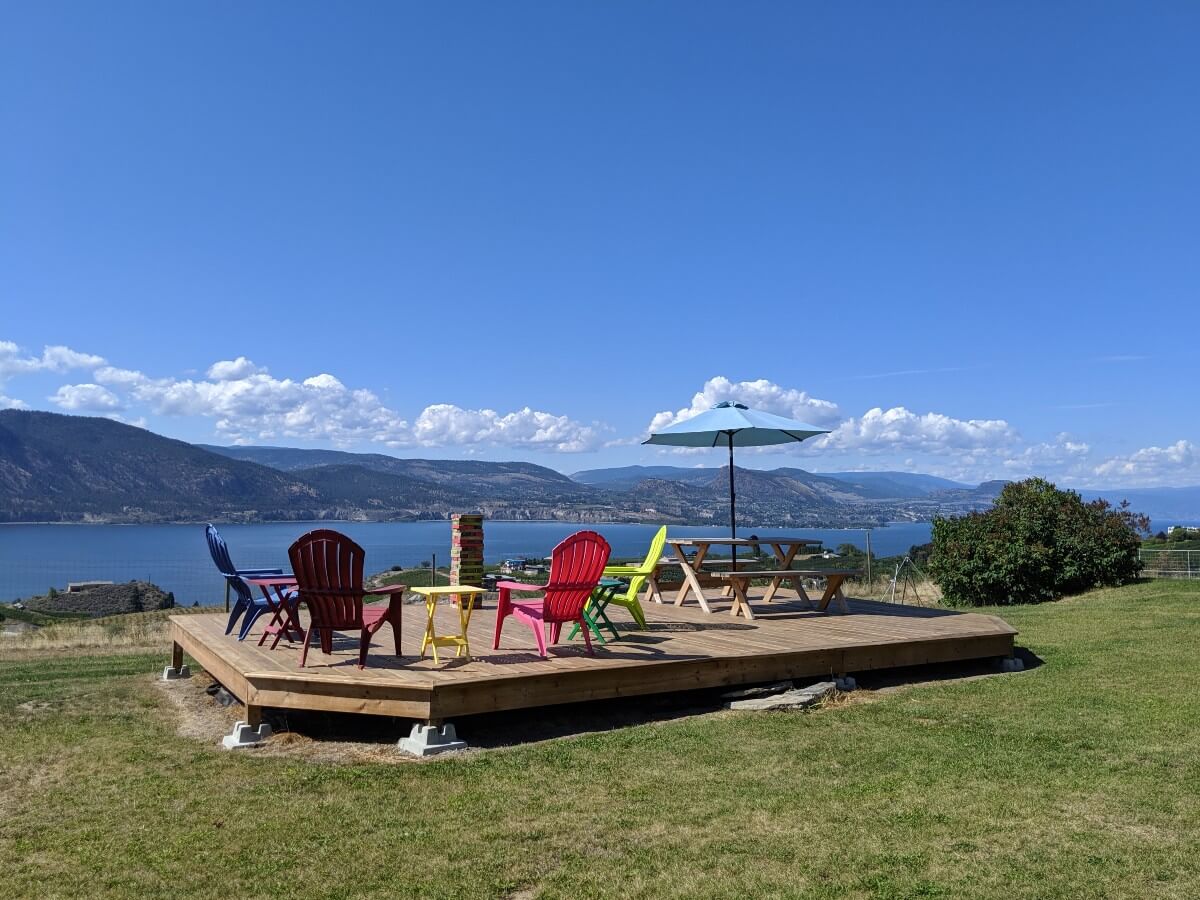 Red Rooster Winery
Over the years, Red Rooster Winery has hosted a number of different dining options. This year, guests can share delicious charcuterie boards on the sunny patio or on the expansive manicured lawn, under the shady trees.
Curated by Joy Road Catering in Penticton, the charcuterie boards include a selection of local cheeses, meat and preserves. Ideal for two to share, the price (charged per guest) also includes a Red Rooster Signature wine tasting.
Bench 1775
Renowned for gorgeous patio views, Bench 1775 is a very popular Naramata Bench lunch stop. In previous years, there has been an on-site bistro operating.
At the current time, guests can enjoy charcuterie boards with wine by the glass, bottle or flight. Choose between the Charcuterie for Two (chorizo/salami, cheese, crackers and jelly) or the Cheese-cuterie (two cheeses, crackers, jelly).
Local Cheese
Poplar Grove Cheese
Not to be confused with Poplar Grove Winery, you can find Poplar Grove Cheese at the very end of Poplar Grove Road, sharing a tasting room with Lock and Worth Winery. Using Okanagan sourced milk (from D Dutchmen Dairy in Sicamous), Poplar Grove handcrafts small batch, high quality French-style cheeses.
In a regular year, it is normally possible to have a paired wine and cheese tasting to try before you buy. At the current time, Poplar Grove encourages guests to enjoy a cheese plate on adjacent lawn, where there are picnic tables and spectacular views of Okanagan Lake and the city of Penticton.
The tasting room has a fantastic selection of charcuterie accompaniments, such as crackers and olives. Lock and Worth wines can also be purchased by the bottle to take home or drink outside.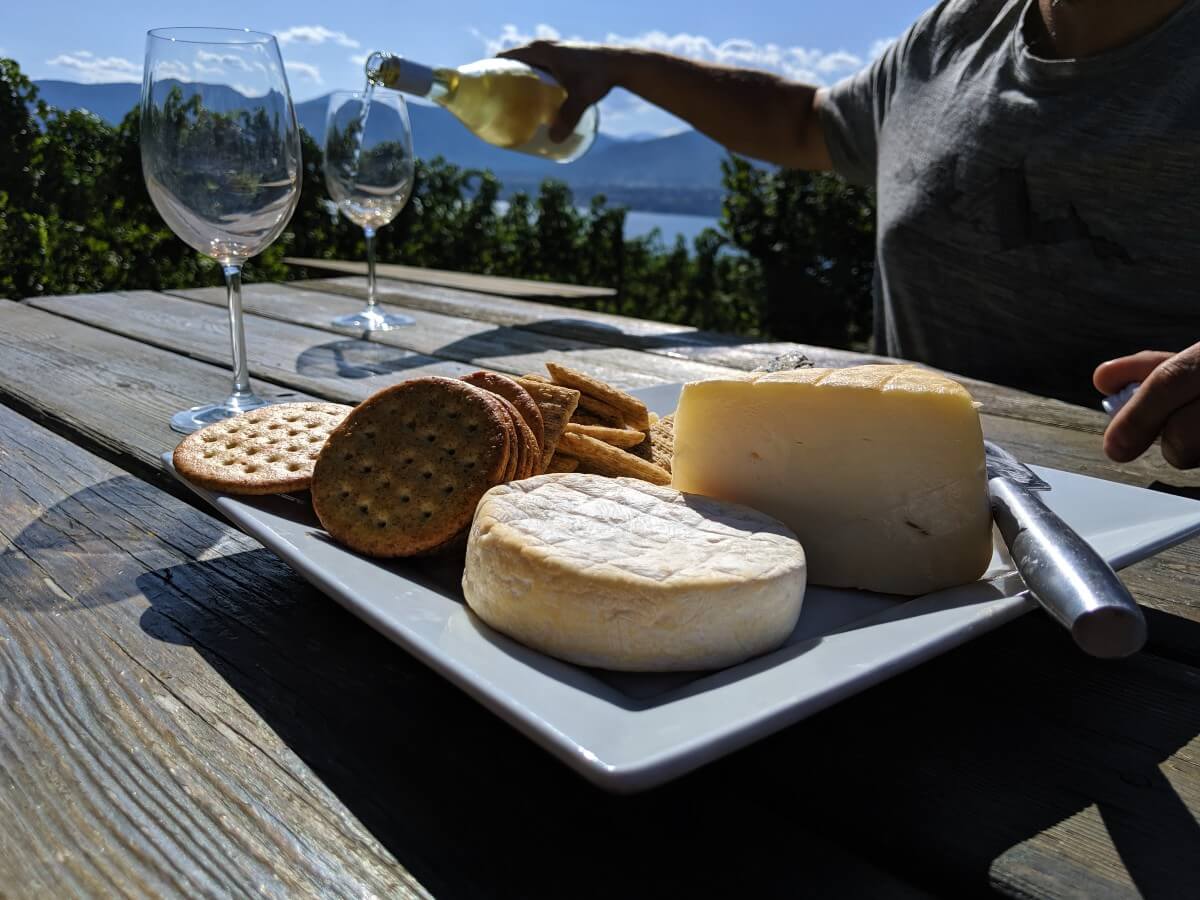 Upper Bench Winery and Creamery
Looking to create your own charcuterie board for a winery picnic? Upper Bench Winery and Creamery has a large and varied selection of handcrafted cheese, also made from milk from D Dutchmen Dairy in Sicamous.
Lovers of blue cheese should definitely try King Cole, a bold, full flavoured veined cheese sold as wedges and also in handmade Stilton pots.
Paired wine and cheese tastings were paused at the start of the pandemic but are due to restart shortly (late June 2021) on the tasting room's covered patio. In regular years, Upper Bench has operated the 'Oven,' a laid back wood-fired pizza restaurant on the same patio.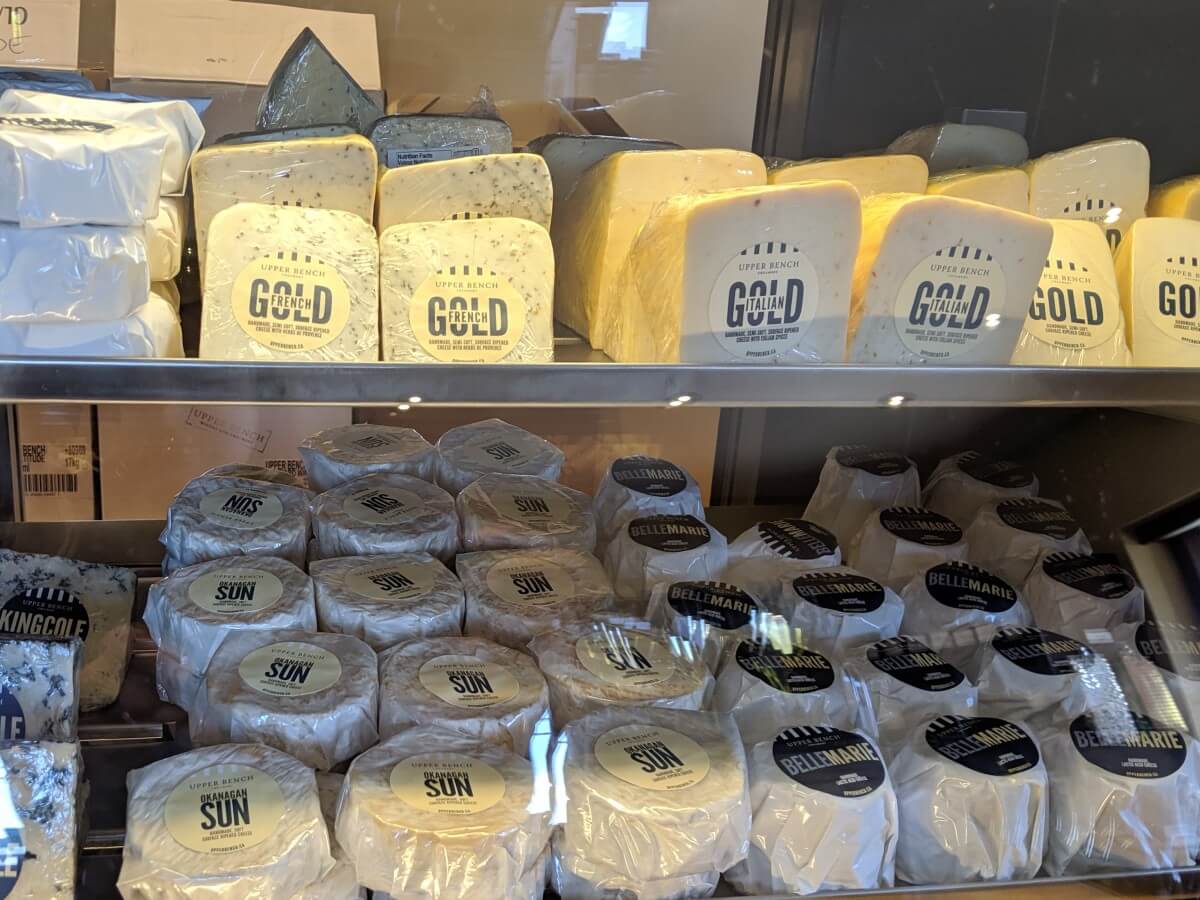 Naramata Restaurants
Go beyond the wineries and visit the small community of Naramata to discover where the locals eat. The following cafes and restaurants are all located on Robinson Avenue, a short walk from one another.
Naramata Inn
The Naramata Inn is one of the most iconic buildings in Naramata. The gorgeous 100 year old building is hard to miss as it sits right at the end of Robinson Ave, the main road through the community.
Led by Okanagan-born chef Ned Bell, the Naramata Inn offers an upscale, hyper local dining experience. The menus are designed around the availability of high quality, locally sourced ingredients rather than the other way around.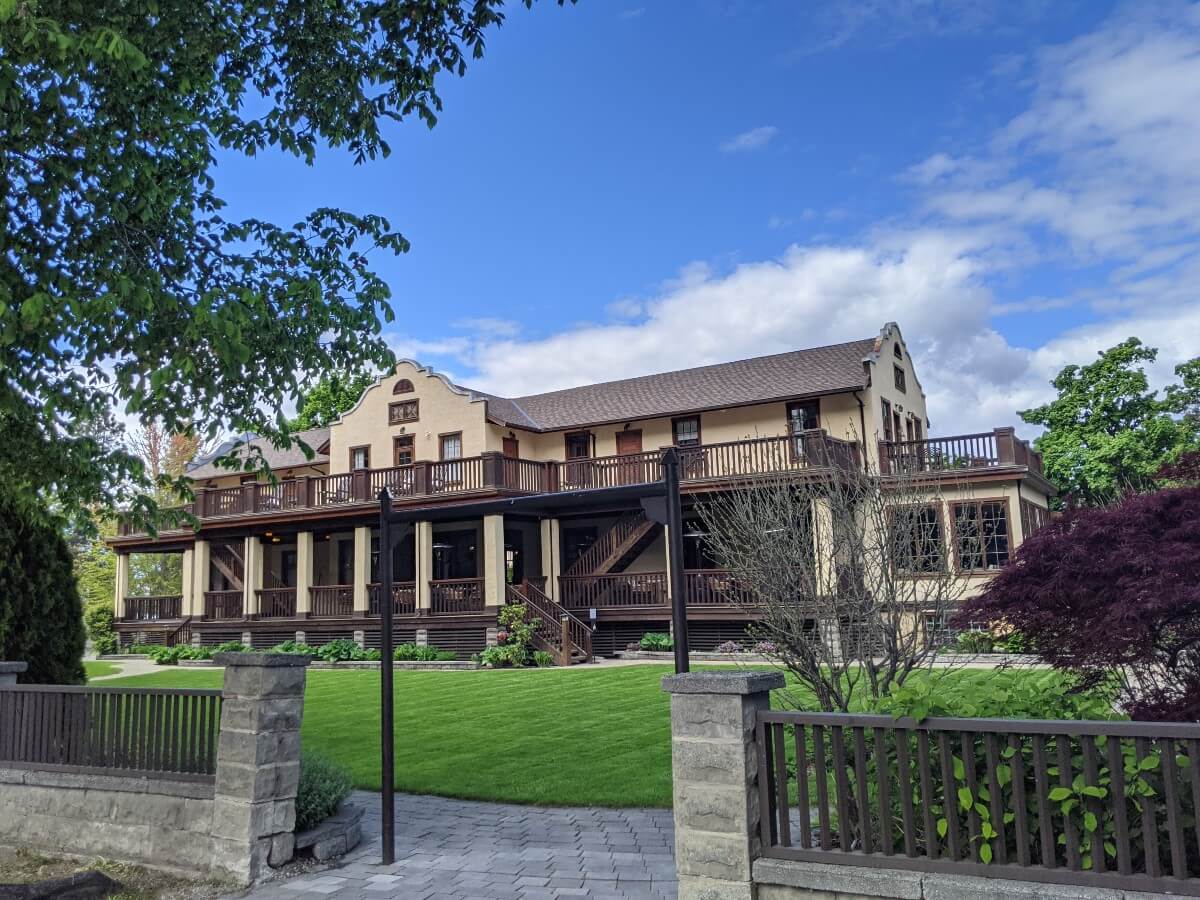 Grape Leaf Cafe
Unassuming and unpretentious, the Grape Leaf Café is a Naramata mainstay. The menu may look simple but the food is excellent, with large portions at very reasonable prices. The Grape Leaf Café serves breakfast all day, with soups, sandwiches, salads at lunch too. There is a sunny streetside patio, great for watching the world go by.
Real Things Pizza
Tired of gourmet food or just want to have pizza on the beach? Real Things Pizza is there for you!
This local favourite has a huge selection of toppings and crust options, with all pizzas being made by hand. Vegan and vegetarians have plenty of choice, with keto and gluten free also being available for an additional charge.
Real Things Pizza is staffed by local teens, a factor that ensures that your money goes back into the community. Best of all, they deliver to the beach, so you can keep on swimming, sunbathing and watching the sunset!
Naramata Pub and Grill
Fulfill that craving for classic Canadian dishes at Naramata Pub and Grill. This laid back, friendly eatery looks almost tropical outside and yet has a cosy interior. There's a sunny patio on the side, ideally placed for long summer evenings.
The Naramata Pub and Grill is best known for Wednesday Wing Night (reservations recommended). Also on the menu is fish and chips, homemade nachos, tacos, salads and burgers. There's a kids menu too.
Just Baked
Be sure not to blink and miss this tiny place at the Village Motel. Just Baked serves up espresso coffees, steeped tea and juices alongside delicious freshly baked seasonal treats. Be sure to try the coffee cake. And the brownie.
Discover more wineries