From lively lakefront resorts to riverside provincial parks and mountainous retreats, Penticton's campgrounds offer a diverse range of settings for families, outdoor enthusiasts and nature lovers alike. Camping is also a more affordable option than staying in a hotel or vacation rental.
In this post, I'll share the best Penticton campgrounds, providing you with essential information, insider tips and reservation details. I have included some glamping options too, in case you don't have an RV or tent.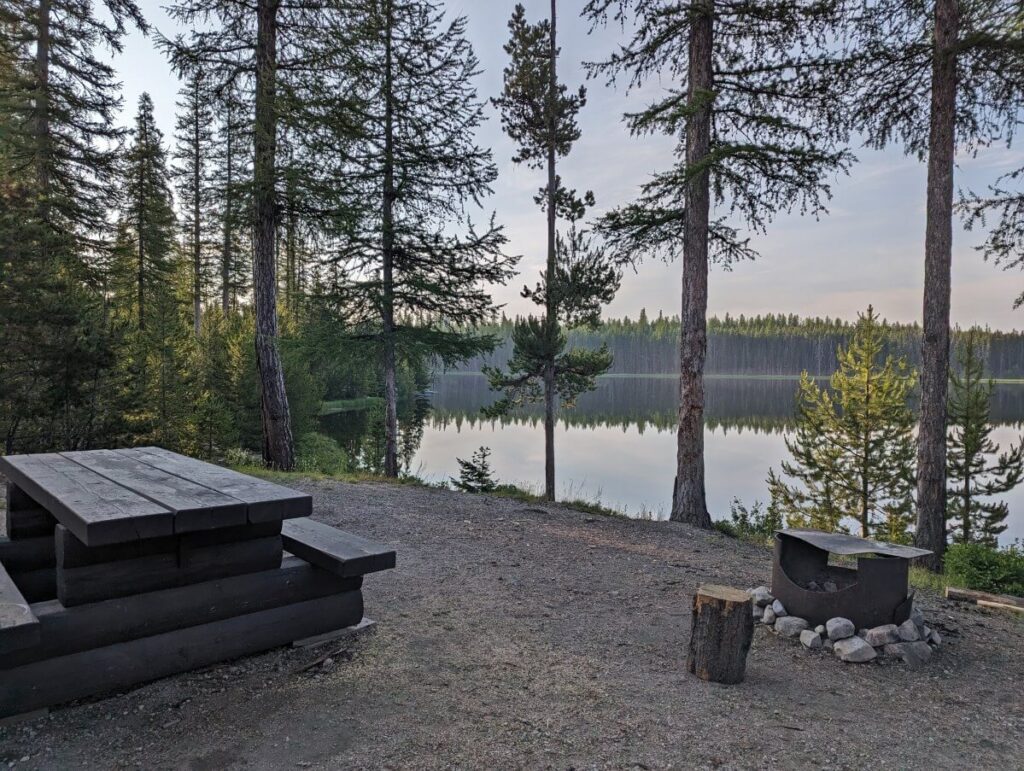 Full disclosure (because we'll all about authenticity!), while we have personally stayed at many of these Penticton campgrounds, we are yet to camp at all of them. Being Penticton residents, however, we are very familiar with these campgrounds, their surrounding areas and reputations.
The below map displays all of the featured campgrounds. Use it to locate your next favourite Penticton camping destination!
Last updated July 2023. For the most up-to-date information, contact individual businesses before visiting. There may be affiliate links in this post. If you make a purchase, we may receive a small percentage of the sale.

Camping in Penticton
Before I get into the recommendations, I thought it was a good idea to share some tips about camping in this area.
Penticton has a long camping season, with tent camping comfortably possible from mid April to early October at lake level. Depending on the weather, this camping season can sometimes be extended.
Peak season for camping in Penticton is July and August, when the weather is consistently very hot (30°C+) and dry. Finding adequate shade can be an issue at Penticton campgrounds in summer.
Plan to reserve very early for summer camping. Some private campgrounds require campers to reserve for 5-7 nights minimum during the summer months.
May, June and September are also popular months for camping in Penticton. Many seniors come to the city to enjoy the warm weather.
Penticton is also a popular destination for outdoor recreationalists in spring and fall. Penticton is host to one of the best climbing areas in Canada (Skaha Bluffs) and the best months to climb are April, May, June and September.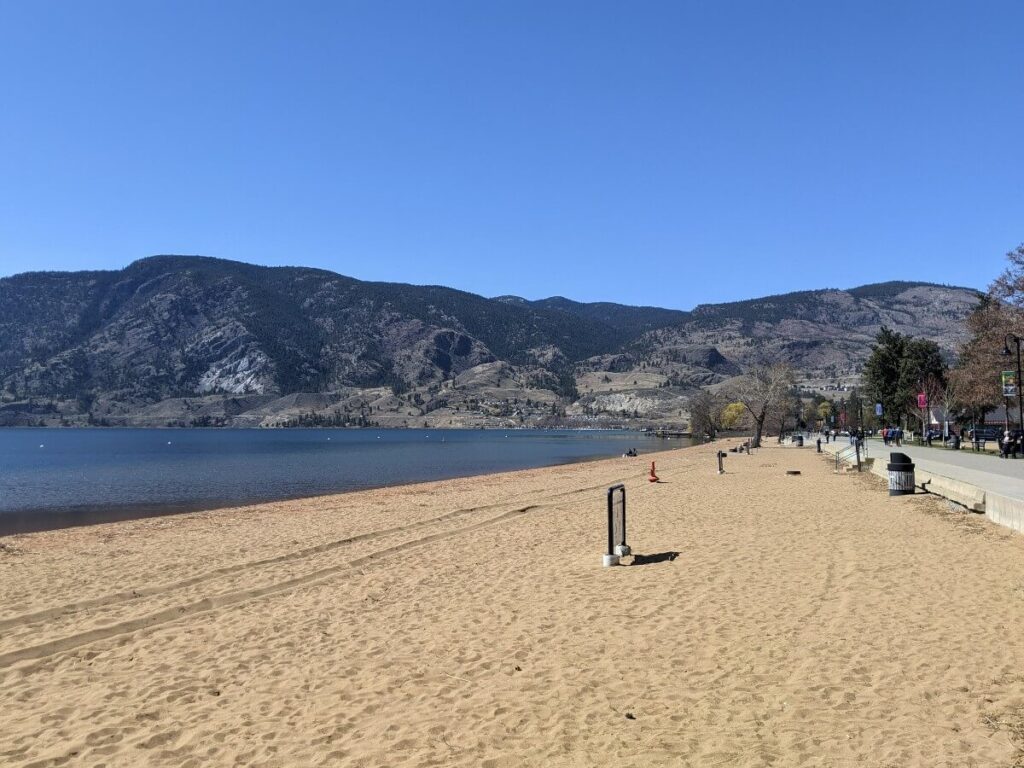 The Best Campgrounds in Penticton
Without any further delay, here is our list of the best campgrounds in Penticton. This section is followed with recommendations for campgrounds near Penticton.
The Lost Moose Campground
Tent campers rejoice – the Lost Moose Campground is designed for you! This privately owned Penticton campground has provincial park vibes, with carefully divided, well spaced campsites set into a beautiful Ponderosa pine forest. The sites have even been designed with tents in mind.
The overall design of the campground is thoughtful too, with only 14 spots total. It's not likely to feel busy even when completely full. There are free, hot showers as well as flush toilets and potable water. Some excellent hiking trails are located close by, with our favourite being the Canyon View Trail (1.5km loop).
Situated on a 63 acre property just 20 minutes drive up the hill (the paved Carmi/Beaverdell Road) from Penticton, the Lost Moose enjoys slightly cooler summer temperatures than the city.
As well as the campsites, Lost Moose also has glamping units. The 'Hideaway Hut' has skylights for stargazing while the unnamed 'Site 2' unit is a cube shaped shelter. Bring your own bedding.
Location: 2301 Beaver Dell Rd, Penticton (Google Maps directions)
Website: Lost Moose Campground
Price range: $40-100/night
Good to know: Some campsites have covered picnic tables (site 5 and 10)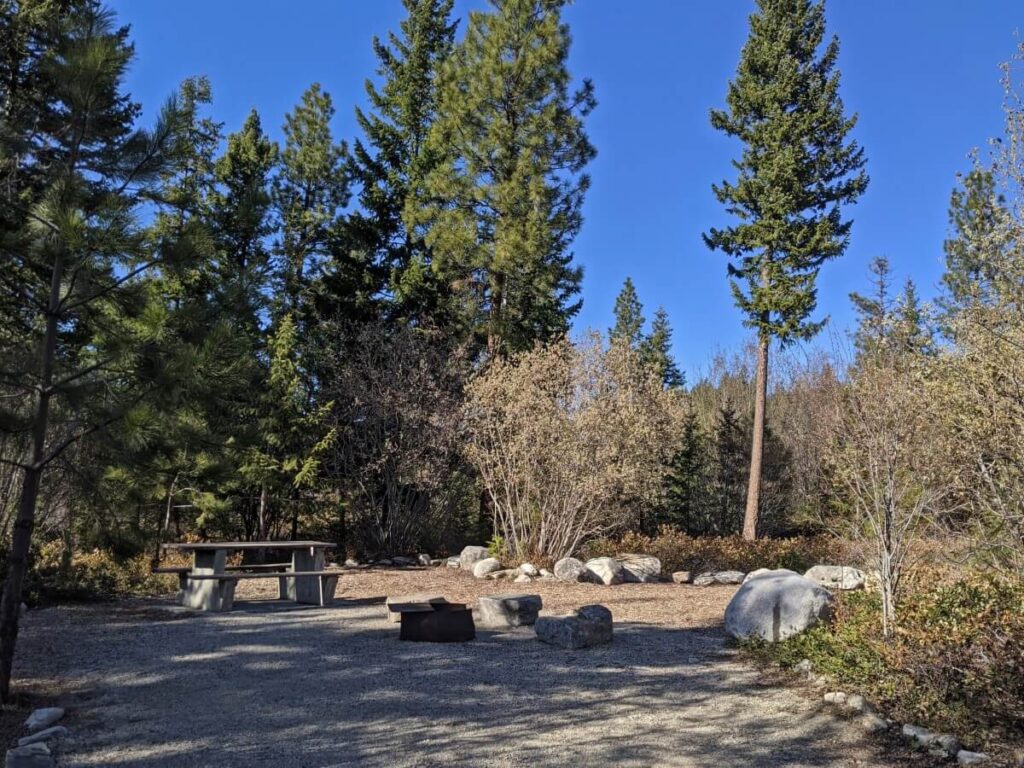 Oxbow RV Resort
Location, location, location! The Oxbow RV Resort is situated across the road from two gorgeous beaches – Skaha and Sudbury. The main highway and the end of the Penticton Channel Float are just minutes away, but not close enough to be too noisy.
This mid sized campground caters well for RV owners, with all 68 sites offering 30 amp power, water and sewer connections. Set back a little from the road, campers can enjoy shady park-like setting on the edge of one of Penticton's natural oxbows.
The Oxbow RV Resort has an excellent reputation for cleanliness, with arguably the most immaculate washrooms at any Penticton campground. The showers are coin operated. There are laundry facilities as well.
Prospective campers should note some specific campground policies. 8pm is the cut-off for set up, with the main gates being closed at 11pm. Pets are not allowed in July and August. Also consider that larger rigs may find the sites to be on the compact side.
Location: 198 Skaha Place (Google Maps directions)
Website: Oxbow RV Resort
Price range: $44-66/night
Good to know: Oxbow RV Resort has a trailer for weekly rental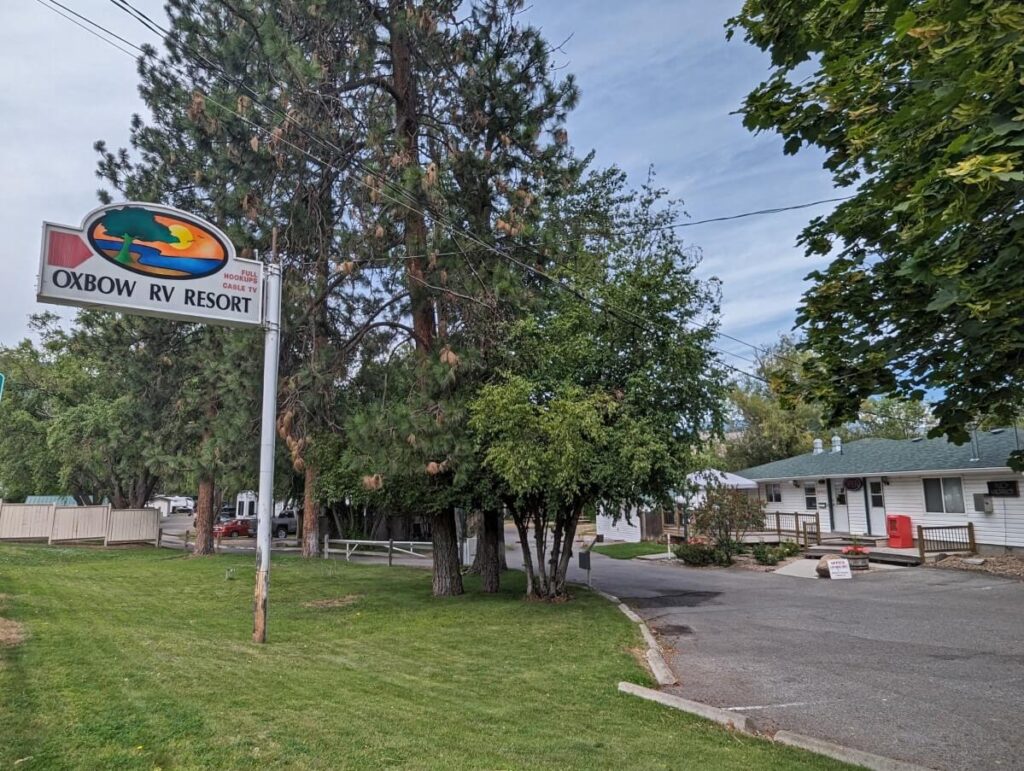 Yurt Village, Barefoot Beach Resort
Want to go camping in Penticton but don't have a tent or RV? Check out Barefoot Beach Resort's Yurt Village. This unique glamping option offers an experience closer to nature than a hotel room or vacation rental.
For the unfamiliar, a yurt is a large circular structure similar to a tent. Used by nomadic tribes in Central Asia, yurts were (and still are) temporarily built at resting places before being moved on to a new location.
Barefoot Beach Resort hosts 13 yurts, including studio, one bedroom and two bedroom variations. The resort itself is located on the south side of town, separated from a sandy beach and the shores of Skaha Lake by Highway 97. One of the yurts is actually situated on the waterfront.
The yurts are well equipped, with 'proper' beds (no need to sleep on the floor here), kitchenettes, private washrooms and even wi-fi. Packing for a stay at the yurts is easy, with all linen and kitchen supplies provided (pans, plates and cutlery).
Location: 4145 Skaha Lake Road (Google Maps directions)
Website: Barefoot Beach Resort
Price range: $140-550/night
Good to know: 5 night minimum in July and August, 2 night minimum during shoulder season months
Banbury Green RV Park
With a perfect balance of scenic views and convenience, Banbury Green is a great pick for camping in the Penticton area. The campground is situated on the shores of Skaha Lake in Kaleden, a small community about 4km south of Penticton.
Most of the campsites are located right on the water, in well spaced named 'clusters' (North Bay, East Camp, South Camp etc.) The lake views are beautiful, with Skaha Bluffs visible to the northeast and the dramatic Peach Cliff to the southeast. The sites are on the small side and the access road narrow, so this campground may not be the best choice for people with large RVs.
One of the best features of Banbury Green is the fact that the Kettle Valley Rail (KVR) Trail runs through the middle of the campground. This completely flat lakeside path offers excellent opportunities for both walking and biking.
Banbury Green has been owned and operated by the Dewar family for more than 30 years. The current facilities are on the dated side, but the campground is closed in 2023 to allow for renovation.
Location: 930 Pineview Drive, Kaleden (Google Maps directions)
Website: Banbury Green RV Park
Price range: $55/night
Good to know: Closed in 2023 for renovation
My other favourite Penticton campground is sx̌ʷəx̌ʷnitkʷ Provincial Park. It's not in Penticton (which is why I haven't listed it in this section), but is only 20 minutes drive away. I would highly recommend checking out the details below!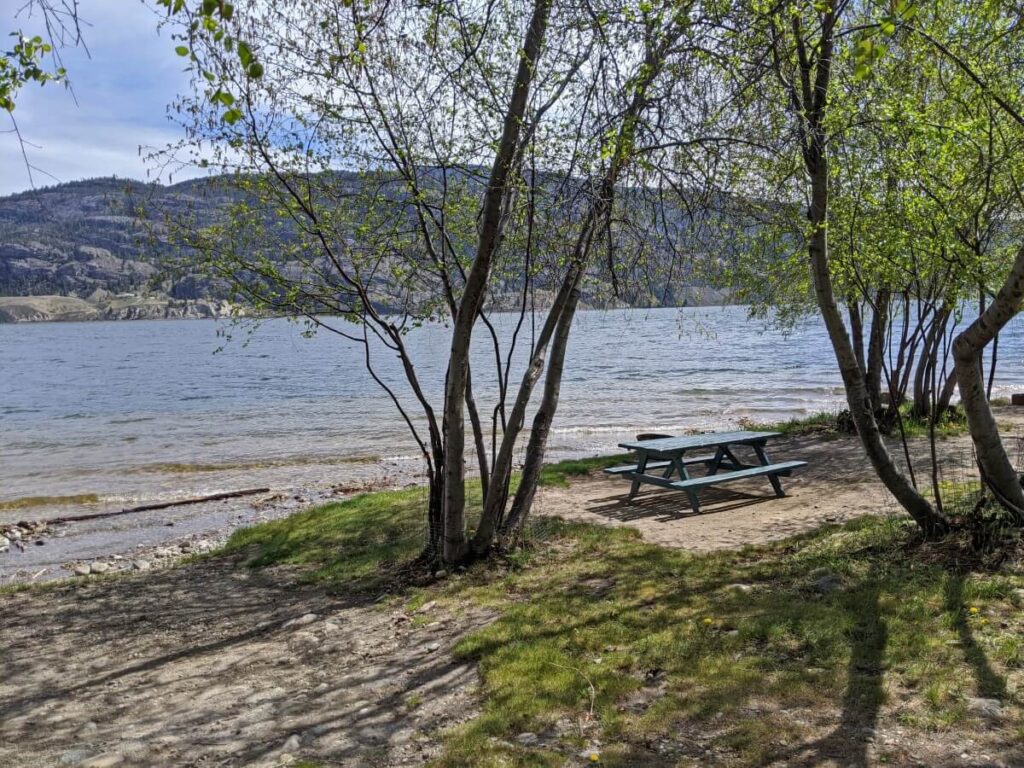 Other great Penticton campgrounds
Keep these other Penticton campgrounds in mind when planning your trip to the Peach City!
Wright's Beach Camp
Wright's Beach Camp is Penticton's only waterfront campground. Yes, there are campsites right on Skaha Lake here! And all campers can enjoy the private beach with roped off swimming area and floating platform.
The beachside location isn't the only appeal of Wright's Beach Camp. The family friendly theme continues with a small swimming pool, playground, activities centre, grass fields and Penticton Channel Float shuttle (extra charge). There are multiple washroom buildings with coin operated showers and a laundromat as well.
Wright's Beach Camp is situated on the Kettle Valley Rail Trail, with the pathway leading south along the shores of Skaha Lake. This completely flat, gravel trail leads all the way to Okanagan Falls (and beyond) in one direction and Penticton in the other. It's perfect for walking and biking.
Wright's Beach Camp is most popular with RV owners looking for full hookups but tenting is still possible. Highway 97 borders the campground on two sides, which means the sites on the edge receive traffic noise. There isn't much shade. If you'd prefer to stay in an RV, Wright's Beach Camp rents waterfront trailers by the week.
Location: 4200 Skaha Lake Road (Google Maps directions)
Website: Wright's Beach Camp
Price range: $55-78
Good to know: Pets are allowed in certain sites only and are subject to an additional fee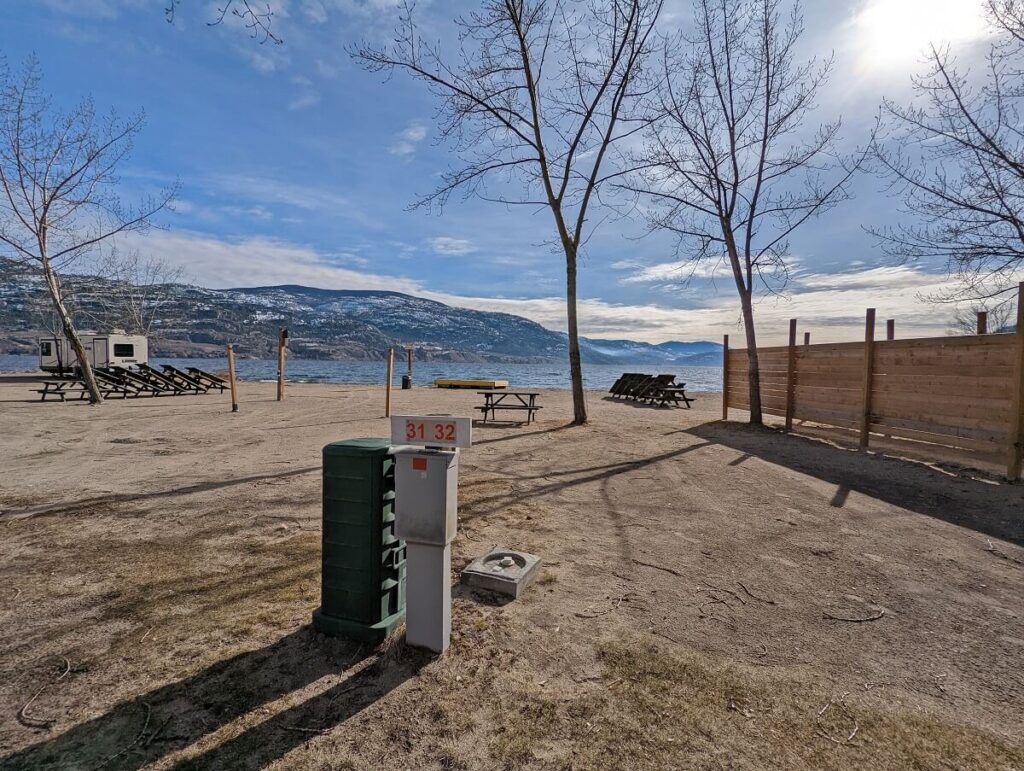 XR Family Campground
This small campground has rave reviews from recent campers, with the friendly management, clean (and free!) showers and affordable prices in mind.
The SnPink'tn reserve (Penticton Indian Band) location is convenient for visitors too, being very close to the halfway point of the popular Penticton Channel Float and an easy 4km drive from downtown. Cyclists will enjoy easy access to the Channel Pathway as well as the half finished Lake-to-Lake route.
The XR Family Campground is a particularly good pick for tent campers, with unserviced sites priced at $30/night. As mentioned, showers are free. On the downside, it is not possible to reserve tent sites and there is no laundromat (the nearest is two minutes drive away).
It is important to note that this campground is completely alcohol-free. This fact combined with the off–highway location means that it is the quietest Penticton campground by a fair mark.
Location: 285 Green Mountain Road (Google Maps directions)
Website: XR Family Campground
Price range: $30-65/night
Good to know: Full hookups are available
South Beach Gardens Tent and RV Park
If you liked the sound of Oxbow RV Park, South Beach Gardens would probably be a good fit too. It's located almost next door, opposite beautiful Sudbury Beach on Skaha Lake. And when I say opposite, I mean it! Exit the campground cross Highway 97 via the pedestrian crossing and you're there.
South Beach Gardens is a very large family friendly campground. The majority of the 200+ campsites are designed for RVs, with full hookups (water, electricity, sewer) available. There is a good amount of shade provided by the many trees scattered around the campground. Dogs are allowed on leash.
The western side of the campground borders onto Highway 97, with the sites organised in tight knit rows. As you may imagine, this means it is on the noisier side. If you're planning to spend most of your time at the beach or exploring Penticton, this may not be a significant factor.
The eastern side is more of a semi-circle and is situated next to one of Penticton's natural oxbows. There is a small cluster of tenting sites in this area, close to a mini golf area (extra charge), arcade and two playgrounds. Flush washrooms and coin operated showers are available, as well as a laundromat.
Location: 3815 Skaha Beach Road (Google Maps directions)
Website: South Beach Gardens
Price range: $53-67/night
Good to know: South Beach Gardens has a 5 night minimum for reservations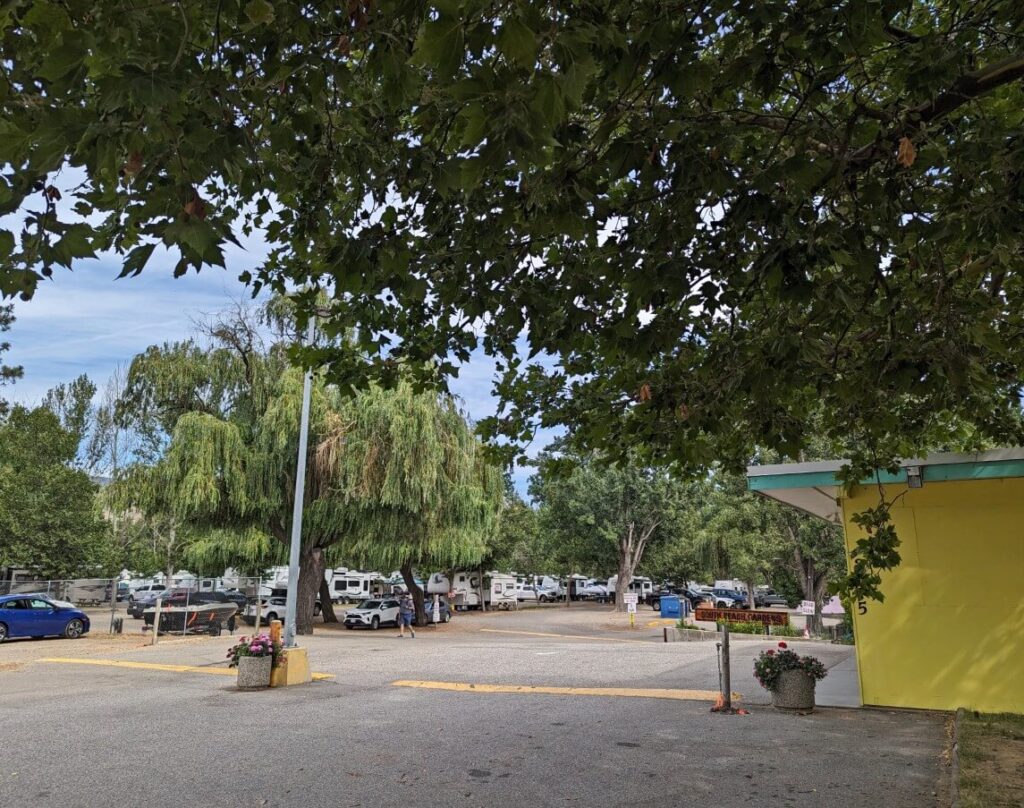 Recommended campgrounds near Penticton
The following campgrounds are located within a short drive (20-50 minutes) from the city of Penticton.
sx̌ʷəx̌ʷnitkʷ (Okanagan Falls) Provincial Park
sx̌ʷəx̌ʷnitkʷ ('little falls') is the closest provincial park campground to Penticton. In my opinion, it is worth staying here to get that 'provincial park' feel. The price is great too. The drive to Penticton is only 20km (25 minutes) and almost entirely on highway as well.
Located in Okanagan Falls, sx̌ʷəx̌ʷnitkʷ campground is relatively small and fairly open. There isn't a huge level of privacy between sites, but there is a scattering of trees for shade, with some shrub and lawn areas.
Squeezed between the beautiful Okanagan River and a west facing rockface, this campground loses light much earlier than others in the area. This provides exceptionally cool evenings in the summer, something welcomed by many campers!
The completely flat Kettle Valley Trail (KVR) runs between the river and campground, making it possible to walk (15 minutes) or bike (5 minutes) to the beaches and shops of Okanagan Falls without using a vehicle.
Location: Okanagan Falls (Google Maps directions)
Website: BC Parks
Price range: $25/night
Good to know: Reservations operate with a four month rolling booking window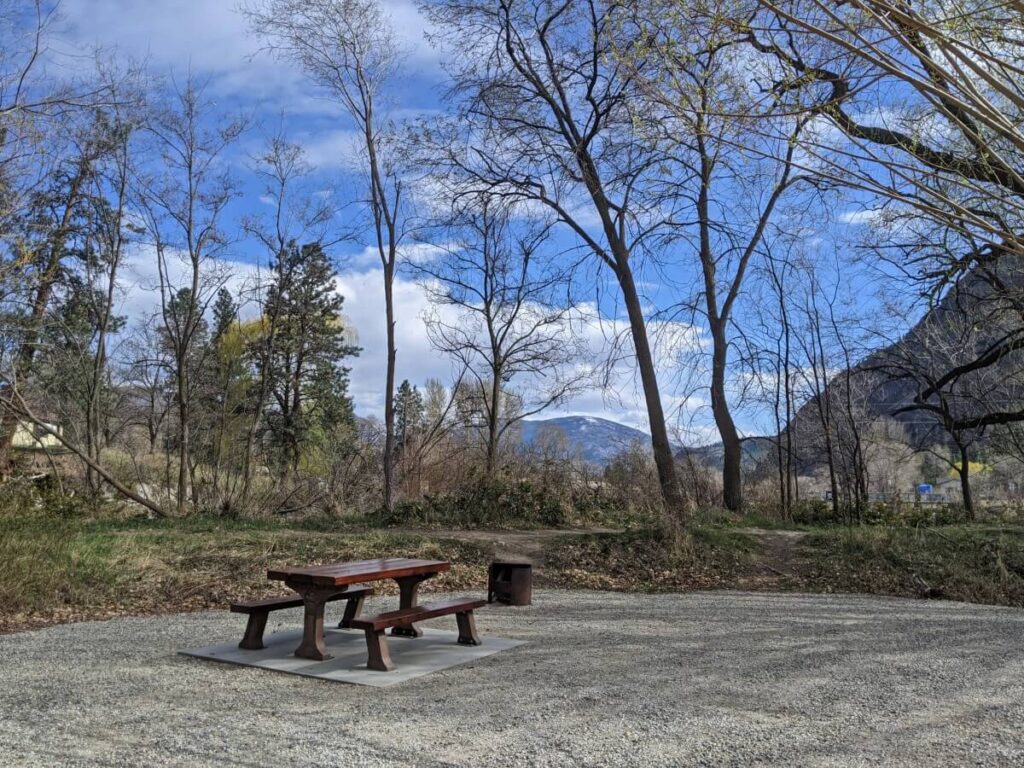 Idleback Lake Recreation Site
If a camping getaway in nature is more your scene, check out Idleback Lake. This completely free Recreation Site campground is only 50 minutes drive from downtown Penticton.
21 well spaced campgrounds perch on the northern shore of this pretty tree lined lake, though there are additional open spaces for overflow. A boat launch is situated in the middle of the campground. Larch trees provide some shade around the sites.
Weekends are usually pretty busy at Idleback Lake, especially on holidays. We last visited on a Thursday night in early July and found the campground about 60% full.
To reach Idleback Lake, first east on Carmi Avenue. This turns into Carmi Road. Make a right onto Beaverdell Road. The road becomes dirt after a cattlegrid. Continue to the end of Beaverdell and then turn left onto the 201 Forest Service Road. Continue for another 6.3km and Idleback Lake is on the left.
Location: 25km east of Penticton (directions above)
Website: Sites and Trails BC
Price range: Free
Good to know: According to some campers, there are leeches in the lake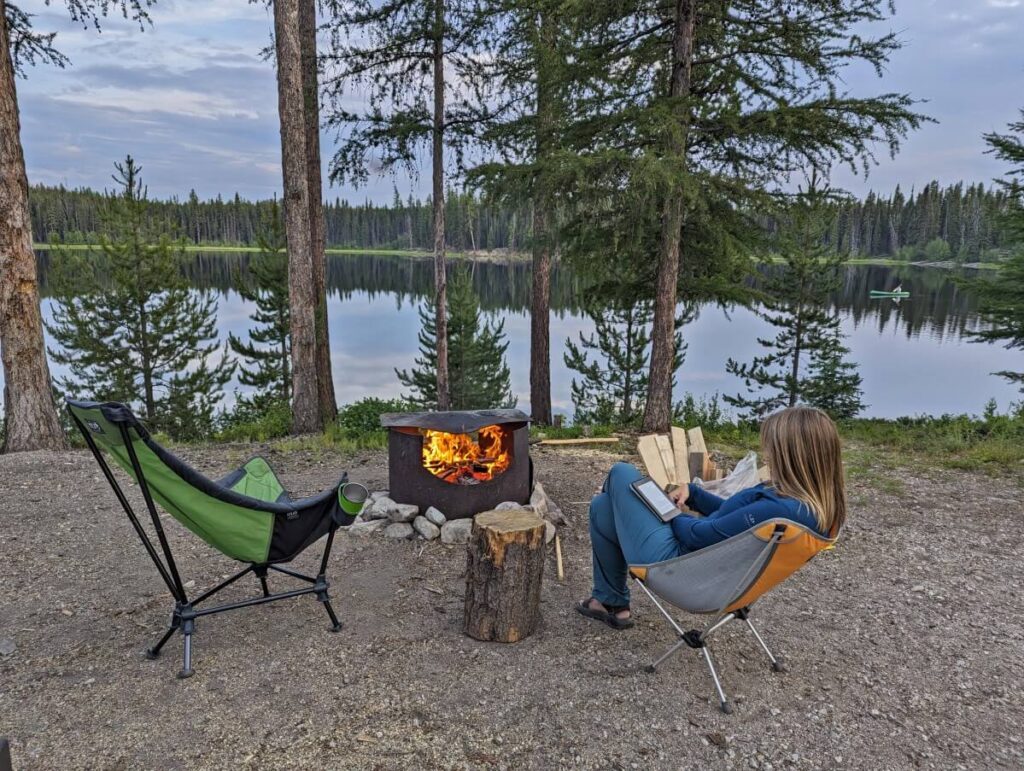 Naramata Campground
With only one road in and one road out, Naramata is one of the Okanagan Valley's most unique destinations. The Naramata Campground is a real one of a kind place too, part of the spiritual Naramata Centre. Naramata is 15km (20 minutes drive) from downtown Penticton.
There are three camping areas situated on this beautiful 23 acre property next to Okanagan Lake. The Eastside campground is aimed at RV users, while the Creekside and Southside campgrounds offer spots suitable for tents and RVs. Pets are welcome in the Eastside and Southside campgrounds.
Each camping area has its own character, though all are wonderfully shaded by more than 80 species of trees. The beach is just a short walk away, with Southside being the closest. The Creekside Commons building provides covered cooking and food storage facilities, with a shower and washroom building next door.
The prices at the Naramata Campground may seem on the steeper side, but the quiet village location is like no other in this region. It is possible to walk to multiple beaches, parks, cafes and shops from here. Multiple family friendly programs are available through the Naramata Centre, including movie night, yoga and more.
Location: 460 Ellis Avenue, Naramata (Google Maps directions)
Website: Naramata Campground
Price range: $90-130/night
Good to know: The Naramata Campground has a two night minimum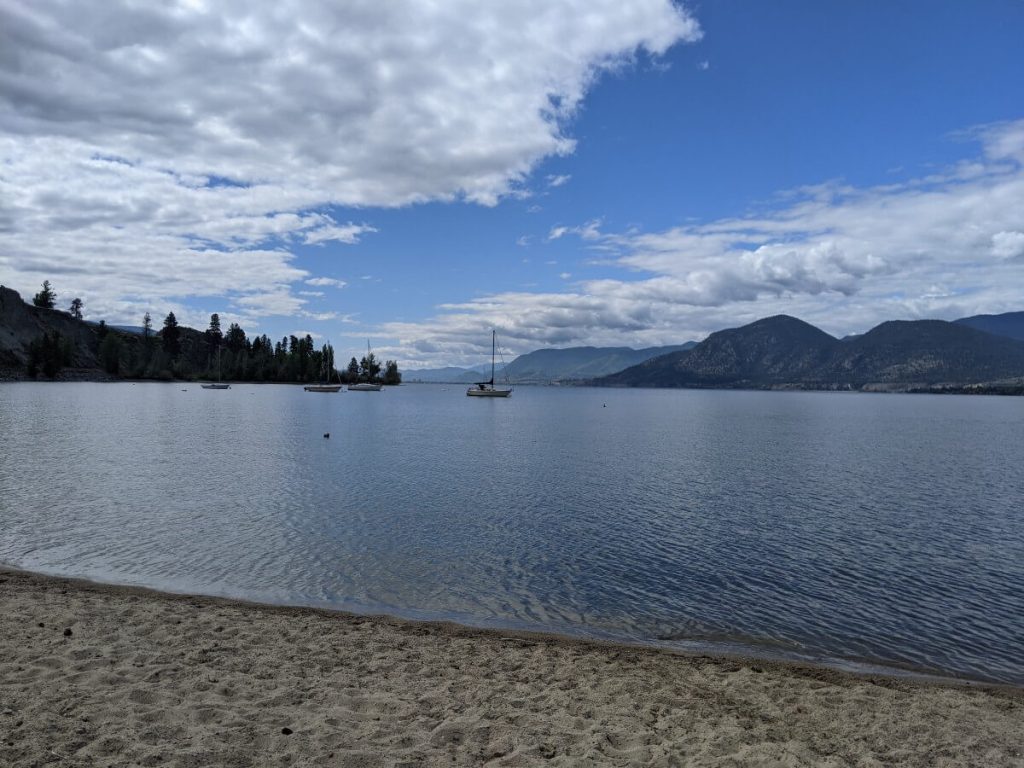 Chute Lake Lodge
Situated right on the KVR Trail in the hills above Naramata, Chute Lake Lodge has two small camping areas alongside yurts, glamping tents and cabins. Rooms are also available in the 100 year old lodge.
There are 3 tent-only and 4 RV campsites, all in forested areas with easy access to the multi-use KVR and Chute Lake itself. This Penticton campground is a great option for groups as the tent sites can be booked together to create a large, private camping area.
While no power or water is available right at the tent campsites, campers have access to a well equipped washroom facility with showers. RV campsites have 15 amp power and non-potable water. Don't feel like cooking? There is an on-site restaurant serving classic Canadian dishes.
Chute Lake Lodge is 45 minutes drive from Penticton. The scenic access route follows Naramata Road and then Chute Lake Road. The final 8km is unpaved and uphill. The road is usually in good shape in the summer but can be a bit dusty.
Location: 9540 Chute Lake Road (Google Maps directions)
Website: Chute Lake Lodge
Price range: $57-69/night
Good to know: eBikes, kayaks, rowboats, paddleboards and fishing gear are available to rent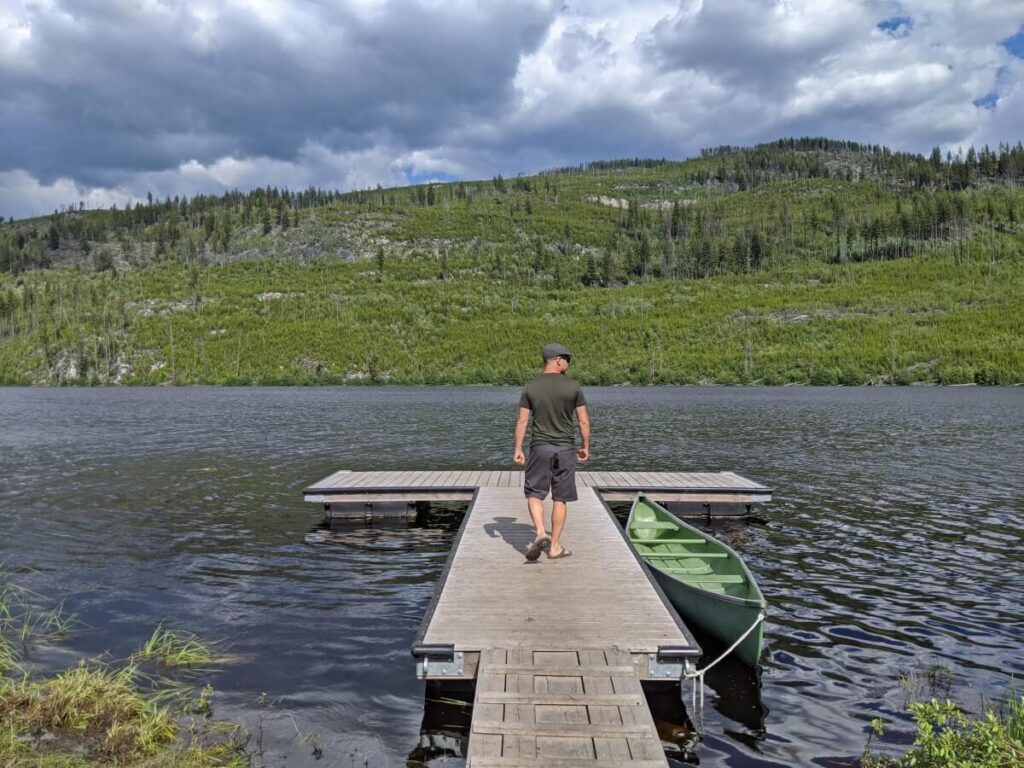 Okanagan Lake Provincial Park South Campground
Okanagan Lake Provincial Park is host to the most scenic provincial campgrounds in the Penticton area. Situated on the shoreline of Okanagan Lake, both north and south campgrounds look out across the water to the rugged peaks of Okanagan Mountain Provincial Park.
Located near Peachland, these campgrounds may sound a bit far from Penticton. Fortunately, easy highway accessibility means that the 27km drive only takes around 25 minutes.
The South Campground is situated at lake level, with most of the 96 campsites being set around two large lawn areas. The sites are located relatively close together and are better suited for campers with RVs. This is a great campground for young families, with a large playground next to the shower building.
There is a separate walk-in tent camping area, set apart from the main campground. There are eight campsites here, with most arranged in a line. Though they may not have a lot of privacy between them, the campsites are sheltered from the wind but still only a 30 seconds walk from the beach.
Location: Highway 97, Peachland (Google Maps directions)
Website: BC Parks
Price range: $35/night
Good to know: Reservations operate with a four month rolling booking window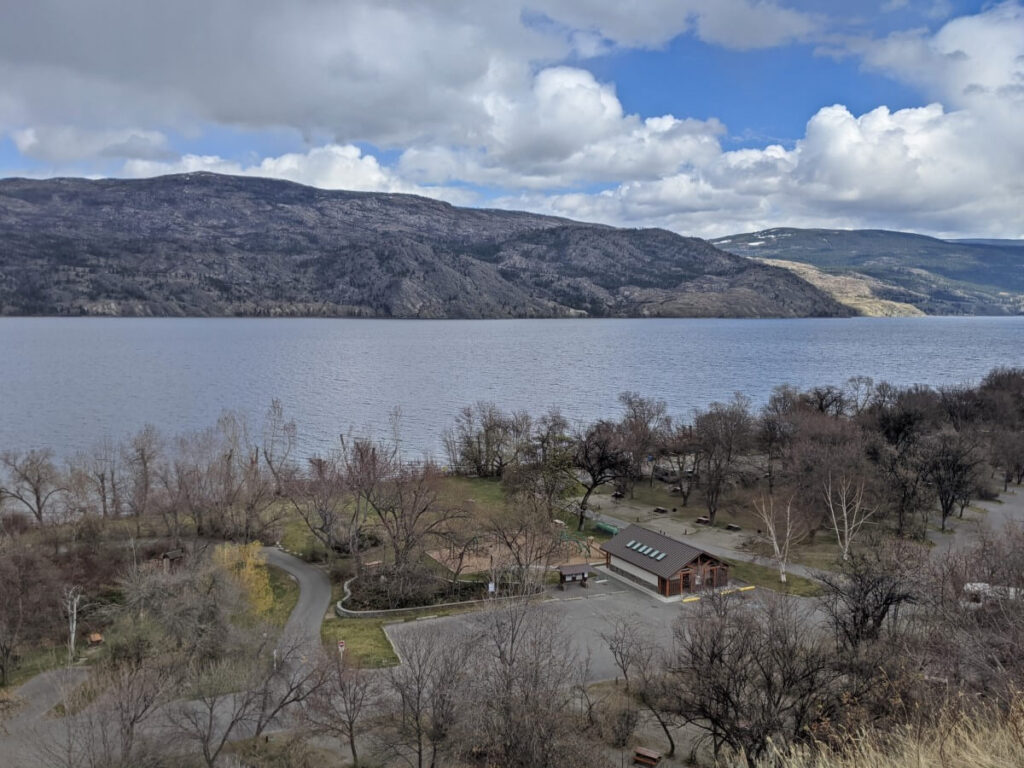 Okanagan Lake Provincial Park North Campground
Okanagan Lake North Campground enjoys the same lakeside positioning as its southern neighbour. Despite the similar location, it is a remarkably different campground however.
The North Campground consists of six terraces of camping sites, with each one being a bit lower and closer to the lake. The majority of the 80 campsites are nicely divided and feel quite private. Most have a decent level of natural shade from the surrounding trees.
The only downside to this campground is the noise from the highway on the higher levels. The lower your campsite, the quieter it will be. The lower two terraces are the best for this reason.
A pebbly beach is located right at the bottom of the campground, perfect for swimming and other water activities on hot summer days. This campground has free hot showers, flush toilets and potable water.
Location: Highway 97, Peachland (Google Maps directions)
Website: BC Parks
Price range: $35/night
Good to know: Reservations operate with a four month rolling booking window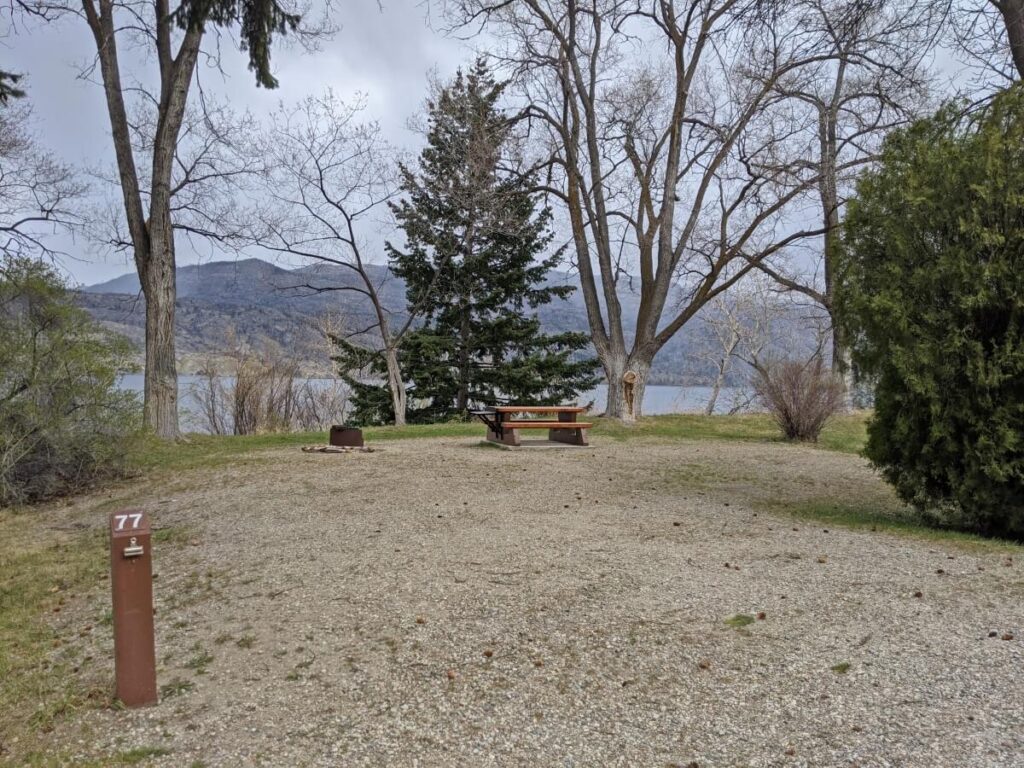 Discover Penticton