For such a relatively small city, Penticton has a surprisingly large and diverse food scene. This is particularly true with the last few years in mind, with so many new restaurants opening in the downtown core.
With such a variety of options, narrowing down the best Penticton restaurants is quite a challenge. After years of living here, however, we do have our favourites.
Last updated July 2023. For the most up-to-date information, contact individual businesses before visiting. There may be affiliate links in this post. If you make a purchase, we may receive a small percentage of the sale.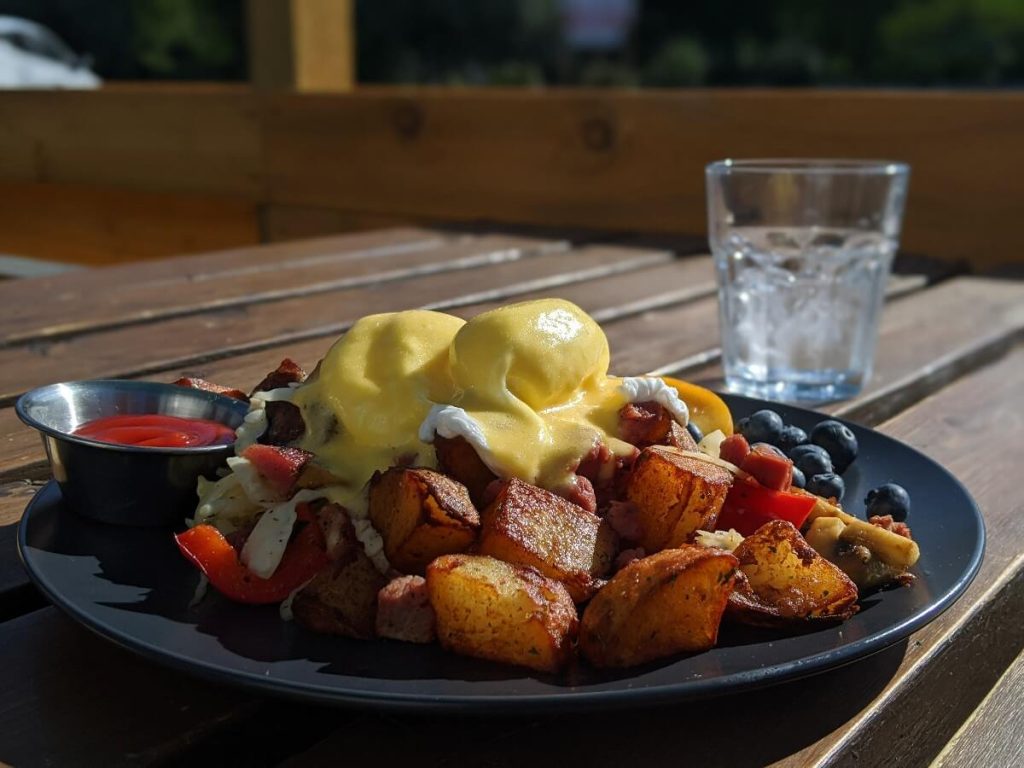 To make the choice easier for you (and make your visit to Penticton the best it can be!), I've listed our top picks for each of the most popular restaurant categories.
Here's what to expect in this post:
Looking for the best Penticton restaurants with patios? We have a dedicated patio post for that!
Best pizza in Penticton
There are plenty of places to get your pizza fix in Penticton. In this section, I'm going to share my favourite Penticton pizza restaurant. My other top pick, Bad Tattoo, recently closed and I am narrowing down other options to add to this post.
Pizzeria Tratto Napoletana
For authentic, Neopolitan style pizza (soft, thin crust with slight char) straight from the rock oven, look no further than Tratto. The slightly chewy pizzas are topped with quality Italian ingredients like capicollo (cured spiced, smoked pork shoulder) and cacciocavallo (buttery stretched cheese).
Served with scissors (as per the traditional way), Tratto's pizzas are easy to share between friends.
Due to this, we've managed to munch our way through most of the menu pretty easily. Our current favourites are the Prosciutto and Argula (they definitely don't scrimp on the meat!) and the Quattro Formaggi.
Phone: 250-493-0080
Address: 256 Westminster Avenue (click for directions)
Facebook | Instagram | Website
Best for breakfast brunch
Start your day right with a spot of breakfast or brunch at one of these excellent Penticton restaurants. It'll set you up well for a packed day of wine touring, swimming, biking, sunbathing or hiking.
Loki's Garage
If perfectly cooked poached eggs on fresh bread, covered with homemade hollandaise and accompanied by a crispy, melt-in-your-mouth hash browns sounds like your idea of brunch, you'll love Loki's Garage! Not keen on Eggs Benedict? The Chicken & Waffles is a worthy alternative.
Such attention to detail, use of quality ingredients and generous portions make Loki's Garage our absolute top pick for breakfast and brunch in Penticton.
The location of Loki's may be a little strange for those unfamiliar with downtown Penticton (I find it a hard place to direct people to). It sits behind Front St, accessed from there or Backstreet Boulevard. As well as almost a dozen tables inside, Loki's has a sunny patio out front.
Phone: 250-770-7890
Address: 52 Front Street #84 (click for directions)
Facebook | Instagram | Website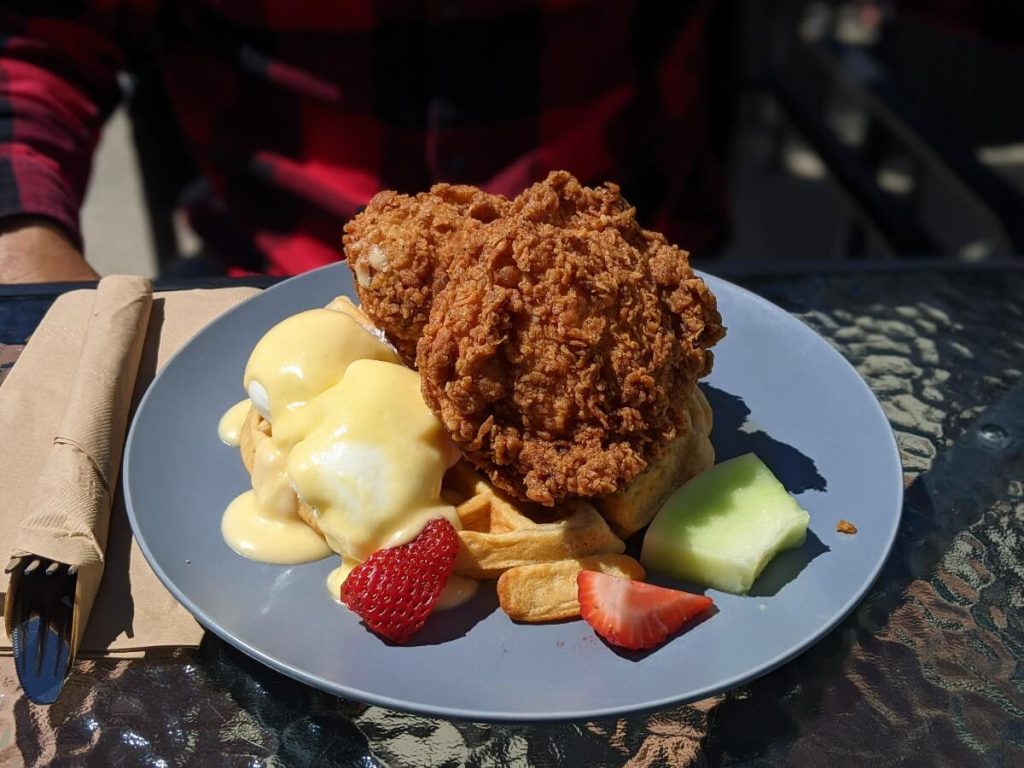 The Nest
The Nest is a restaurant that truly celebrates the bounty of the Okanagan Valley with produce, ingredients and drinks sourced as locally as possible. As such, the menu changes reasonably often (and not just the daily features!) The elevated, fresh and modern style of food always remains, however.
For brunch, you can expect a couple of variations of Eggs Benedict (with sous vide eggs), sweet and savoury waffle dishes as well as breakfast staples. The Benny's are served with house cut fries as standard but you can replace them with truffle fries or mouthwateringly good brown butter smashed potatoes.
The Nest is part of the historic Cannery building located in the commercial area of town. The interior smart and contemporary, with local art adorning the walls. Service is welcoming and personable.
Phone: 250-493-7275
Address: 1475 Fairview Road (click for directions)
Facebook | Instagram | Website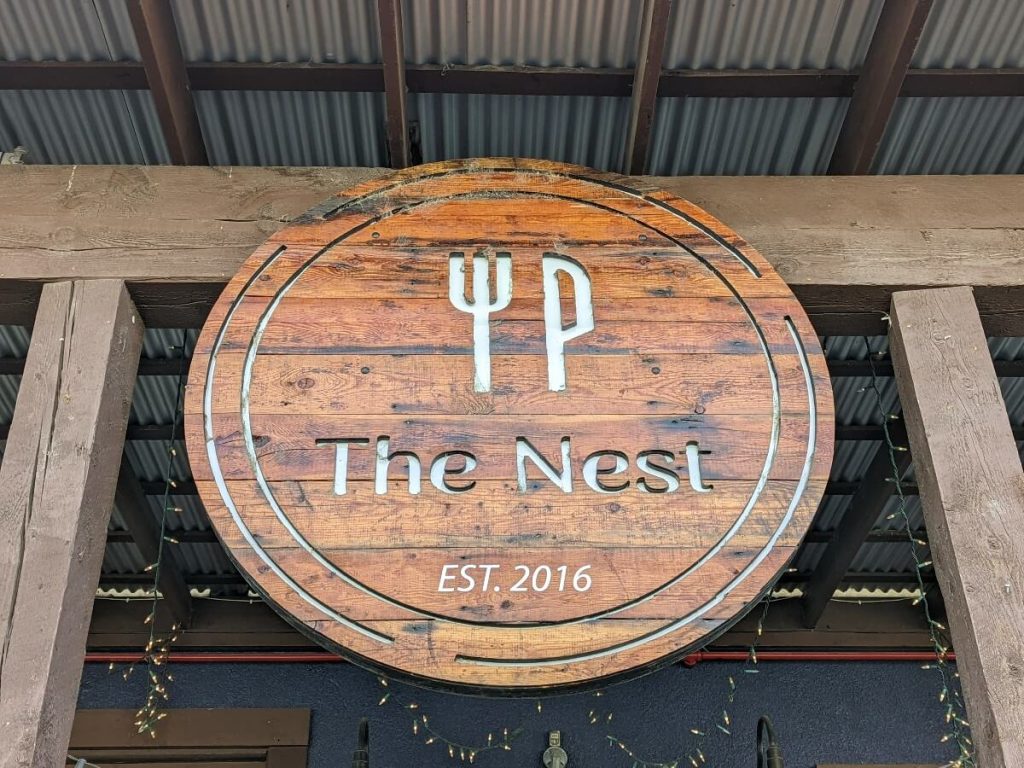 Best for sushi
Sushi is definitely a local favourite in Penticton. Visiting from Vancouver and a little skeptical about how good sushi could really be in this area of British Columbia? Well, Penticton may well offer you another pleasant surprise on that front as well!
KOJO and KOYA
I've cheated a little with this one as it is technically two separate restaurants. They do have the same owner, however, and offer the same modern, fresh and friendly vibe.
KOJO is the original sushi restaurant, situated on the Skaha Lake side of town. It opened in 2017 and quickly became known for delicious poke and ramen bowls. Seating is mostly indoor.
The brand new, smaller location is called KOYA ('desert' in Japanese) and is just a few steps from Okanagan Lake. The menu is similar, with some additions like sushi burritos. KOYA has both indoor and outdoor seating. The restaurant is less than a block to the beach.
KOJO
Phone: 236-422-4566
Address: 3480 Skaha Lake Road (click for directions)
Facebook | Instagram | Website (KOJO)
KOYA
Phone: 778-476-5101
Address: 101-93 Winnipeg Street (click for directions)
Facebook | Instagram | Website (KOYA)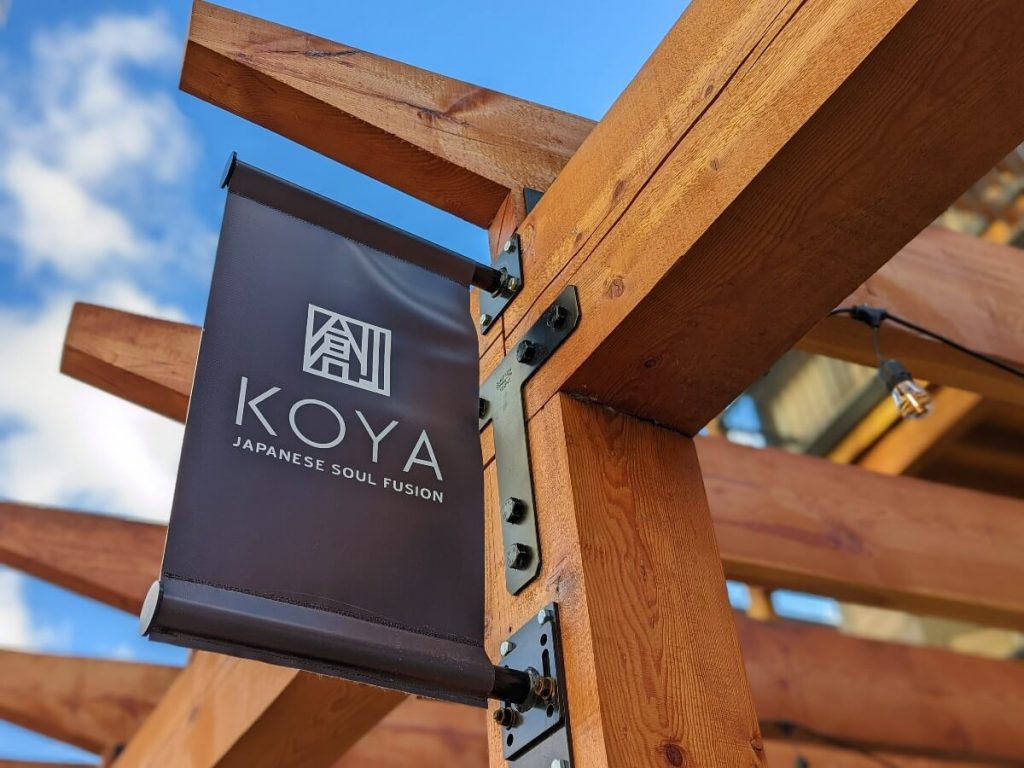 Ginza Sushi & Poke
Ginza is the 'new-old' sushi restaurant on the block. Closed after a fire in 2017, the restaurant reopened in 2020 with a stunning new look.
The upscale, modern style perfectly compliments the 100 year old heritage building. A beautiful open staircase transports guests up to the main dining area, which features a gleaming wooden ceiling and private seating.
And it isn't a case of style over substance at Ginza. The comprehensive menu includes plenty of Japanese favourites as well as poke bowls and some Korean dishes, a node to the heritage of the owners. The pricing is a little higher than some other downtown sushi restaurants, but we feel that it is worth it.
Phone: 250-493-0303
Address: 74 Front Street (click for directions)
Facebook | Instagram | Website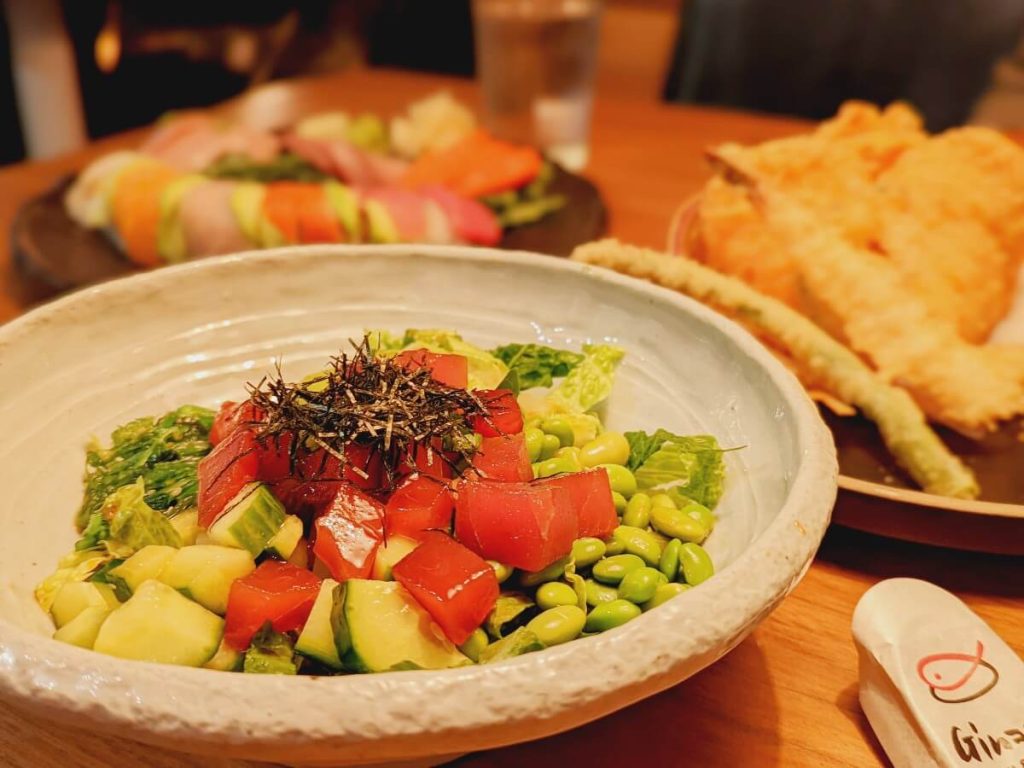 Best for Indian
With four Indian restaurants located within the downtown core (and a fifth on the other side of town), Penticton is a great place to be if you like curries, biryani, dal, naan and pakoras. Here are our top picks for Penticton restaurants serving Indian food.
Penticton Indian Cuisine
For a long time, Lachi (see below) held our favour for best Indian restaurant in Penticton. But come late 2021, our allegiance switched to Penticton Indian Cuisine.
The reason? Each dish we have received from Penticton Indian Cuisine has been absolutely bursting with flavour. And there's complexity too. Combined with perfect sauce consistency, tasty appetizers and decent portions, Penticton Indian Cuisine is a winner.
Phone: 778-476-2683
Address: 325 Main Street (click for directions)
Facebook | Instagram | Website
Lachi
Still our second favourite Indian restaurant in Penticton, Lachi has been dishing up delicious food for over 10 years. The lunch and dinner specials are particularly popular, as are the wonderfully soft naan breads.
The restaurant recently moved to a new corner location, just down the street. This newly renovated space is bright and modern, offering extra capacity and a more upscale dining experience.
Phone: 778-476-5665
Address: 504 Main Street (click for directions)
Facebook | Website
Best for takeout
It's not technically a restaurant but honestly, one of the best places to eat in Penticton is the beach! Place an order at one of these takeout spots and eat with a view instead. If sand is a concern, there are plenty of picnic tables available at Skaha Lake Park and Marina Bay Park.
Happiness Thai
This unassuming place on Main St is just what you need when you're craving Thai comfort food dishes like Pad Thai, Drunken Noodles and Pad See Ew. Curries and stir fries are also available.
Portions are generous, offering excellent value for money. Expect to enjoy some leftovers the next day!
Prior to 2020, Happiness Thai did offer some limited indoor seating. This may return at some point, but for now, the restaurant remains takeout only.
Phone: (236) 422-2228
Address: 535 Main Street (click for directions)
Facebook
Jeffer's Fryzz
Be sure not to underestimate this humble food truck! Jeffer's Fryzz has been serving fresh cut french fries at its Main St location for more than 35 years.
At the request of local Quebecois farm workers in the 80's, the owner sourced cheese curds (a difficult feat at the time) and became one of the first places in British Columbia to serve poutine.
Made with homemade gravy and fries, Jeffer's poutine remains just as authentic and tasty today. The fish and chips are also a hit with locals.
Phone: (250) 462-6587
Address: Corner of Main Street and Nanaimo Avenue (click for directions)
Facebook | Instagram | Website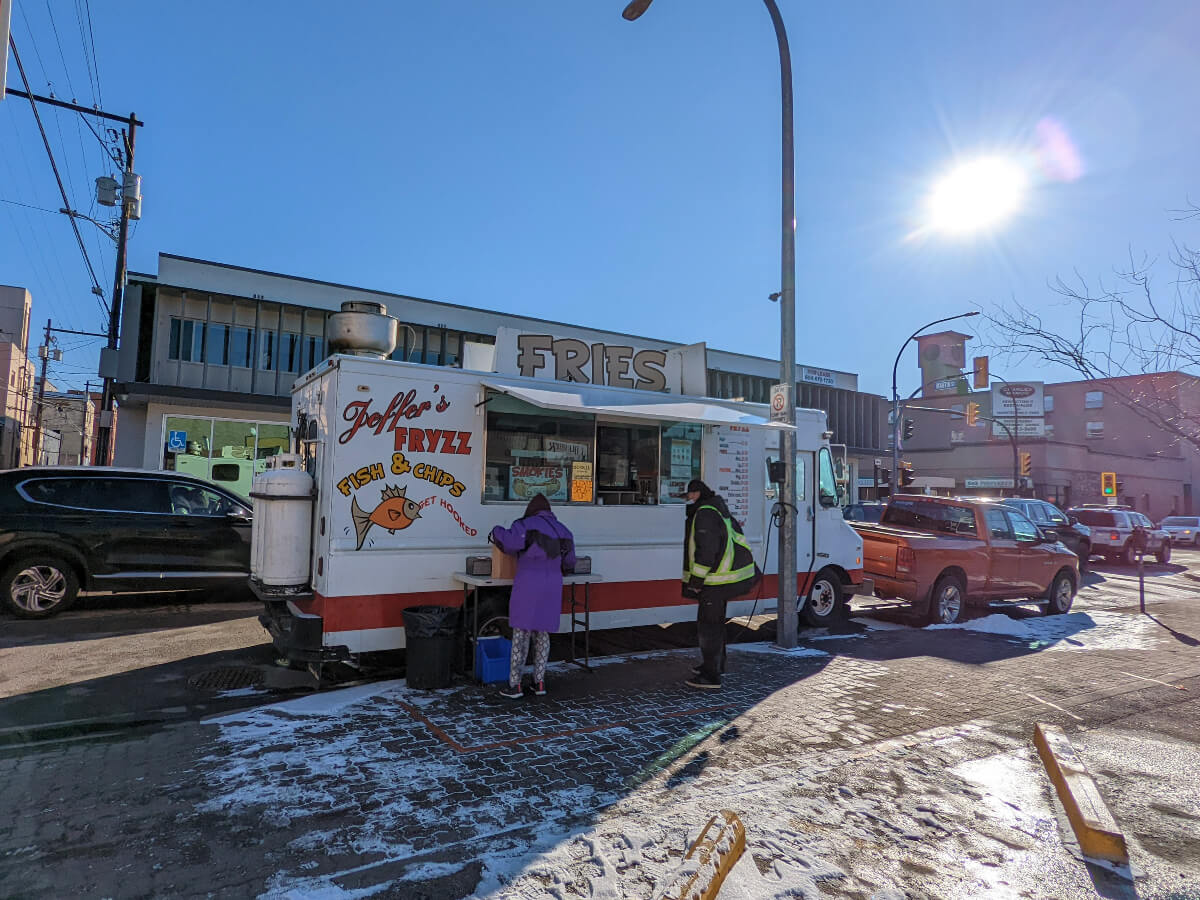 Best for drinks and appetizers
Just looking for place to enjoy a beer with a light bite? Here's our pick for casual Penticton restaurants serving drinks and appetizers in Penticton.
Cannery Brewing
Small bites are the name of the game at Cannery Brewing, designed to compliment their wide variety of craft beers. The nachos are undoubtedly the best in town, with three different versions available (vegan, vegetarian, chicken), so everyone can enjoy.
Stuffed with cheddar and served with dijon mayo dip, the Pretzel Bombs are another highlight on the Cannery's appetizer-forward menu. Charcuterie boards, sandwiches and hummus plates are other mainstays, with 3 or 4 rotating options rounding out the list.
Phone: 250-493-2723
Address: 198 Ellis Street (click for directions)
Facebook | Instagram | Website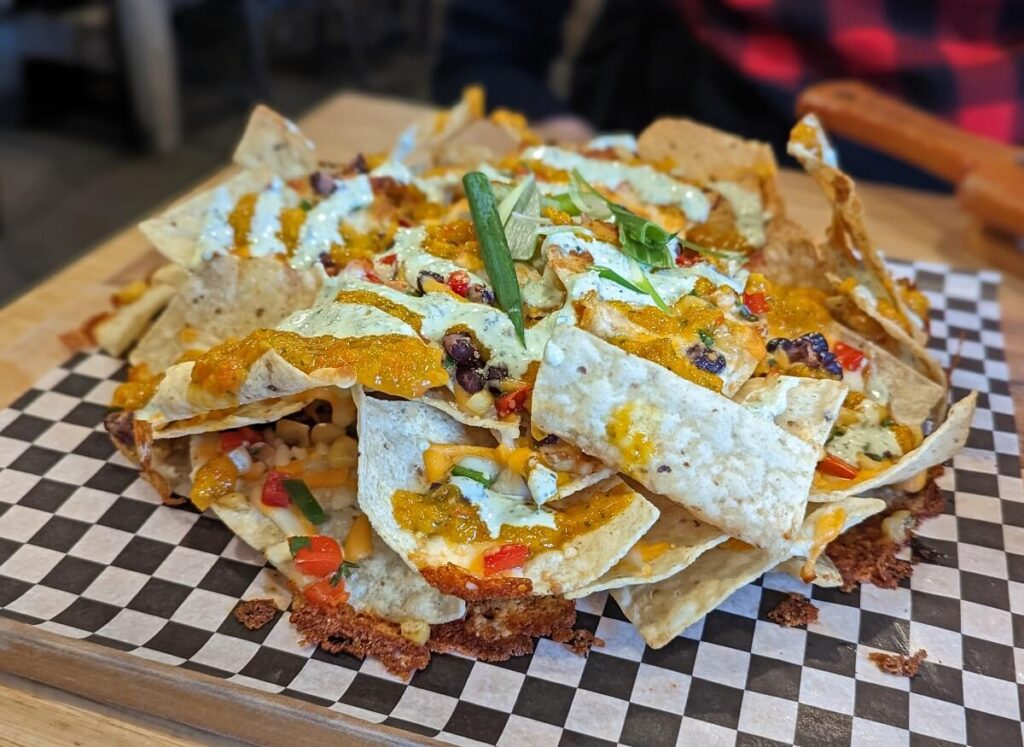 Neighbourhood Brewing
Neighbourhood Brewing is the newest member of Penticton's excellent craft brewery scene and often has the most amount of beers on tap. Small plates make up most of the menu, with Mexican and Canadian fusion as the theme.
Some of the dishes retain authentic Mexican flavours (like the Al Pastor tacos), while others have fun Canadian twists (such as the Tachos – nachos made with tater tots). Five different hot sauces are provided so you can up the spice and flavour level to your own taste.
The large misted patio is very dog friendly, so Neighbourhood is a great option if you have a furry friend with you!
Phone: 778-380-0841
Address: 187 Westminster Avenue W (click for directions)
Facebook | Instagram | Website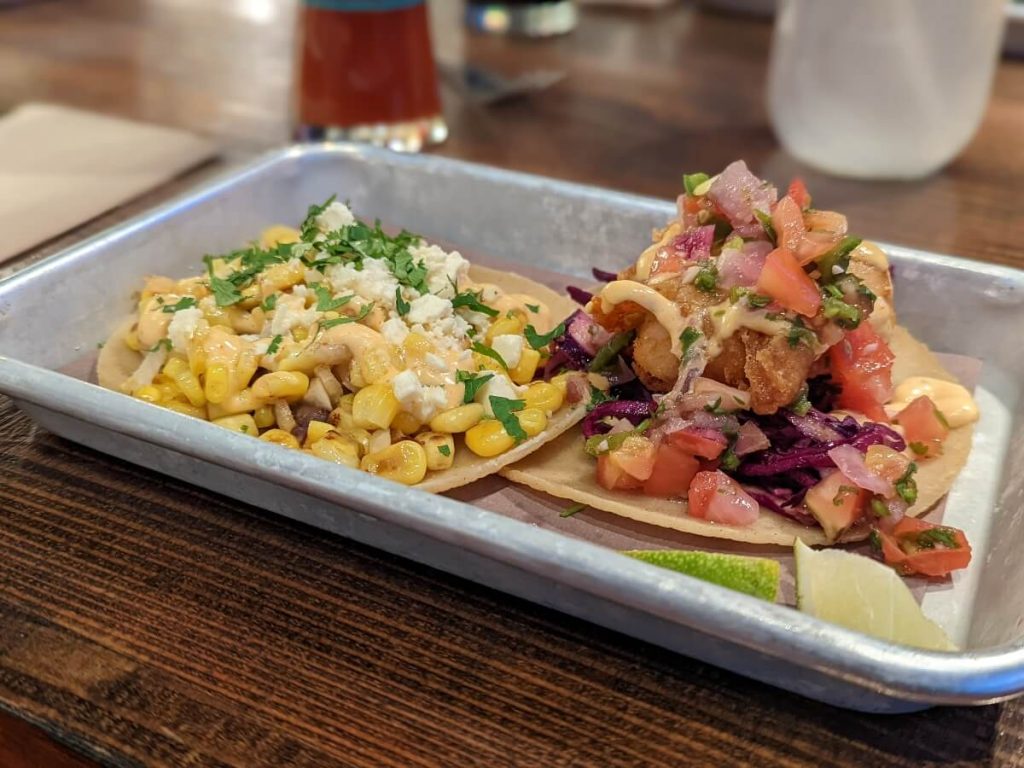 Best for elevated dining
Have a special occasion in mind? Or just fancy a more refined dining experience? These modern Penticton restaurants both offer gorgeous lake views and immaculate surroundings as well as upscale cuisine.
Elma
Relatively new to the Penticton restaurant scene, Elma is a beautiful destination for any special occasion. The huge floor to ceiling windows showcase the prime lakeshore location while also allowing the spacious interior to remain wonderfully airy and bright.
The owners are from Turkey, a factor which inspires, but not defines, the menu. Okanagan ingredients and style are infused to provide a more familiar, yet still adventurous, dining experience.
Guests can choose to share small meze plates and/or larger vegetarian, seafood and meat dishes. The oval shaped Pides (flatbreads) are a definite highlight.
Phone: 236-422-3562
Address: 994 Lakeshore Drive (click for directions)
Facebook | Instagram | Website
The Restaurant at Poplar Grove
Even before arriving into the restaurant, dining at Poplar Grove feels like a pretty special experience. Located on the slope of Munson Mountain (home of the Penticton sign), even the parking lot has fantastic panoramic views!
There is indoor and outdoor seating, both offering opportunities to enjoy the spectacular vistas. The menu blends nostalgic flavours with international influences to reinvent and refine classic dishes. Dishes feature paired wines to elevate the flavours.
For a more casual experience, picnic baskets (including a bottle of wine) are also available in summer. The picnic area enjoys the same fantastic views!
Phone: 250-493-9463
Address: 425 Middle Beach Road N (click for directions)
Facebook | Instagram | Website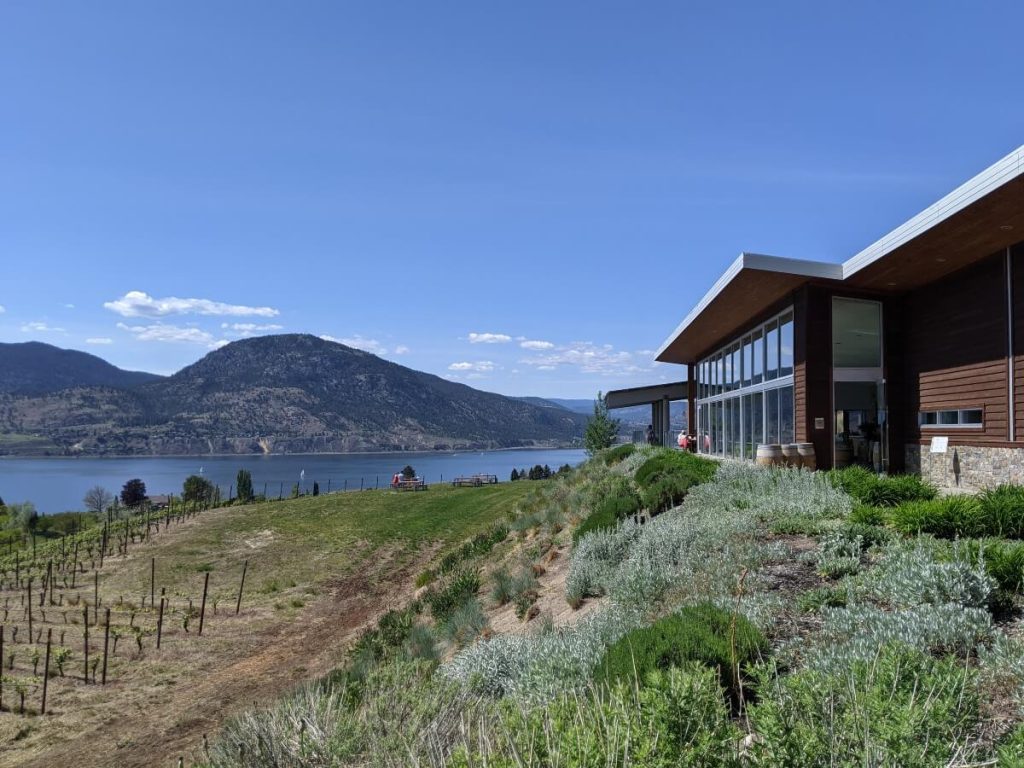 Best for views
We're spoiled for choice for Penticton restaurants with a view! This was a very tricky category to decide on. Poplar Grove, mentioned above, was a shortlisted candidate.
Hooded Merganser
Lakefront restaurants always offer impressive views….but what a restaurant that is literally on the lake? The Hooded Merganser sits directly on Okanagan Lake, elevated by use of 'stilts,' offering incredible uninterrupted views towards Summerland, Naramata and Okanagan Mountain Park.
The large patio wraps around the restaurant, offering multiple viewpoints. Facing north, it always faces away from the sun and never gets too hot. There are large floor to ceiling windows to enable interior guests to enjoy the panoramas as well.
As for the menu, the Hooded Menganser specialises in farm to table cuisine (indeed, they have their own farm nearby). Think steaks, seafood, burgers, salads and more. Keep in mind that you do pay a few extra dollars for the view.
Phone: 250-487-4663
Address: 21 Lakeshore Drive W (click for directions)
Facebook | Instagram | Website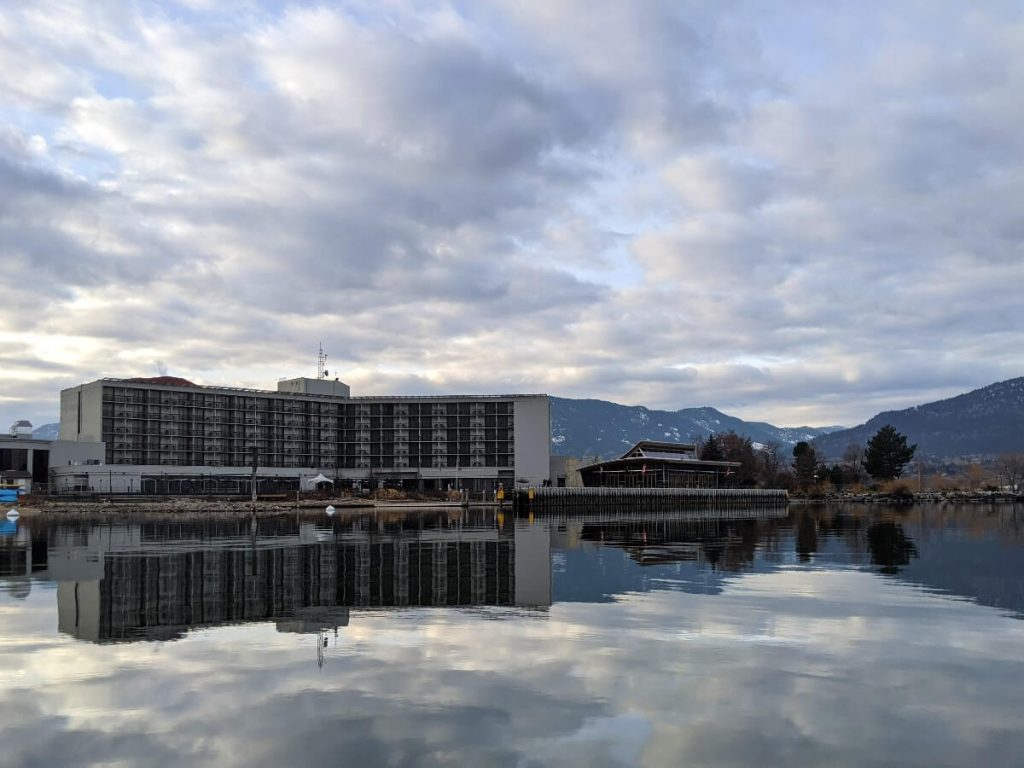 Sonetto at Play Winery
Let me take you away from the downtown area and across to Skaha Lake. Sonetto is the name of the restaurant at Play Winery, which sits on a hill within a newly developed residential area just off Highway 97.
Looking south, Sonetto is blessed with sweeping views of Skaha Lake and surrounding mountains, as well as the vineyards below. The best views can be experienced on the patio and the interior, with the latter boasting floor to ceiling windows.
On the food side of things, Sonetto is firmly Italian with the menu showcasing delectable pasta, seafood, meat and bread dishes.
Phone: 236-422-2675
Address: 507 Skaha Hills Drive (click for directions)
Facebook | Instagram | Website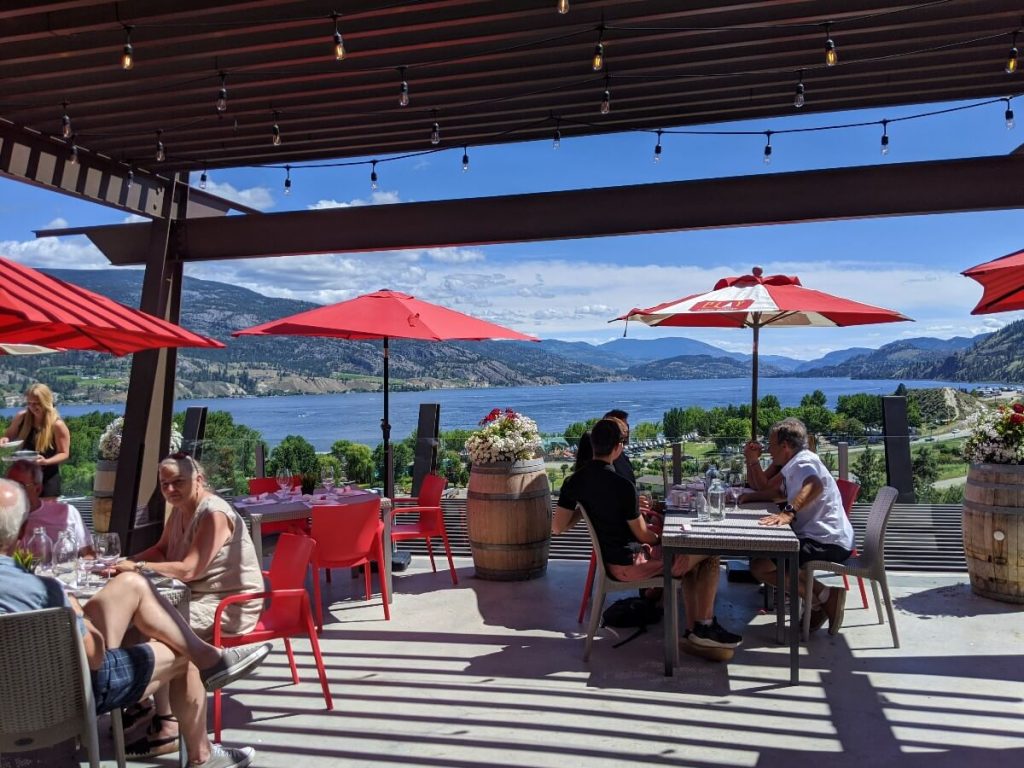 Best for coffee
Looking for a caffeine hit with lunch or breakfast? The best coffee in town can be found at the following Penticton cafés.
Wayne and Freda
Lovingly named after the owner's grandparents (who happened to live in the same Okanagan care home!), Wayne and Freda has quickly become downtown's most popular coffee spot.
The simple but comprehensive breakfast and lunch menu is on the healthy side, featuring toasts, sandwiches, grain bowls and soup (great choice for vegetarians and vegans!)
Bright, airy and modern, Wayne and Freda is a wonderful place to sit, eat and people watch. It's less than a block away from the beach as well!
Phone: 236-422-2900
Address: 249 Westminster Avenue W (click for directions)
Facebook | Instagram | Website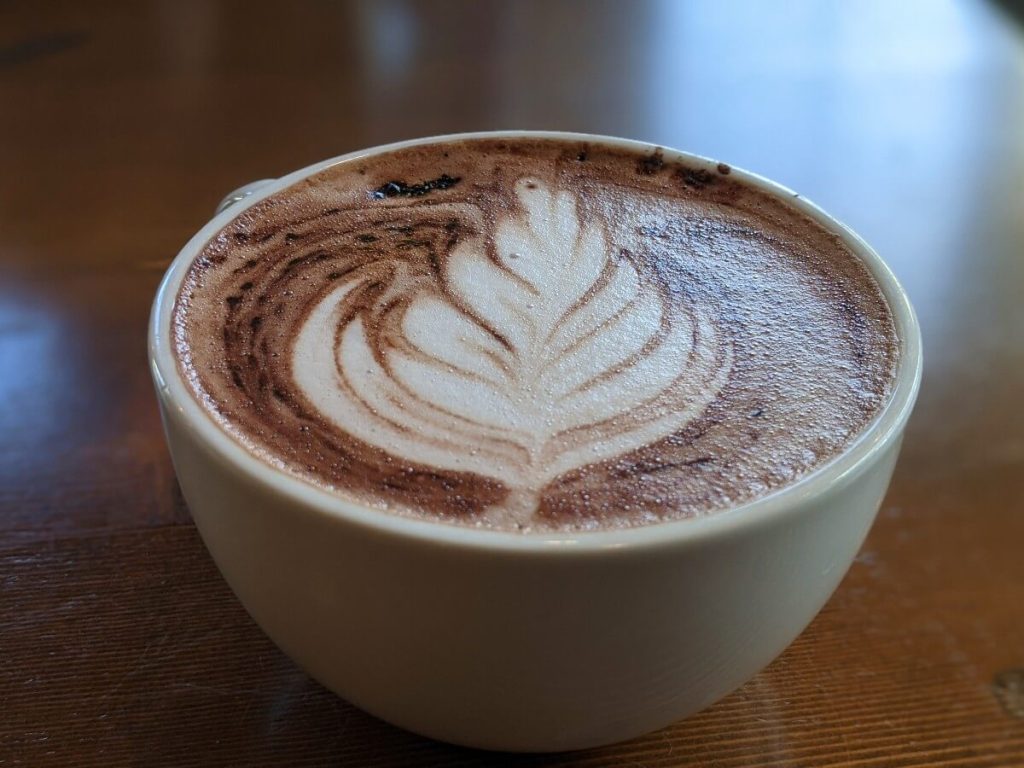 The Bench Market
The Bench Market is a Penticton institution. Not just a destination for coffee, the Bench serves healthy, seasonally inspired dishes made with local ingredients.
Think house made granola, toasted sandwiches, veggie burgers and salads. Brunch is also available on weekends and statutory holidays.
Located in a residential area just a short walk from downtown, the Bench Market is an ideal stop if you're heading up to the KVR Trail. The Vancouver Place trailhead (which leads below the Penticton sign) is only five more minutes up the hill.
Phone: 250-492-2222
Address: 368 Vancouver Avenue (click for directions)
Facebook | Instagram | Website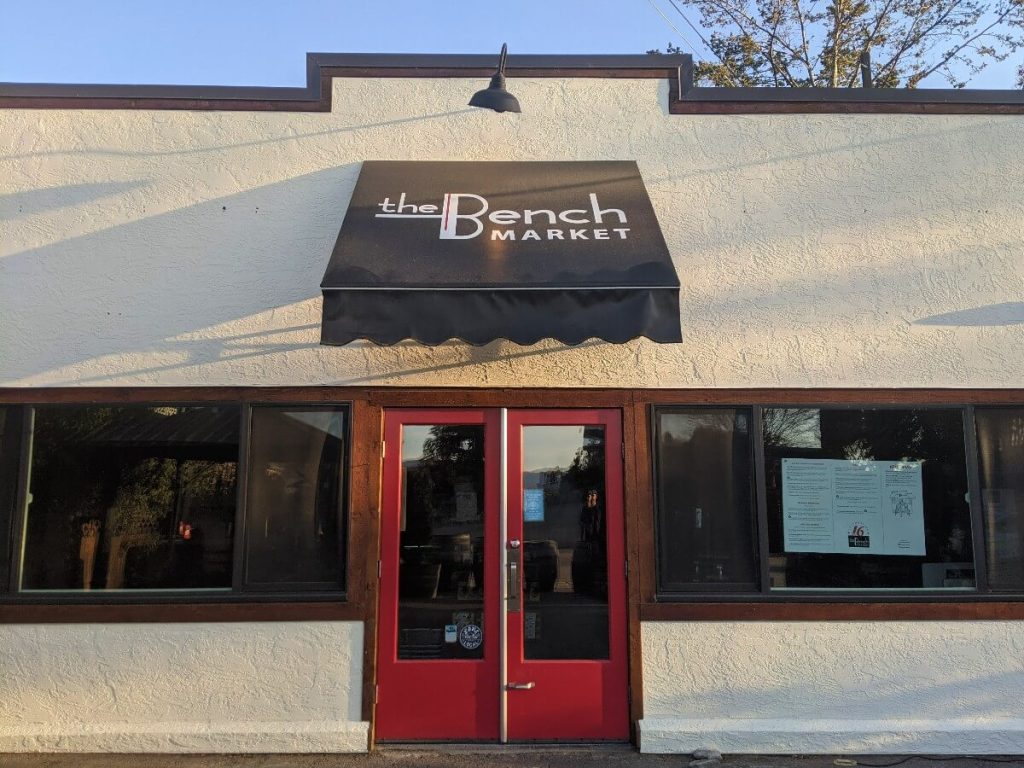 Check these posts next: