Keeping things fun and funky on the Bench since 2008, Ruby Blues likes to show guests a good time. And it clearly works, with Ruby Blues being one of the most visited wineries in the area.
Everyone seems to know, or at least has noticed, the colorful VW Westfalia van parked outside the winery. The van is not the only draw, however, with the winery courtyard featuring beautiful views of Okanagan Lake and the surrounding vineyards.
The owners previously built and established Red Rooster Winery (located just across the road) and then retired before realising that they miss the Okanagan wine industry.
Ruby Blues' wine is produced exclusively from grapes from the Naramata Bench, resulting in fruit forward wines. The winery is best known for their quaffable red and white Stiletto blends. Pricing is very approachable, with bottles starting at $20.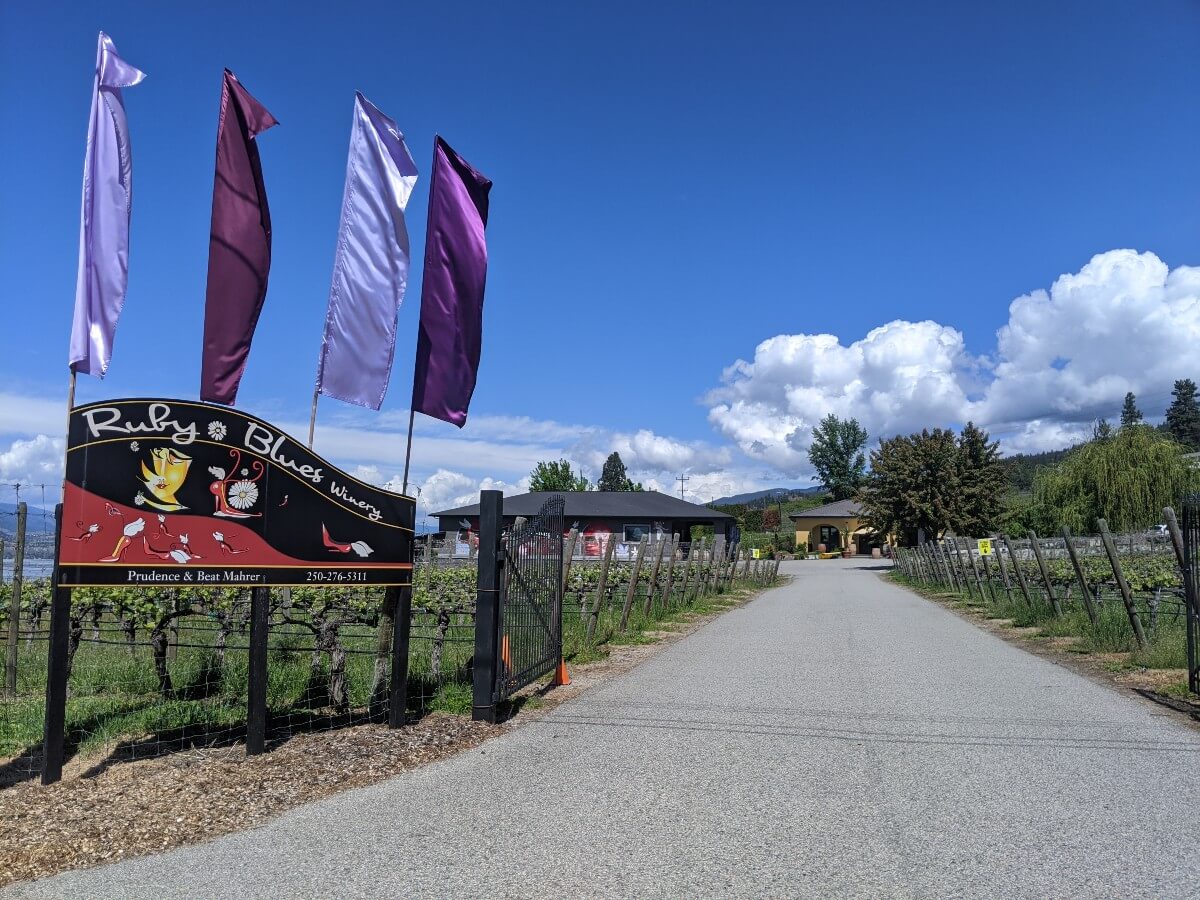 At a Glance
Wine shop times: 11am to 5pm daily
Tasting room times: 11am to 5pm daily
Tasting reservation: Walk-in groups of four or less OK, reservations required for larger groups
Tasting style: Outdoor bar
Tasting cost: $10, waived on purchase
Food/restaurant: No
Accommodation: No
Child friendly: Yes
Pet friendly: Yes
Weddings and private events: No
Last updated June 2022. For the most up-to-date information, contact individual businesses before visiting. There are some affiliate links in this post. If you make a purchase, we may receive a small percentage of the sale.
Varietals
Gewürztraminer
Riesling
Muscat
Pinot Gris
Viognier
Syrah
Merlot
Cabernet Sauvignon
Pinot
Tastings and Wine Shop
Ruby Blues Winery is open daily throughout the summer tasting season, from 11am to 5pm. Tastings last around 20 to 30 minutes and are conducted outside, under the covered crush pad. There are a few tables but most tastings are held around wine barrels.
Tastings at Ruby Blues Winery cost $10 per person, waived with purchase. Inside the quirky wine shop, you'll find a wide variety of souvenirs ranging from local art to VW Westfalia van figurines and stiletto themed gifts.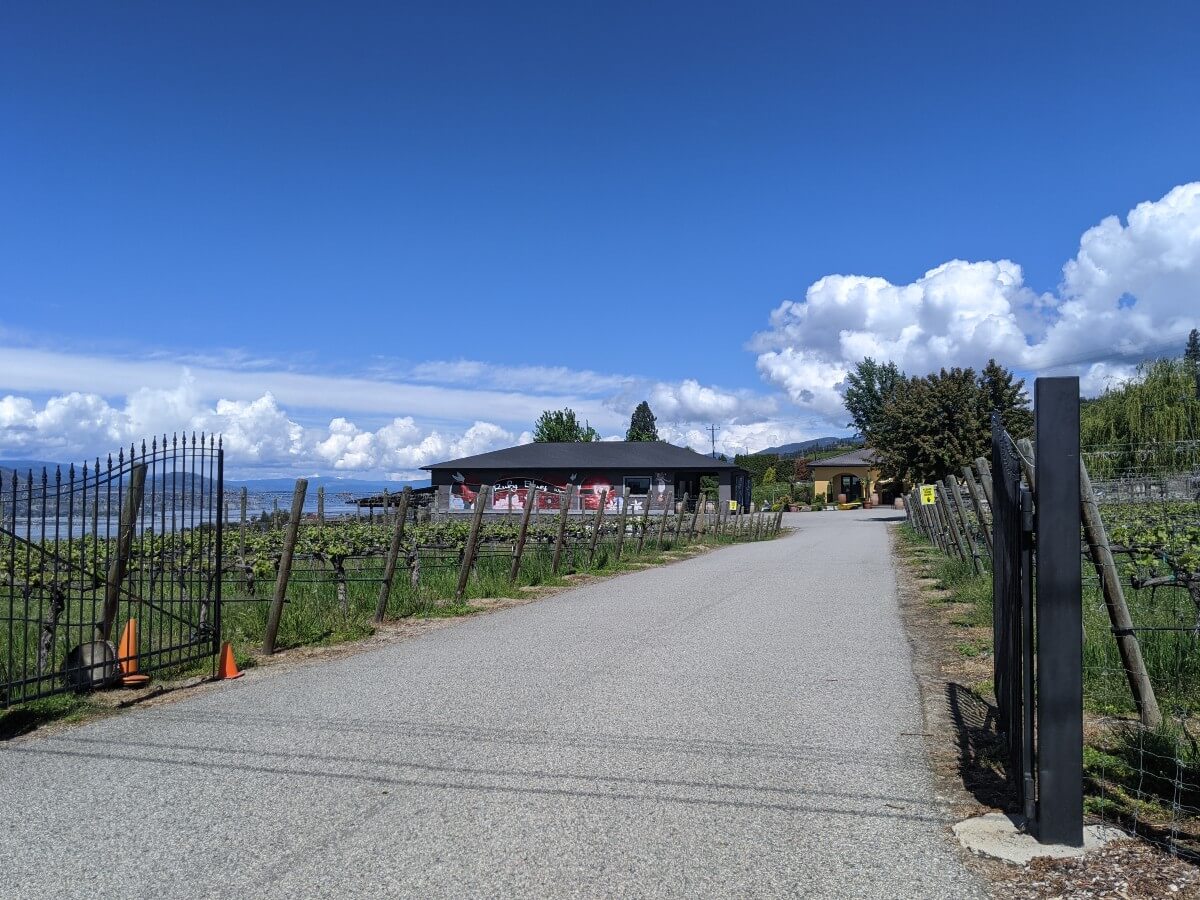 Restaurant
This winery does not have a restaurant or food available. There are many great Naramata Bench restaurants close by however.
Accommodation
This winery does not have onsite accommodation. Click to discover nearby Naramata Bench accommodation options.
Dog Friendliness
This winery is dog friendly. There is a grassy area located between the wine shop and outside tasting bar. Two golden retrievers live on the property – if you have a reactive dog, this winery may not be the best choice for you.
Wine Club
The 'Find Your Groove' Wine Club features two customised shipments of wine a year. Each shipment includes one case of wine (12 bottles), with the bottles chosen by the club member from Ruby Blues' full portfolio. Shipping is extra.
Club members can also purchase additional cases at a discounted rate, with a flat shipping fee (based on province) regardless of how many cases are ordered.
Wines
Wine name
Description/Varietal
Price Per Bottle
2019 Forever Young
White. Riesling
$22
2019 Commune Naramata
Bench Viognier
White. Viognier
$27
2020 Commune Naramata
Bench Pinot Gris
White. Pinot Gris
$22
2019 White Stiletto
Naramata Bench
White. Gewürztraminer,
Riesling, Muscat
$21
2020 Commune Naramata
Bench Gewürztraminer
White. Gewürztraminer
$22
2019 Grüner Veltliner
White. Grüner Veltliner
$23
2017 Reserve Syrah
Red. Syrah
$50
Red Stiletto Naramata Bench
Red. Syrah, Merlot,
Cabernet Sauvignon, Pinot
$27
2018 Merlot/Cabernet Sauvignon
Red. Merlot, Cabernet Sauvignon
$35
Peace & Love & Bubbles
Sparkling Rosé
$27
Contact Information
Phone: 1-250-276-5311
Address: 917 Naramata Road
Website: rubyblueswinery.ca
Discover more wineries