As their slogan goes…everyone needs a little therapy. Wine therapy that is! And what better place to get it then this stunning property overlooking Okanagan Lake.
Therapy's bright and airy tasting room sits on top of a vineyard slope, with plenty of floor to ceiling windows to take it all in.
With a little tongue in cheek attitude, Therapy has the simple aim to produce tasty and approachable wines to be enjoyed. Much as the wine is easy to like, the pricing is varied to suit different budgets.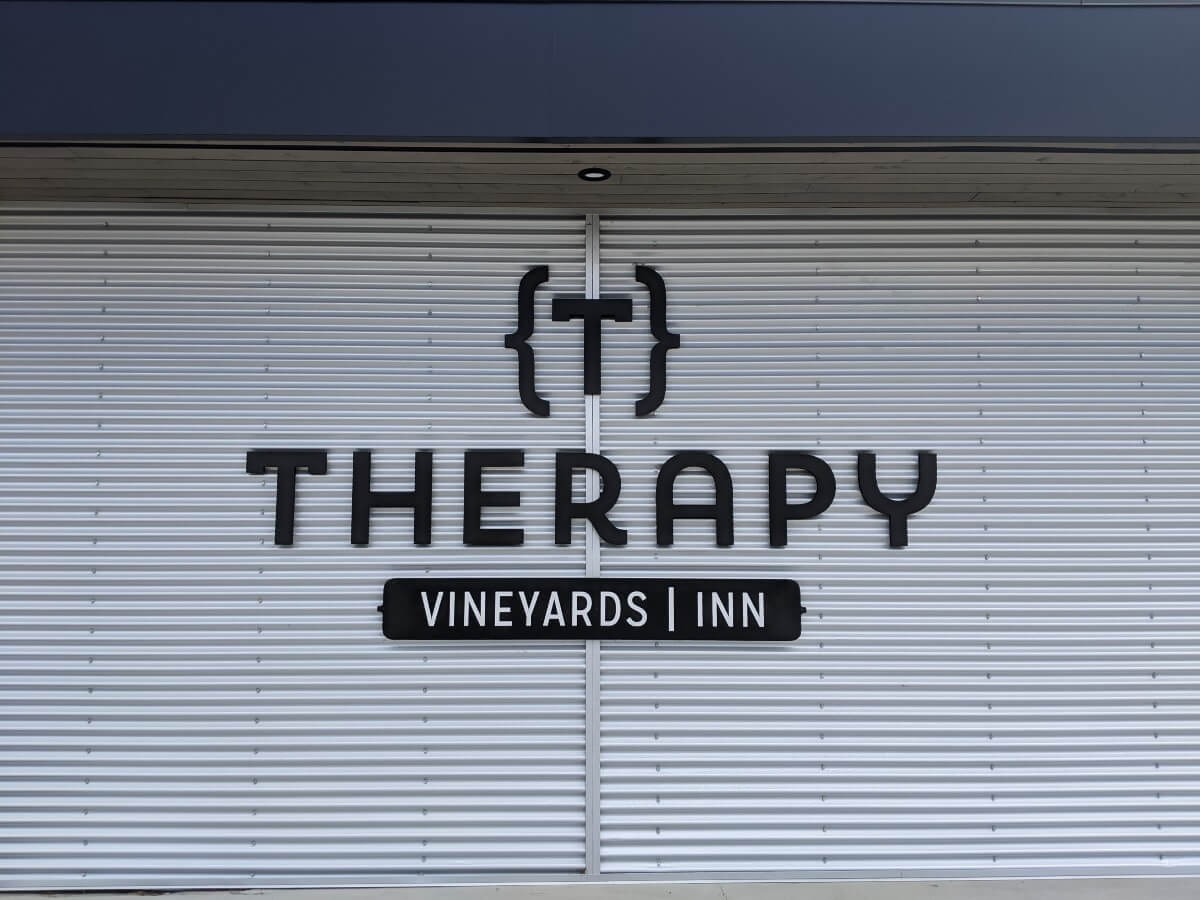 Visited Therapy Vineyards pre-2017? Put it down as a priority to re-visit. The concept is the same but the new owners have elevated the guest experience.
The brand new tasting room is simply stunning and is accompanied by five gorgeous, modern suites. And the views are still as gorgeous as ever!
At a Glance
Wine shop times: 10am-6pm daily
Tasting room times: 10am-6pm daily
Tasting reservation: Walk-ins welcome, reservations required for groups of six or more
Tasting style: Inside bar service, outside seated
Tasting cost: $15/pp, waived with wine purchase
Food/restaurant: Pick-nick welcome
Accommodation: Yes
Child friendly: Yes
Pet friendly: Yes
Weddings and private events: No
Last updated June 2022. For the most up-to-date information, contact individual businesses before visiting. There are some affiliate links in this post. If you make a purchase, we may receive a small percentage of the sale.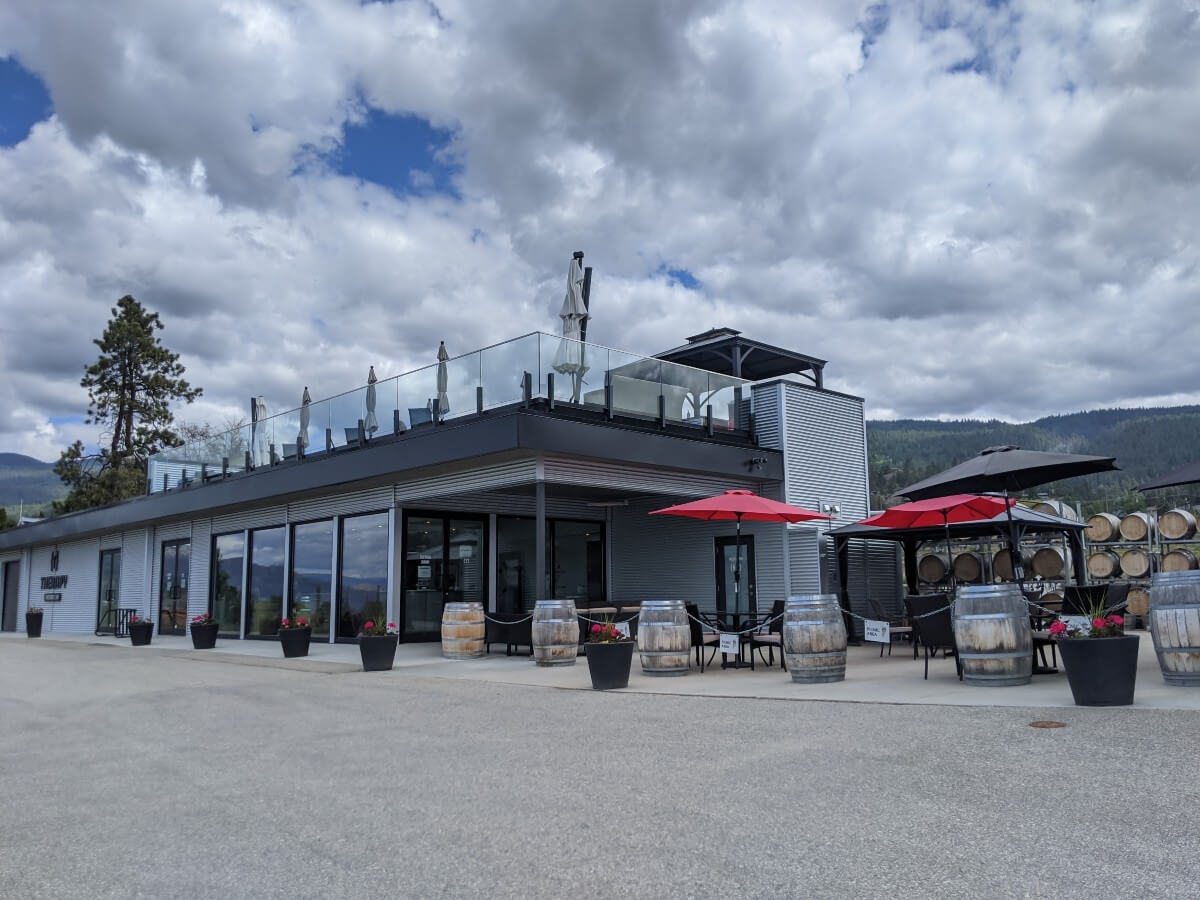 Wine Tastings and Wine Shop
The tasting room and wine shop is the centerpiece of Therapy Vineyards. The modern tasting room features floor to ceiling windows on two sides, offering spectacular views of Okanagan Lake and the mountains beyond.
The oval shaped tasting bar has plenty of space for multiple groups. Tastings can also be conducted outside, on the ground floor patio or on the roof top patio as well.
Tastings are $15 per person, with this fee waived with the purchase of wine.
Therapy Vineyards works on a first come, first serve system, with reservations only required for larger groups (six or more guests).
First time wine touring on the Naramata Bench? Read this post next – Naramata Bench Wine Tasting Etiquette and Tips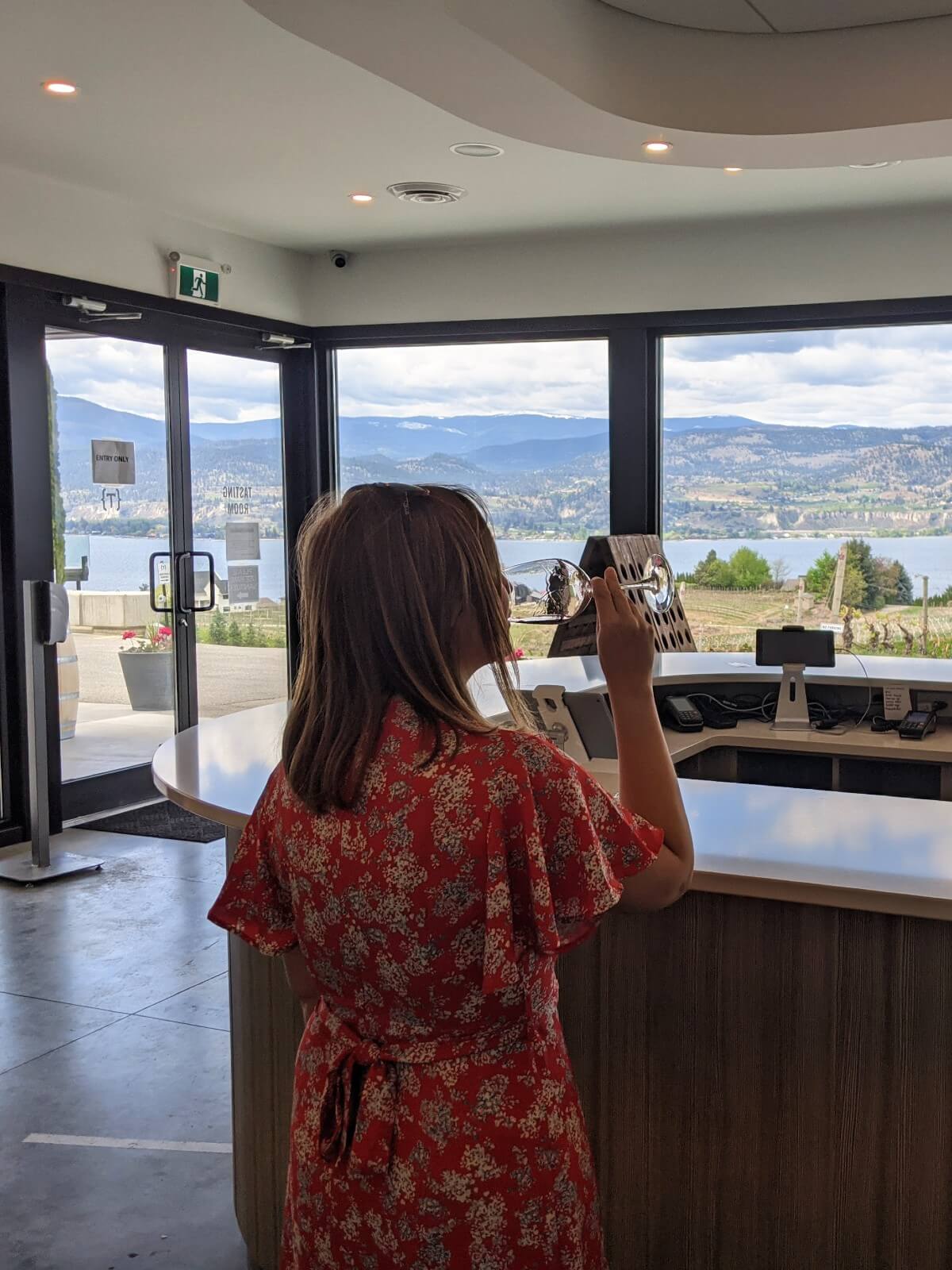 Restaurant
The Board and Hungry food truck currently has residency on Therapy's ground floor patio and is open every weekend. Roman style pizzas and grazing boards (featuring BC made meats, cheeses and preserves) are Board and Hungry's specialty, but you'll also find a selection of tasty snacks and one-off specials.
Food can be enjoyed on either patio (head to the roof top for the best views!) with a glass of wine. Many dishes can also be boxed or wrapped 'to go' for guests can't stay.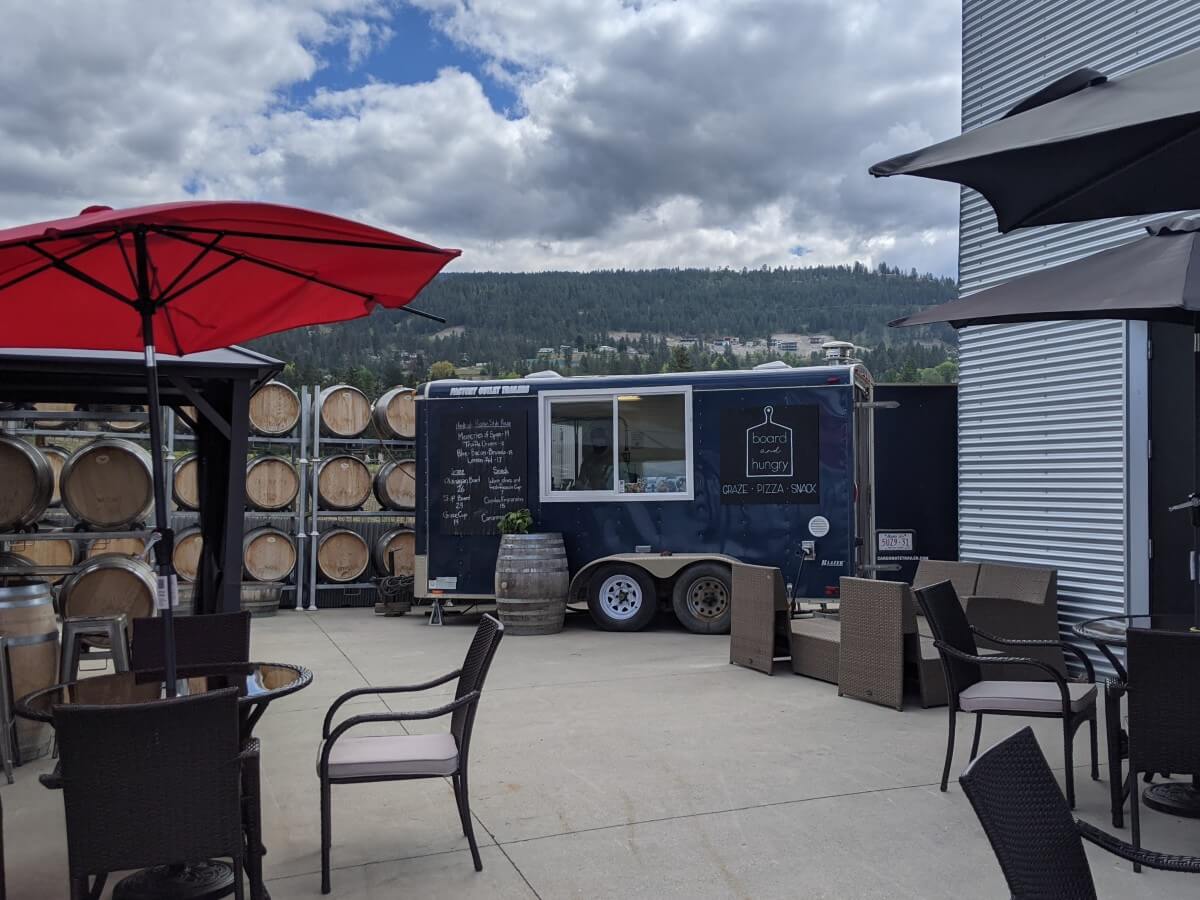 Accommodation
The Inn at Therapy Vineyards features five luxurious suites featuring high end features such as spa-lake bathrooms, wine fridges, king sized beds and granite countertops.
The suites are modern and spacious, with plenty of windows to take in the beautiful views outside. Each guest room has direct access to a deck or patio area.
Breakfast is included with every stay, served in the communal dining area. Outside, there is a huge hot tub and cosy fire pit area.
The Inn is less than 30 seconds walk from the Therapy's tasting room, where guests receive free tastings plus a 10% discount on wine purchases.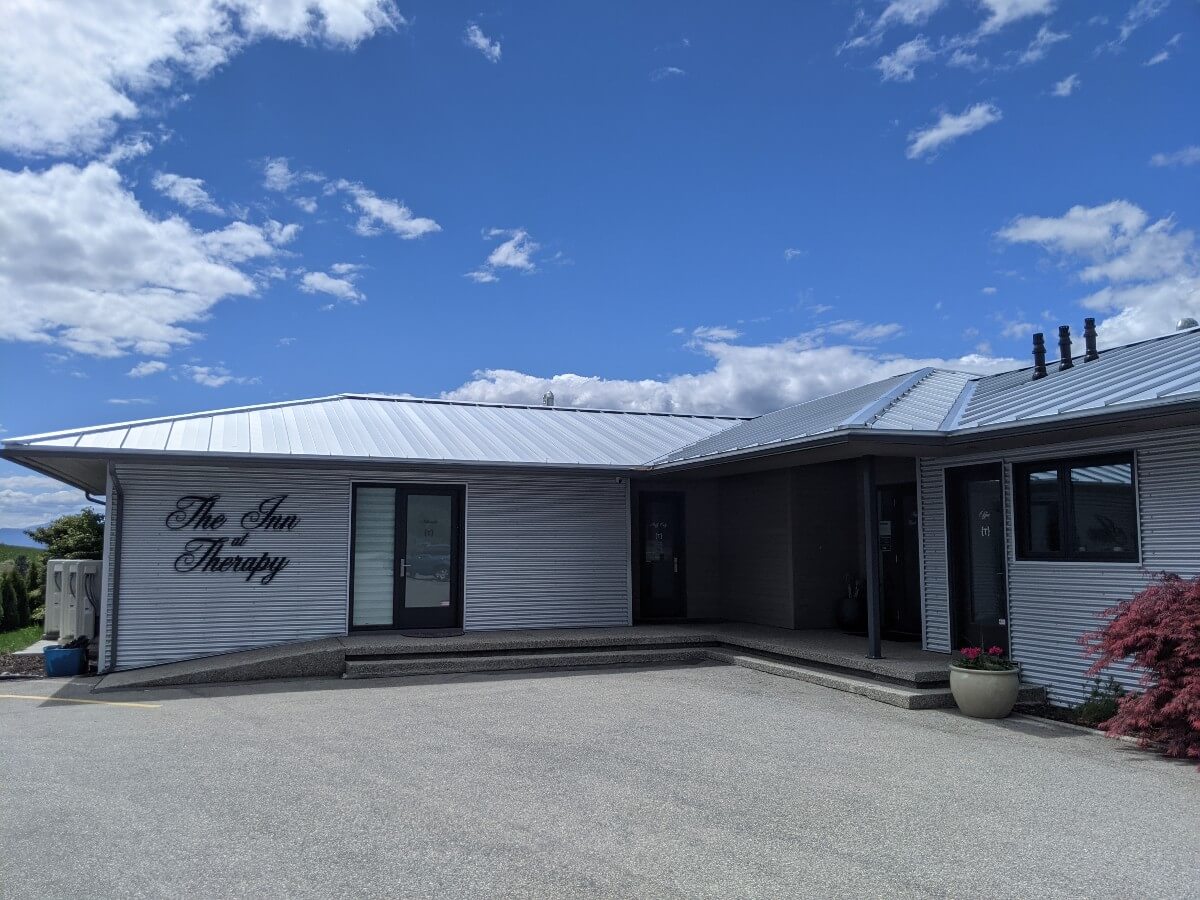 Weddings and Private Events
This winery does not offer weddings or private events but here is some recommended local wineries which do:
Dog Friendly
Therapy Vineyards are dog friendly, with leashed dogs allowed in the wine tasting room and also on the ground floor patio. The latter is paved and the scattered tables have umbrellas for shade.
Child Friendly
This winery allows children to accompany adult guests. There are washroom facilities available inside the tasting room. Therapy does not have any toys or activities for children, but these local wineries do:
Wine Club
Continue your therapy from a distance with membership to Therapy Vineyard's Wine Club. There are multiple membership options available, all with fully customisable wine packages:
Antidote (Monthly) – Six bottles once a month
Antidote (Quarterly) – Six bottles every three months
Antidote (Biannually) – Six bottles every six months
Overindulge (Monthly) – Twelve bottles once a month
Overindulge (Quarterly) – Twelve bottles every three months
Overindulge (Biannually) – Twelve bottles every six months
Overindulge wine packages are shipped free, while Antidote members pay $20 per shipment.
There is a one year commitment. After this time, members can change, cancel or temporarily pause their subscription.
All Therapy Wine Club members receive 15% discount on wine purchases. Some other perks to enjoy are:
Free tastings
Referral bonus ($25)
Discounted rates for The Inn
Assess to exclusive wine library
Event invitations
The latest news about new releases and discounted wines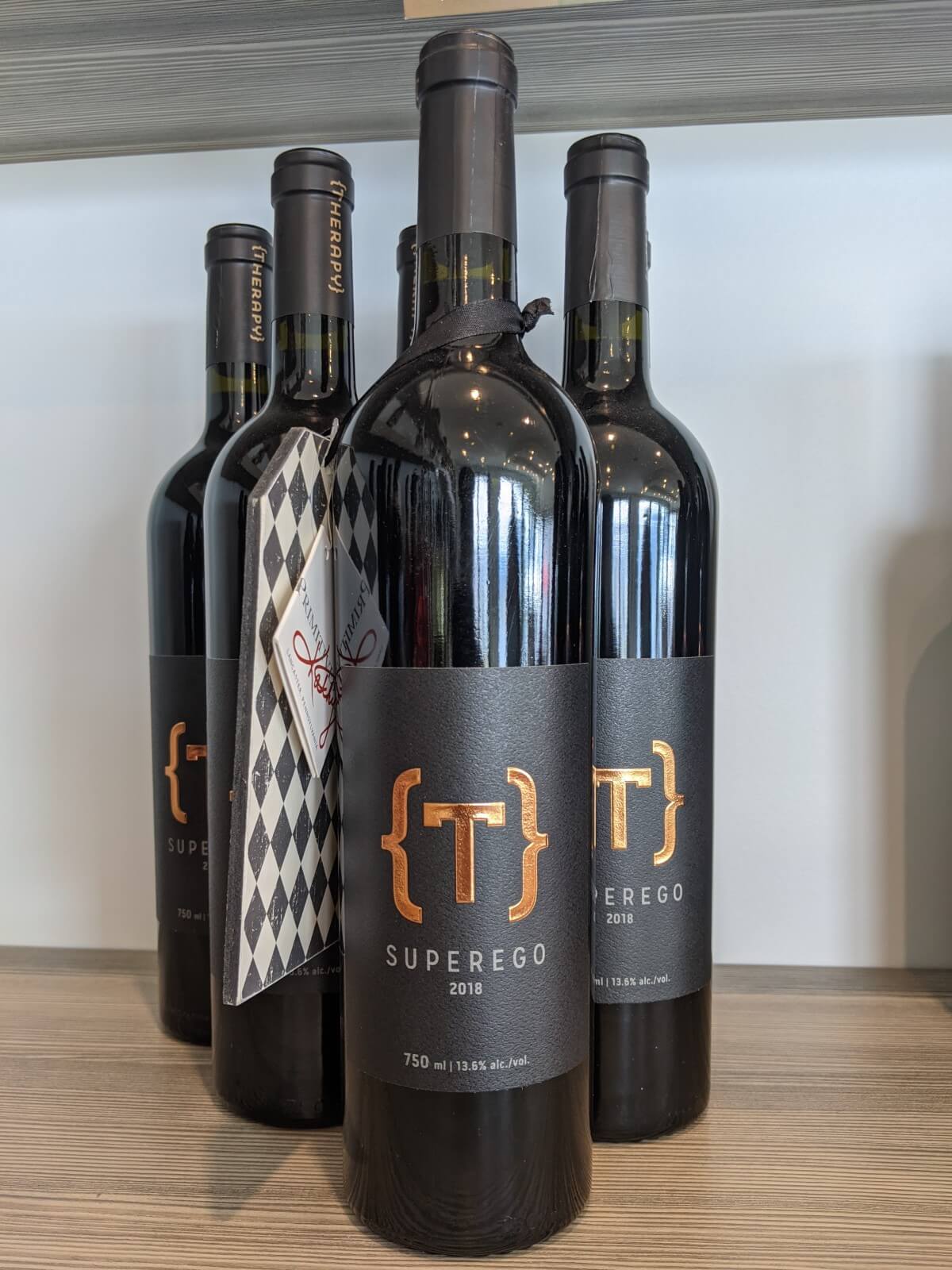 Varietals
Here are some of the varietals featured at Therapy:
Merlot
Cabernet Sauvignon
Cabernet Franc
Pinot Noir
Chardonnay
Pinot Gris
Riesling
Sauvignon Blanc
Pinot Blanc
Gewürztraminer
Wines
Wine name
Description/Varietal
Price per Bottle
2019 Ego
Red. Merlot Cabernet Sauvignon,
Cabernet Franc
$23.99
2018 Reserve Merlot
Red. Merlot
$52.99
2017 Merlot
Red. Merlot
$25.99
2018 Reserve Cabernet
Red. Cabernet Sauvignon
$52.99
2018 Super Ego
Red. Cabernet Franc,
Cabernet Sauvignon, Merlot
$34.99
2018 Pinot Noir
Red. Pinot Noir
$25.99
2020 Unoaked Chadonnay
White. Chadonnay
$19.99
2018 Chardonnay
White. Chardonnay
$29.99
2018 Riesling
White. Riesling
$24.99
2019 Pinot Gris
White. Pinot Gris
$21.99
2019 Sip
White
Gewürztraminers, Pinot Gris,
Pinot blanc, Sauvignon Blanc
$19.99
2020 Pink Freud
Rosé
$21.99
Fizzio Therapy Blanc
Sparkling White.
$24.99
Fizzio Rosé
Rosé
$24.99
Freudified
Fortified Red
$24.99
Contact Information
Phone: 1-250-496-5217
Address: 940 Lower Debeck Road
Website: therapyvineyards.com
Discover more wineries