A Naramata Bench mainstay, Red Rooster specialises in approachable yet well-crafted premium wines. Despite being owned by wine giant Andrew Peller (Sandhill, Tinhorn Creek, Gray Monk), the winery still retains a distinctively independent identity.
The wine shop, for example, is grand but quirky, with a touch of the namesake rooster theme here and there. Outside, there is a beautiful patio and manicured lawn overlooking vineyards, Okanagan Lake and the rolling hills beyond.
The wine list at Red Rooster is large and varied. The Reserve collection is ideal for cellaring. Red Rooster is well known for icewine, which is handpicked during freezing (below -10c!) winter nights.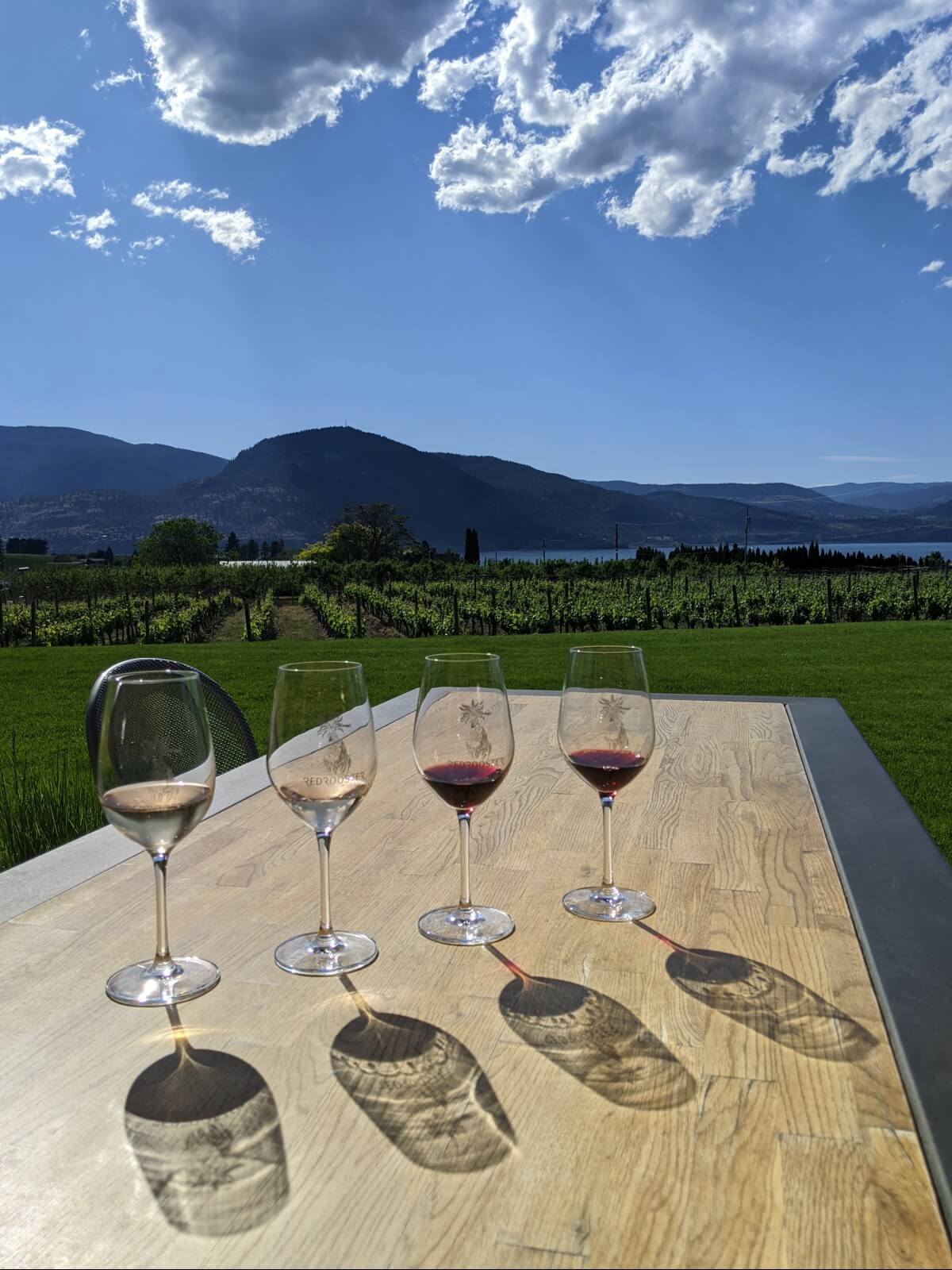 At a Glance
Wine shop times: 12pm-5pm daily
Tasting room times: 12pm-5pm daily
Tasting reservation: Recommended
Tasting style: Seated, outside
Tasting cost: $15/20 p/p, waived on purchase
Food/restaurant: Charcuterie platters
Accommodation: No
Child friendly: Yes
Pet friendly: Yes
Weddings and private events: No
Last updated June 2022. For the most up-to-date information, contact individual businesses before visiting. There are some affiliate links in this post. If you make a purchase, we may receive a small percentage of the sale.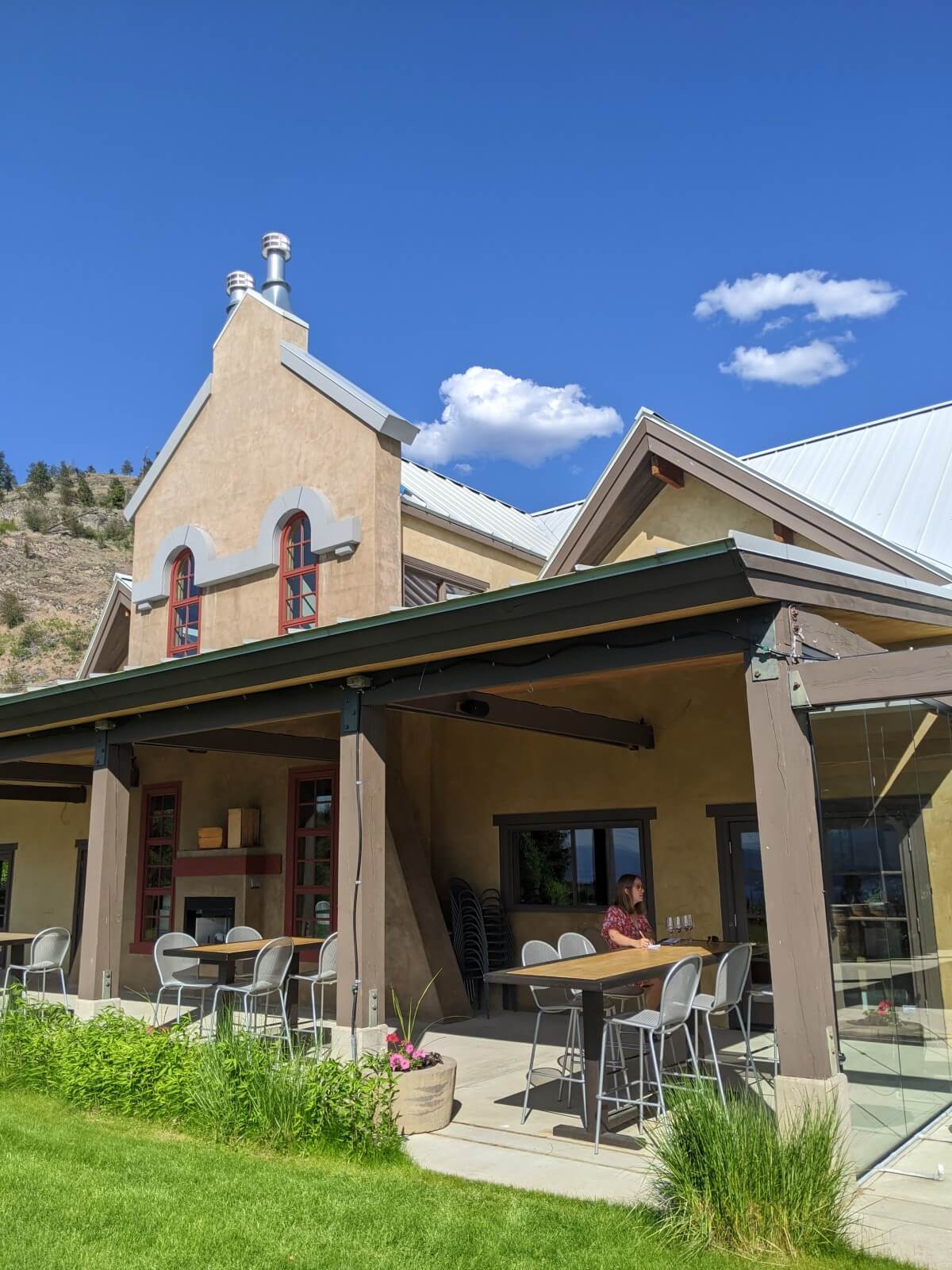 Tastings and Wine Shop
Red Rooster offers outdoor, seated tastings from 12pm to 5pm daily. All tastings are held on the covered patio or on the lawn. Every seat offers a fabulous view of Okanagan Lake and the surrounding mountains.
At the current time, reservations are recommended and can be made by phone or online via My Wine Country. Walk-ins are still welcomed when availability allows.
At the current time, Red Rooster has two tastings to choose from:
The Signature Tasting costs $15 per guest and includes four wines. Wines are displayed on a tasting flight with interpretive cards. The wine server describes the wines and then you are left to taste and enjoy the flight at your own pace
The Black Glass Tasting is $20 per guest and also features four wines. The unique aspect of this tasting is that the wine is camouflaged in black glasses. Guests who manage to guess all four wines have the chance to win a bottle of wine and their tasting fee refunded
It is recommended to allow 45 minutes for wine tasting at Red Rooster. The wine tasting fee is waived on purchase of a bottle of wine.
First time wine touring on the Naramata Bench? Read this post next – Naramata Bench Wine Tasting Etiquette and Tips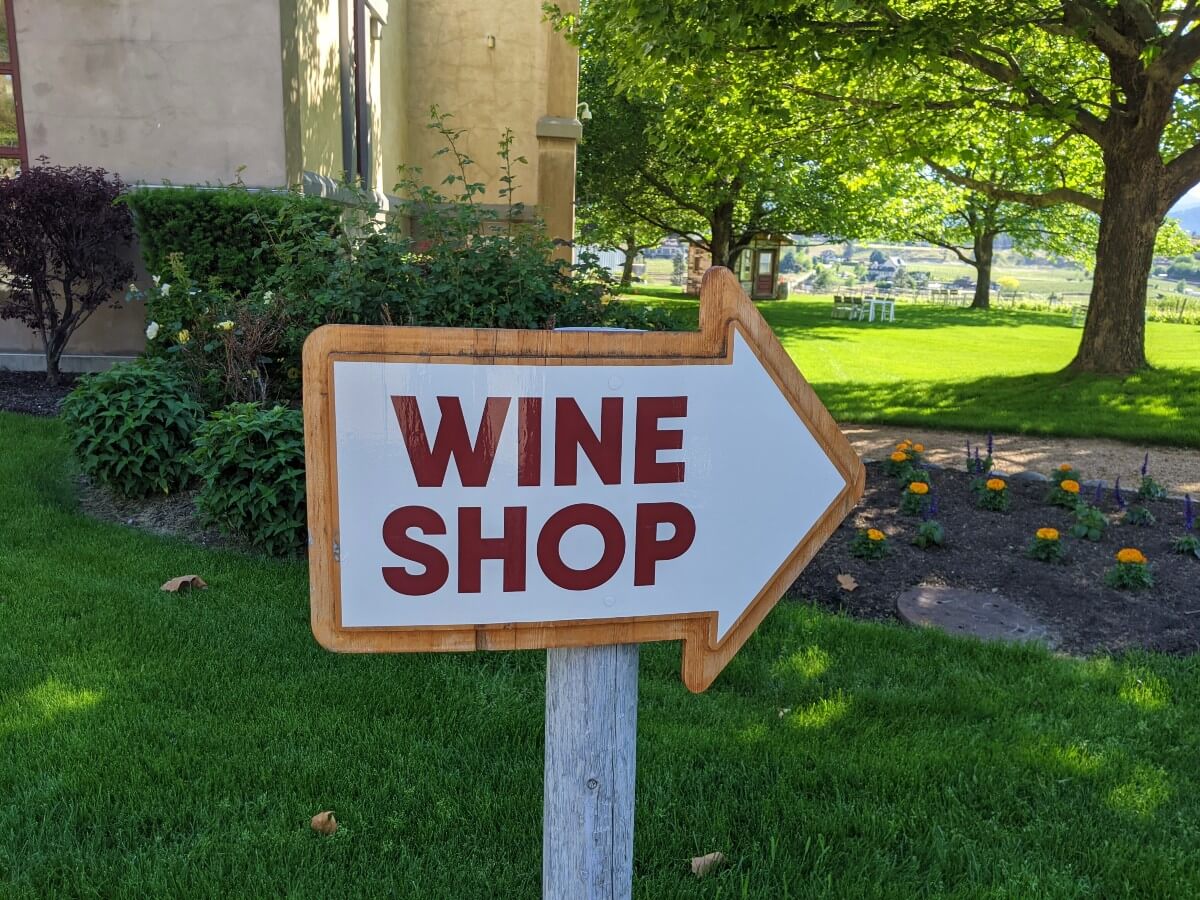 Restaurant
For a light bite, consider ordering a charcuterie platter to enjoy with your wine tasting. Offered daily and featuring local ingredients, these platters are recommended for two people to share.
Prior to 2020, Red Rooster operated a full service bistro on the patio (which is now being used for wine tasting). Looking to the future, occasional food trucks may be in the works.
Accommodation
Red Rooster does not have on-site accommodation but here is a list of recommendations for this area: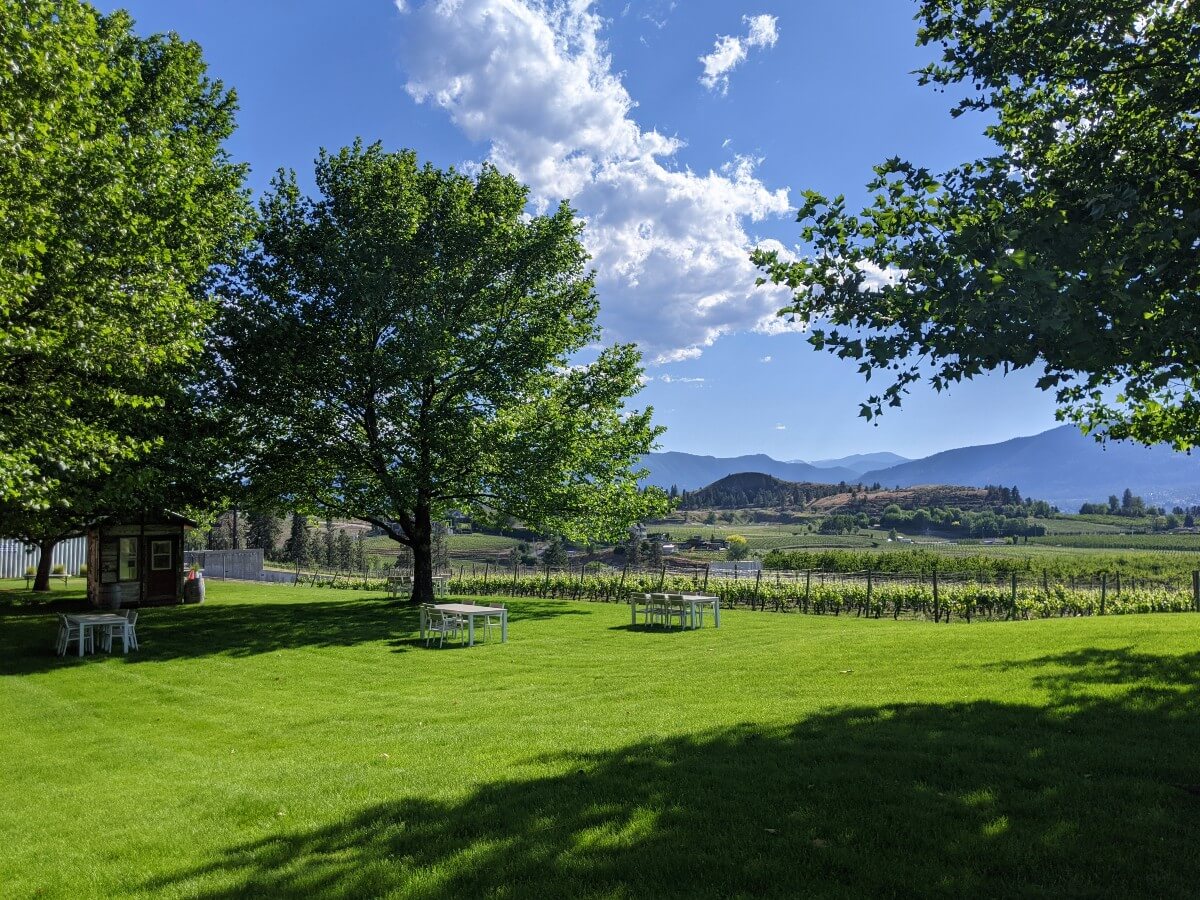 Weddings and Private Events
This winery does not currently offer weddings or private events but has in previous years. If you're planning a wedding or special event, check out these local wineries:
Child Friendly
Children are welcome to accompany adults wine tasting at Red Rooster Winery. Family groups would most likely enjoy wine tasting on the large lawn area bordered by the vineyard. There are some large, scattered trees for shade.
It's also possible to taste on the patio. Washrooms are located inside the main wine shop building, just behind the tasting patio.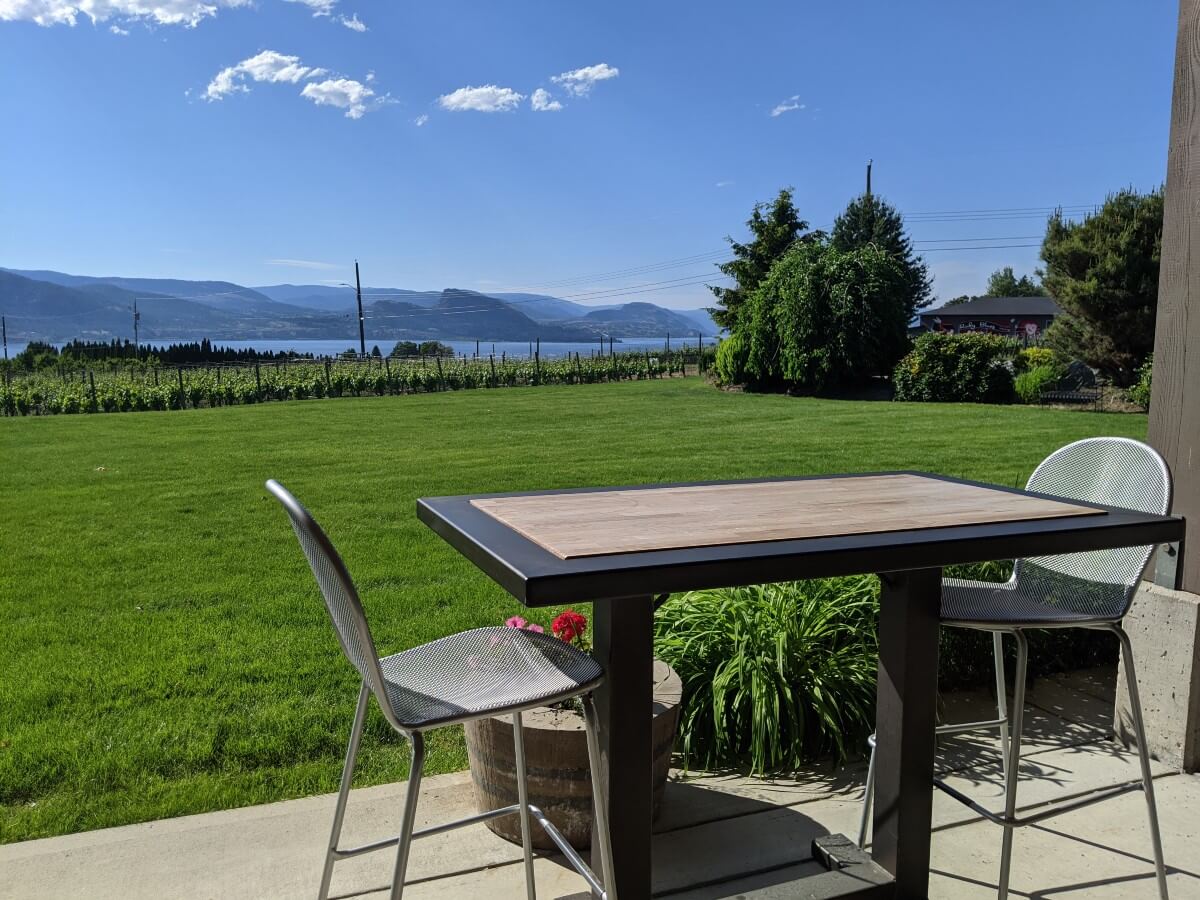 Dog Friendly
Since all tastings are outside, Red Rooster Winery does allow dogs to accompany guests. Dogs must, however, be on a leash at all times and keep to the grassed areas. The large lawn makes this a very appealing winery for dog owners.
Wine Club
Members of the Red Rooster Wine Club receive four shipments of six bottles of wine per year. One year commitment is required and shipments arrive in spring, summer and and fall.
The Winemaker will chose a selection of wines for you, based on your preferences for mixed wines or reds. Alternatively, it is possible to customise the selection yourself.
Pricing varies depending on the option chosen.
Other perks you may enjoy with your membership are:
Discount on wines and merchandises
Access to Members only lounge
Free shipping (12 bottles)
Complimentary tasting (4 people) at affiliated wineries
Member-exclusive events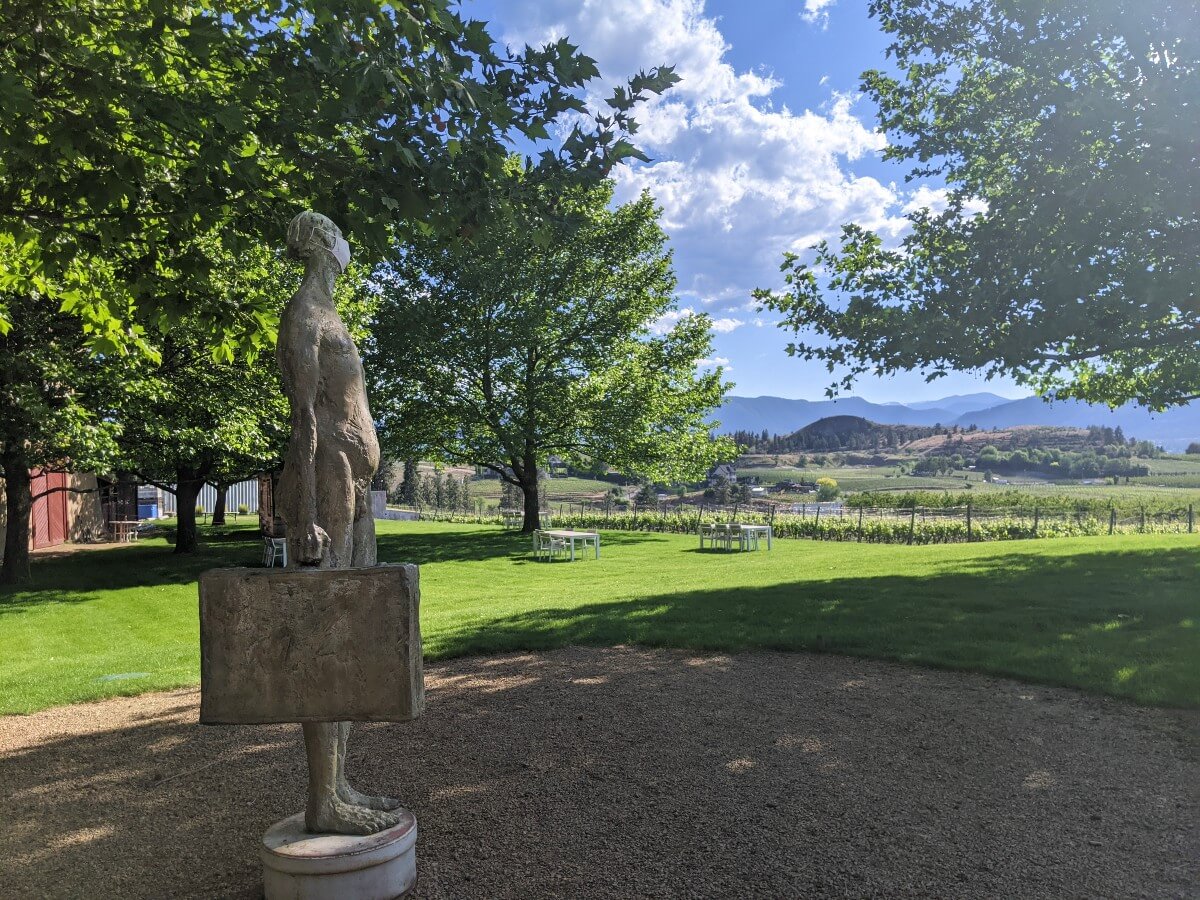 Varietals
Here are some of the varietals you may find at Red Rooster Winery:
Merlot
Cabernet Sauvignon
Cabernet Franc
Petit Verdot
Malbec
Gewürztraminer
Pinot Gris
Viognier
Chardonnay
Riesling
Wines
Wine name
Description/Varietal
Price Per Bottle
2018 Rare Bird Pinot Gris
White. Pinot Gris
$25
2019 Rare Bird Series Gewürztraminer
White. Gewürztraminer
$25
2019 Rare Bird Viognier
White. Viognier
$25
2018 Classic Riesling
White. Riesling
$17
2019 Classic Chardonnay
White. Chardonnay
$17
2019 Classic Gewürztraminer
White. Gewürztraminer
$17
2019 Classic Pinot Gris
White. Pinot Gris
$18
2016 Rare Bird Merlot
Red. Merlot
$35
2017 Rare Bird Meritage
Red. Merlot, Cabernet Sauvignon,
Cabernet Franc, Petit Verdot, Malbec
$35
2017 Reserve Pinot Noir
Red. Pinot Noir
$35
2016 Rare Bird Series Syrah
Red. Syrah
$35
2017 Rare Bird Malbec
Red. Malbec
$35
2018 Cabernet Merlot
Red. Cabernet Merlot
$19
2018 Merlot
Red. Merlot
$19
2017 Golden Egg
Red. Mourvedre, Syrah, Grenache
$55
NV Brut
Sparkling. Chardonnay, Pinot Noir
$30
2017 Ice wine
Dessert Ice wine
$17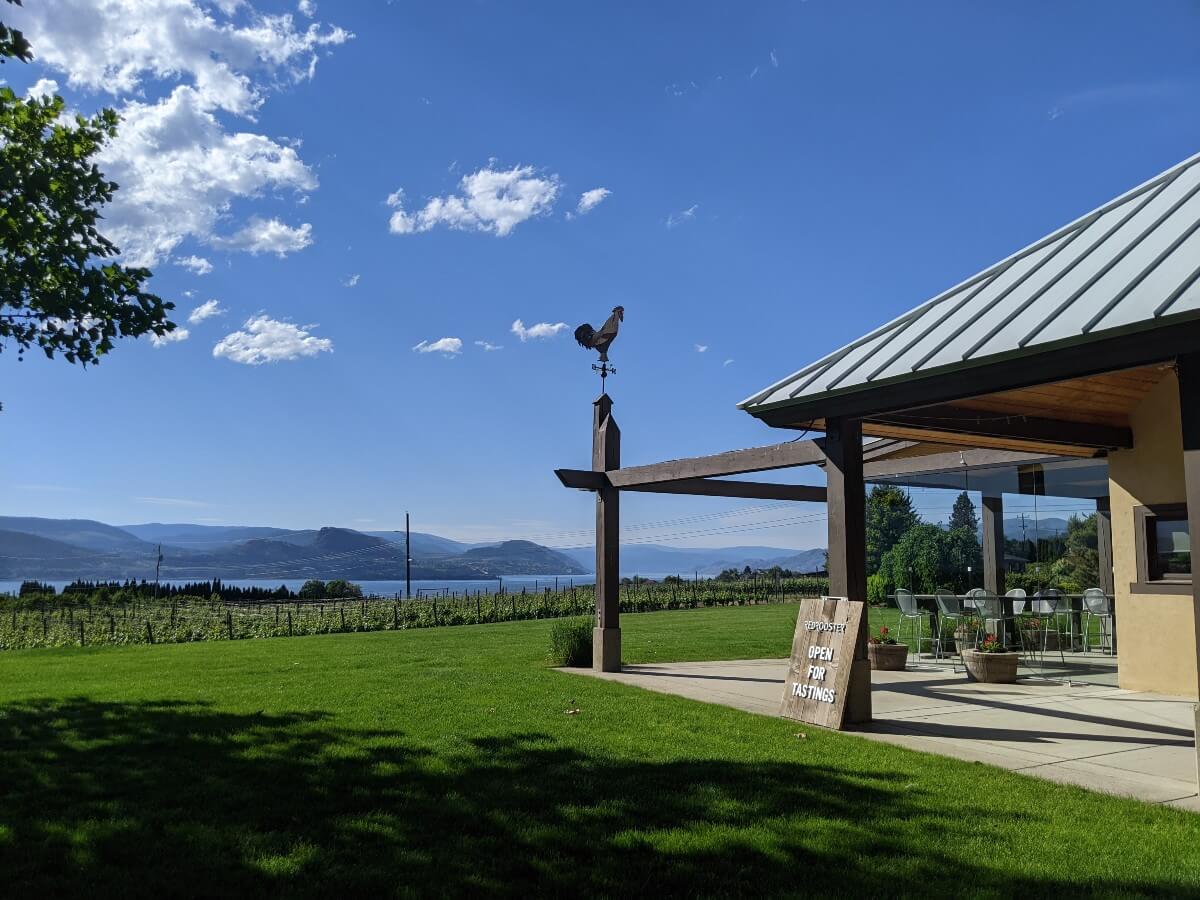 Contact Information
Phone: 1-250-492-2424
Address: 891 Naramata Road
Website: redroosterwinery.com
Discover more wineries