Planning a picnic in Penticton? We know the best places to go!
Penticton's picnic spots are perfect for all occasions – from romantic escapes to joyous family gatherings. We've enjoyed a fair few picnics in Penticton during the years we have lived here and love finding new places to go.
This post features 15 scenic places to picnic in Penticton. To narrow down the options, I prioritised places with picnic tables and scenic views. All of these locations are free to visit. At a future time, I will add local wineries that allow guests to bring a picnic as well.
Last updated August 2023
Best free picnic spots in Penticton
The map below displays all of the featured Penticton picnic spots as well as our favourite places to buy picnic supplies. Visit one, visit them all!
Okanagan Lake promenade and beach
The busiest beach in town is a very popular place for picnics. A raised, paved promenade stretches 1km above the Okanagan Lake shoreline from the iconic Peach structure to the SS Sicamous Sternwheeler. Benches line the edge of the walkway, with some picnic tables being located underneath trees at the eastern end.
The beach itself has plenty of space for picnicking families as well. If you don't want to eat on the golden sand, there are two beach picnic tables (with ramp access) situated close to the Power Street junction.
Address: Lakeshore Drive West, Penticton, V2A 1B8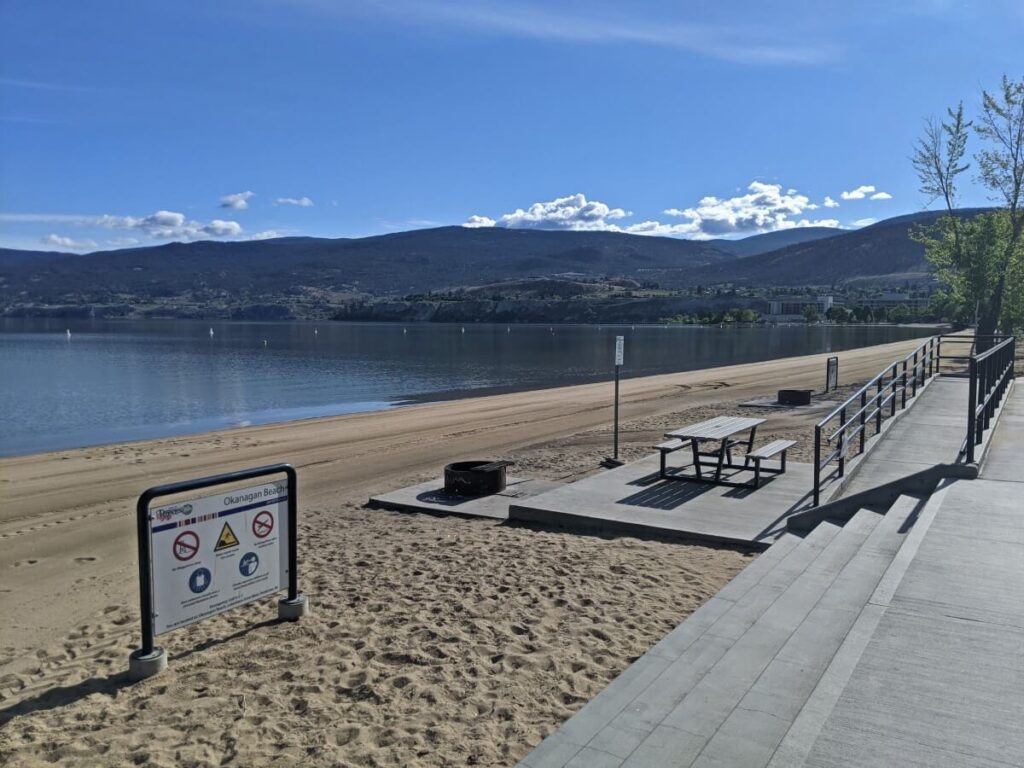 Okanagan Lake Park
When not hosting some of Penticton's biggest summer events (such as Peach Festival in mid August), Okanagan Lake Park is an ideal place for a quiet picnic. This park features a large lawn behind a small stretch of beach. Half a dozen picnic tables are scattered across the main lawn area.
Okanagan Lake Park is usually much less busy than the main Okanagan Lake beach. Keep in mind, however, that the beach features a fenced off leash dog area. For that reason, this park is frequented by many dog walkers.
Address: 86 Lakeshore Dr E, Penticton, V2A 1B5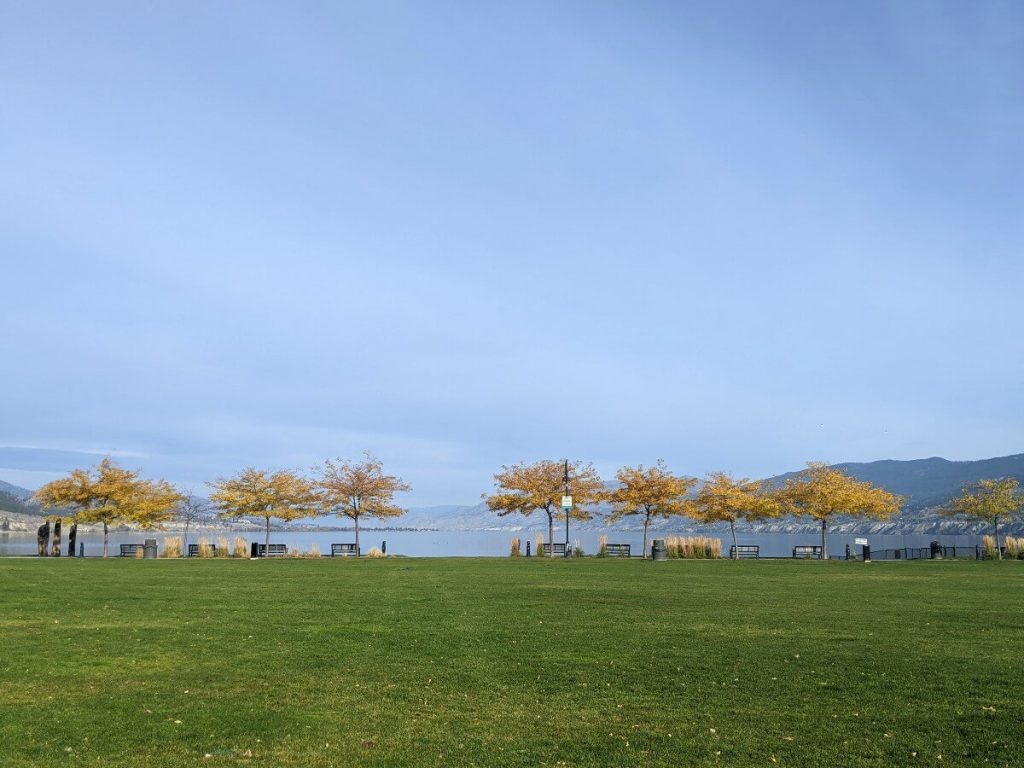 Beside the SS Sicamous Sternwheeler
Penticton's Okanagan Lake shoreline is home to the SS Sicamous, a early 20th century sternwheeler. The Sicamous used to transport passengers and goods between Penticton and Okanagan Landing (near Vernon).
This four storey preserved sternwheeler is a sight to behold, providing a great backdrop to a picnic. There are two picnic tables on the lawn adjacent to the Sicamous, each with views of the lake as well. The interior and decks of the Sicamous are open to visitors from May to September (admission fee required).
Address: 1099 Lakeshore Dr W, Penticton, V2A 1B7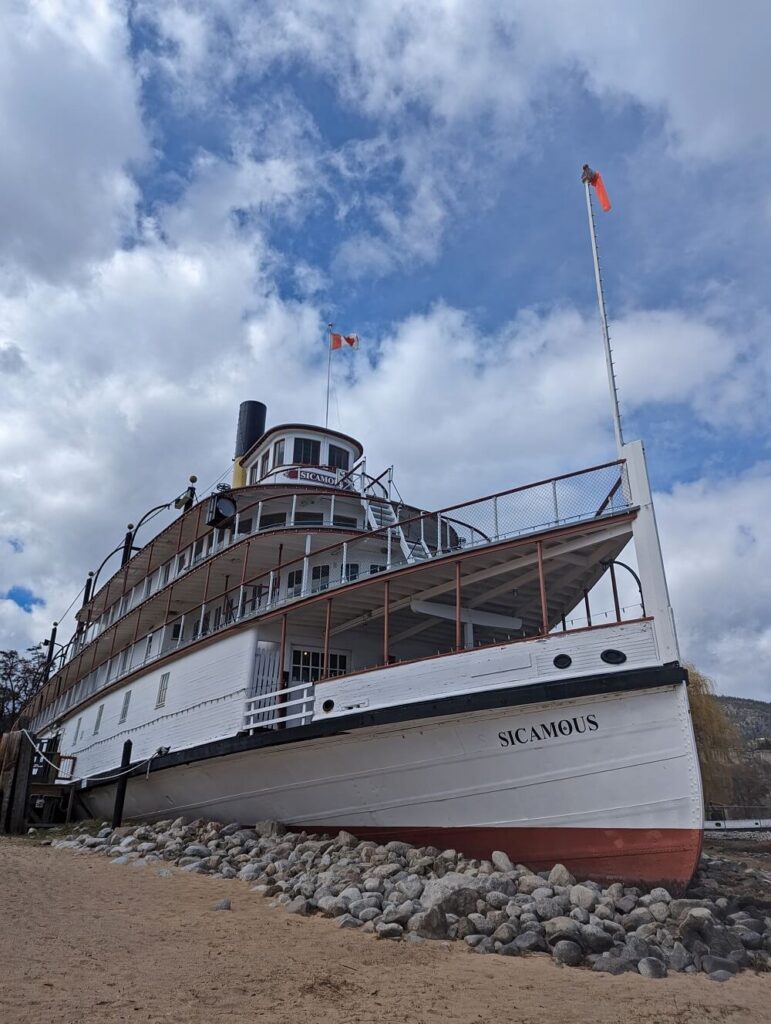 Rose Garden
Penticton's Rose Garden is just a short stroll from the Okanagan Lake promenade. This surprisingly quiet spot features numerous beds of city maintained roses, surrounded by mature trees. The roses are usually in bloom throughout the summer months so this park isn't just pretty, but it smells amazing too!
The Rose Garden doesn't have any picnic tables per se, but there are plenty of benches and a gazebo. There is plenty of lawn space as well, so bringing a blanket is a good alternative. If you decide that a picnic table is essential, head over to the nearby SS Sicamous (above).
Address: 85 Riverside Dr, Penticton, V2A 5Y5
Marina Way Park
For a picnic with all the beautiful lake views but none of the crowds, check out Marina Way Park. Located a little further east of the main Okanagan Lake promenade, it is mostly frequented by locals (it's our local park!)
Picnic tables are scattered across two large lawns, with most enjoying lake views. There are plenty of trees for shade as well. Better still, there is a small parking lot next to the Art Gallery with free parking.
Marina Way Beach sits immediately adjacent to the park and there are a couple more picnic tables located just behind the sand. The Prague Cafe is across the street, serving coffee plus breakfast and lunch.
Address: Penticton, V2A 4L5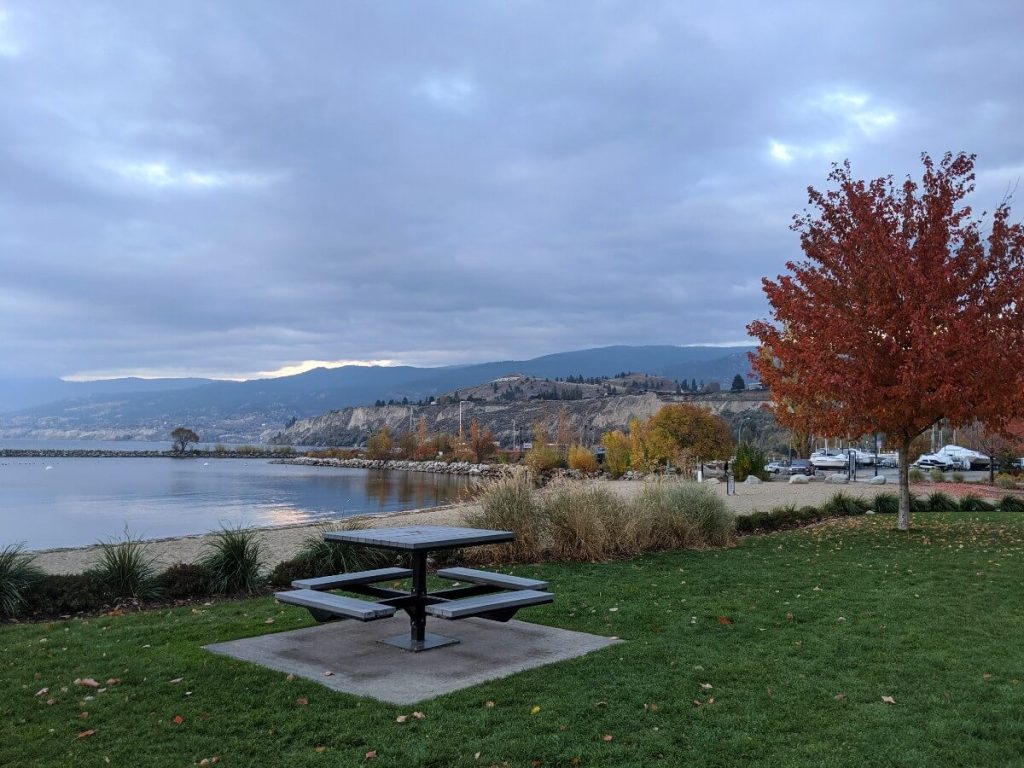 Munson Mountain
One of Penticton's most scenic viewpoints, Munson Mountain is a spectacular picnic location. A paved path leads from the parking lot to a gazebo, where beautiful views of Okanagan Lake and the city of Penticton await.
Beyond the gazebo, a dirt path leads along the spine of the mountain to the summit (1km return). Benches line the trail, providing a choice of places to sit and take in the vistas. Please note that there are no picnic benches with tables at Munson Mountain.
Address: Munson Mountain Road, Penticton, V2A 8S5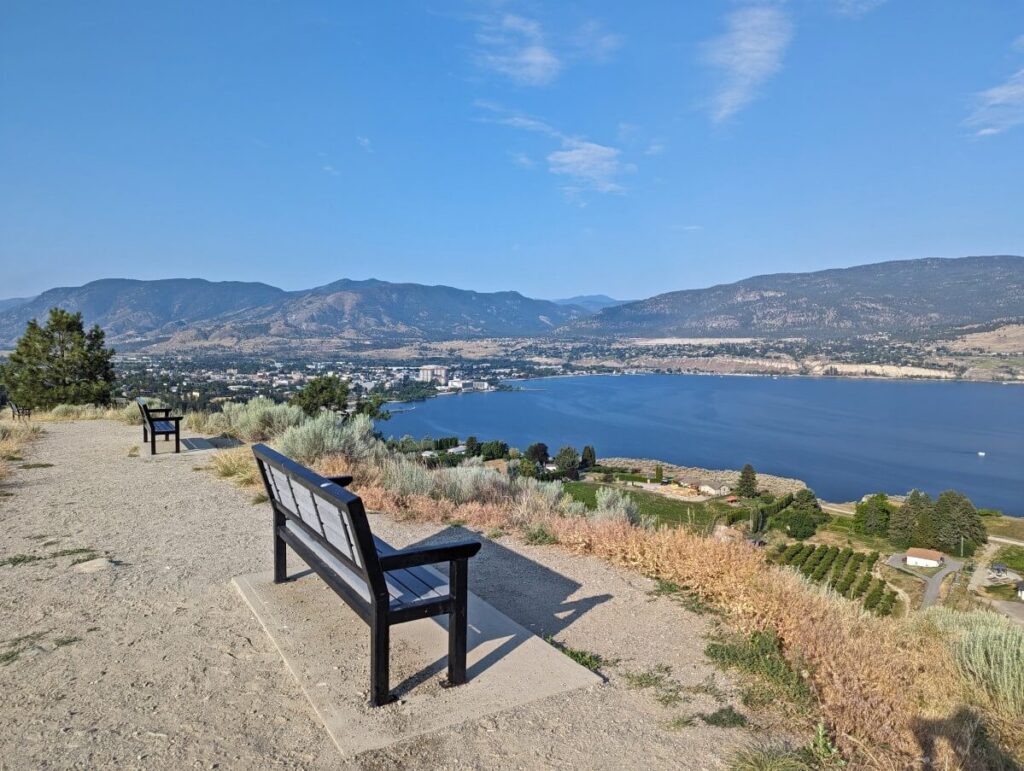 Skaha Lake Park
Skaha Lake Park is a very family friendly destination for a Penticton picnic. This 21 acre property features a 500m long golden sand beach, backed by parkland. The latter includes several playgrounds, a splash park, volleyball courts, tennis courts, walking paths and a baseball diamond.
Large lawn areas with shady trees surround all these amenities, with many picnic tables and benches. There is also the opportunity to sit on the beach itself and enjoy the views down Skaha Lake.
Address: Skaha Lake Park, Penticton, V2A 3W2
McCulloch Trestle, KVR Trail
This Penticton picnic spot is a little different as it can only be accessed on a bike or by foot. The McCulloch Trestle is situated on the multi-use Kettle Valley Rail (KVR) Trail on the Naramata Bench.
This impressive wooden bridge offers views of Okanagan Lake as well as surrounding vineyards. It makes for a great walking destination from the Vancouver Place access point, being 2.5km from the trailhead (around 30-45 minutes). There are two picnic tables located just to the side of the bridge.
Address: McCulloch Trestle, Penticton, V2A 8V1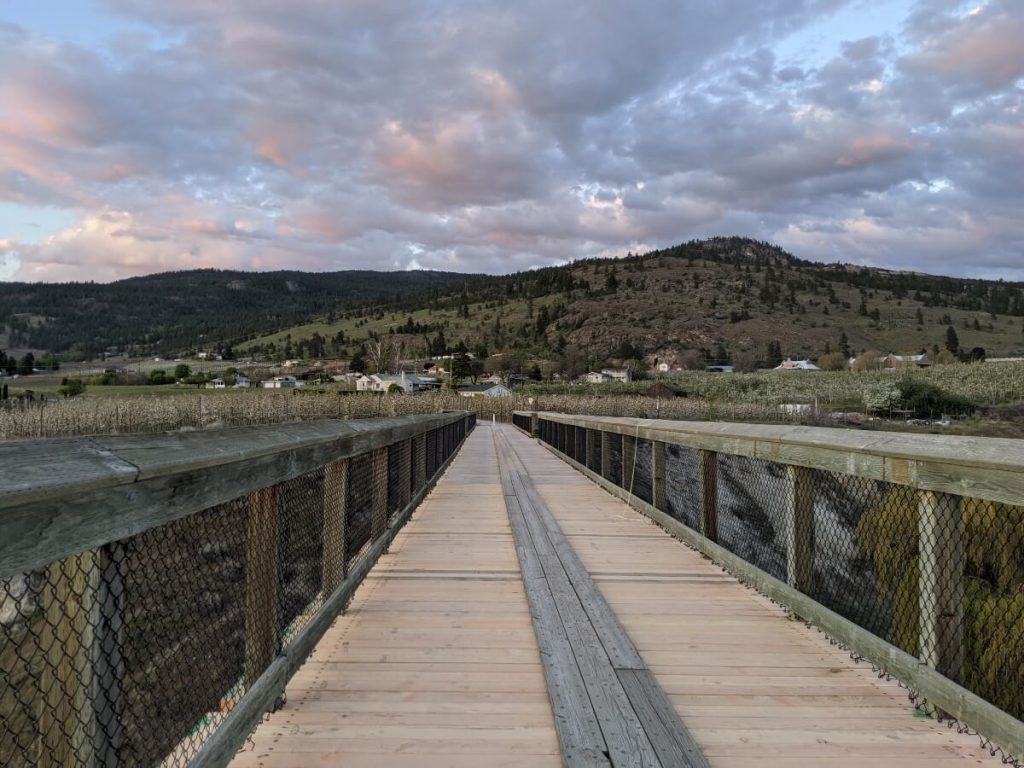 Little Tunnel, KVR Trail
Blasted through pure rock, the Little Tunnel was created as part of the Kettle Valley Railway (KVR). Sitting 600m above Okanagan Lake close to Naramata, the views from the Little Tunnel are simply outstanding. Several picnic benches are located on the north side of the tunnel.
Most people visit the Little Tunnel on foot or by bike. The one-way hiking/biking distance from the Smethurst parking lot is 4.4km. The path is completely flat. Expect the return journey to take around 2-3 hours on foot and 40 minutes by bike.
It is also possible to reach the Little Tunnel with a vehicle, but the road is narrow and unpaved. There is a steep drop-off too. More information in our Little Tunnel guide.
Address: Little Tunnel, Naramata (Google Map directions)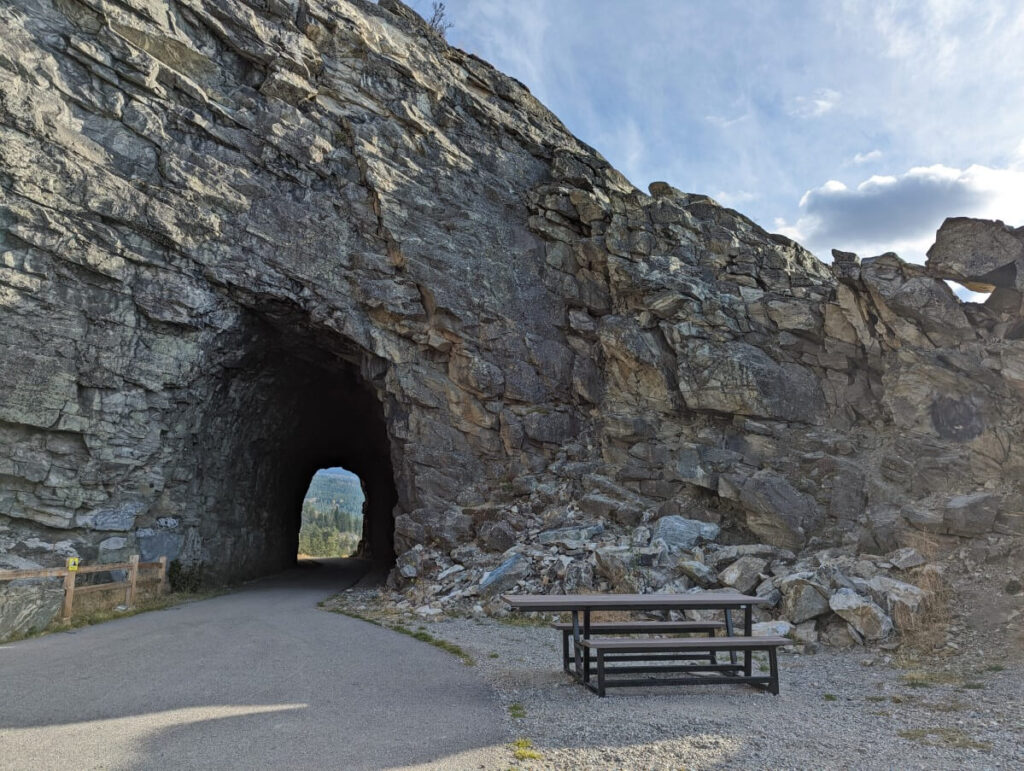 Manitou Park, Naramata
Manitou Park is home to Naramata's premier beach. This wide stretch of light coloured sand slopes gently into Okanagan Lake. The beach is backed by a large grassy area surrounded by trees. Visitors to Manitou can picnic on the beach or in the park, with the latter having plenty of picnic tables and benches.
Other facilities include a newly built washroom building with change rooms. There is a paved path around the perimeter of the park, which provides easy access for anyone with a stroller or wheelchair.
Address: Manitou Park, Old Main Road, Naramata, V0H 1N0
Wharf Park, Naramata
Naramata's Wharf Park is located to the north side of town, in a previously industrial area. It is a peaceful and scenic setting for a picnic near Penticton.
A path leads through a maintained lawn area to a wooden wharf looking out over Okanagan Lake. There are great views of Summerland, Giant's Head and Okanagan Mountain Provincial Park from here. Benches and picnic tables are scattered around the area.
Address: Wharf Park, 1 St, Naramata, BC V0H 1N0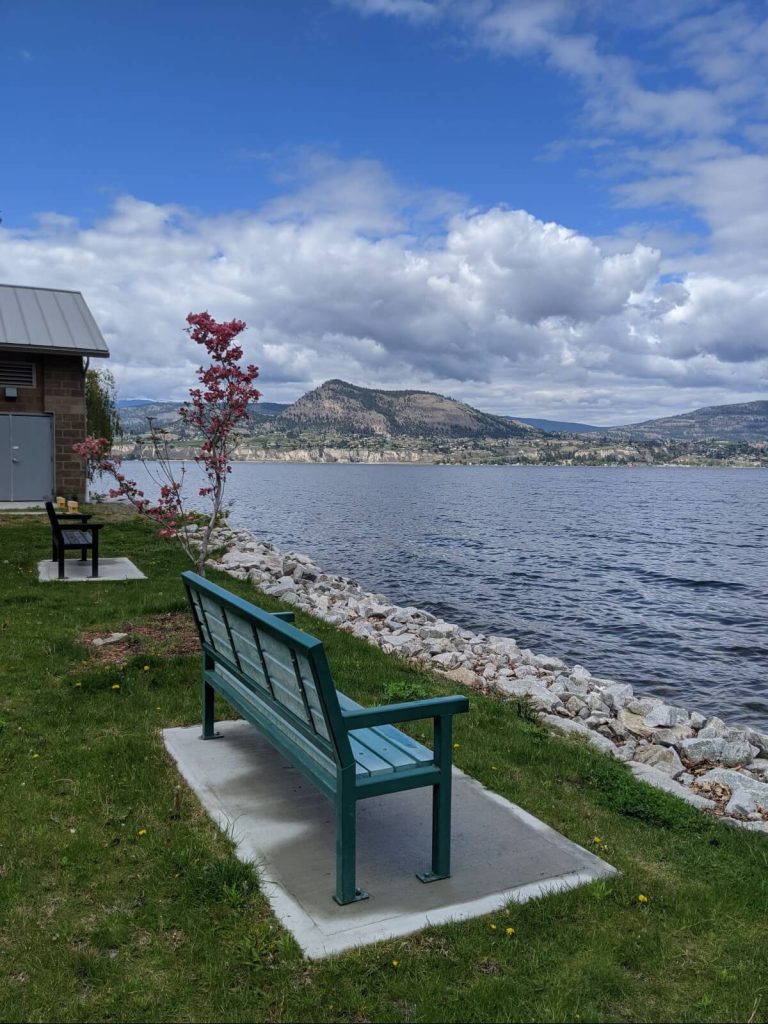 Pyramid, Kickininee Provincial Park
Pyramid is one of a trio of highway picnic areas on the shoreline of Okanagan Lake near Trout Lake. I'd say that Pyramid is my favourite, followed by Soorimpt and then Kickininee. Honestly, you can't go too wrong however, with all three offering a choice of picnic spots with fabulous views of the lake. It's popular to swim from these picnic areas as well.
All three sites have picnic tables and washrooms. It is important to note that Soorimpt and Pyramid are accessible from either direction, while Kickininee is only accessible for northbound travellers only.
Address: Pyramid Picnic Ground, Summerland, V0H 1N0
Sun-Oka Beach Provincial Park, Trout Creek
Just a little further along Highway 97 is Sun-Oka Beach Provincial Park, home to one of the Okanagan Valley's best beaches. The main beach at Sun-Oka is 600m long and features soft golden sand. Looking south, it receives a lot of sun during the day.
The beach is bordered by lawn areas and many large shady trees. There are numerous picnic tables perched on the beach and behind the beach (some with BBQ attachments). Sun-Oka has a concession during summer months.
Address: Sun-Oka Beach Provincial Park, Okanagan Hwy, Summerland, BC V0H 1Z4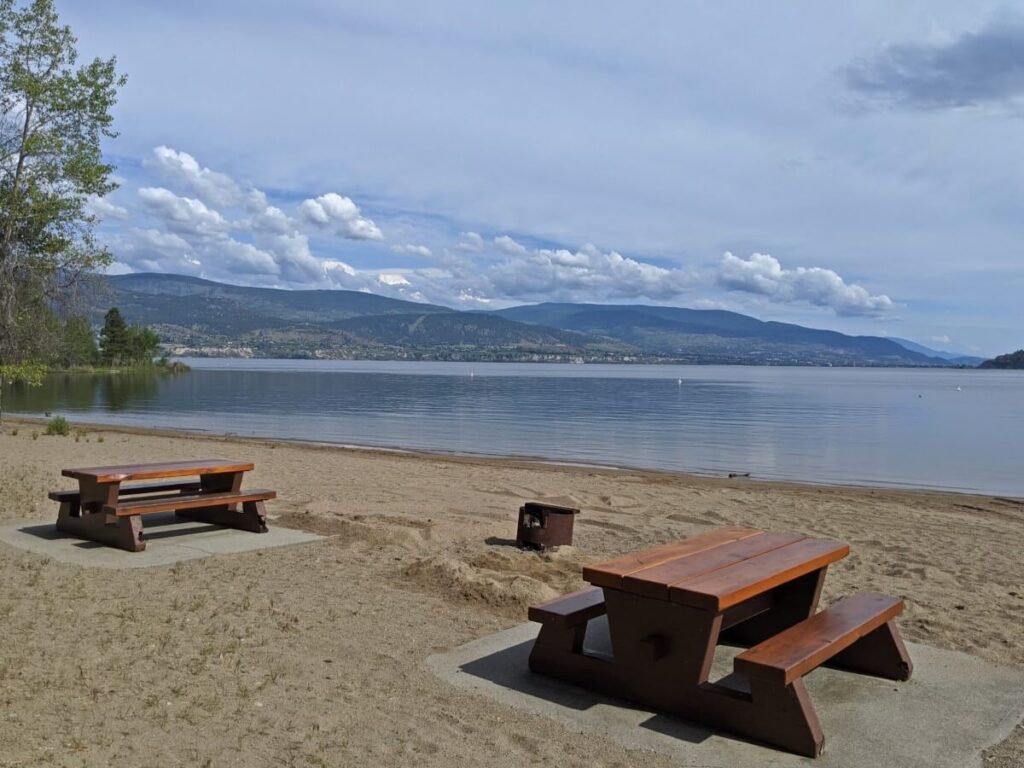 Pioneer Park, Kaleden
This small beach area in Kaleden is a little off the beaten path but has so much to offer. The Skaha Lake swimming area is super shallow and therefore ideal with young families. There are tennis courts, a playground and plenty of shady areas. Picnickers can choose to eat on the beach or use one of the picnic tables or benches.
Consider stretching your legs after your picnic with a walk along the KVR Trail. I'd recommend walking south towards Okanagan Falls. The trailhead is at the end of Ponderosa Avenue.
Address: 187 Ponderosa Ave, Kaleden, BC V0H 1K0
Christie Memorial Park, Okanagan Falls
Christie Memorial Park is situated at the very southern end of Skaha Lake and features a generous beach area bordered by a maintained lawn area. It is usually not very busy, even in the height of summer. Kenyon Park is located immediately adjacent, with even more options for picnicking locations.
Large mature trees provide plenty of shade above the many picnic tables and benches behind the beach. Please note that there is a dog park at one end of the beach.
Address: Christie Memorial Park, Okanagan Falls, V0H 1R0

Best places to source picnic supplies in Penticton
So you've chosen where you want to go, but what about the actual picnic? Here are some of my favourite places to gather picnic items.
The Bench Market (sandwiches, baked goods, artisan grocery items)
Il Vecchio Delicatessen (sandwiches, deli meats, cheese)
Honey Toast Cafe (baked goods)
Petrasek Artisan Bakery (pastries)
La Cucina European Market (cheese, deli meats, grocery items)
Tony's Meats & Deli (cheese, deli meats, grocery items)
Poplar Grove Cheese (house made cheese and accompaniments)
Upper Bench Winery and Creamery (house made cheese and accompaniments)
Naramata General Store (locally made cheese, bread, vegetables, fruit)

Looking for the best accommodation in Penticton?
Discover Penticton