Hidding just beyond the main road in Naramata, multi-layered Naramata Creek Falls is something of a hidden gem. OK, perhaps this waterfall is more of a poorly kept secret, but you'd probably be surprised how many Penticton locals have never visited!
Set into a deep canyon surrounded by interesting rock formations, Naramata Creek Falls is an ideal hiking destination in summer and early fall. The spray from the falls and the shady forested trail help provide cool relief from the Valley's heat. The rushing water provides a soothing soundtrack on the 2.5km return hike.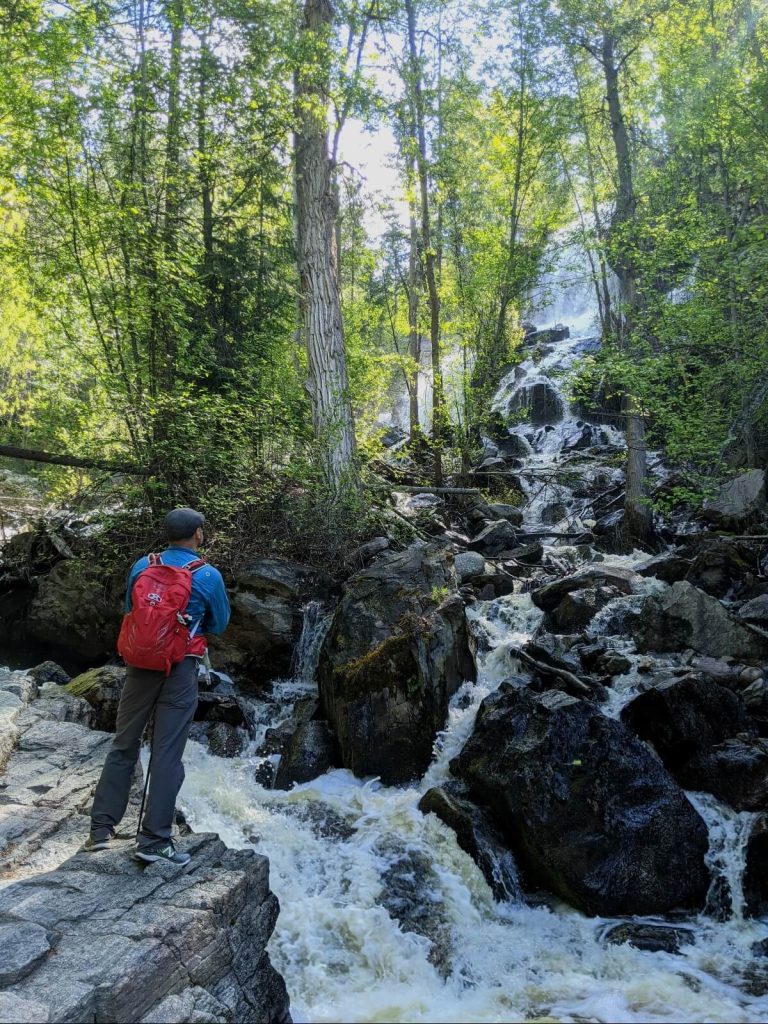 The southern Okanagan Valley doesn't have many easily accessible waterfalls so needless to say, Naramata Creek Falls is a pretty special hiking destination.
In this post, I'll share what you need to know about hiking to beautiful Naramata Creek Falls in Naramata, British Columbia. We hike this trail at least once a year.
Here's what to expect:
Last updated July 2023. There may be affiliate links in this post. If you make a purchase, we may receive a small percentage of the sale.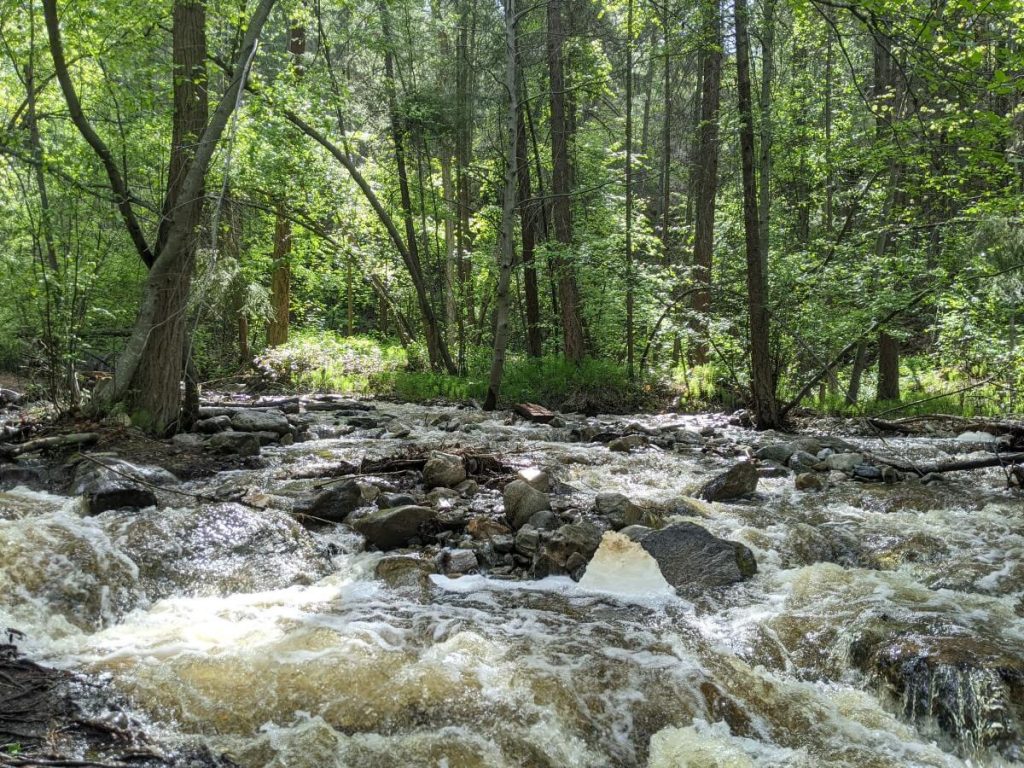 Where to find Naramata Creek Falls
As mentioned, Naramata Creek Falls is hidden in plain sight.
Naramata Creek Falls is located in the aptly named Creek Park in Naramata. The trailhead is located in a parking area just off Naramata Road. The park is open 6am to 10pm all year round and is free to explore.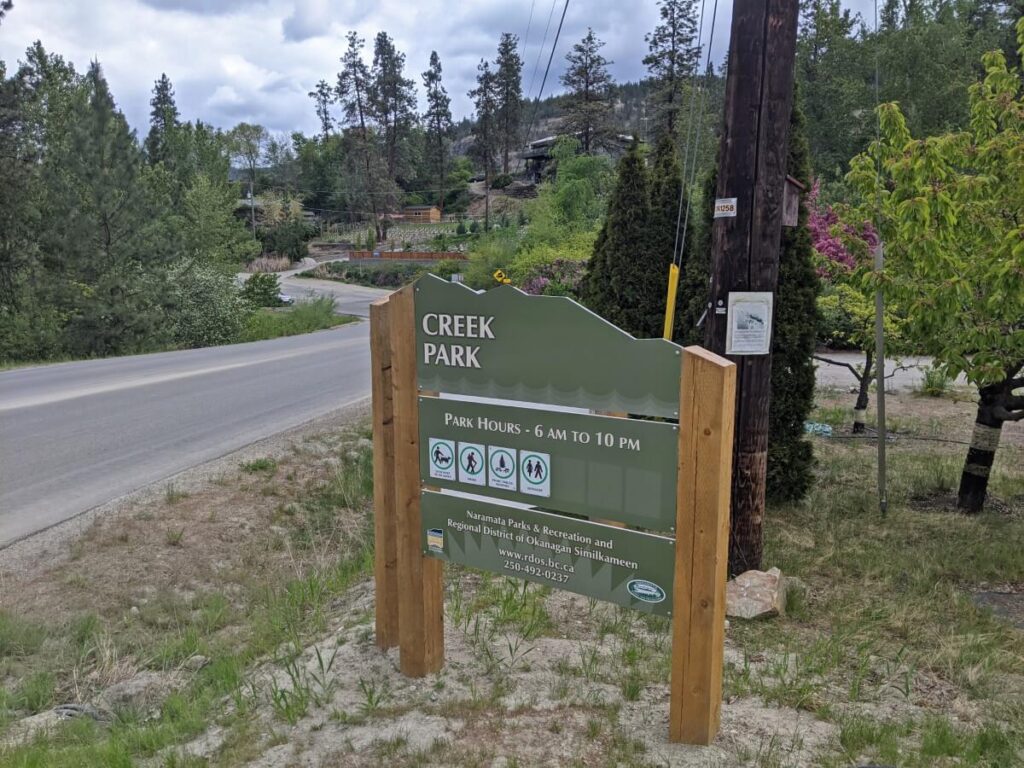 From downtown Penticton, head towards Naramata via Vancouver Ave, Lower Bench Road, Tupper Ave, Munson Ave and finally, Naramata Road.
After passing the large fire department building on the left, keep watch on the right hand side of the road. Look for a bus stop and 'Naramata Welcomes You' sign. The entrance to the parking area is between the Naramata sign and a green 'Creek Park' sign.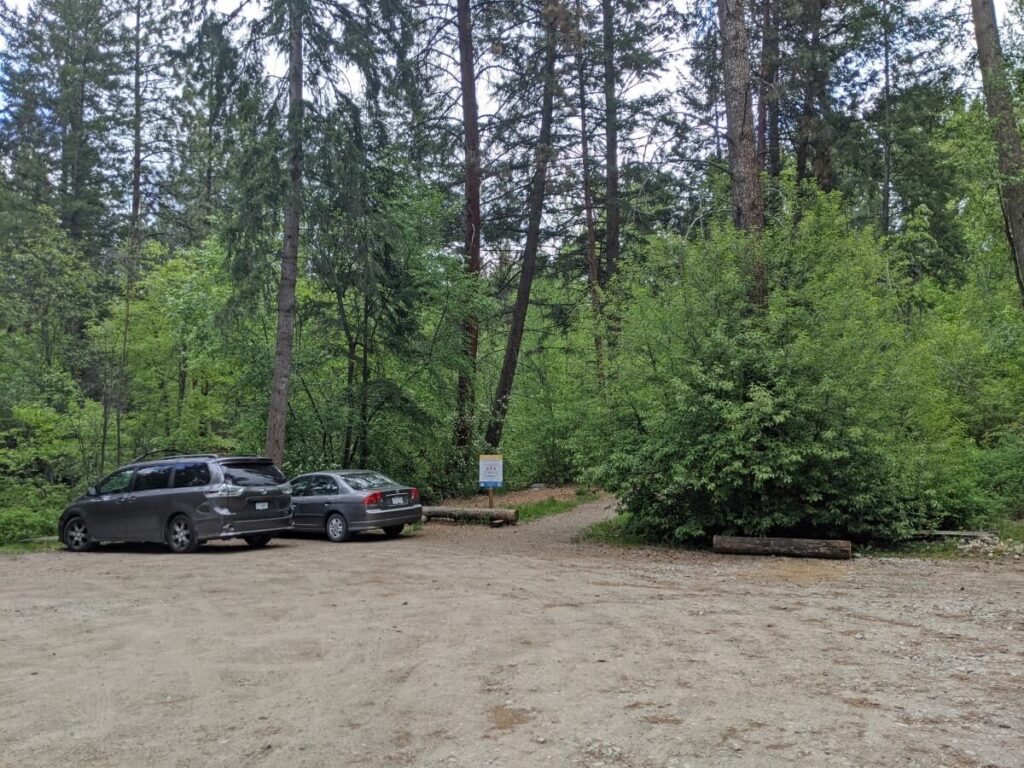 If you find yourself turning towards Naramata on Robinson Avenue, you've gone too far and will need to turn around.
Follow the short paved road to the forested gravel parking area. There is an accessible outhouse here and a trash bin. There is space for around 10 vehicles.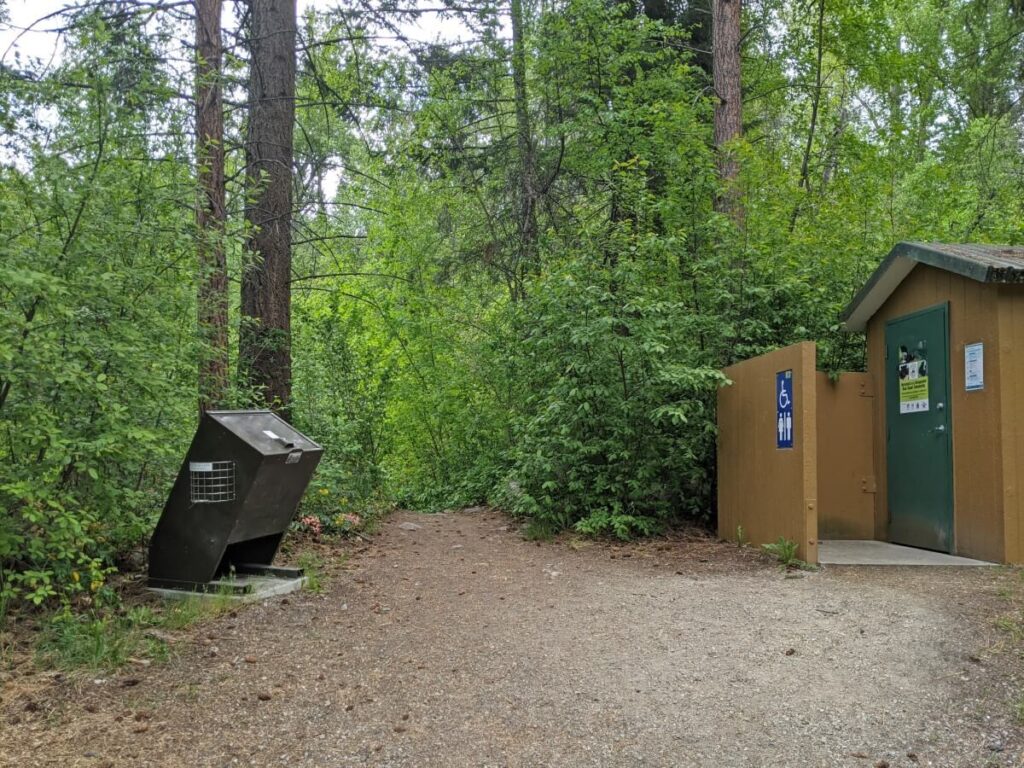 Naramata Creek Falls Trail hiking experience
The Naramata Creek Falls hike is low to medium difficulty. It is only 2.5km return, with the majority being very easy to walk.
The final approach to the waterfall is a little tricky, with the challenge increasing in certain seasons. Allow 1 to 1.5 hours to explore this trail.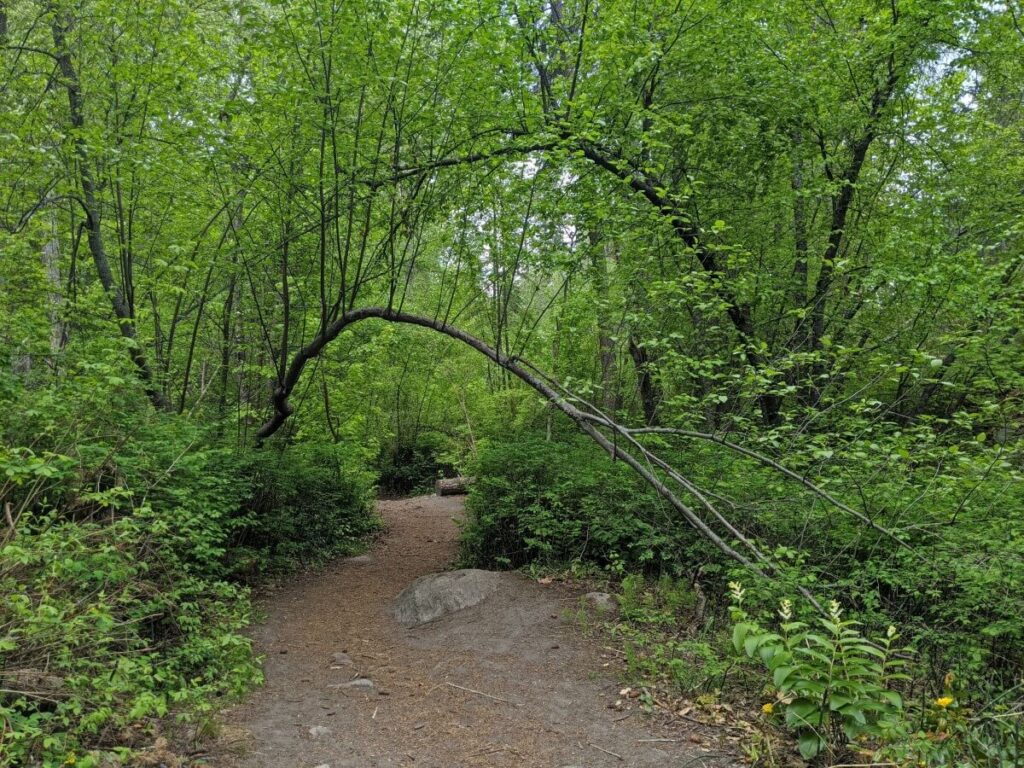 The hike begins with a very flat and easy path through the forest. The trail is well maintained, with the surface being mostly packed dirt. There are some roots here and there, so keep an eye out.
The route stays close to Naramata Creek, with two sturdy wooden bridge crossings during the first section. There is a picnic table as well, if you feel like stopping to take in the sounds of the rushing creek and forest.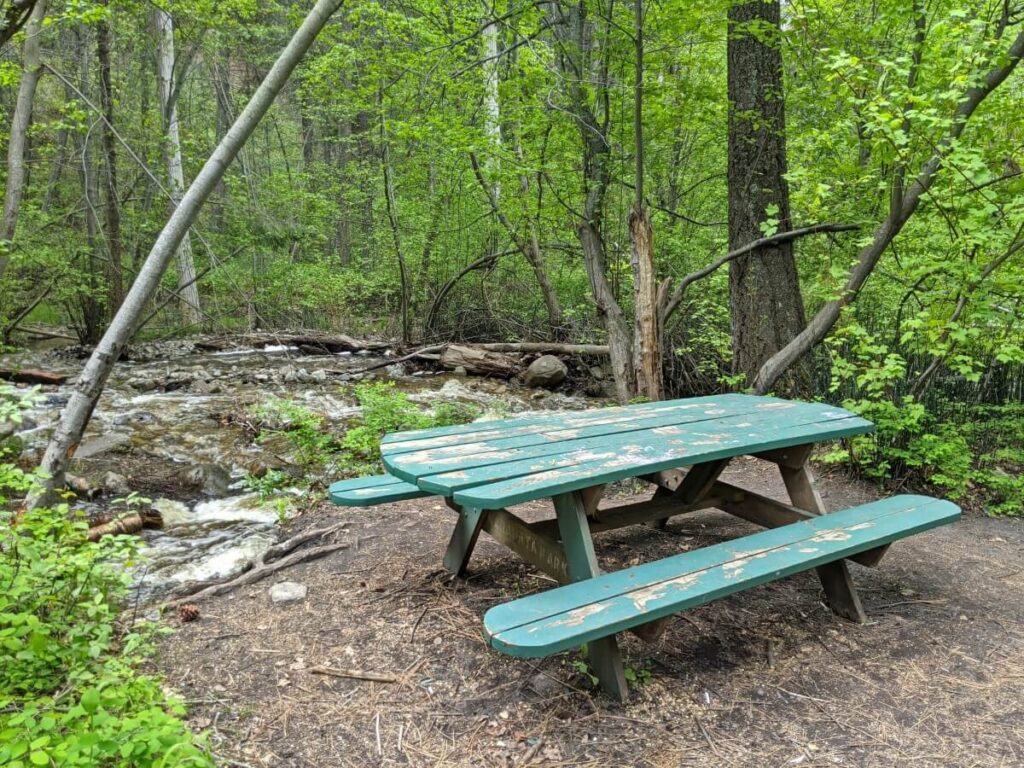 Not long after leaving the parking lot, tall rugged cliffs appear to the left as well as some impressive boulders.
At the 1km mark, the trail enters the Nature Trust Conservation Area and the hike experience drastically changes. The trail is not maintained after this point and consequently, it has become a maze of unofficial paths. It can get pretty confusing.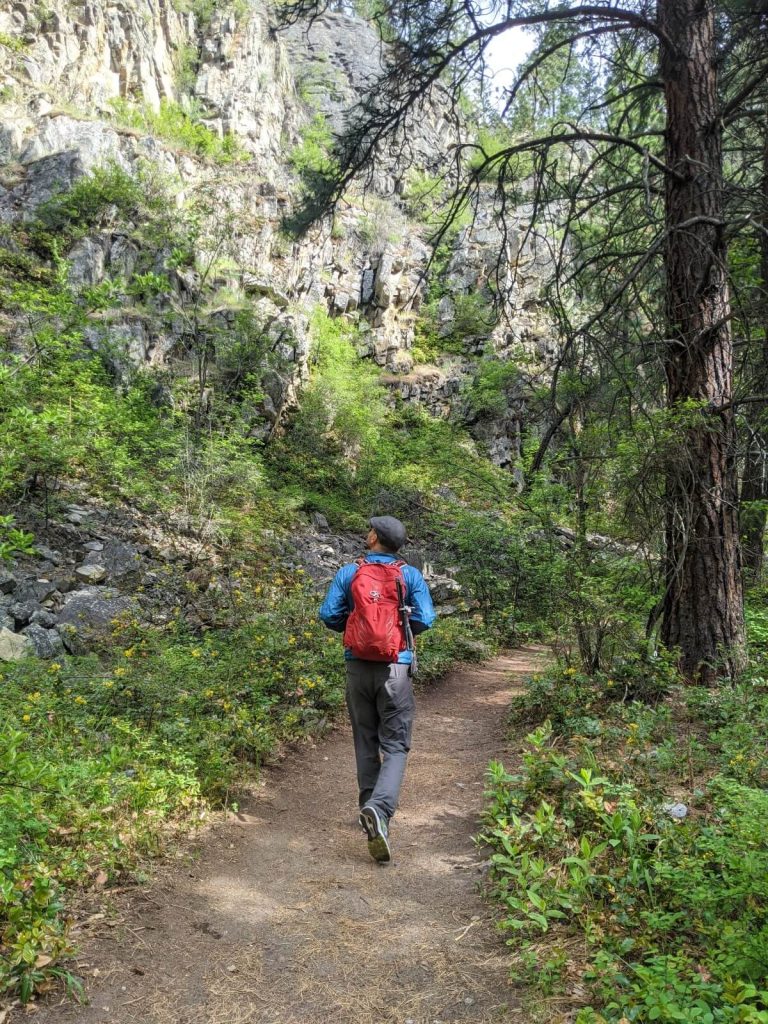 Creek crossings vs. a steep uphill trail
At this point, choose to continue on an uphill trail or stay along the creek. The latter requires two short creek crossings (no bridges).
Depending on the time of year, these creek crossings can be easy or difficult, sometimes even dangerous.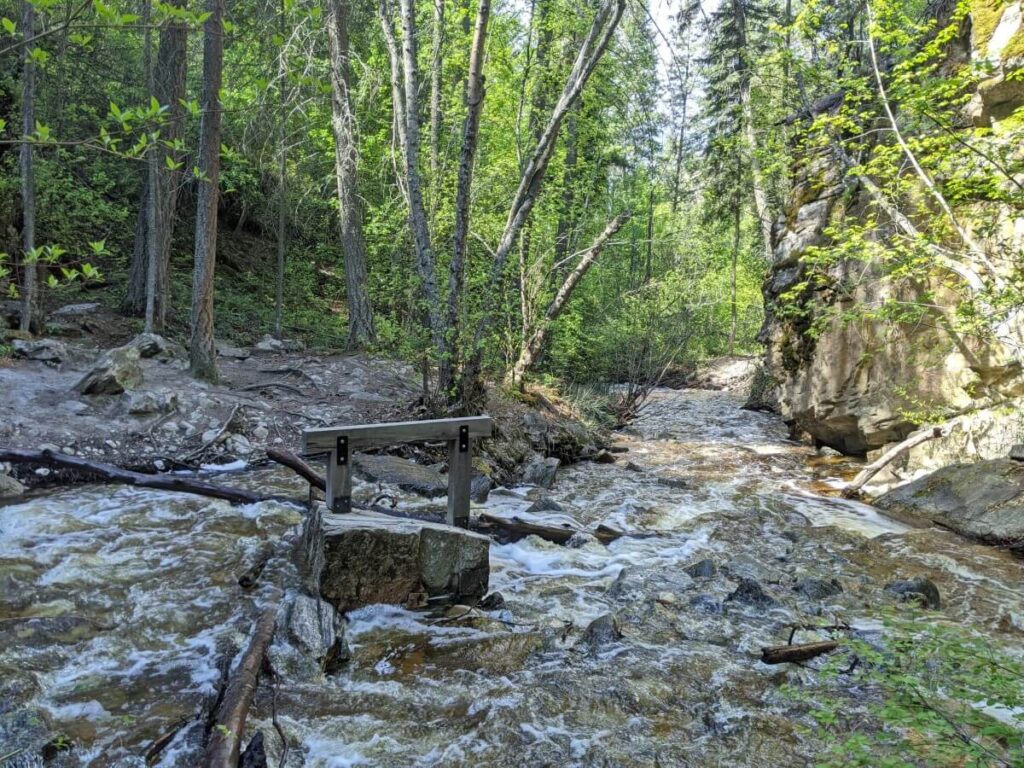 When the water level is low, you can usually rock hop across and avoid getting wet feet. After the creek crossings, stay on the main path beside the creek to reach the lower falls.
The uphill trail that avoids the creek crossings is narrow, dusty and very steep in places. The path is uneven, with a drop-off on one side. This is not an easy trail and I've definitely seen some people get surprised by it.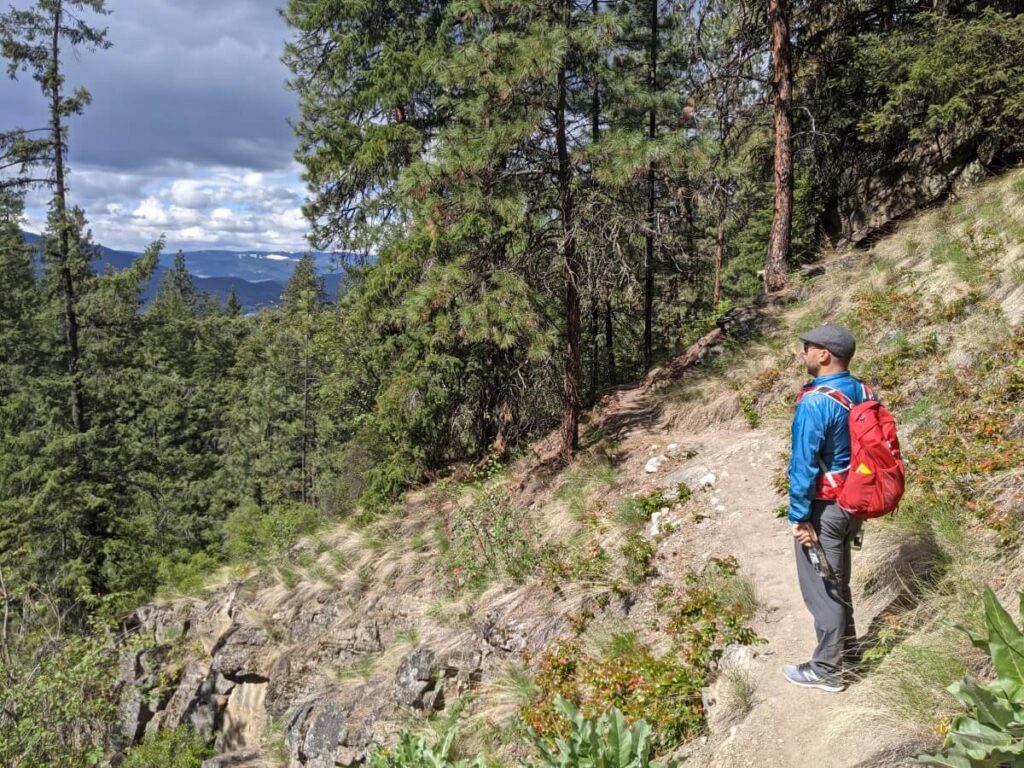 There are quite a few side trails in this area, so taking this route can be pretty confusing. It takes longer than the creek crossing and is definitely less straightforward.
The path does eventually lead back down to the creek and the falls, but it also offers the chance to continue to some side viewpoints and then up the KVR Trail (very steep, more drop-offs, loose rock).
Whichever way you go, Naramata Creek Falls is waiting at the end of the canyon.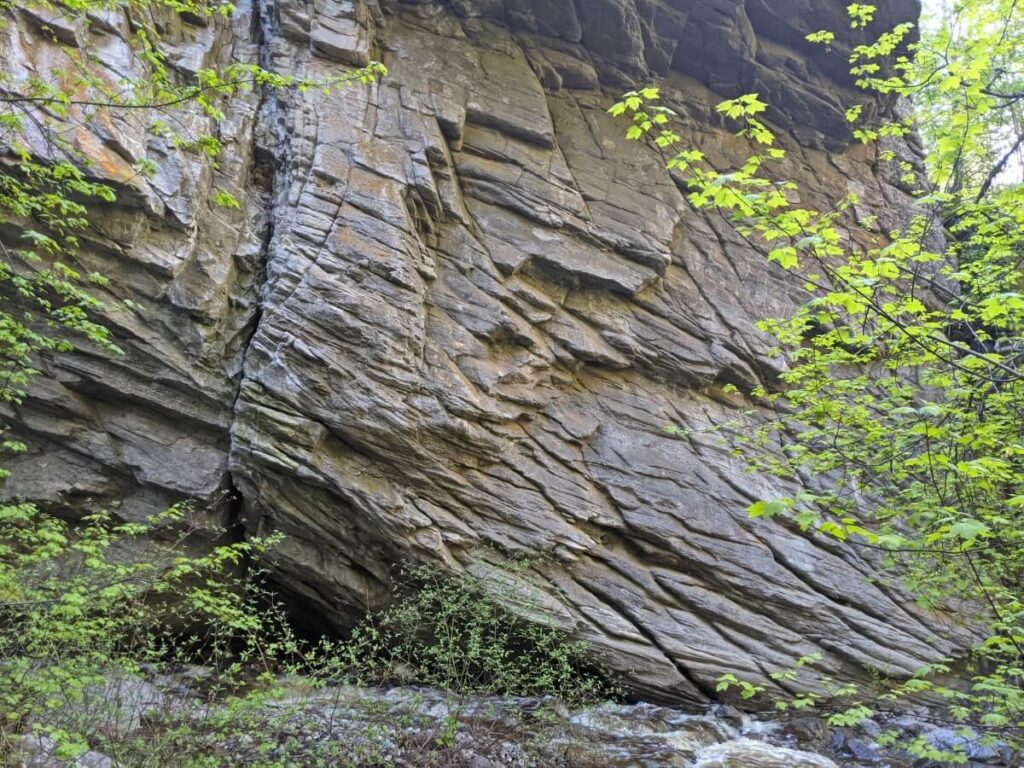 End of the Naramata Creek Falls Trail
Naramata Creek Falls is separated into two sections, with the lower falls a series of smaller cascades and rapids and the upper falls featuring tall streams of water.
How close you can safely get to the falls depends on the time of year and water level. In spring, the creek is wide and the water current is strong, providing a spectacular sight. It is difficult to get close, however.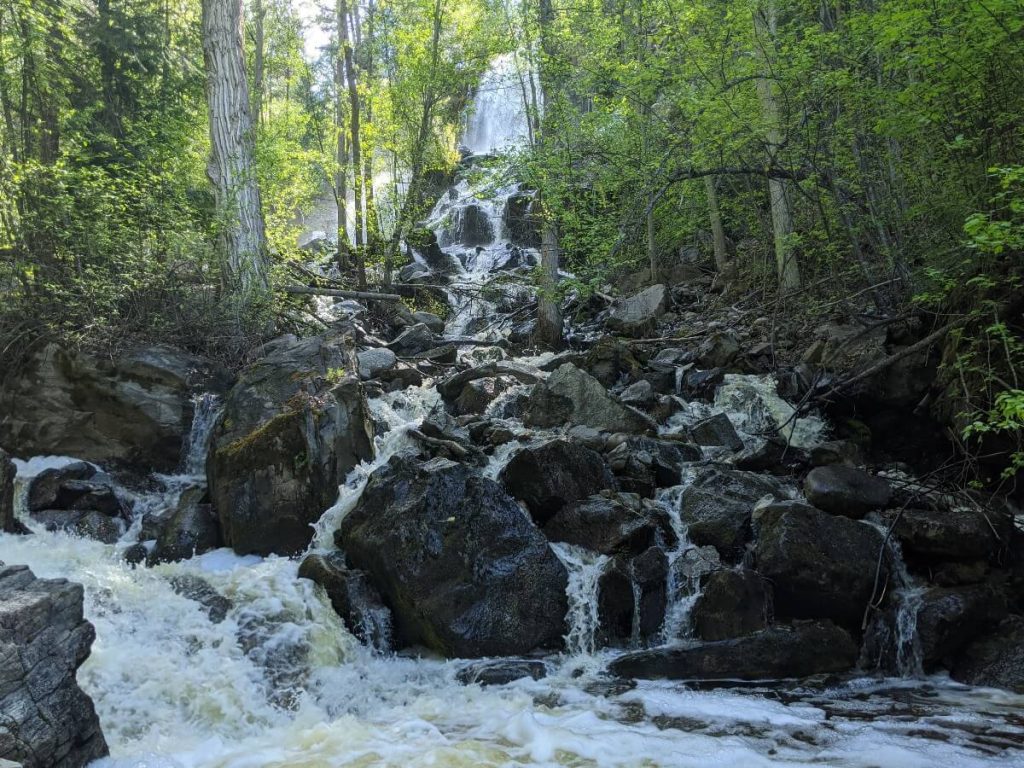 Later in the year (August, September), it is much easier to get close to the taller waterfall. Of course, be very cautious with your footing. The surrounding surfaces can be very slippery.
Enjoy the views before returning to the parking lot via whichever way you choose.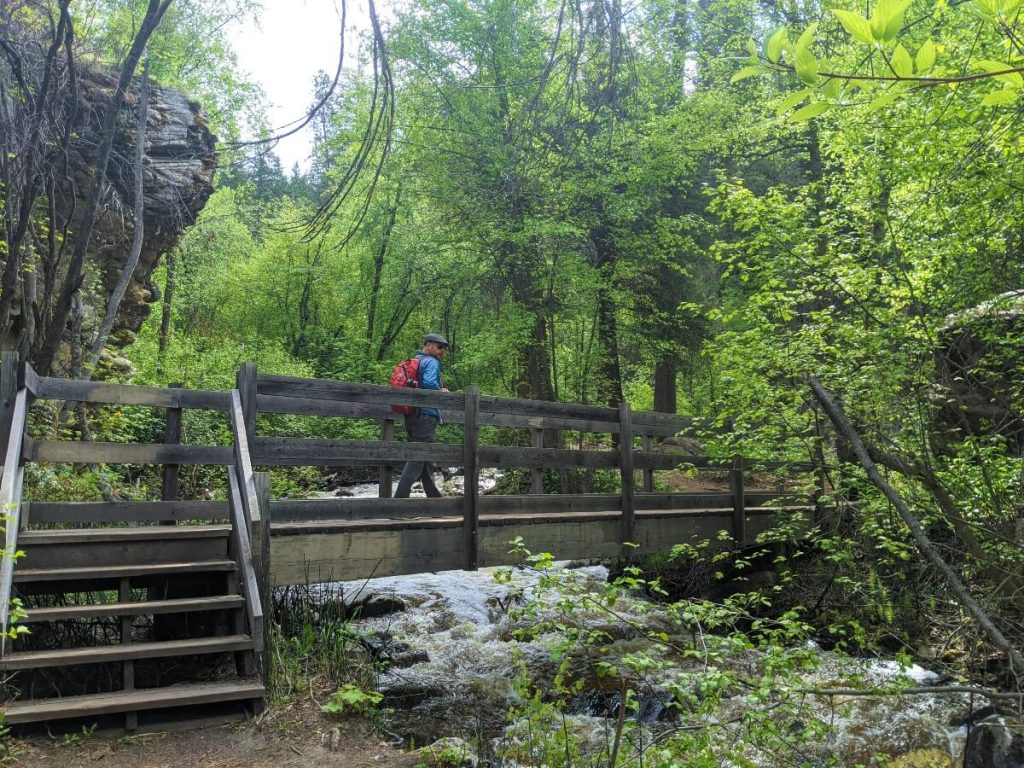 Naramata Creek Falls hiking tips
Naramata Creek Falls Trail is open all year round, but can get pretty icy from December to March. Snow may also be present, depending on recent weather
Naramata Creek runs very high and strong during the spring melt. This usually starts sometime in April and continues into June, sometimes even later. The waterfalls look impressive at this time but it can be difficult to get close and still be safe
As mentioned above, the creek crossings can be dangerous when the creek is running high. If the current is too strong, come back another day. It's not worth it!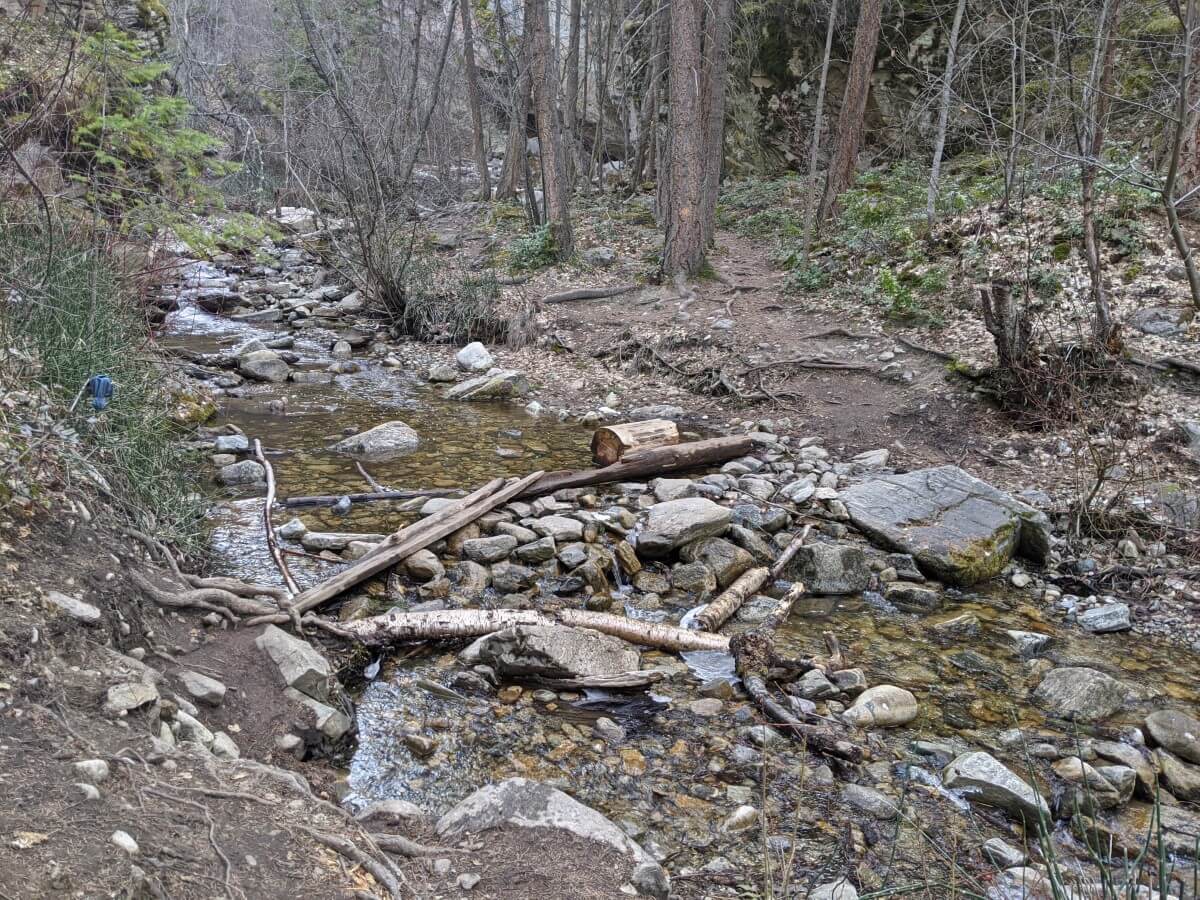 Be very cautious of slippery surfaces around the waterfalls and creek. Even if a rock looks dry, it may not be!
Keep in mind that pools of water may seem shallow but can be a lot deeper in reality
Remember that the water temperature is probably a lot cooler than you'd expect!
The side trail (avoiding the creek crossings) is very steep in places and features a drop-off on one side. Watch your footing if you choose to go this route
Keep children close and under control, especially if visiting during the spring melt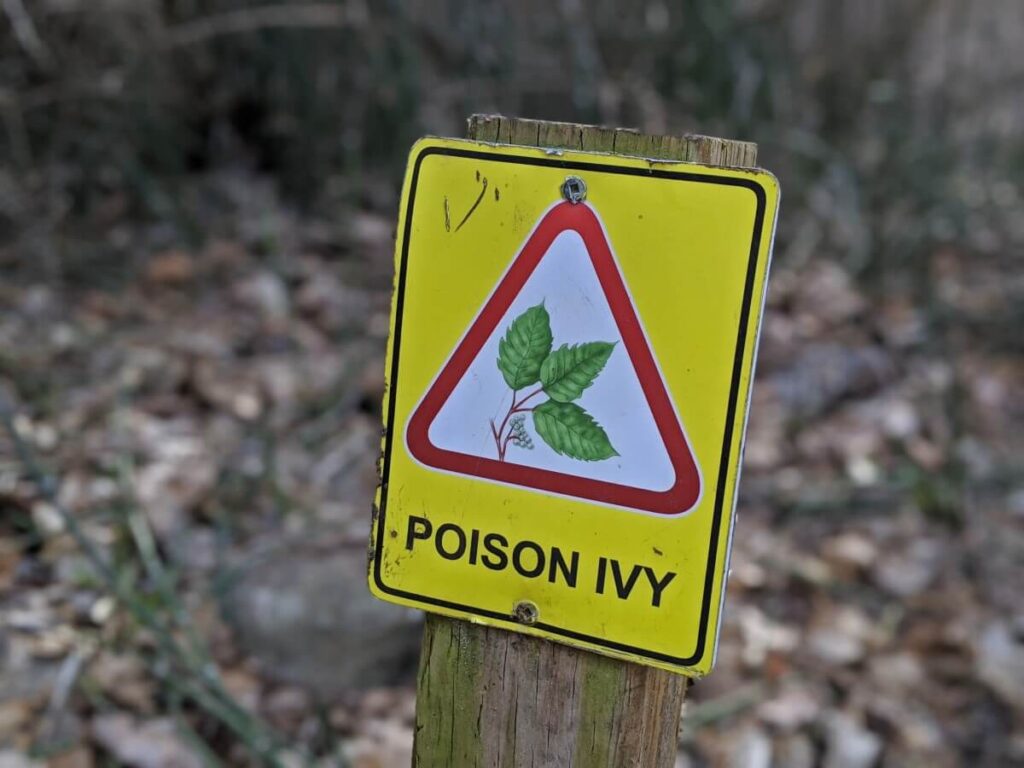 Dogs will love the cool temperatures of the canyon and the rushing water of the creek but should be on a leash. Please pick up after them – there are bags near the parking area
Black bears have been seen in this area, most commonly in spring and early fall. We always bring bear spray, just in case
Poison ivy is present in the Naramata Creek canyon. Stay on trail and know how to identify (and avoid) it!
Even though Naramata Creek is super shaded, it is still a good idea to bring drinking water on this hike
Be sure to pack out everything you bring with you to help keep Naramata Creek Falls beautiful!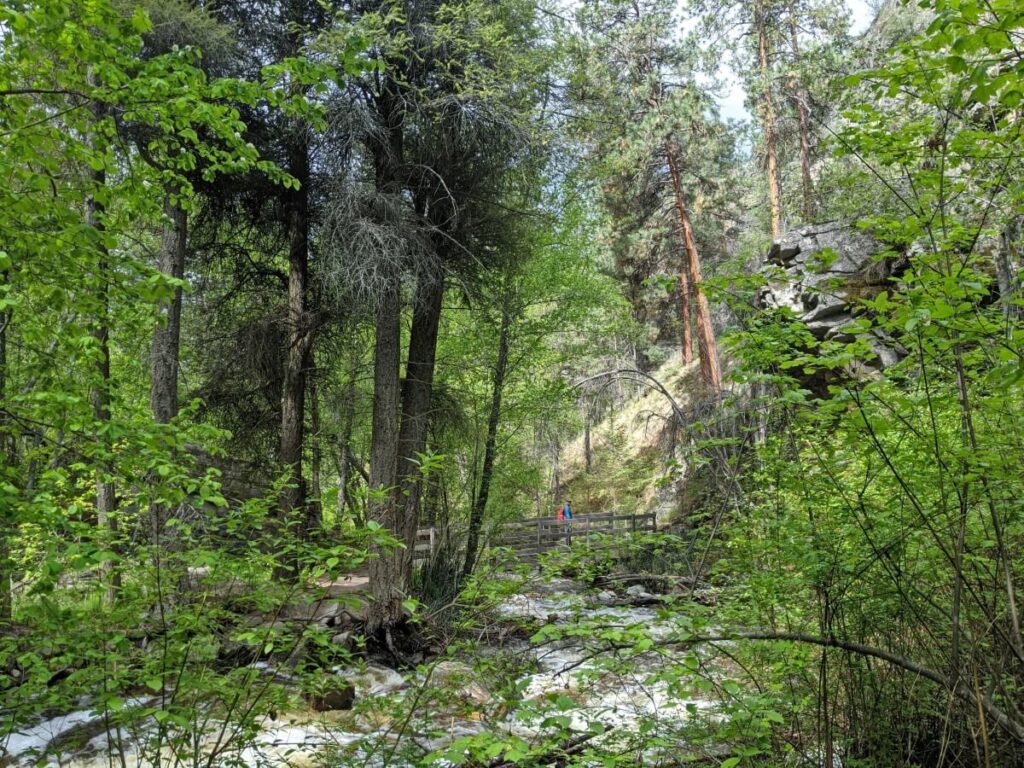 Discover Penticton
Looking for the best accommodation in Penticton?