Any fans of big, bold reds should make a beeline for Van Westen. Despite having over 50 years of farming tradition, the Van Westen family are unpretentiousness and enthusiastic about making great wine.
One of the most informal, down-to-earth experiences on the Bench, tastings are usually held in 'the Shed,' a large open warehouse room within the working winery.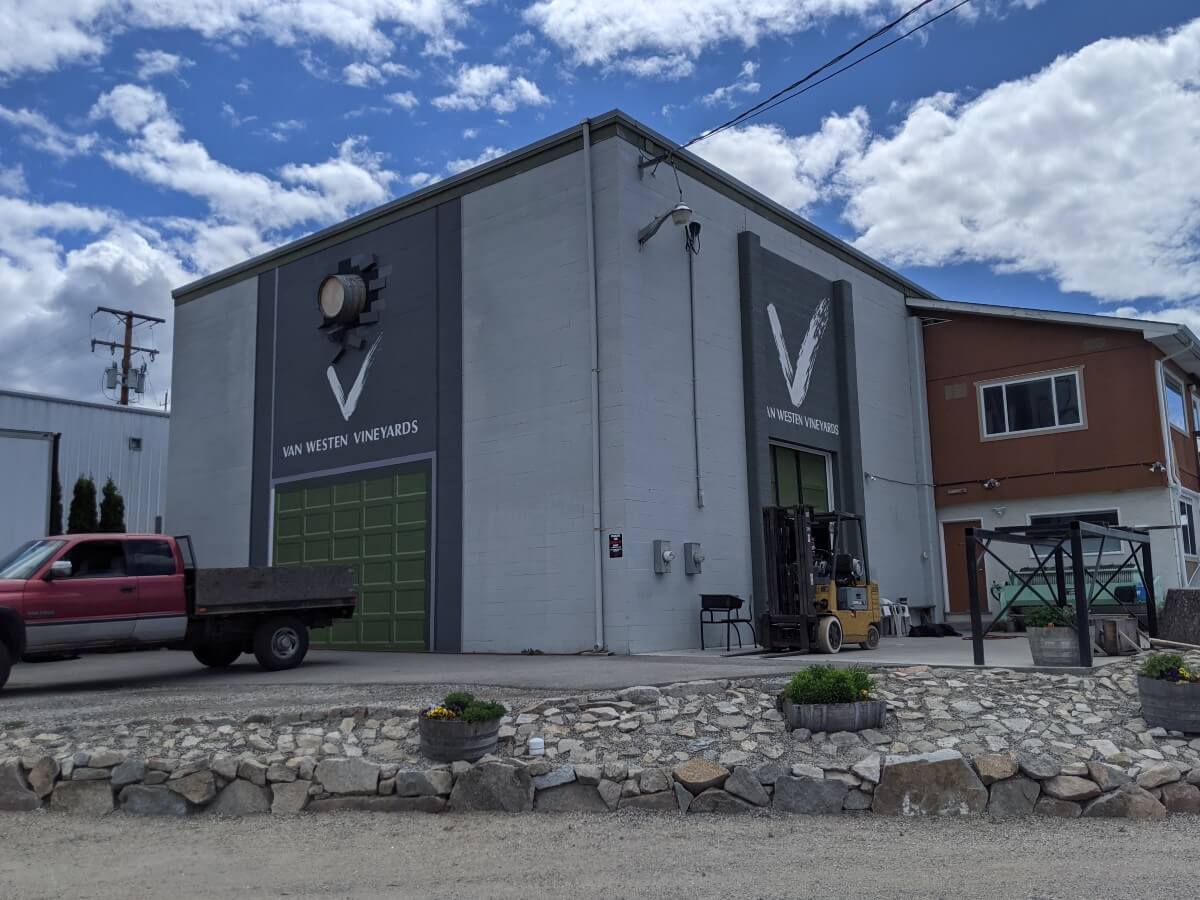 At a Glance
Wine shop times: 11am to 5pm, daily
Tasting room times: 11am to 5pm, daily
Tasting reservation: Recommended
Tasting style: Indoor, standing, 6 wines
Tasting cost: $10, redeemable with wine purchase
Food/restaurant: No
Accommodation: No
Child friendly: Unknown
Pet friendly: Unknown
Weddings and private events: No
Last updated June 2022. Please note that the following information may change at any time due to Covid19 related policies and procedures. For the most up-to-date information, contact individual businesses before visiting. There are some affiliate links in this post – if you click one and make a purchase, we may receive a percentage of the sale at no extra cost to you.
Varietals
Pinot Gris
Viognier
Riesling
Pinot Noir
Malbec
Cabernet Franc
Merlot
Cabernet Sauvignon
Petit Verdot
Wines
| | | |
| --- | --- | --- |
| Wine name | Description/Varietal | Price Per Bottle |
| 2016 Vino Grigio | White. Pinot Gris | $20 |
| 2017 Vino Grigio | White. Pinot Gris | $20 |
| 2018 Vino Grigio | White. Pinot Gris | $20 |
| 2016 Vivacious | White. Pinot Blanc & Pinot Gris | $20 |
| 2018 Vivacious | White. Pinot Blanc & Pinot Gris | $20 |
| 2019 Vivacious | White. Pinot Blanc & Pinot Gris | $20 |
| 2019 Viognier | White. Viognier | $25 |
| 2019 Viscous | White. Riesling | $25 |
| 2017 Voluptuous | Red. Merlot & Cabernet Franc | $35 |
| 2017 V | Red. Bordeaux blend | $35 |
| 2019 Pinot Noir VD | Red. Pinot Noir VD | $40 |
| Verloren 2016 | Red. Merlot | $100 |
Contact Information
Phone: 1-250-496-0067
Address: 2800 A Aikens Loop
Website: vanwesternvineyards.com
Discover more wineries