Named after the historic community of south Langley, this is Township 7's second location. But, as they say, all the 'magic' happens here on the Naramata Bench!
Keeping things simple, Township 7 focuses on carefully handcrafted, small-lot wines with grapes sourced from their own vineyards and partner growers in the Okanagan Valley.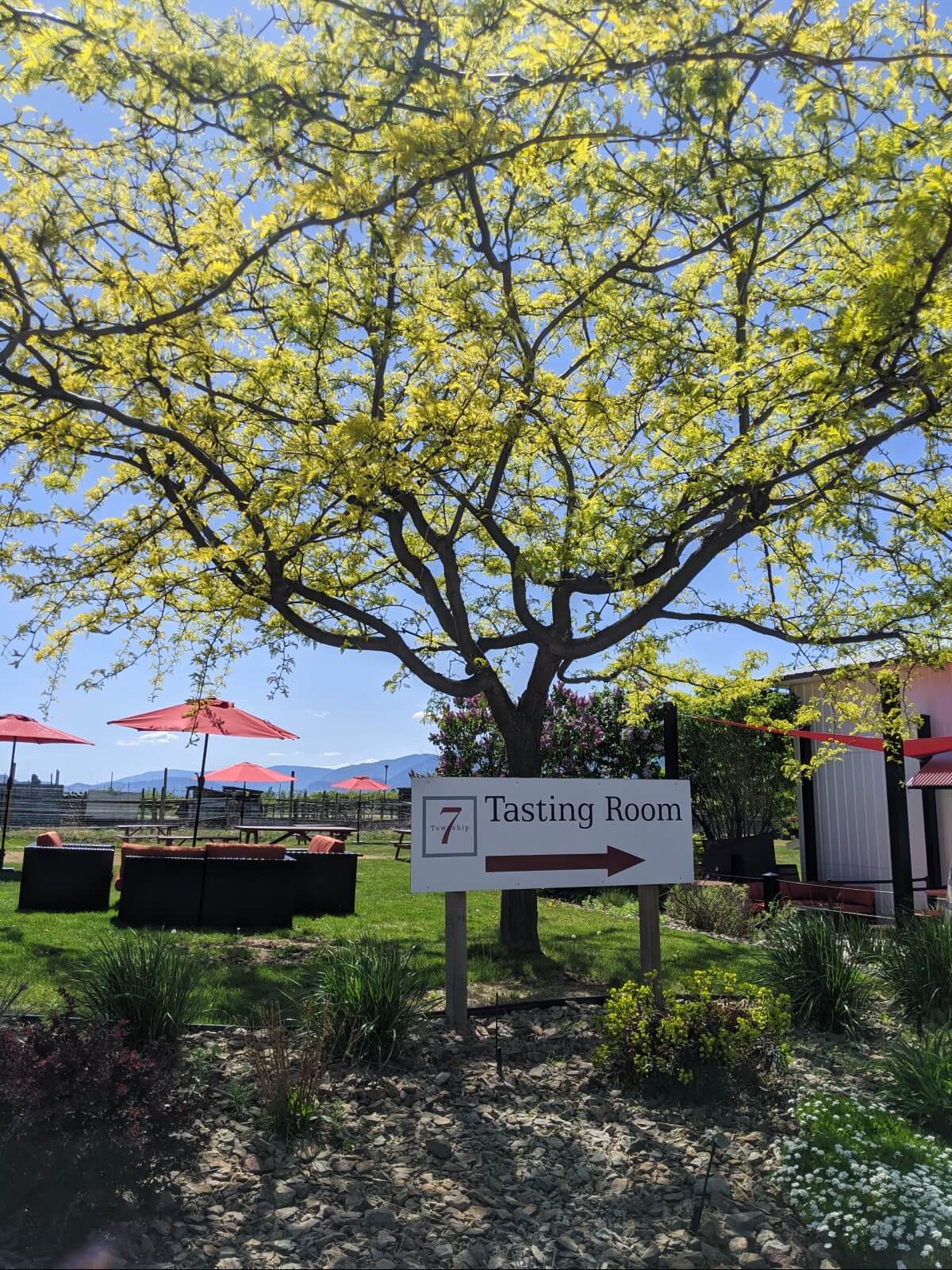 Located on a bend on McMillan Avenue, Township 7 is only a few minutes drive from downtown Penticton. Open earlier than some of the other local wineries, it's a good choice for a first stop on a wine tour.
Alternatively, it's also an ideal lunch destination. The winery has an expansive lawn patio next to the vineyard, which receives plenty of sun throughout the day. Guests are encouraged to sit and enjoy a picnic alongside a sampling flight or glass of wine.
At a Glance
Wine shop times: Daily 11am-5pm
Tasting room times: Daily 11am-5pm
Tasting reservation: Recommended, walk-ins welcome
Tasting style: Table service, outdoor
Tasting cost: $7-$15
Food/restaurant: Picnic area
Accommodation: No
Child friendly: Yes
Pet friendly: Yes
Weddings and private events: No
Last updated June 2022. For the most up-to-date information, contact individual businesses before visiting. There are some affiliate links in this post. If you make a purchase, we may receive a small percentage of the sale.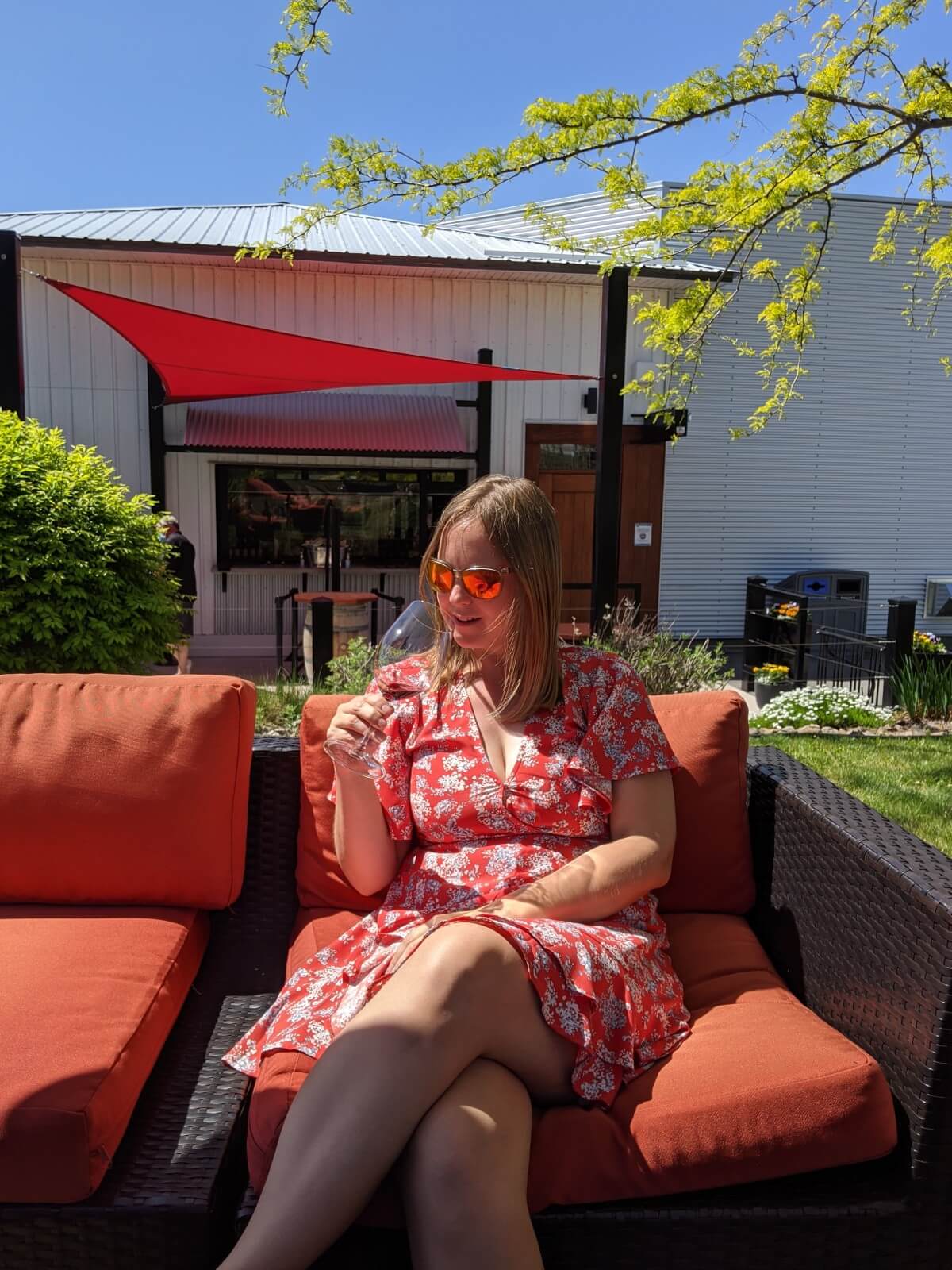 Tastings and Wine Shop
Township 7 is currently offering outdoor tastings on their expansive lawn patio, located next to the wine shop. Reservations are recommended, but walk-in guests are welcomed when space permits.
The lawn patio features picnic tables, Adirondack chairs and a cosy couch area, all with umbrellas for shade. Seating is well spaced.
There are two sampling flights to choose from, each featuring a different selection of wines:
Provenance Tasting – $7, with four wines
Benchmark Tasting – $15, also with four wines
After arrival, guests choose their preferred sampling flight and wait for the flight to be delivered. The wine server introduces and describes the wines and then guests can enjoy the flight at their own pace.
Usually, tastings would also be held inside in the wine shop, situated on the side of the main production building. There is a small standing bar area, looking out onto the entrance and lawn area.
First time wine touring on the Naramata Bench? Read this post next – Naramata Bench Wine Tasting Etiquette and Tips
Restaurant
Township 7 invites guests to enjoy a picnic on the large lawn. The picnic area is surrounded by vines and has views of Campbell Mountain and other local vineyards.
There is a small fridge inside the wine shop with cheese, meat and cold drinks. Guests can also bring their own picnic supplies. Wine can be purchased by the glass to accompany food.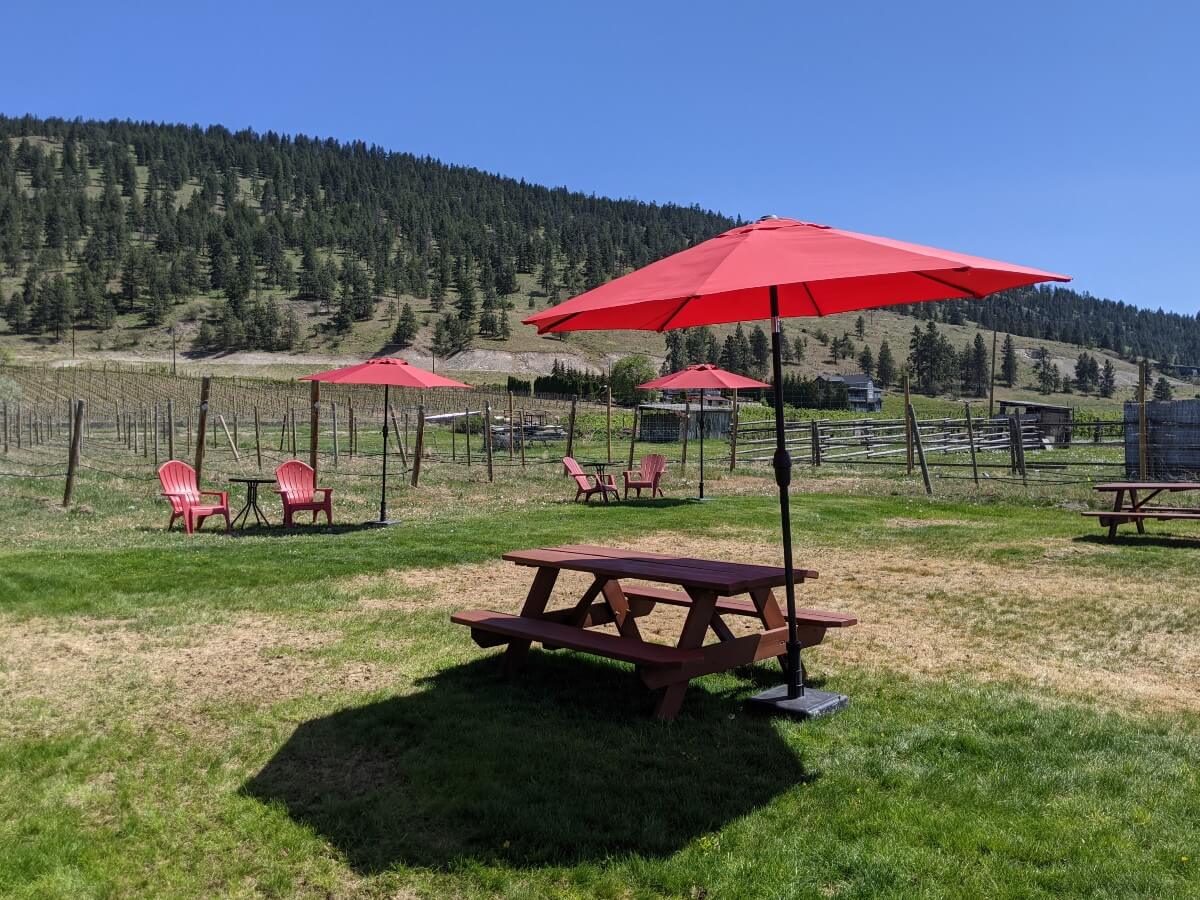 Accommodation
This winery does not have onsite accommodation but here are a couple of local wineries that do:
Weddings and Private Events
Looking for a place to host a wedding or special event? Township 7 does not host weddings or private events at this time but here's a list of recommended places that do: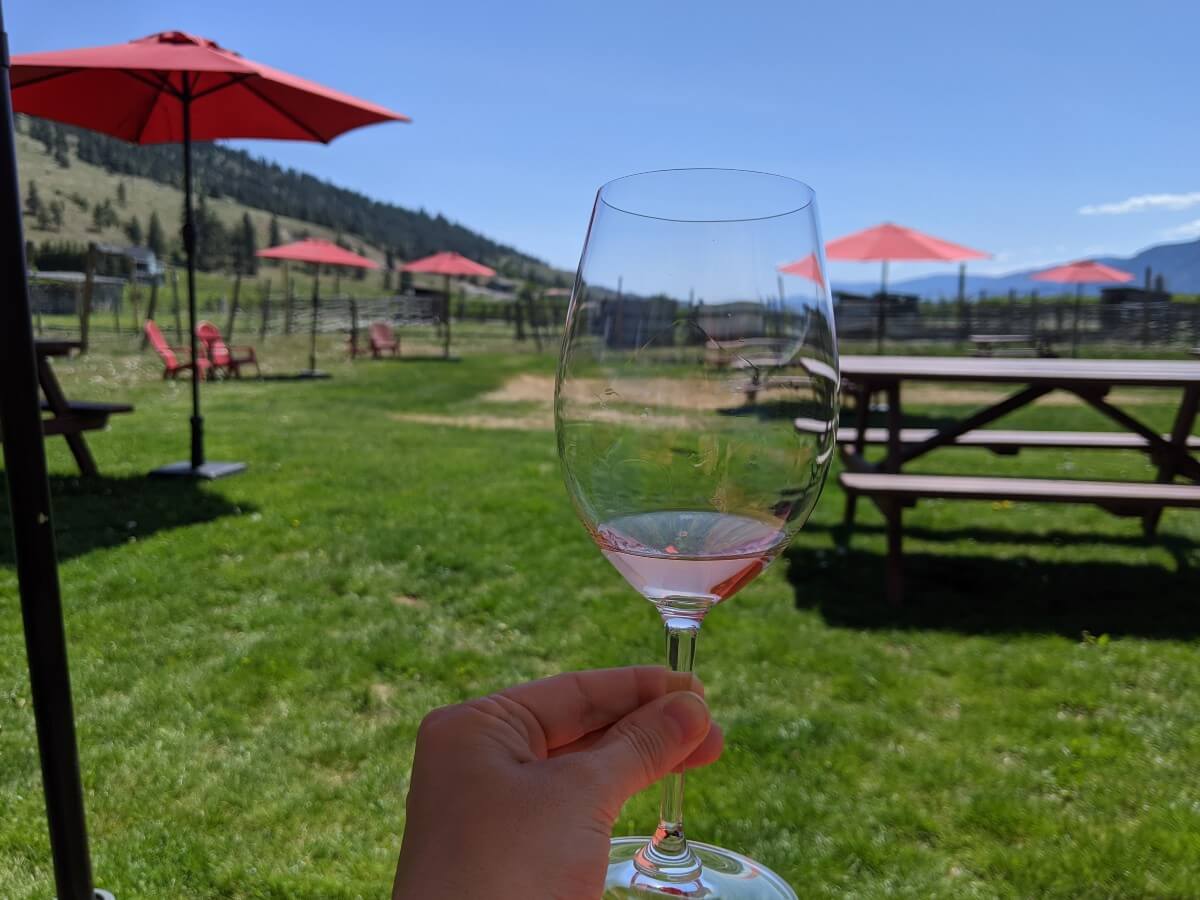 Dog Friendly
Dogs are welcome to join their owners on Township 7 Winery's lawn patio. Dog owners should, however, be careful to keep their pet close and on a leash at all times.
There is a dog living on the property as well as chickens, who roam free in the picnic area. If your dog is reactive with small animals, please consider leaving them at home or visiting another local winery.
The outdoor space is not entirely fenced, but the gaps are filled with vineyards. Most of the picnic tables have umbrellas for shade.
Child Friendly
Children are allowed to accompany adults for wine tasting. The grassy outdoor space is expansive, with plenty of room between tables and umbrellas for shade. The atmosphere is relaxed. There are no toys or play equipment for children. As mentioned above, there may be loose chickens roaming around the lawn area, as well as the winery's resident dog.
Wine Club
Township 7 has two wine clubs – clubSEVEN and seven stars. Members of both clubs receive additional discounts on wine purchases.
clubSEVEN members receive three shipments of eight bottles of limited edition and exclusive wines (24 bottles total in a calendar year). Wine packages are sent out in March, July and November.
There is no minimum commitment. Members can choose to receive free shipping or a 15% discount for local pick-up.
There are three different packages available – Aromatic Whites (white wine only), Big Reds (red wine only) and Mixed Selection (both red and white wine).
Club members receive these additional benefits:
10% discount on wine purchases
Event invitations (two clubSEVEN parties a year)
VIP treatment at special events
The seven stars club highlights Township 7's history has being one of the first wineries in Canada to produce a méthod champenoise wine.
Members of the seven stars club enjoy two annual shipments of six bottles of limited edition small lot cuvées (12 bottles total). Wine packages are sent out in May and September. Members can choose between free shipping or a 15% discount with local pick-up.
Extra perks include:
10% on wine purchases
Access to clubSEVEN wines
Event invitations (two parties a year)
VIP treatment at special events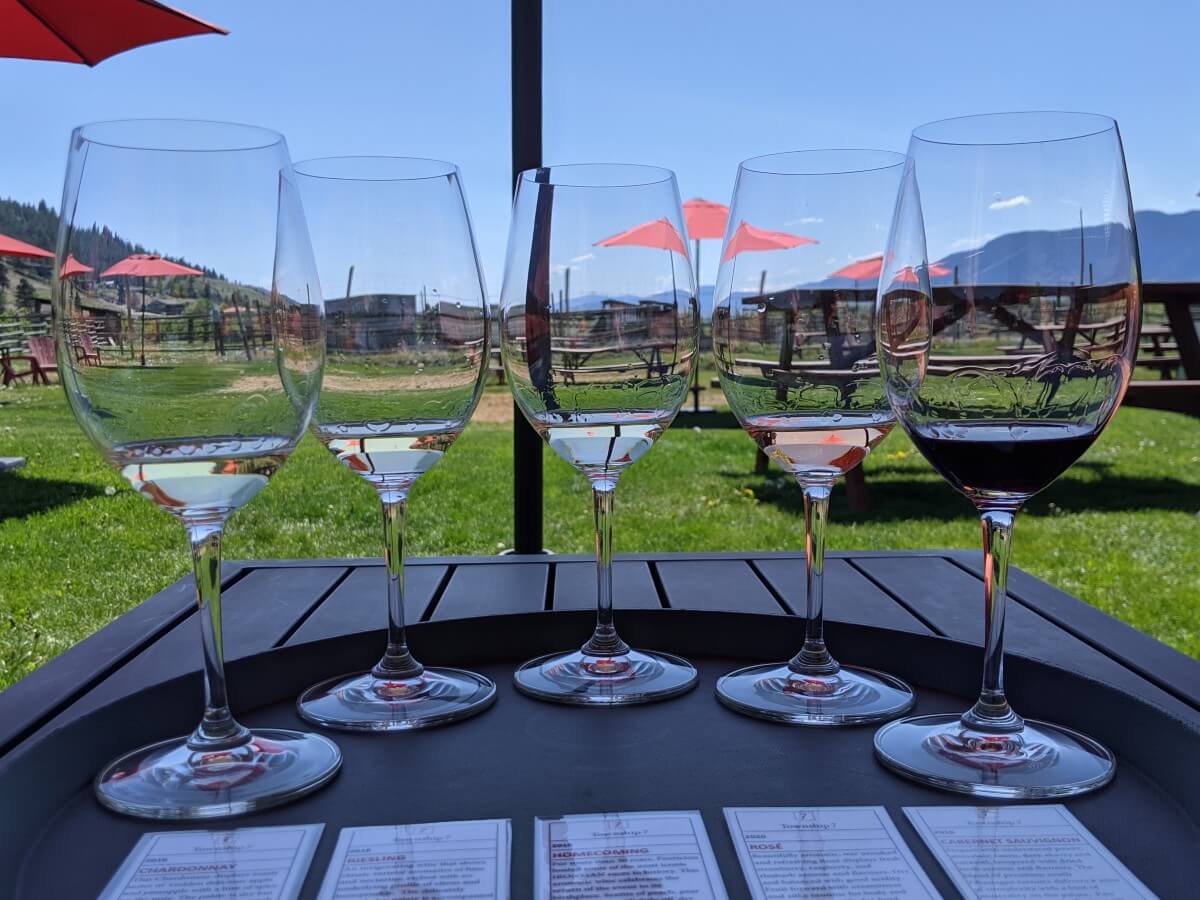 Varietals
Here are some of the varietals you might find at Township 7:
Gewurztraminer
Viognier
Pinot Gris
Sauvignon Blanc
Riesling
Muscat
Cabernet Sauvignon
Merlot
Pinot Noir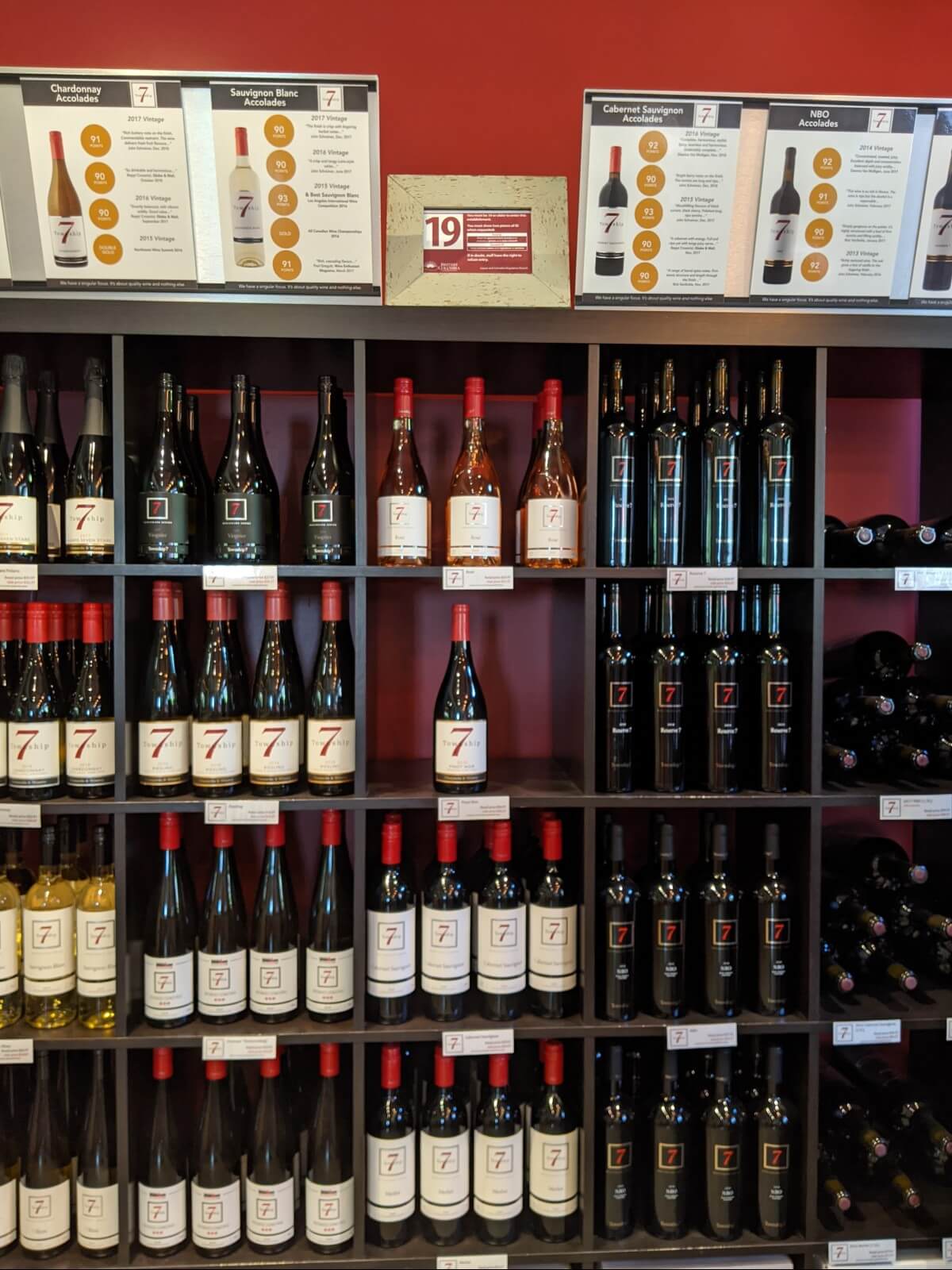 Wines
Wine name
Description/Varietal
Price Per Bottle
2018 Cabernet Sauvignon
Red Cabernet Sauvignon
$29.97
2018 Merlot
Red. Merlot
$26.97
2018 Pinot Noir
Red. Pinot Noir
$36.97
2018 NBO
Red. Cabernet Sauvignon, Merlot
$37.97
2018 Reserve 7
Red. Merlot, Cabernet Sauvignon
$38.97
2019 7 Blanc
White. Gewurztraminer, Viognier,
Pinot Gris, Riesling, Muscat
$20.97
2019 Viognier
White. Viognier
$27.97
2018 Riesling
White. Riesling
$26.97
2018 Chardonnay
White. Chardonnay
$22.97
2018 Homecoming Irionman
White. Gewurztraminer, Pinot Gris,
Viognier and Riesling
$25.97
2019 Sauvignon Blanc
White. Sauvignon Blanc
$20.97
Contact Information
Phone: 1-604 532-1766
Address: 1450 McMillan Ave
Website: township7.com
Discover more wineries