Three Sisters Winery actually owes its name to two sets of three sisters – owner Rebecca is one of three and winemaker (and husband) Matthew also has three!
While the winery is fairly new to the Naramata Bench, the owners are not. Rebecca, for example, is President of Earlco Vineyards Ltd, a vineyard management business that has been operating on the Bench for almost 20 years.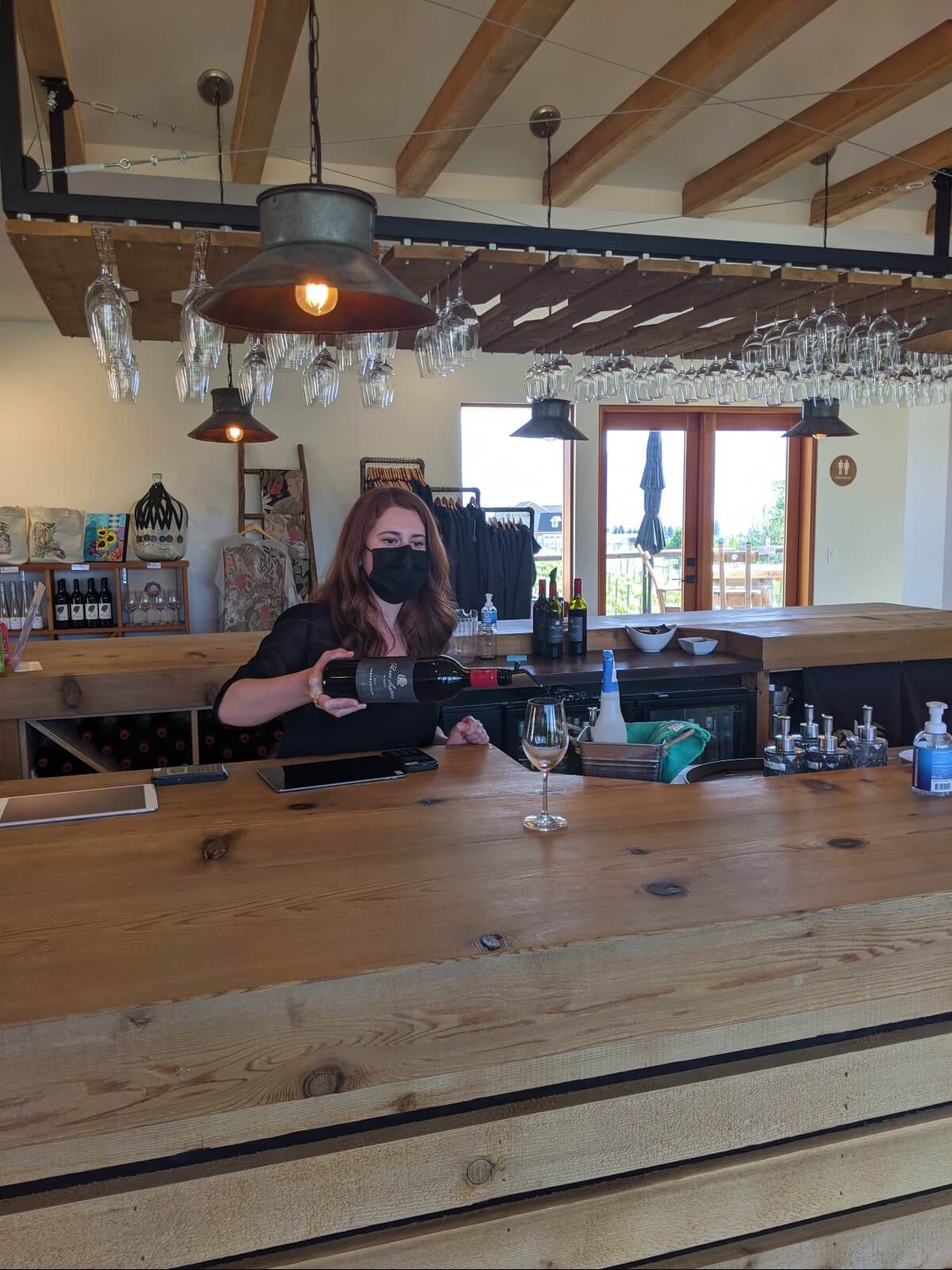 Rebecca and Matthew's knowledge and experience with wine is clearly demonstrated on the Three Sisters' wine list, with classic Bench varietals taking center stage alongside some less common offerings such as Tempranillo and Pinot Auxerrois.
This wide range of varietals makes Three Sisters a great option for a wine tasting groups with varied taste. Pricing is very reasonable, with the easy drinking Bench series perfect for those on a budget.
At a Glance
Wine shop times: 11am – 5pm daily
Tasting room times: 11am – 5pm daily
Tasting reservation: Recommended. Walk-ins welcome
Tasting style: Bar service
Tasting cost: $10p/p, waived on purchase
Food/restaurant: No
Accommodation: No
Child friendly: Yes
Pet friendly: Yes
Weddings and private events: Yes
Last updated June 2022. For the most up-to-date information, contact individual businesses before visiting. There are some affiliate links in this post. If you make a purchase, we may receive a small percentage of the sale.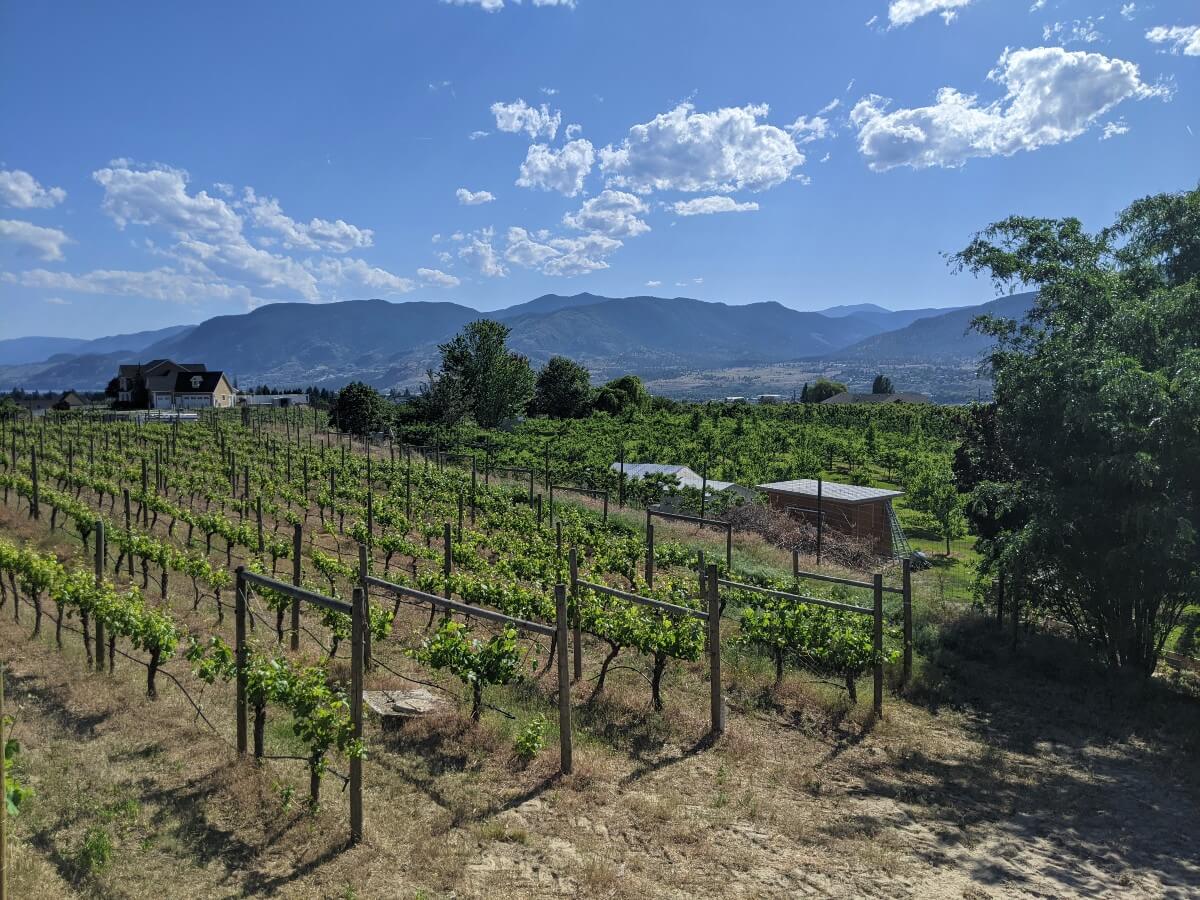 Tastings and Wine Shop
The tasting room and shop at Three Sisters Winery is open 11am-5pm daily. Reservations are recommended but you can check at their welcome station if there is space for walk-ins.
Tastings are held at the gorgeous wooden bar, which sits in the center of the wine shop. It's exceptionally bright and airy, with vineyard views visible through the many windows.
Three Sisters wine tastings cost $10 per guest and includes five wines. The fee is waived on purchase of one bottle of wine. Allow 30 minutes for this tasting.
First time wine touring on the Naramata Bench? Read this post next – Naramata Bench Wine Tasting Etiquette and Tips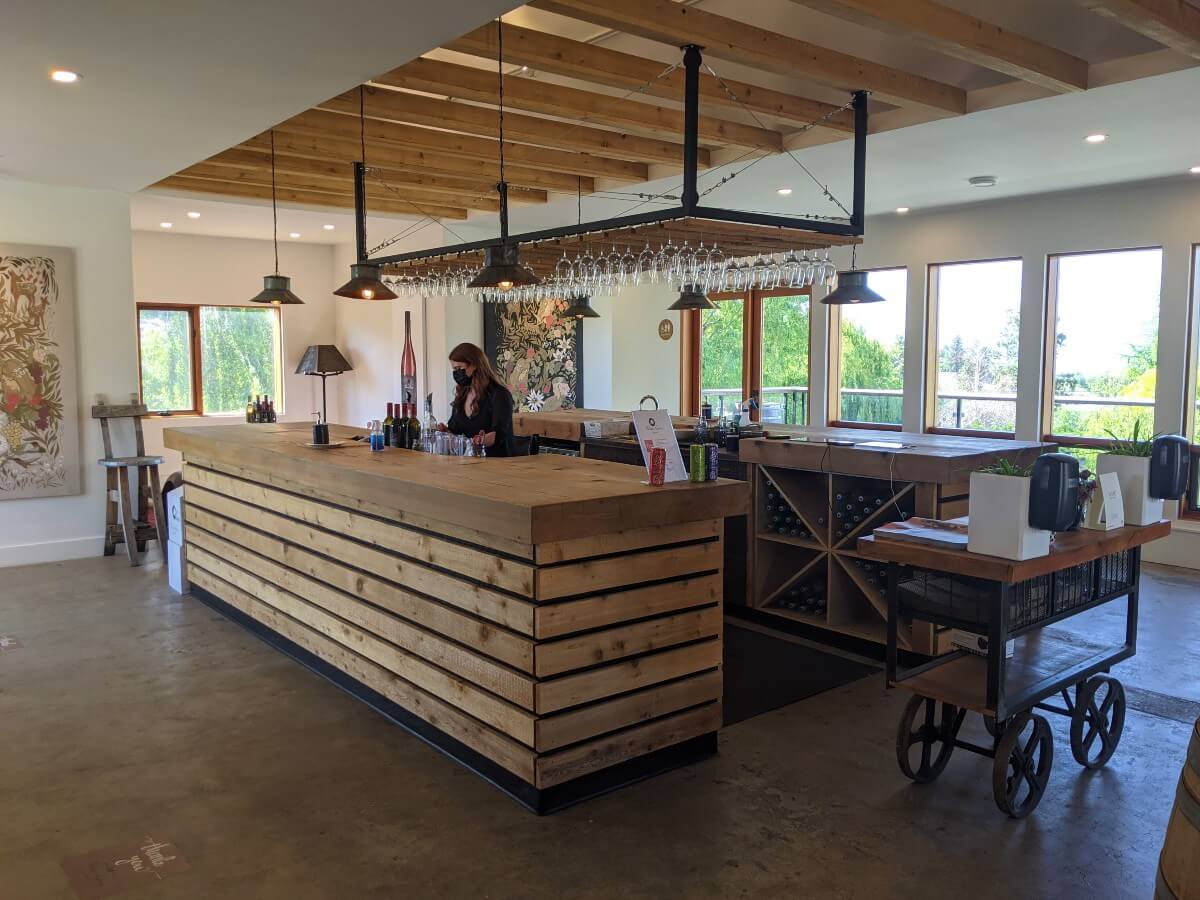 Restaurant
There are three laid back patios at Three Sisters. There are two small spaces located adjacent to (and accessed through) the tasting room. Snacks can be purchased and consumed on either of these patios, along with a glass of wine.
There is also a beautiful paved picnic area just across the courtyard from the tasting room. The picnic tables here have wonderful views of the surrounding vineyards as well as the rolling hills behind Penticton. Wine is available by the bottle and guests are permitted to bring picnic supplies.
Accommodation
This winery does not have onsite accommodation but here is a list of recommendations for this area: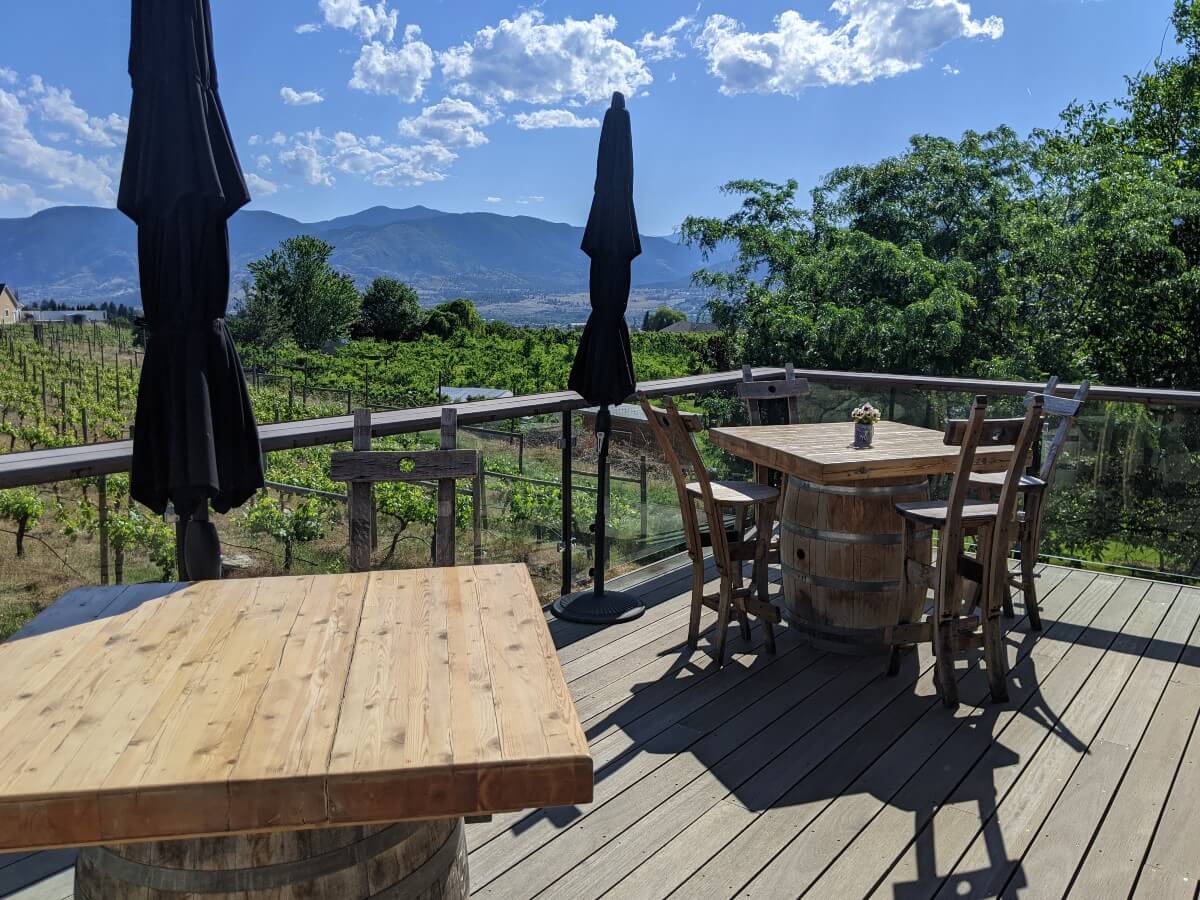 Weddings and Private Events
In partnership with local events planner Vines and Vows, Three Sisters regularly hosts weddings and other private events (reunions, Christmas parties, birthdays etc).
The tasting room can be used for an intimate indoor venue or a full length tent can be constructed outside. The vineyard is a popular place for photography. Contact Vines and Vows directly for more information regarding rates and policies.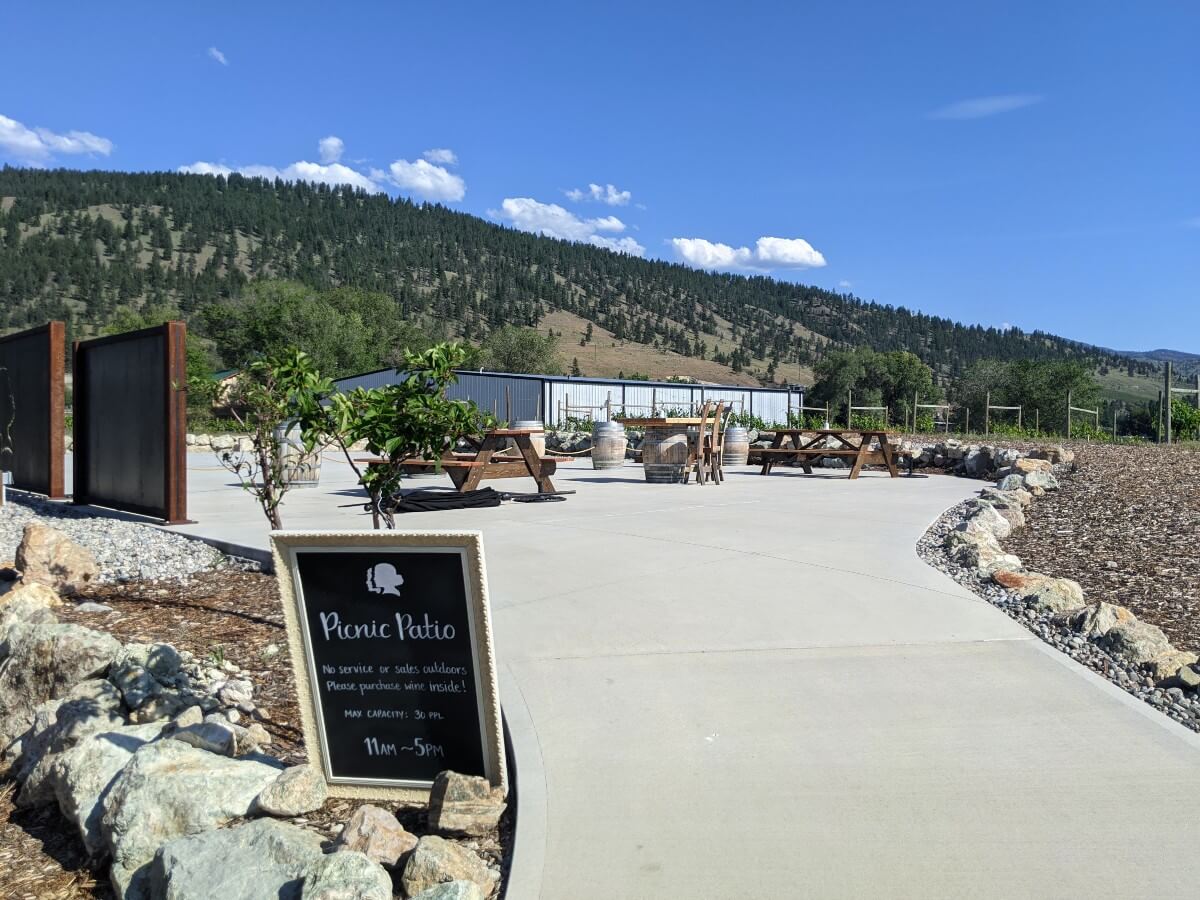 Child Friendly
Children are welcome at Three Sisters Winery. The picnic patio is an open, paved area (see photo above) with picnic tables. There isn't much shade here so keep that in mind.
There are two accessible washrooms inside the tasting room.
Dog Friendly
Dogs are welcome to join their owners on the picnic patio. They must be on a leash. Keep in mind that the picnic patio is paved (see photo above) and the location is quite exposed to the sun.
Wine Club
At the current time, Three Sisters Winery does not have a wine club. For all of the latest news and releases, follow the winery on Instagram.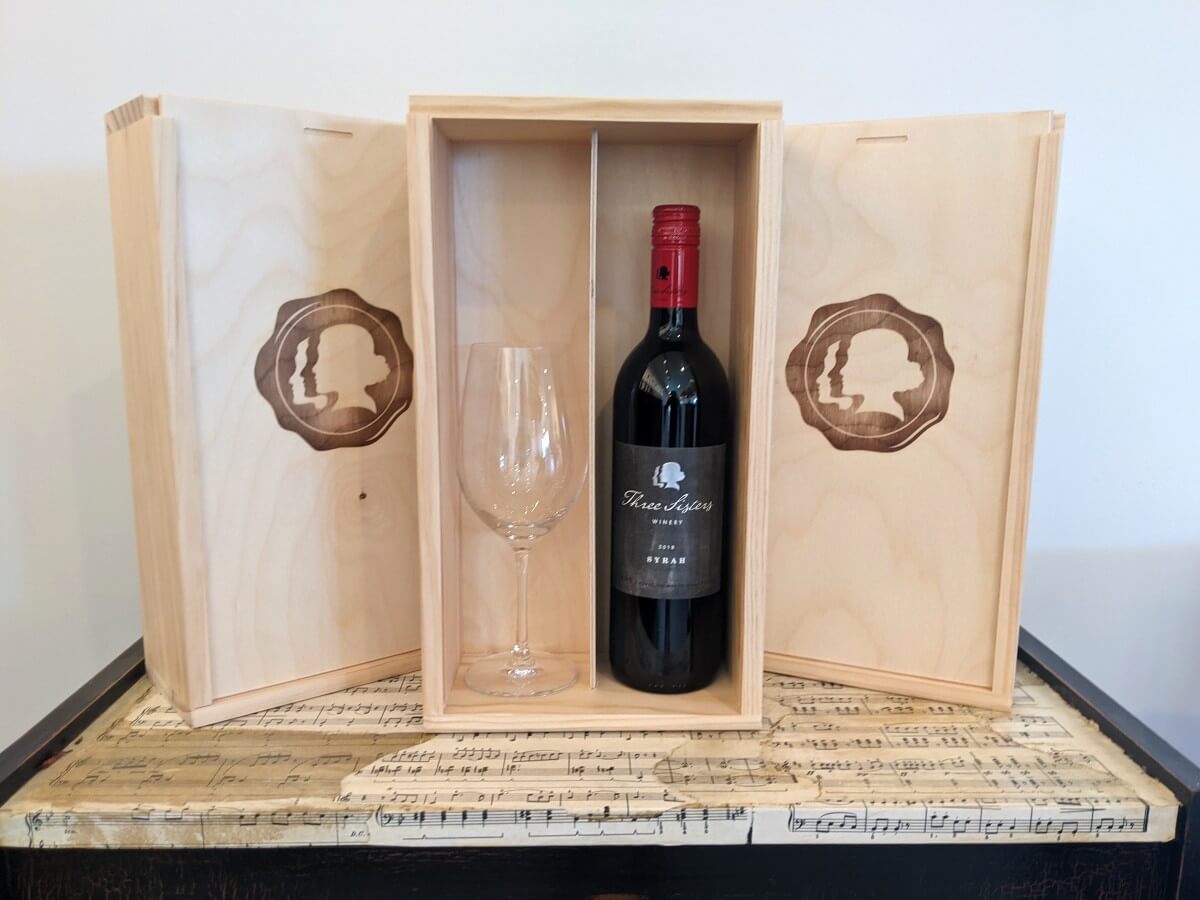 Varietals
Gewürztraminer
Pinto Gris
Ehrenfelser
Pinot Auxerrois
Chardonnay
Riesling
Tempranillo
Merlot
Cabernet Franc
Gamay
Syrah
Wines
Wine name
Description/Varietal
Price Per Bottle
Tempranillo
Red. Tempranillo
$28.90
Syrah
Red Syrah
$28.90
Marina
Red. Tempranillo
$44.90
Pinot Noir
Red. Pinot Noir
$24.90
Cabernet Franc
Red. Cabernet Franc
$28.90
Gamay
Red. Gamay
$24.90
Bench Red
Red. Merlot, Cabernet Franc
$17.90
Bench White
White. Gewürztraminer,
Pinot Gris, Ehrenfelser
$17.90
Chardonnay
White. Chardonnay
$22.90
Pinot Gris
White. Pinot Gris
$19.90
Pinot Auxerrois
White. Pinot Auxerrois
$19.90
Cane Cut Riesling
White. Riesling
$26.90
Tempranillo Rosé
Rosé. Tempranillo
$19.90
Rosé
Rosé
$19.90
Pretty Woman
Sparkling
$24.90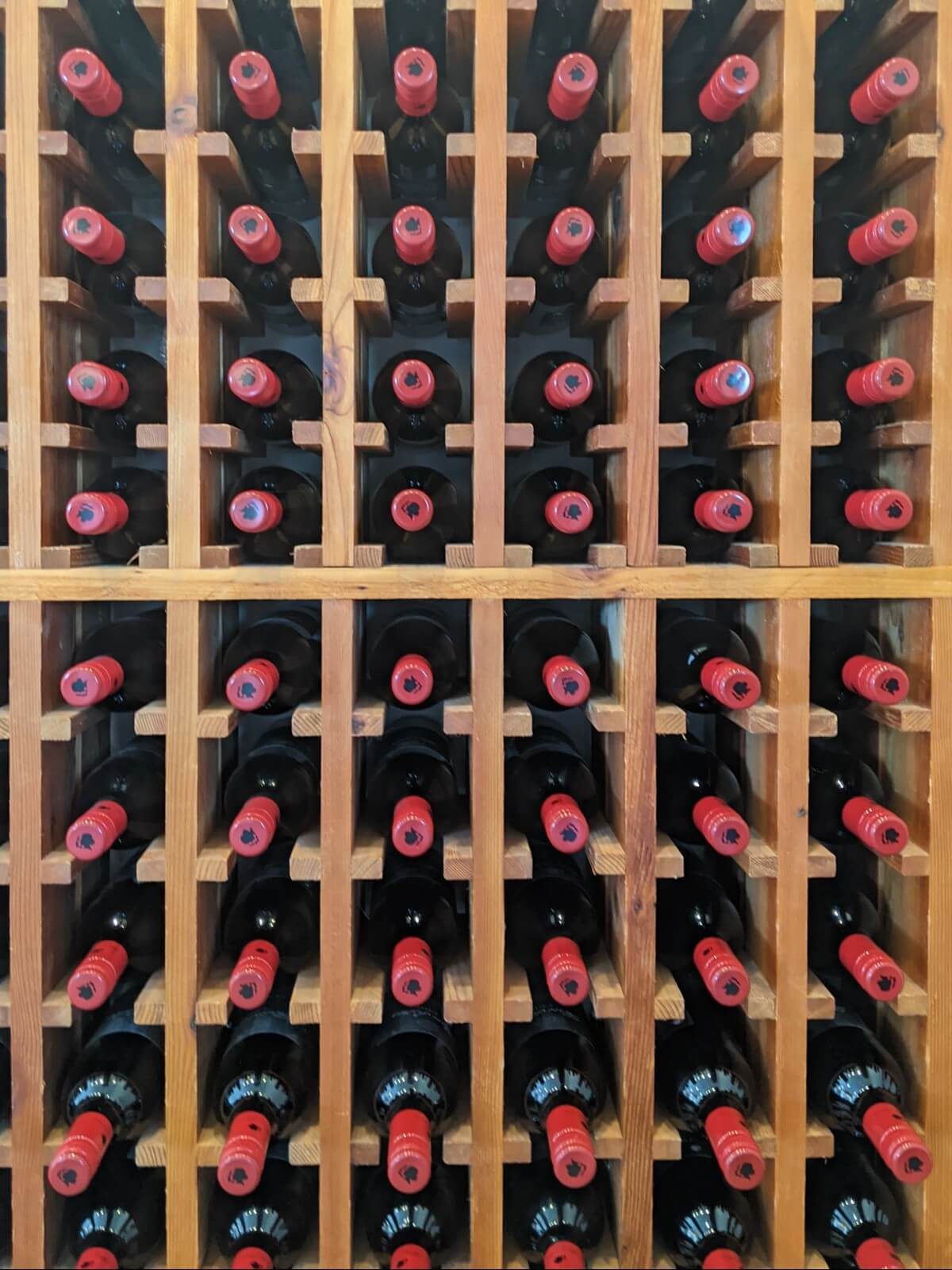 Contact Information
Phone: 1-236-422-2296
Address: 1250 Munson Ave
Website: 3sisterswinery.com
Discover more wineries