La Frenz consistently wins numerous winery awards year after year. It's easy to see why, with the winery's attention to detail all the way from bud burst to final blending and bottling. The terroir of four vineyards on the Bench and Golden Mile allows for wide variation in the resulting wine.
The views from La Frenz's stylish tasting room were featured on the Canadian $100 bill from 1954. The gorgeous lake and vineyard panoramas can be enjoyed from the sunny patio, accompanied by a generous tasting flight. Water misters help keep things cool in the summer heat.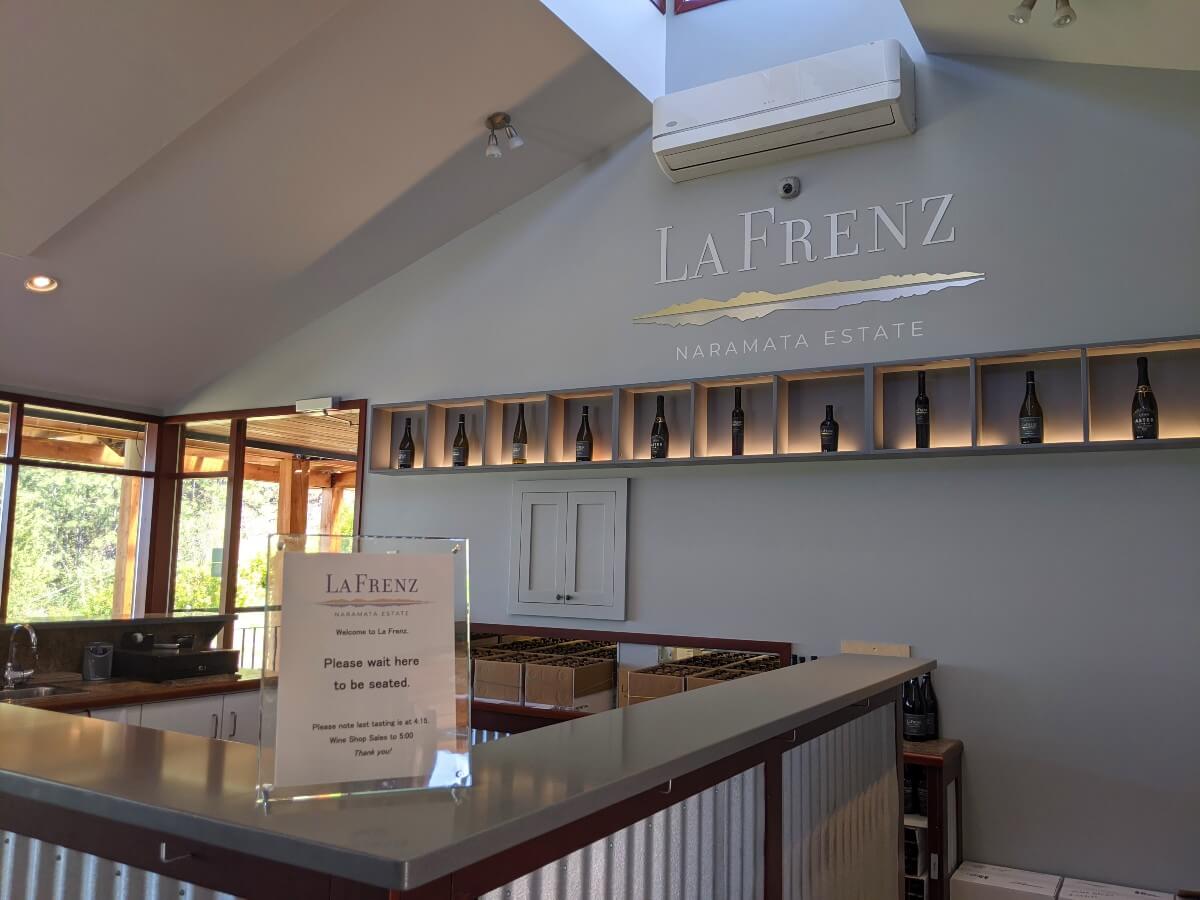 At a Glance
Wine shop times: 11am to 5pm, daily
Tasting room times: 11am to 5pm, daily
Tasting reservation: Highly recommended
Tasting style: Seated, outdoor, 45 minutes
Tasting cost: $9-13, waived with purchase
Food/restaurant: No
Accommodation: No
Child friendly: No
Pet friendly: Yes
Weddings and private events: No
Last updated June 2022. Please note that the following information may change at any time due to Covid19 related policies and procedures. For the most up-to-date information, contact individual businesses before visiting. There are some affiliate links in this post – if you click one and make a purchase, we may receive a percentage of the sale at no extra cost to you.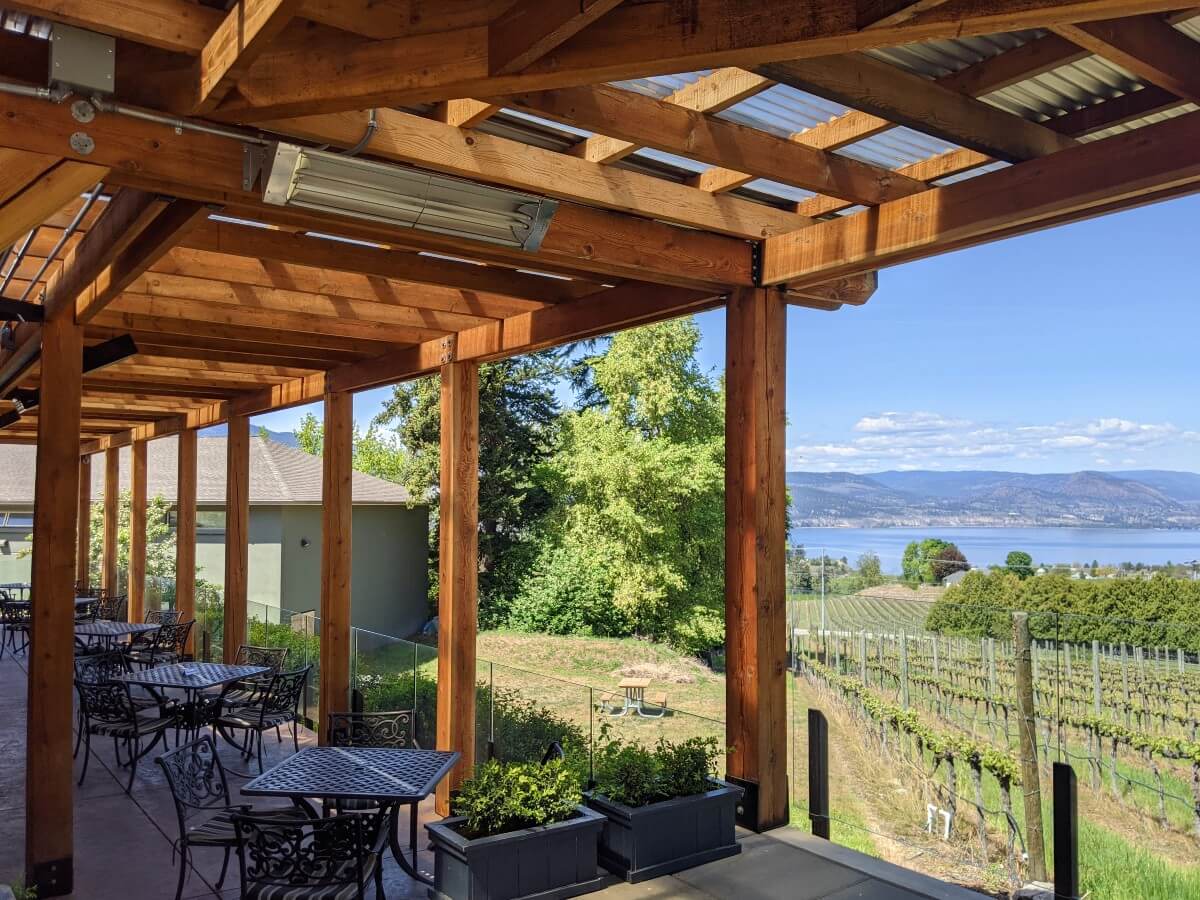 Varietals
Riesling
Chardonnay
Viognier
Semillon
Sauvignon Blanc
Pinot Noir
Wines
| | | |
| --- | --- | --- |
| Wine name | Description/Varietal | Price Per Bottle |
| 2020 Riesling Clone 21b | White, Riesling | $19.04 |
| 2020 Riesling Clone 49 | White, Riesling | $19.04 |
| 2020 Chardonnay | White, Chardonnay | $19.91 |
| 2020 Unoaked Chardonnay | White, Chardonnay | $19.91 |
| 2020 Alexandria | White | $20.78 |
| 2020 Viognier | White, Viognier | $21.65 |
| 2020 Semillon | White, Semillon | $21.65 |
| 2020 Sauvignon Blanc | White, Sauvignon Blanc | $21.65 |
| 2018 Malbec | Red, Malbec | $26.00 |
| 2018 Merlot | Red, Merlot | $26.00 |
| 2018 Cabernet | Red, Cabernet | $27.74 |
| 2018 Syrah | Red, Syrah | $27.74 |
| 2018 Vivant | White, Viognier, Roussanne, Chardonnay | $25.13 |
| 2016 Aster | Sparkling White | $32.95 |
| NV Twany Port | Fortified Wine | $21.65 |
| 2019 Vintage Port Style | Fortified Wine | $24.26 |
| NV Liqueur Muscast | Fortified Wine | $21.65 |
| Vertical Vivant | Trio of Rhone Style wines | $75.39 |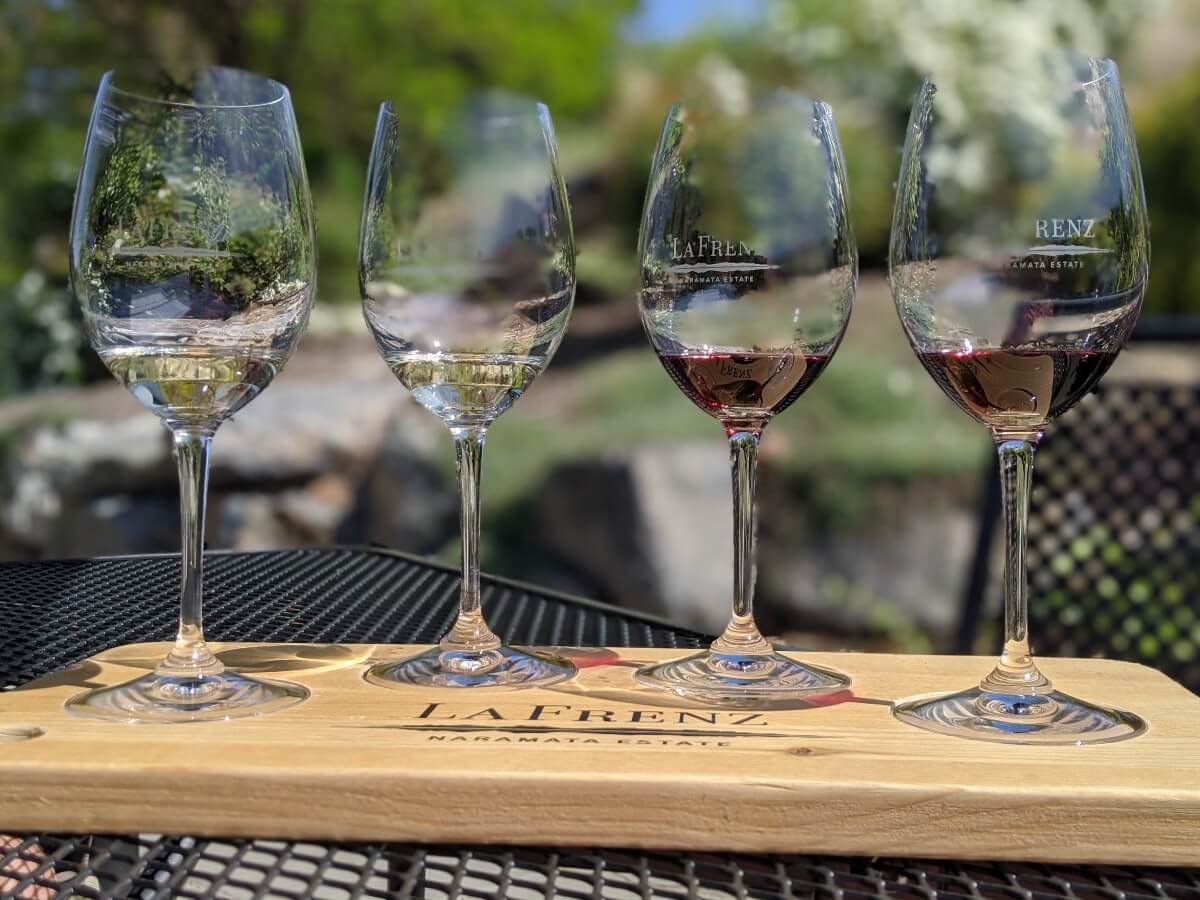 Contact Information
Phone: 1-250-492-6690
Address: 1525 Randolph Road
Website: lafrenzwinery.com
Discover more wineries