Wine tourers have a good chance to be served by the founding couple or their children at Black Widow, a small yet underrated family owned and operated winery on Naramata Road.
The tasting room is built into a steep hillside and features Meditterean style architecture, resulting in the interior being cool on hot days. Surrounded by vineyards, the compact patio outside the tasting room looks out across the road to Okanagan Lake and the mountains beyond.
Black Widow is a terroir driven winery, with all of the grapes used grown on the Naramata Bench. The winemakers have a low intervention philosophy and often use gravity to move wine around the five story winery.
The winery's name is accredited to the black widow spiders common in the vineyard and throughout the Okanagan Valley.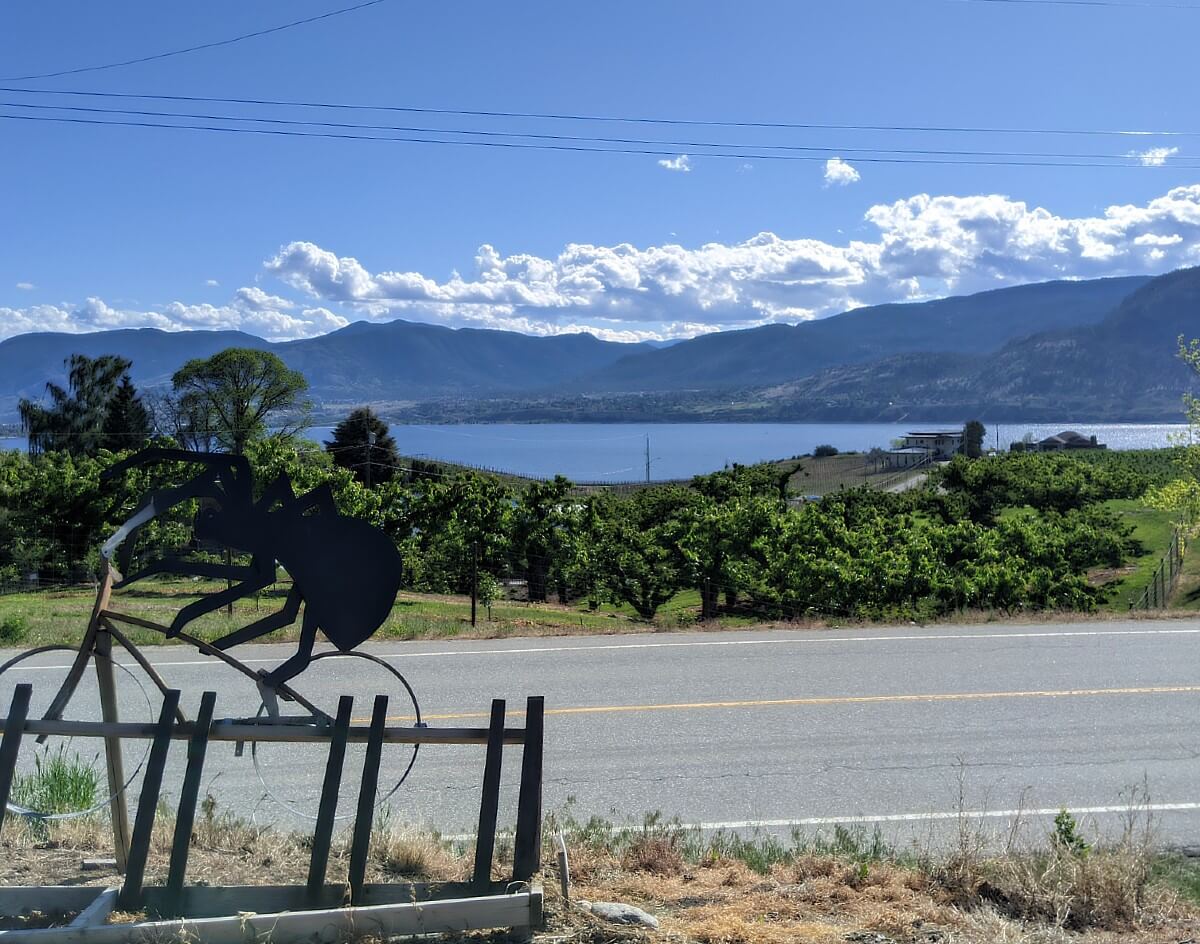 At a Glance
Tasting room times: 12pm to 4pm, Sun to Fri, 12pm to 5pm, Sat
Wine shop times: 12pm to 4pm, Sun to Fri, 12pm to 5pm, Sat
Tasting reservation: Recommended
Tasting style: Tasting at bar, standing, 20 minutes
Tasting cost: $10, waived with purchase
Food/restaurant: No
Accommodation: No
Child friendly: No
Pet friendly: No
Weddings and private events: No
Last updated June 2022. For the most up-to-date information, contact individual businesses before visiting. There are some affiliate links in this post. If you make a purchase, we may receive a small percentage of the sale.
Varietals
Here is a list of varietals you might encounter at Black Widow Winery:
Merlot
Gewurztraminer
Syrah
Cabernet Sauvignon
Pinot Noir
Cabernet Franc
Pinot Gris
Schönburger
Muscat
Wines
Wine name
Description/Varietal
Price Per Bottle
2019 Dry
Gewurztraminer
Gewurztraminer with tropical fruit flavor and a dry finish
$24.00
2018 Vintage One
A port-like brandy fortified made from the 2018 Merlot
$52.00
2018 Syrah
Aged in a combination of premium American and
French oak barrels for 21 months. Half bottle available
$45.00
2018 Merlot
Small batch aged for 21 months in French
oak barrels. 1/2 bottles available
$40.00
2020 Spiderling
Pinot Noir with addition of of Merlot and Syrah
$28.00
2020 Pinot Gris
Fresh and clean with crisp apple and ripe pear character
$25.00
2020 Oasis
Signature white Blend – Pinot Gris,
Gewürztraminer, Schönburger
$25.00
2020 Gewurztraminer
Gewurztraminer with tropical fruit flavor and a dry finish
$24.00
2019 Red Back
 Blend of Cabernet Sauvignon, Syrah, and Merlot
$38.00
2019 Phobia
Blend of 70% Merlot and 30% Syrah
$34.00
2018 Hourglass
Signature red blend of Merlot (73%) and Cabernet Sauvignon (27%)
$50.00
2020 Rose
Syrah, Cabernet Sauvignon, Cabernet Franc
and a touch of Merlot and Pinot Noir grapes
$30.00
2019 Sparkling Web
Blend of aromatic varieties of Muscat
Ottonel, Gewurztraminer and Pinot Gris
$26.00
Contact Information
Phone: 1-250-487-2347
Address: 1630 Naramata Road
Website: blackwidowwinery.com
Discover more wineries