Penticton has the perfect climate for eating al fresco, with the patio season usually running from April to October. By our count, there are at least 40 cafes and restaurants across Penticton with outdoor dining space.
Also by our count, we've managed to enjoy a fairly high percentage of them! We personally love to eat outside as much as possible and living in Penticton makes that easy.
The following list includes our favourite al fresco dining spots as well as those we love to share with visiting friends and family.
Whether you've just finished a wine tour or a hike along the Kettle Valley Rail (KVR) Trail, these Penticton patios are the place to sit back, relax and enjoy some local eats.
Last updated June 2022. For the most up-to-date information, contact individual businesses before visiting. There are some affiliate links in this post. If you make a purchase, we may receive a small percentage of the sale.
Top 10 Penticton Patios
I'll start with my absolute favourite Penticton patios. These range from special occasion and winery restaurants to casual brunch destinations and breweries.
It's a good idea to call first to see if you can reserve a spot on the patio.
If the patio is already full, order some takeout instead and then head to one of Penticton's amazing beaches!
My top pick is Marina Way Beach as it's close to downtown and quieter than Okanagan Lake Park but Skaha Lake Park is another awesome option and has plenty of space, even on busy days.
Published February 2022.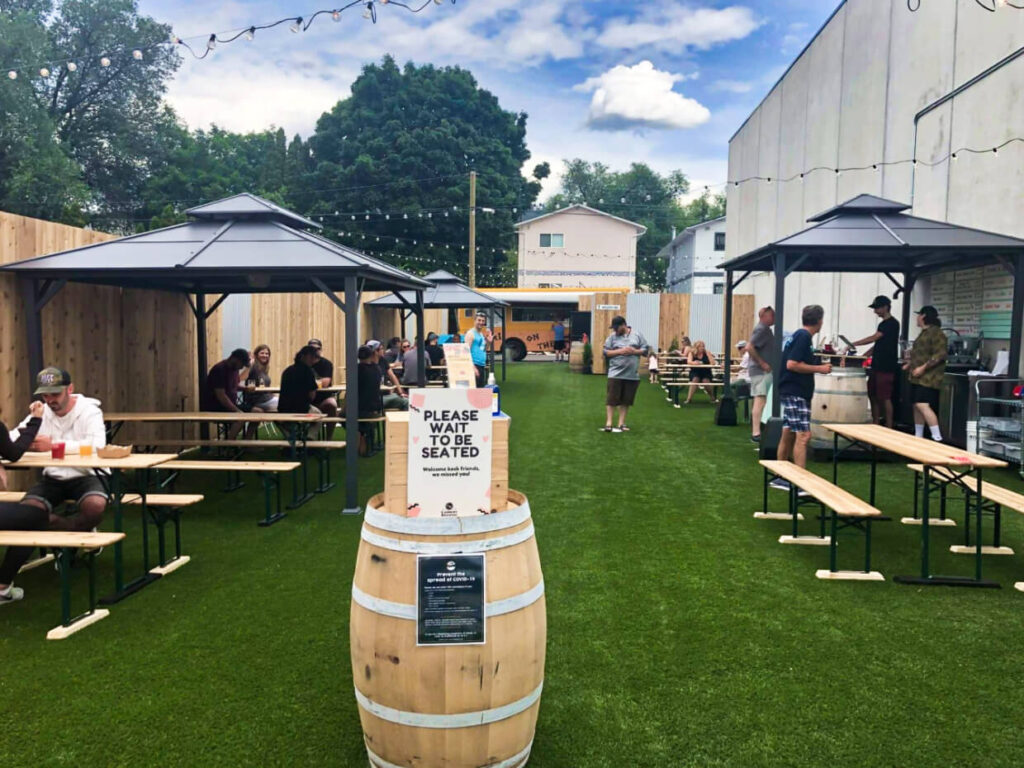 Cannery Brewing
Known for: Large selection of house beers, shareable and tasty snacks
Outdoor dining: Two street level patios
Location: Downtown Penticton
Website: Cannery Brewing
As well as having two of my favourite patios in Penticton, Cannery Brewing is also my go-to local brewery. I love the wide range of beers they have, with a little something for everyone.
There are two patios here – a smaller one accessed via the main taproom and a larger one on the other side of the building. The latter is called the Backyard and has a separate entrance, with exclusive menu and rotating food trucks in summer.
The draw of these patios is the casual, relaxed vibe that permeants throughout the Cannery. I have never felt rushed here. That combined with the bar service (UK pub style!) and shareable menu is why it's my local favourite.
Read Next: A Local's Guide to Craft Breweries in Penticton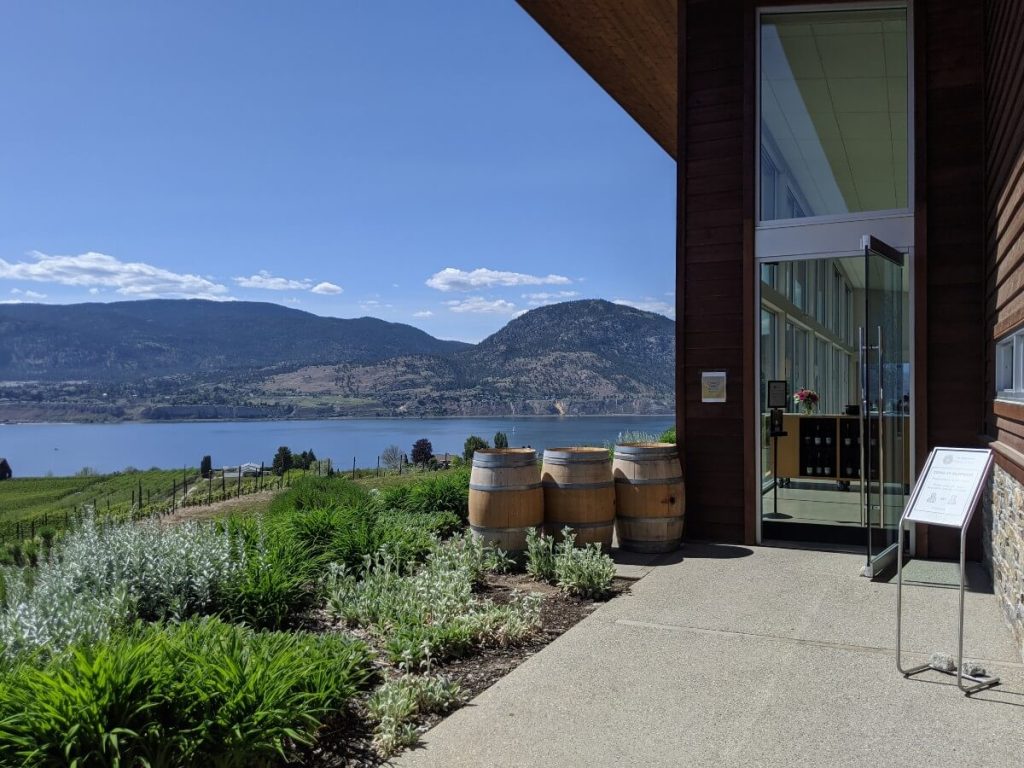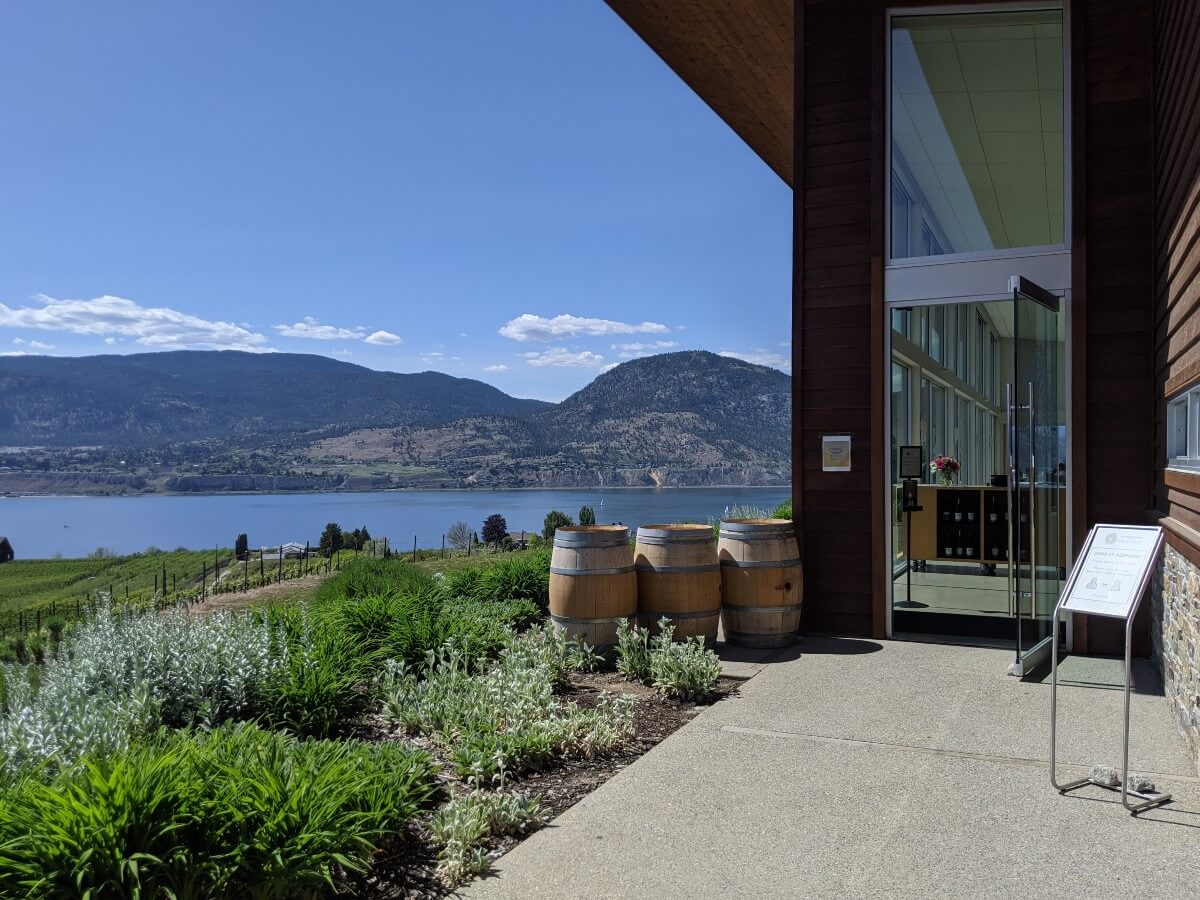 Popular Grove Winery
Known for: Winery history, beautiful location
Outdoor dining: Large sunny patio
Location: Naramata Bench, 5 minutes drive from downtown Penticton
Website: Poplar Grove Winery
Sitting just below Munson Mountain (home of the iconic Penticton sign), Poplar Grove Winery's tasting room and restaurant offer absolutely stunning views of Penticton and Okanagan Lake.
Founded in 1993, Poplar Grove is one of the oldest wineries on the Naramata Bench and is still family owned. The elegant restaurant has huge floor to ceiling windows, highlighting the spectacular setting.
At the time of writing, Poplar Grove's restaurant is open for lunch only, with elegant dishes featuring crab, beef tartare and local BC oysters. It's an excellent choice for a special occasion or lunch stop while wine tasting!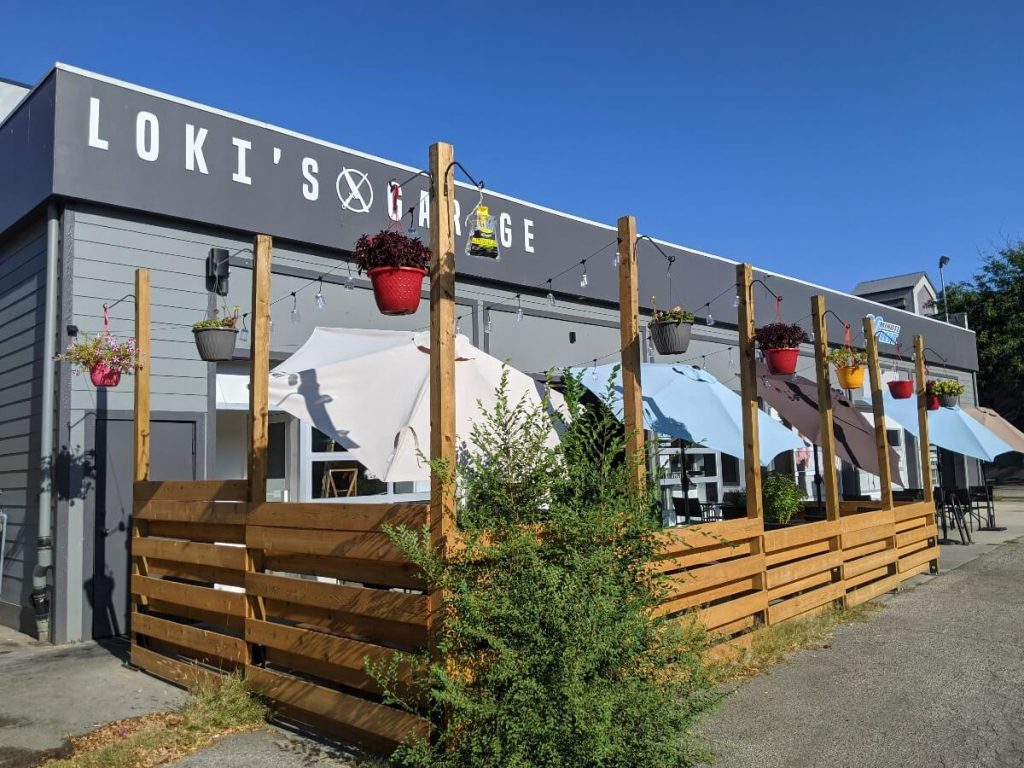 Loki's Garage
Known for: Elevated yet affordable made-from-scratch dishes (and the best Eggs Benny in town)
Outdoor dining: Street level patio with seven tables
Location: Downtown Penticton
Website: Loki's Garage
A number of new businesses have popped up in downtown Penticton over the last few years, with my top pick being Loki's Garage. The reason is simple – the food is AMAZING!
Burgers, sandwiches and salad form the core menu, with paella, fish and pasta added for dinner. All made with local ingredients (where possible) yet surprisingly affordable.
The standout, however, is brunch, with the best Eggs Benedict you'll find in Penticton. Perfect eggs, freshly baked bread and the crispiest potatoes on the side. If you eat meat, sub in house-cured pastrami or opt for the chicken and waffles (my new obsession).
A heads up about the location – while the address is on Front Street, you'll need to go behind it to find Loki's. The restaurant is opposite Tacos del Norte and next to 30 Minute Hit.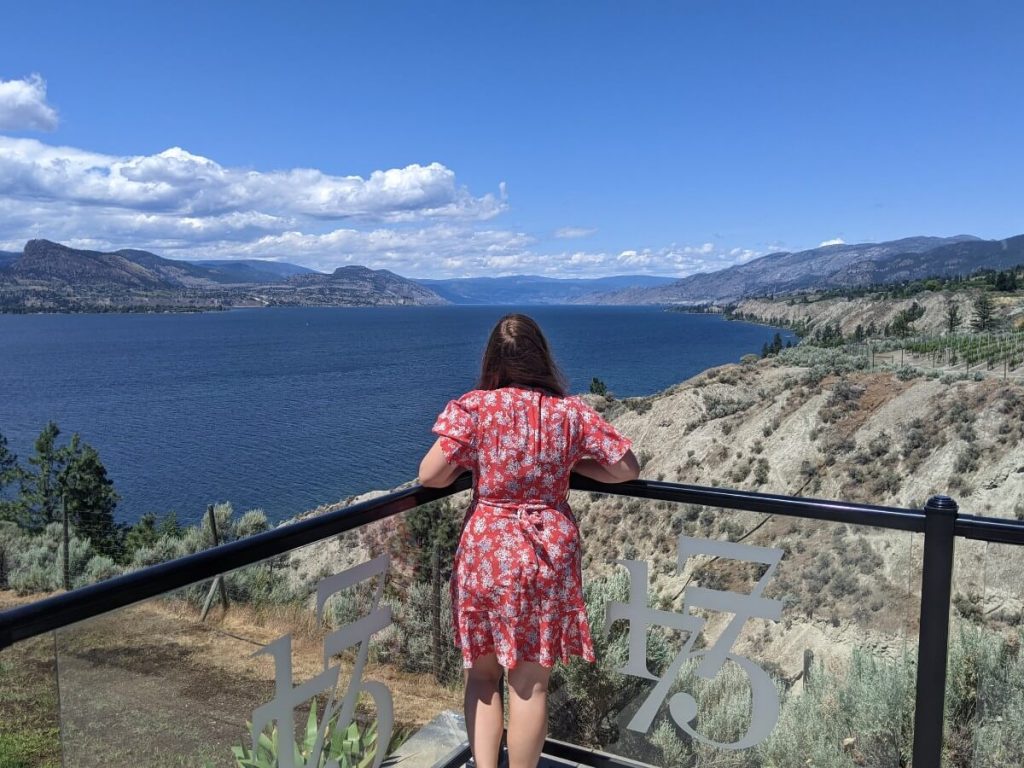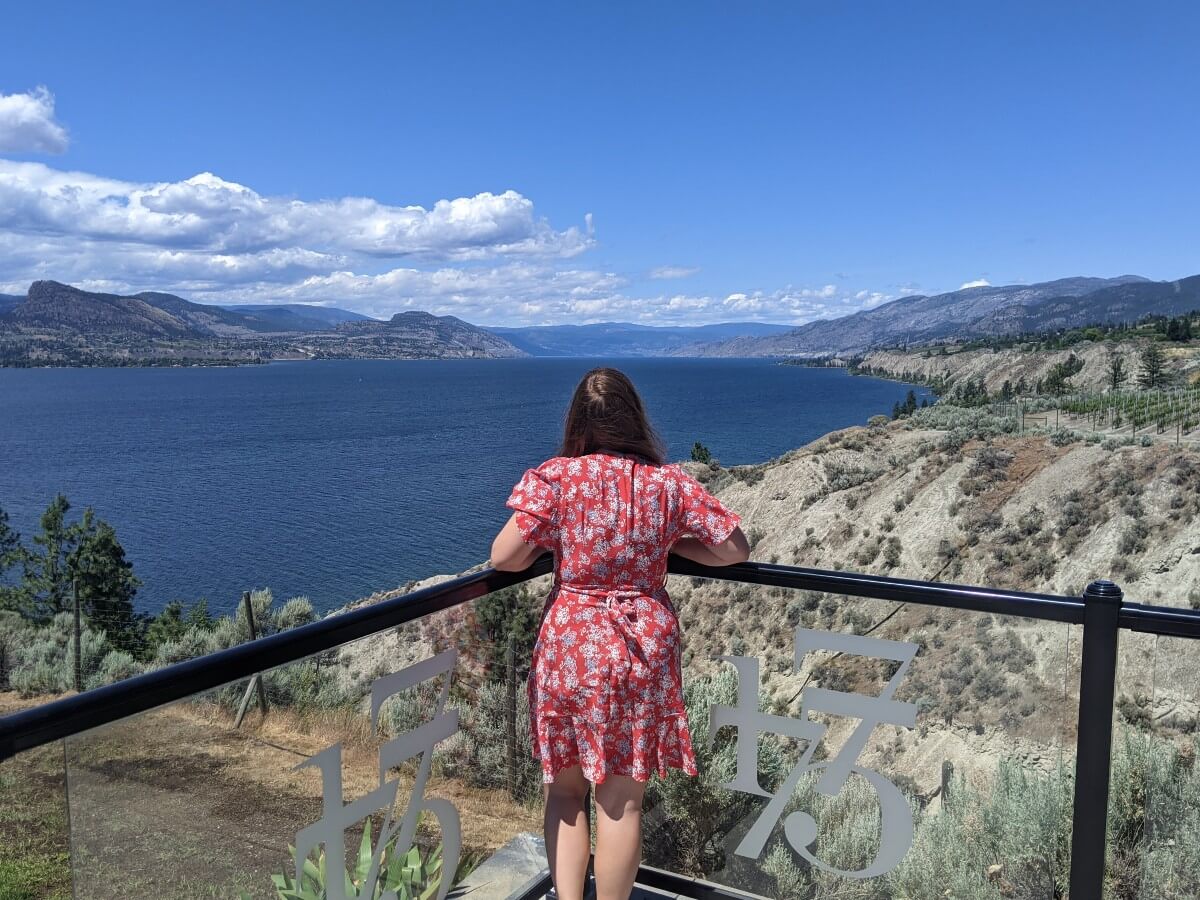 Bench 1775 Winery
Known for: Amazing views, 9 lot Sauvignon Blanc
Outdoor dining: Two level patio
Location: Naramata Bench, 10 minutes drive from downtown Penticton
Website: Bench 1775
Bench 1775 is a winery with a true show stopper of a patio. There are two levels of seating, each with gorgeous panoramas of Okanagan Lake.
Elevated above neighbouring vineyards, the views seem to stretch for miles. Some have called this patio one of the best in the entire world.
Usually, Bench 1775 operates a bistro on this breathtaking patio. Unfortunately, the bistro did not operate during 2020 or 2021. At the current time, it is, however, possible to enjoy a glass of wine and charcuterie on weekends.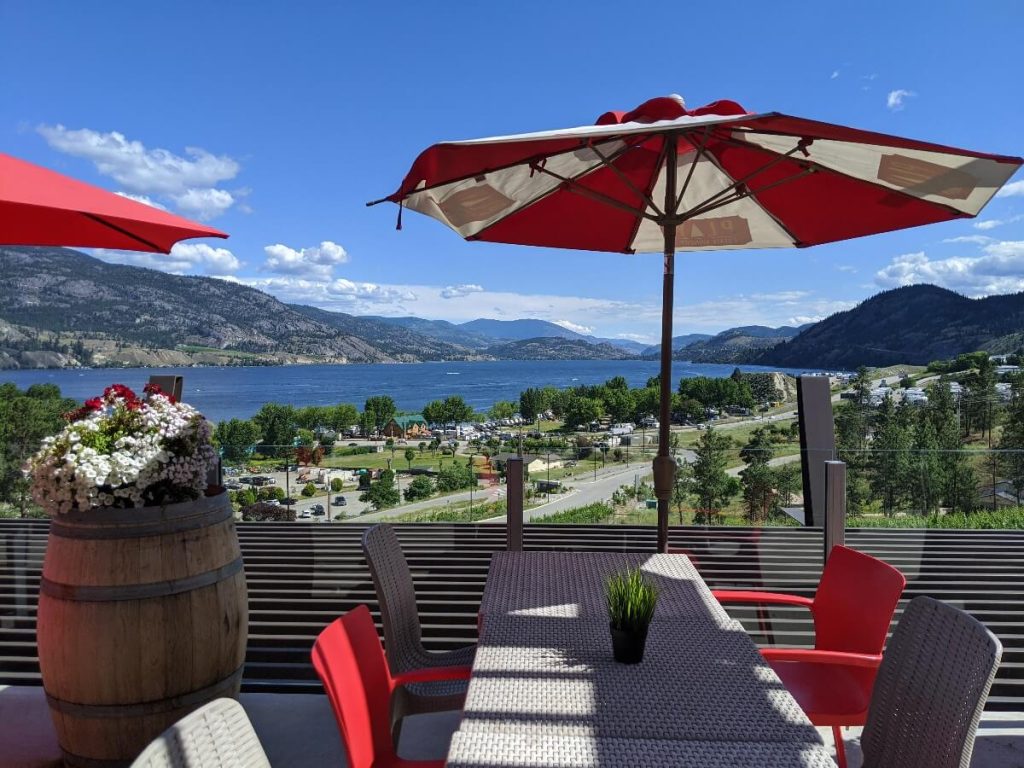 Sonetto at Play Estate Winery
Known for: Upscale food served with incredible views
Outdoor dining: Elevated patio
Location: Skaha Hills, close to the airport
Website: Play Estate Winery
Without a doubt, Play Winery has one of the most spectacular patio views anywhere in the Okanagan. If you are looking for wow factor, this is the place to go!
Located in the Skaha Hills development at the south end of town, Play features an elevated patio with a gorgeous, unobstructed views of Skaha Lake.
The food is elevated too, with the Italian menu firmly on the refined side. Reservations recommended.
Match Eatery & Public House
Known for: Happy hour!
Outdoor dining: Large rooftop patio
Location: In the Cascades Casino on Eckhardt Ave
Website: Match Eatery
Located within the Cascades Casino complex near the South Okanagan Events Centre (SOEC), Match may seem like an odd choice for this list of best Penticton patios. At least, that is until you spot the rooftop patio!
This casual yet stylish space opened in 2019 and usually would feature lawn games like bocce and Jenga. The vibe is best described as sports bar meets pub garden.
Match's menu is global, with Canadian classics (wings, ribs, nachos, poutine, burgers) alongside Asian fusion dishes (wontons and tuna bowls) and pizza. Don't miss out on Happy Hour, when bottles of wine (BC varieties included) are half price!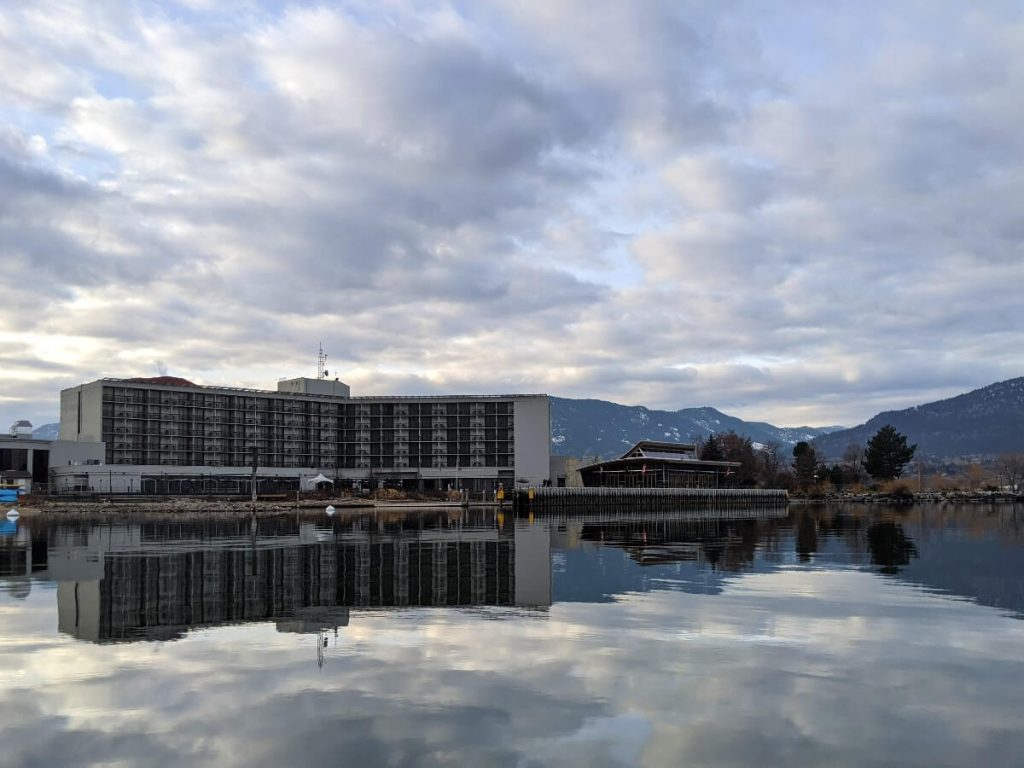 Hooded Merganser
Known for: Destination restaurant located on Okanagan Lake – literally
Outdoor dining: Large patio on top of lake
Location: Downtown Penticton
Website: Hooded Merganser
When I talk about the best Penticton patios, it would be a crime not to mention the one at Hooded Merganser. This upscale restaurant is situated right on Okanagan Lake, with seating on the wraparound patio only a few metres above the water!
The unimpeded views, as you may expect, are fantastic, especially at sunset. Facing north, this patio always faces away from the sun and hence never gets too warm, even in the hot summer months.
As for the menu, the Hooded Menganser specialises in farm to table cuisine (indeed, they have their own farm nearby). Think steaks, halibut, salmon, burgers, salads and more.
Barking Parrot Bar
Known for: Lakefront bar with stunning views and casual vibe
Outdoor dining: Large patio next to walking path
Location: Downtown Penticton
Website: Barking Parrot
The Barking Parrot Bar may not be located right on the lake itself (like its neighbour, the Hooded Merganser), it's pretty darn close! There are incredible views of Okanagan Lake from the large patio, which is bordered only by a narrow walkway and the Lakeside Resort.
Open until 10pm (later in summer), the Barking Parrot has long been a mainstay for late night dining and drinking in Penticton.
It's a relaxed and informal place, with a fun and approachable menu to match – tacos, nachos, burgers and pizza. Prices are super affordable too!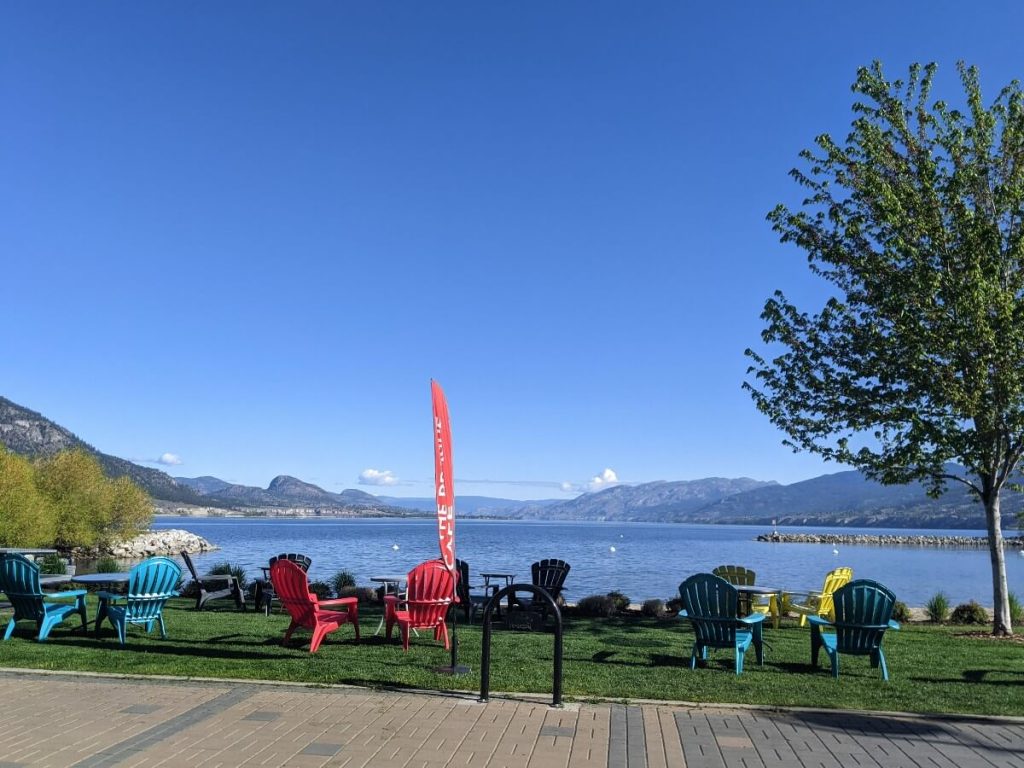 Prague Café
Known for: Peaceful location with spectacular views of Okanagan Lake
Outdoor dining: Grassy lakefront area plus park space
Location: Marina Way Beach, two minutes walk from downtown Penticton
Website: Prague Café
This understated spot has one of the most enviable locations in all of Penticton! Prague Café sits directly opposite gorgeous Marina Way Beach on Okanagan Lake.
While it could be argued that the whole of the beach and surrounding park is just one big patio, Prague Café does set up a collection of Adirondack chairs on the grassy strip just above the sandy beach. It's the perfect spot to look out to the lake and enjoy a coffee and a sweet treat.
Prague Cafe's specialty is fresh, homemade European pastries, with apple strudel being something of a favourite (well, at least for me!) The menu also includes European style breakfast and lunch options featuring sandwiches, soup and cake.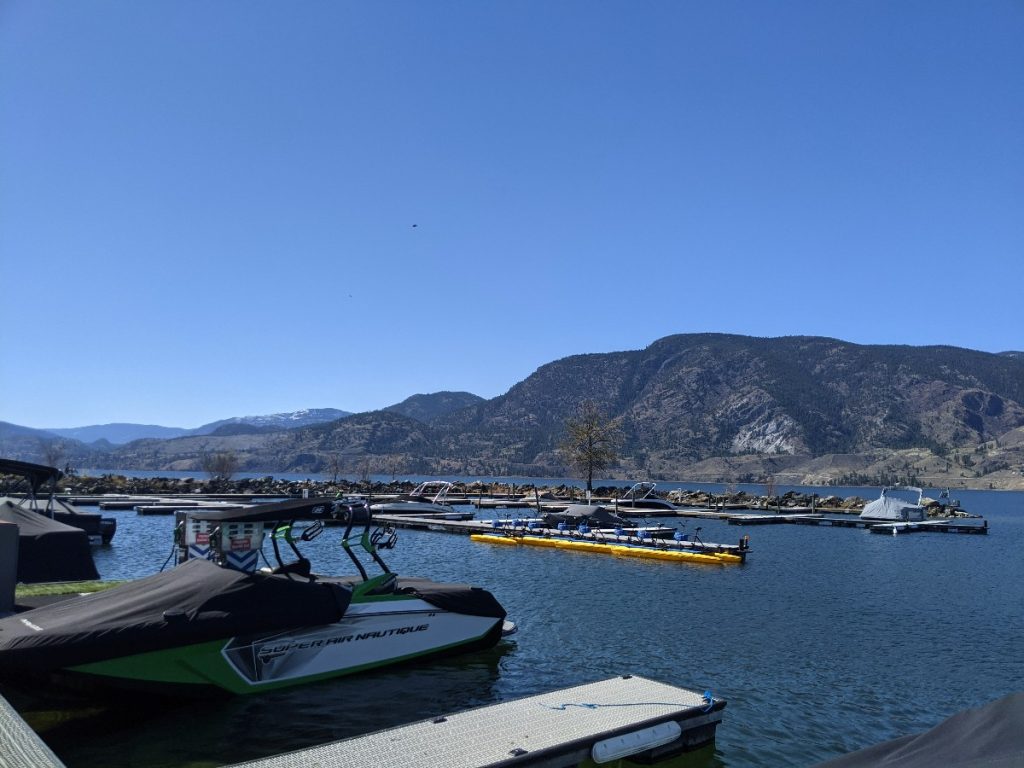 Nautical Dog Café
Known for: Lakeside location
Outdoor dining: Spacious patio
Location: Skaha Marina
Website: Nautical Dog Facebook page
The Nautical Dog Café is the perfect destination for breakfast, lunch or a sweet treat after a walk on beautiful Skaha Beach. Located at the marina, the Nautical Dog Café has a lovely patio looking right out onto Skaha Lake itself.
The menu at the Nautical Dog is as tasty as it is extensive. As well as freshly made Eggs Benedicts, soups and sandwiches, there's a HUGE choice of baked goods like scones, brownies, bars, squares, cheesecakes and more (and I'm talking multiple varieties of each!)
Better still, absolutely everything on the menu is made from scratch. Not only does this say a lot about the quality of the dishes, but it also means that the Nautical Dog is a great place to go if you have any dietary restrictions.
Kitchen hours are 9am-2pm, with the café closing at 4pm. Don't be late!
Even more Penticton patios
It was really difficult to narrow down my favourite Penticton patio restaurants to the ten mentioned above.
For that reason, I also wanted to list every single patio restaurant in Penticton. Let's help support these local businesses* as much as possible!
*I have chosen to include a couple of chain restaurants too, as these also employ local people.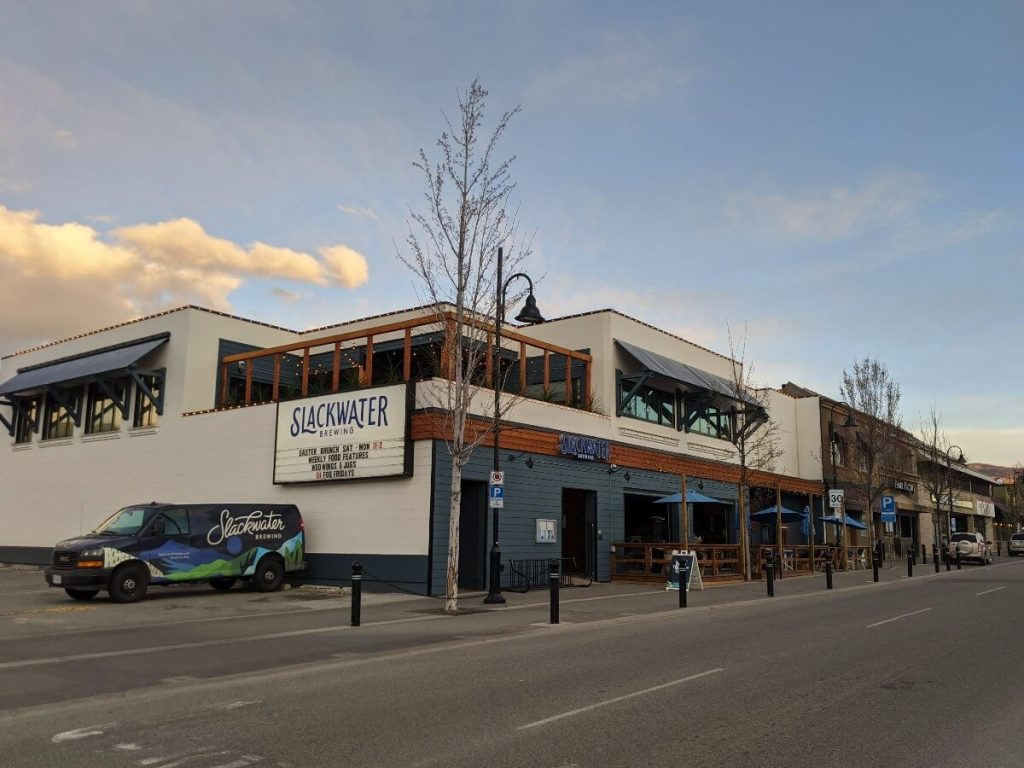 The patio restaurants below are ordered by location to make them easier to find. I've also included a quick summary to help you decide which will satisfy your cravings best.
The operating status of each restaurant as noted below is based on my personal research at the time of writing.
If you know any Penticton patio restaurants that should be on this list, please let me know in the comments below!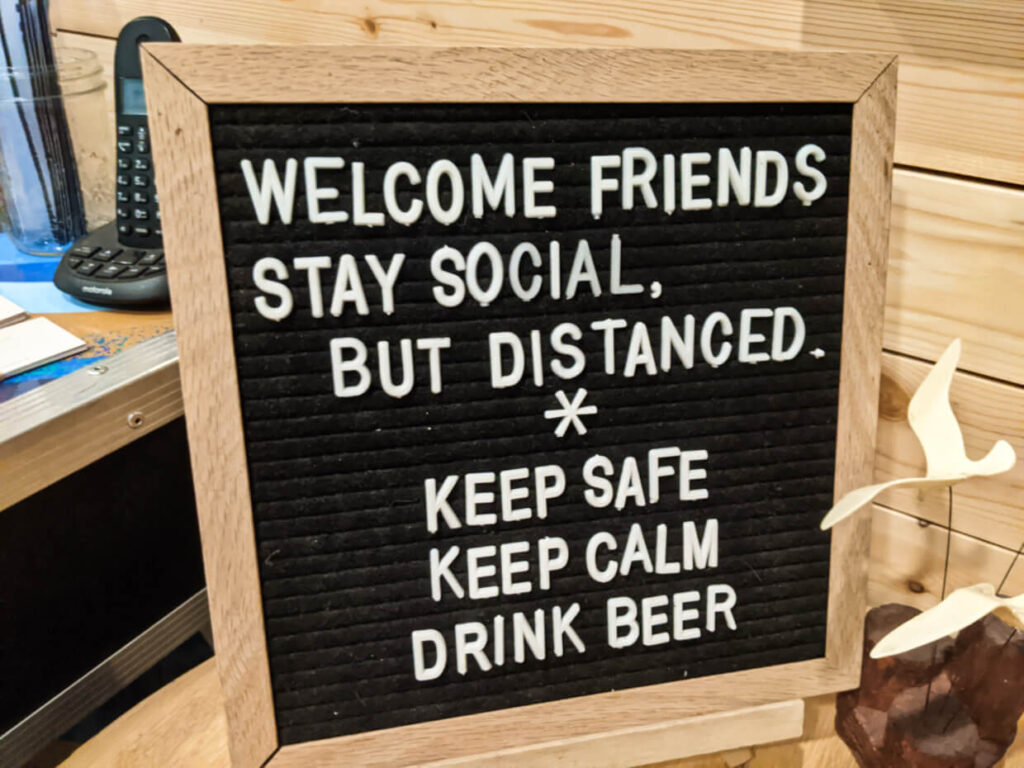 Downtown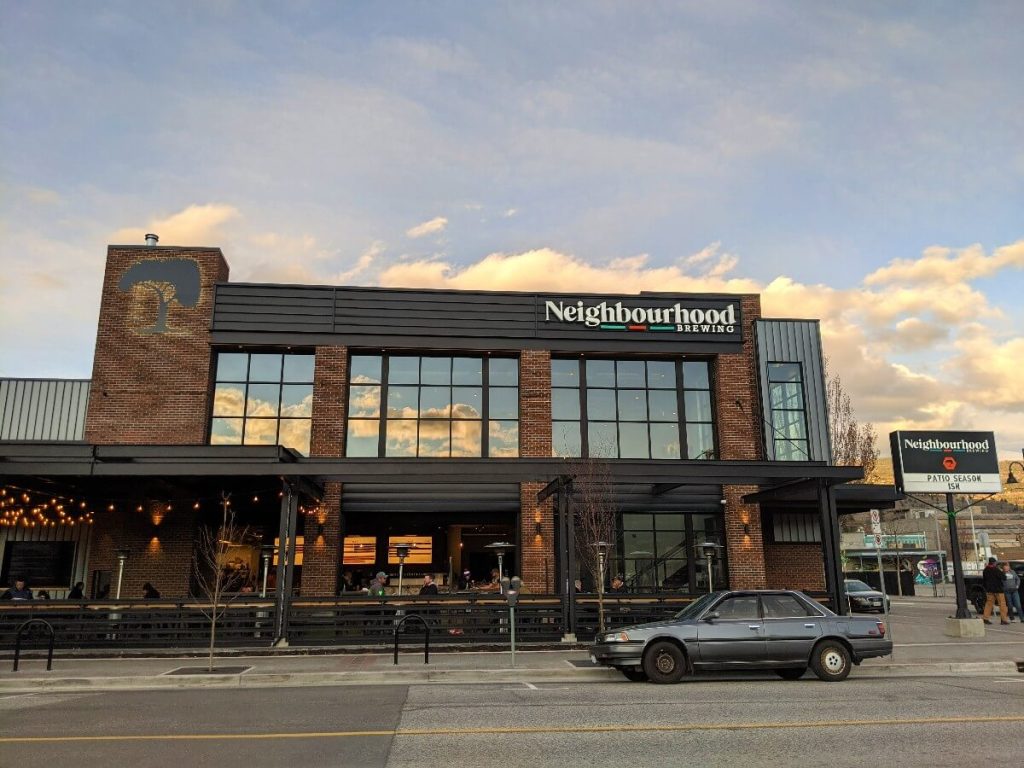 Waterfront
Beyond downtown
Villa Rosa Ristorante – covered patio, Italian
Cleopatra Café – small patio, Middle East/Mediterranean
Tootsie's Diner – small patio, Canadian breakfast and lunch
Bogner's – modern Canadian/European
La Casa Ouzeria – streetside patio, Greek
Barley Mill Brewpub – streetside patio, Canadian pub food
The Station Public House – partially covered patio, Canadian pub style
Shades on Main – patio, Canadian breakfast, lunch + dinner
Boston Pizza – sheltered patio, pizza , pasta and more
Earls Kitchen + Bar – sheltered patio, Canadian
The Bench Market – small streetside patio, coffee and breakfast/lunch
The Nest – heated patio, locally sourced modern Canadian brunch/dinner
Hillside Winery – partially sheltered patio, Modern Canadian
The Kitchen at Da Silva Winery – covered patio with a view, Mexican/Portugese tapas

Looking for the best accommodation in Penticton?
Discover Penticton