Looking for fun things to do on the Naramata Bench? We've got you covered!
This article features more than two dozen ideas and suggestions, spanning the entire Naramata Bench area from Lower Bench Road all the way to Indian Rock and Chute Lake.
There's a little something for everyone, from beaches, parks, viewpoints and hiking trails to wineries, restaurants, picnic locations and more!
We have tried and tested almost all of these activities to create the most helpful guide to things to do on the Naramata Bench. Please note that some of the suggestions are weather and season dependent.
Use the map below to reference activity locations and help build your perfect Naramata Bench trip itinerary.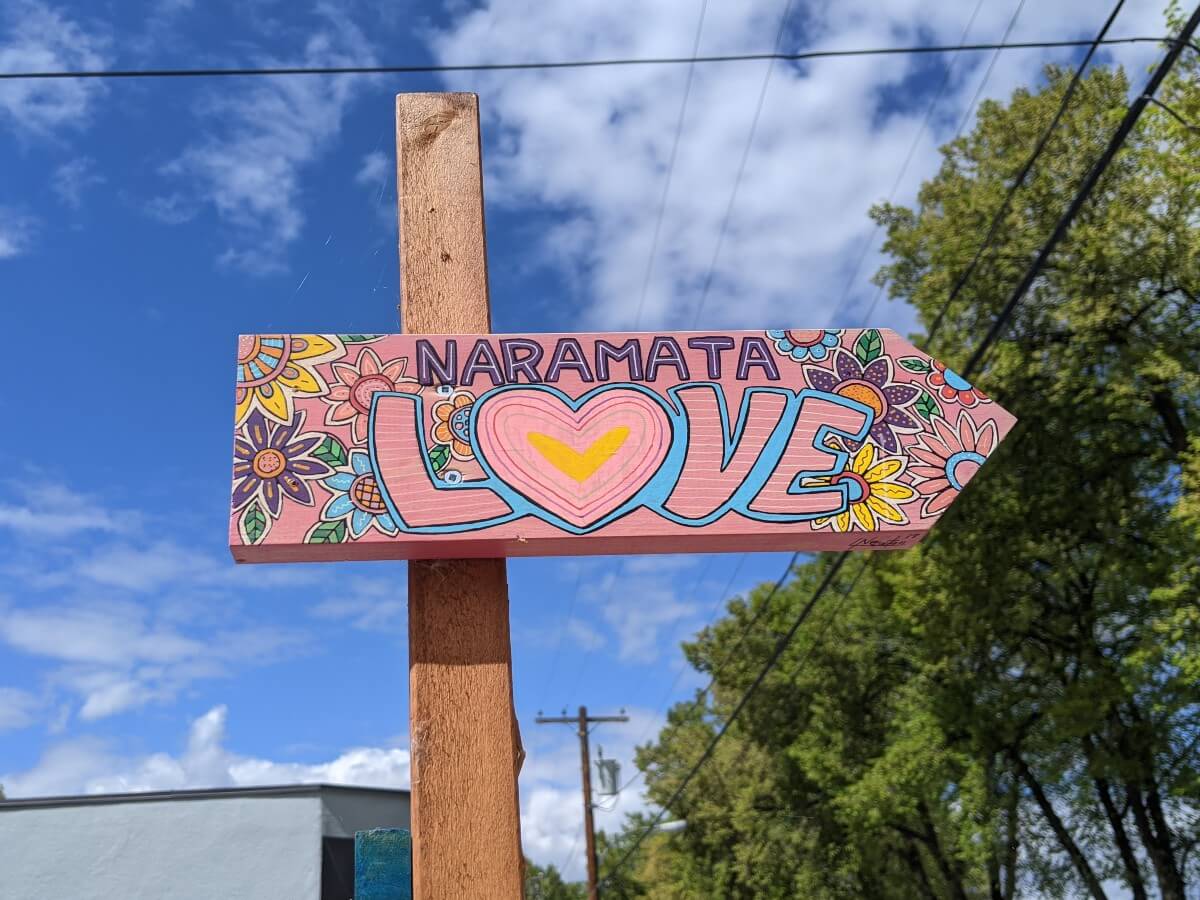 The Best Things to Do on the Naramata Bench
I'm going to start with seven 'signature' Naramata Bench experiences. These are the activities we recommend to friends and family looking to experience the very best of this beautiful. Without any further delay, here are our picks for the best things to do on the Naramata Bench!
Tour some of the 40+ local wineries
The Naramata Bench is best known for its impressive collection of boutique wineries. Most of the wineries (which number 42 at our last count!) are located within a 12km section of the Bench, offering an incredible concentration of vineyards and tasting rooms like nowhere else in the world!
Not only does this make it easy to visit a number of winery tasting rooms in the same afternoon, but it also means that it is possible to wine tour by foot or bike, as well as by car or tour bus.
This beautiful wine region is truly unique and visiting a tasting room or two is definitely one of the best things to do on the Naramata Bench!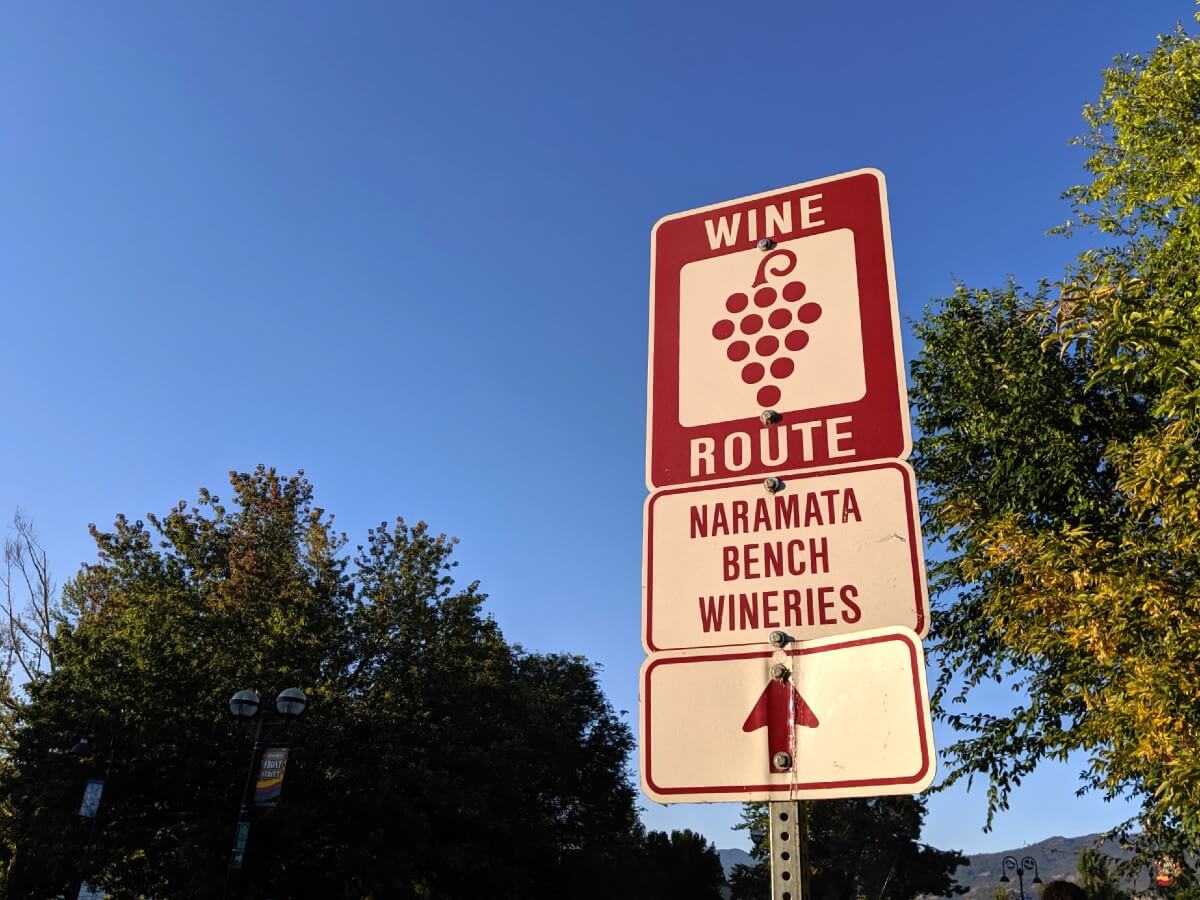 Cycle the Kettle Valley Railway Trail
The Kettle Valley Railway Trail is a multi-use path which travels almost 500km between Midway to Hope. Built in in 1915 and then abandoned in the 1980's, the KVR once transported both goods (fruit, ore) and people. Part of the middle section snakes right through the Naramata Bench and is exceptionally popular with hikers and cyclists.
One of the biggest draws is the easy grade, which is less than 2.2% the whole way. Cycling south, the majority of the route is also downhill! There are many wineries located just off the KVR, too, so it's possible to fit in a tasting room or two during your bike ride.
There are too many access points to name here, but a popular one is the large parking lot at the corner of Naramata Road and Popular Grove Road.
Looking for full day of adventure on the KVR? Consider taking a 1.5 hour long shuttle to Myra Canyon in Kelowna. From here, you can peddle 80km back to Penticton (or Naramata) via 18 trestle bridges and several tunnels. Another option is to take a shuttle to Chute Lake Lodge and cycle back to Naramata (25km).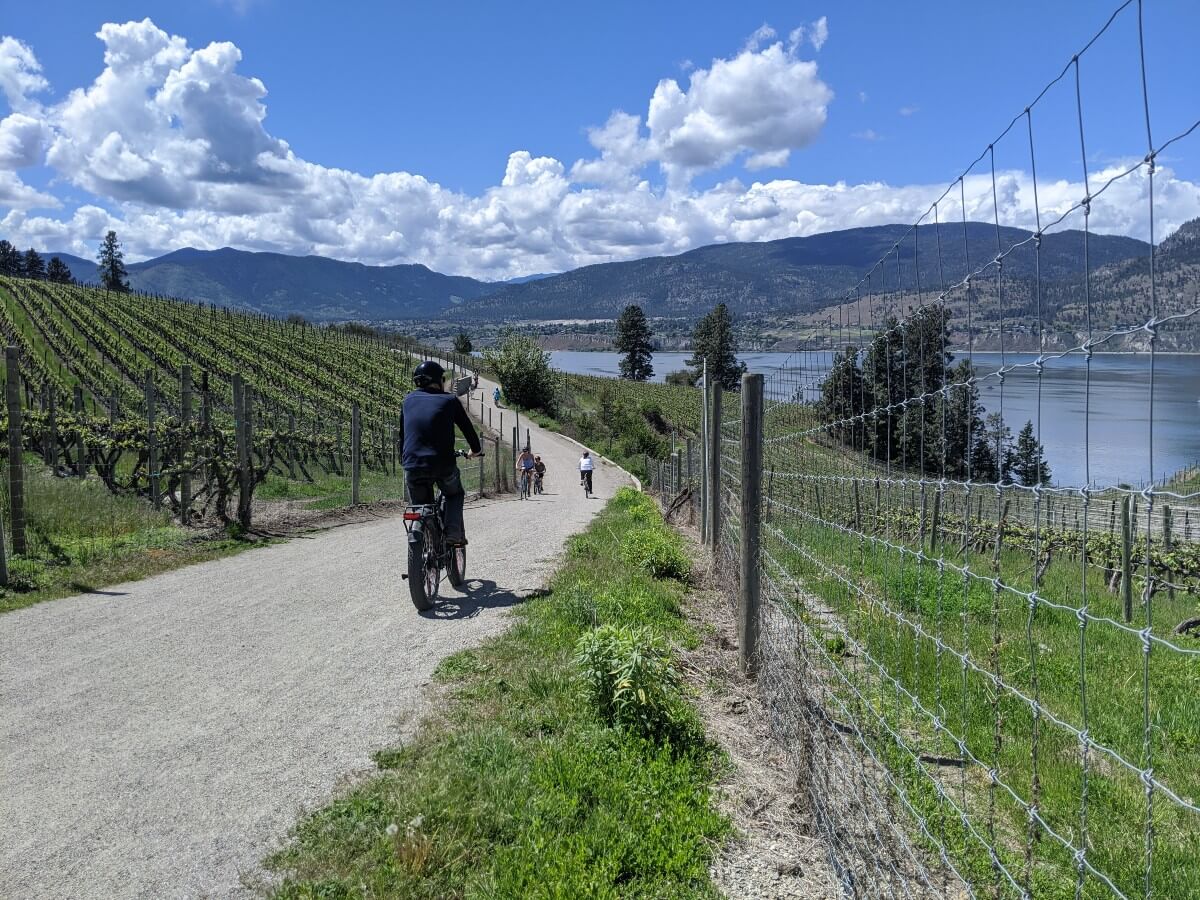 Check out the amazing views at Munson Mountain
Home of the iconic Penticton sign, Munson Mountain offers some of the most spectacular panoramas in the entire Okanagan Valley! And yet it's completely free to visit and also remarkably easy to access.
The Munson Mountain parking lot is a very short, one minute detour from Naramata Road and from there, it's just a three minute walk (170m) along the a flat, paved path to the first viewpoint. The stunning vistas of Okanagan Lake and Penticton are accompanied by a shelter and benches (wildflowers too, if you time it right!)
The path then turns away from the city, becomes gravel and starts to slowly climb uphill. A short, steep section leads to a plateau above the Penticton sign, where there are 360 degrees views of the Naramata Bench. This last part has some loose gravel and can be a bit slippery on the way down – I would not recommend flip flops.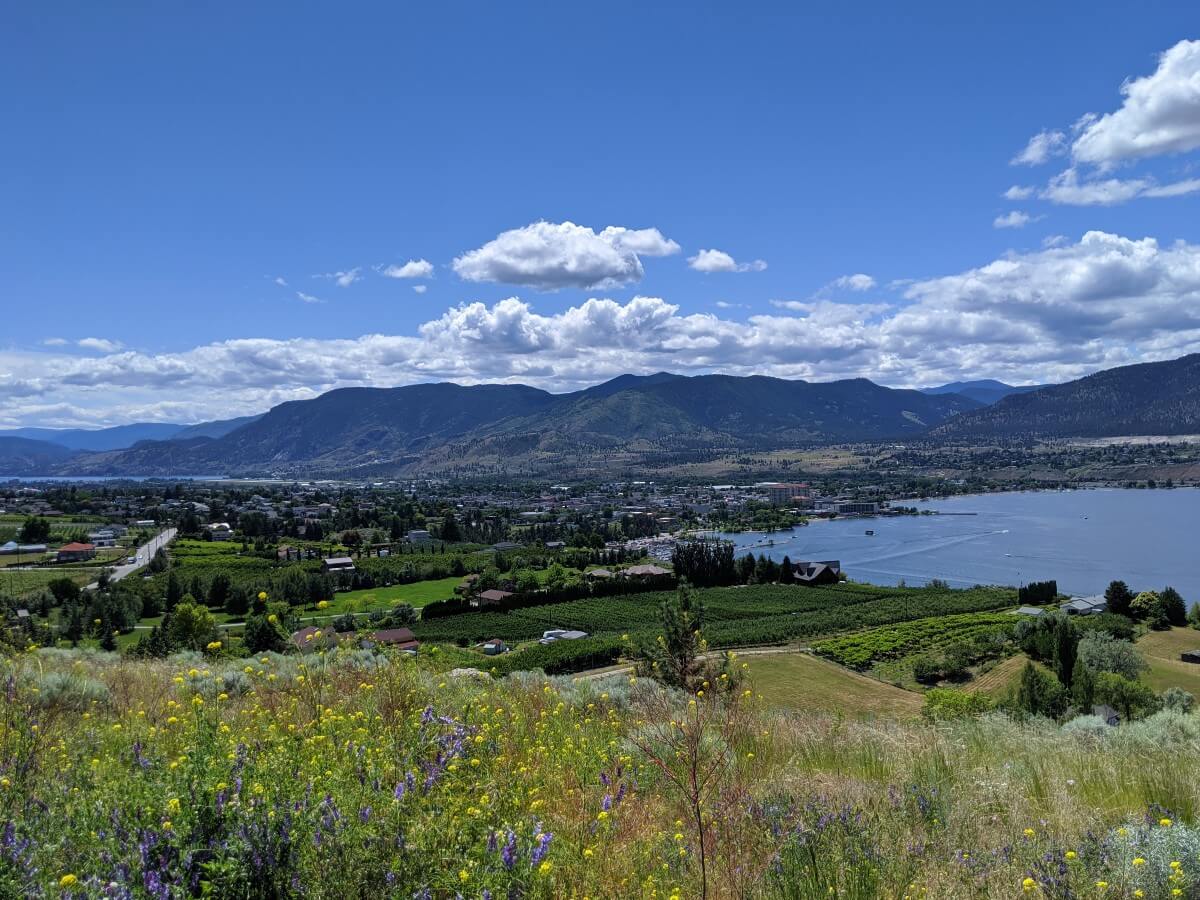 Kayak or SUP Okanagan Lake
See the Naramata Bench from a different perspective – from Okanagan Lake!
This magnificent water body is 135km and stretches all the way north to the city of Vernon. It's an absolutely stunning place to paddle, with pretty beaches and towering cliffs to be found along the shoreline.
It's also possible to view fascinating hoodoos, which are tall thin intricate spires of rock created by erosion. There are some just beyond the Indian Rock community, located north of Naramata.
If you don't have your own boat or paddleboard, take a trip to Sun N' Sup in Naramata. Located within walking distance to Manitou and Wharf Park, they rent kayaks as well as stand up paddleboards. Other local launch sites include Three Mile Beach and Indian Rock.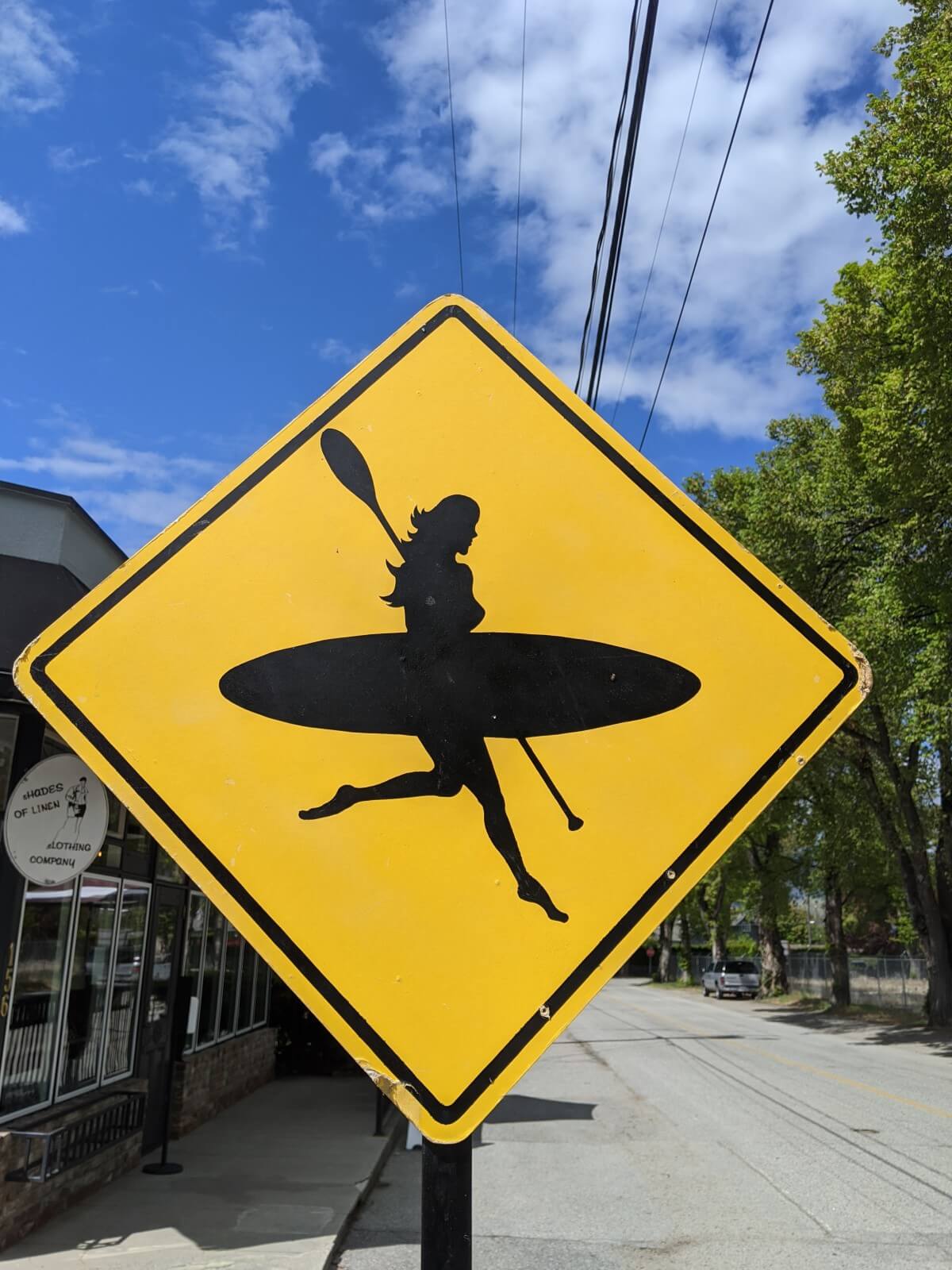 Hike to the Little Tunnel on the Kettle Valley Railway Trail
If you only time for one hike while visiting Naramata, make it this one! This super flat 4.4km trail leads to the rugged Little Tunnel, which was blasted out of the mountainside for the now defunct Kettle Valley Railway.
The views from here are spectacular, looking down across the vineyards of the Naramata Bench and sparkling Okanagan Lake.
With the trail surface being so flat, this hike is actually more of a walk. It's suitable for bikes, strollers and even wheelchairs. It is, however, on the longer side at 8.8km return (about 2.5 hours at a relaxed pace).
There's an outhouse in the parking lot and another outhouse at the 2km mark. There's also a few benches along the way and a picnic table at the Tunnel.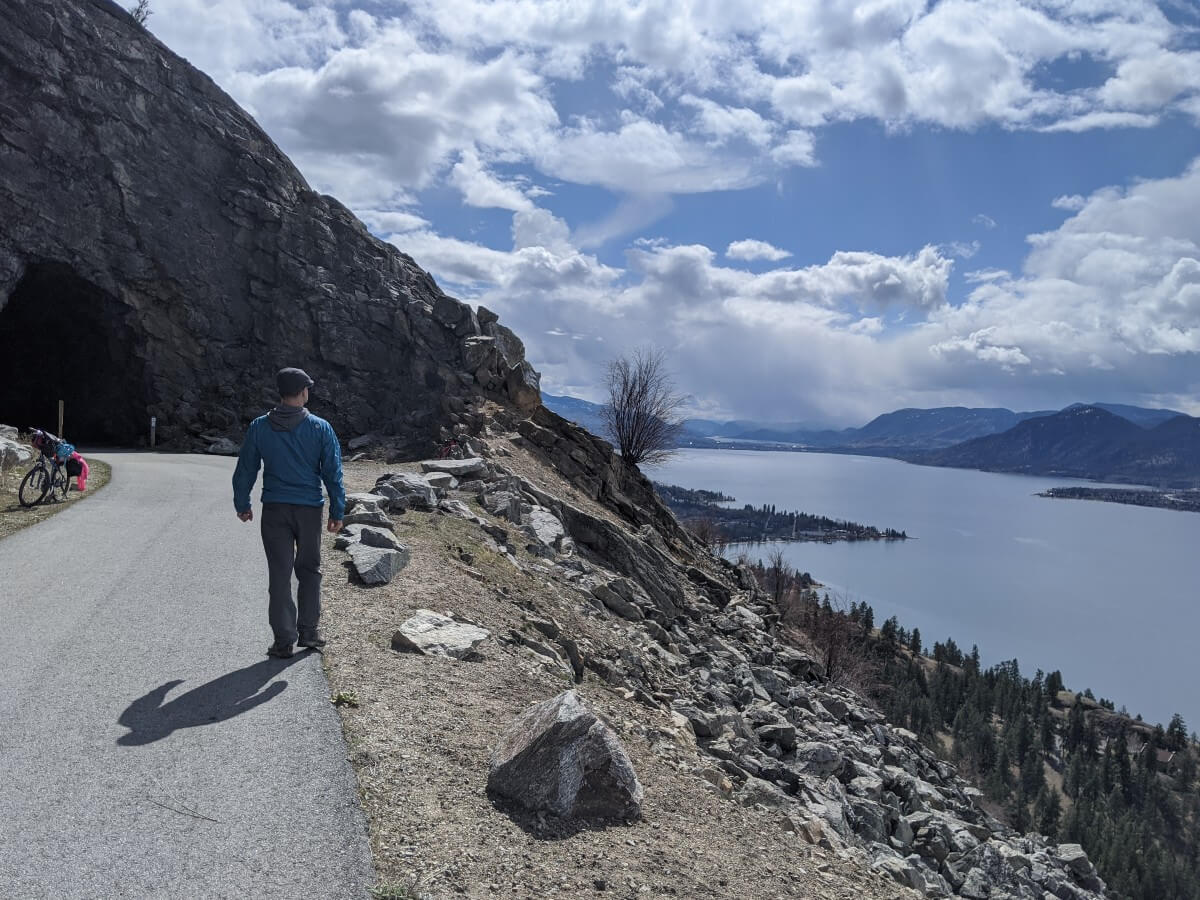 Chill out at Manitou Park
Manitou Park is the perfect place to relax and rest easy after a busy afternoon wine touring, hiking or biking on the Naramata Bench. It's also the ideal destination for a lazy beach day, with the highlight being a long stretch of white sand. There's also a floating dock, beach slide and a scattering of trees for shade.
Behind the beach is a large grassy area, with a baseball diamond, volleyball court and two playgrounds. Other facilities include a washroom building with change rooms and plenty of picnic tables.
If you get hungry, Real Things Pizza (also mentioned below) delivers right to the beach!
To get to Manitou Park, drive first to Naramata proper and then take a left on 4th Street. This will lead you directly to the park. Alternatively, it's only a short walk (5 minutes) or cycle (2 minutes) from Naramata.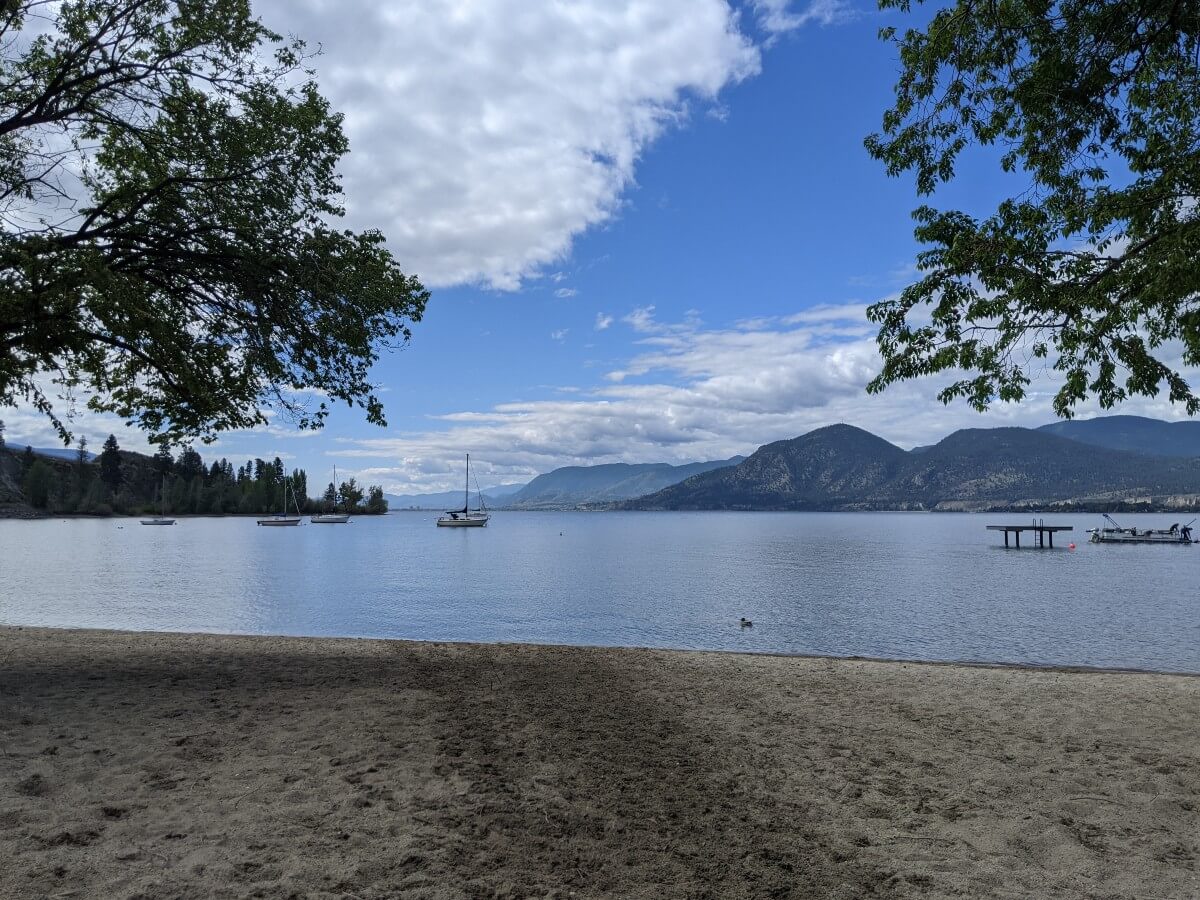 Hike to Naramata Creek Falls
Naramata Creek Falls is series of beautiful cascades set into deep canyon. It's accessible via a short (1.25km) path that follows the creek all the way from the parking lot. The final approach involves two short water crossings, using rocks and logs to keep feet dry.
With the cooling spray from the waterfall and mostly shaded trail, Naramata Creek Falls is an ideal hike for a hot day.
The waterfall is usually at its best in late April and May, when the snow is melting quickly in the mountains above.
At this time of the year, however, it is not possible to cross the creek without getting wet (expect knee-high water). There is a bypass route, which is both steep and narrow, with significant drop-offs in several areas.
Naramata Creek Falls is found in 'Creek Park,' very close to the main Robinson Avenue/Naramata Road junction.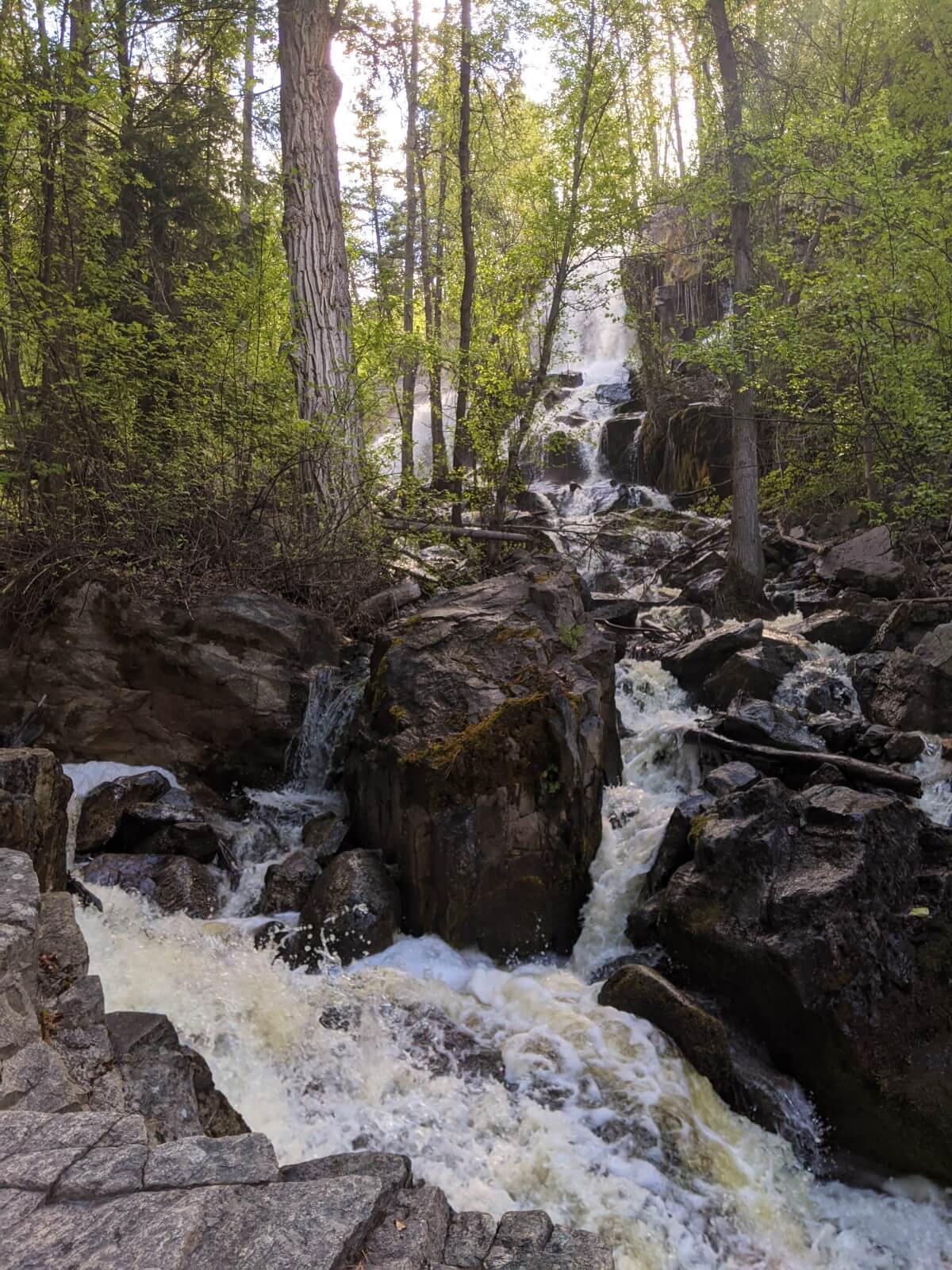 Outdoor adventure on the Naramata Bench
If you love the outdoors, you'll love the Naramata Bench! Here are nine more ways to enjoy nature while visiting the Naramata Bench.
Hike or bike Three Blind Mice
Three Blind Mice is one of the most popular mountain biking destinations in the entire Okanagan Valley. There are over 80 different trails here and numerous access points. The main parking lot is situated at the corner of Naramata Road and Poplar Grove Road.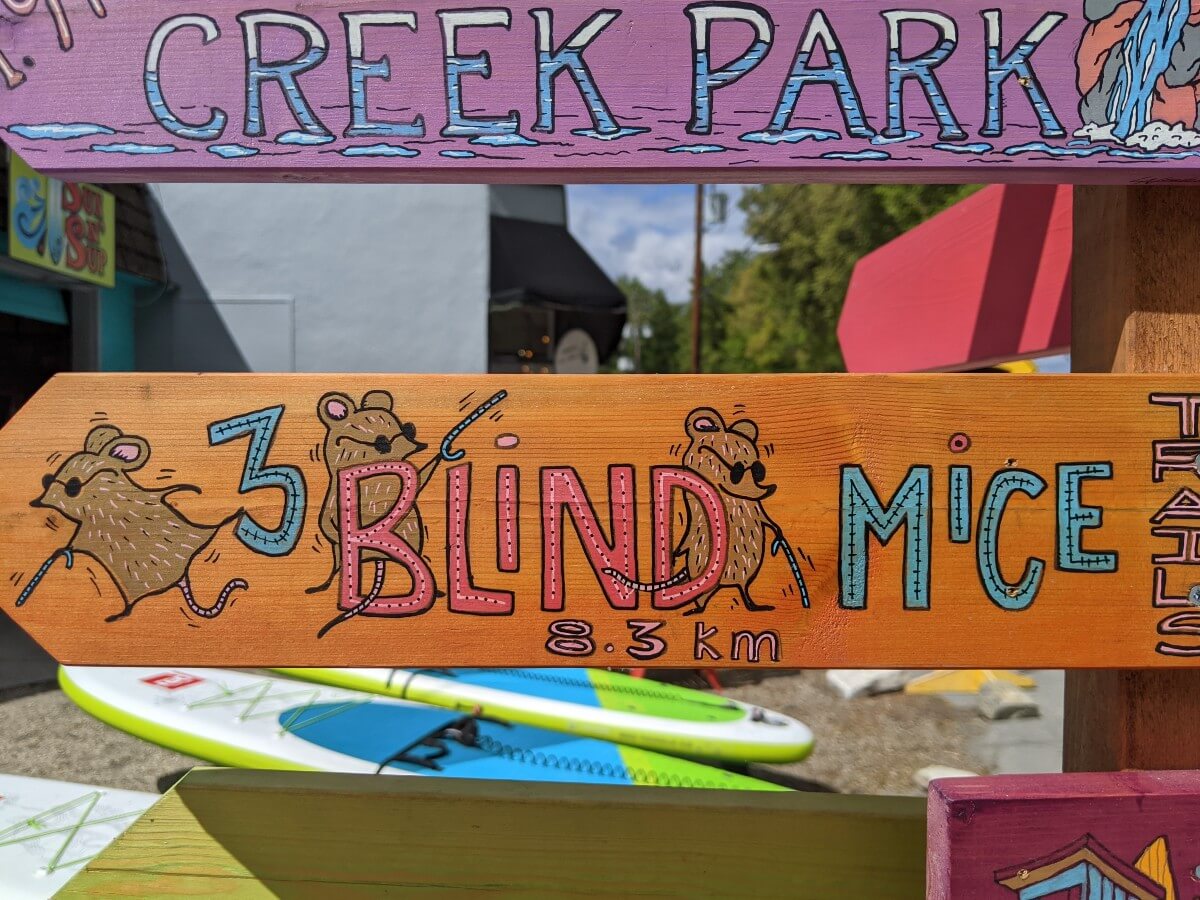 Climb at Naramata Creek
Penticton may have Skaha Bluffs (one of Canada's best climbing areas) but Naramata has a climbing area of its own. Developed by local climbers, Naramata Creek provides a quieter alternative to Skaha on busy spring and fall weekends.
Go canoe camping in Okanagan Mountain Provincial Park
The Naramata Bench is bordered to the north by Okanagan Mountain Provincial Park, one of the largest provincial parks in BC's interior region. There are seven marine campgrounds located along the park's 33km long undeveloped shoreline, all offered on a first come, first serve system.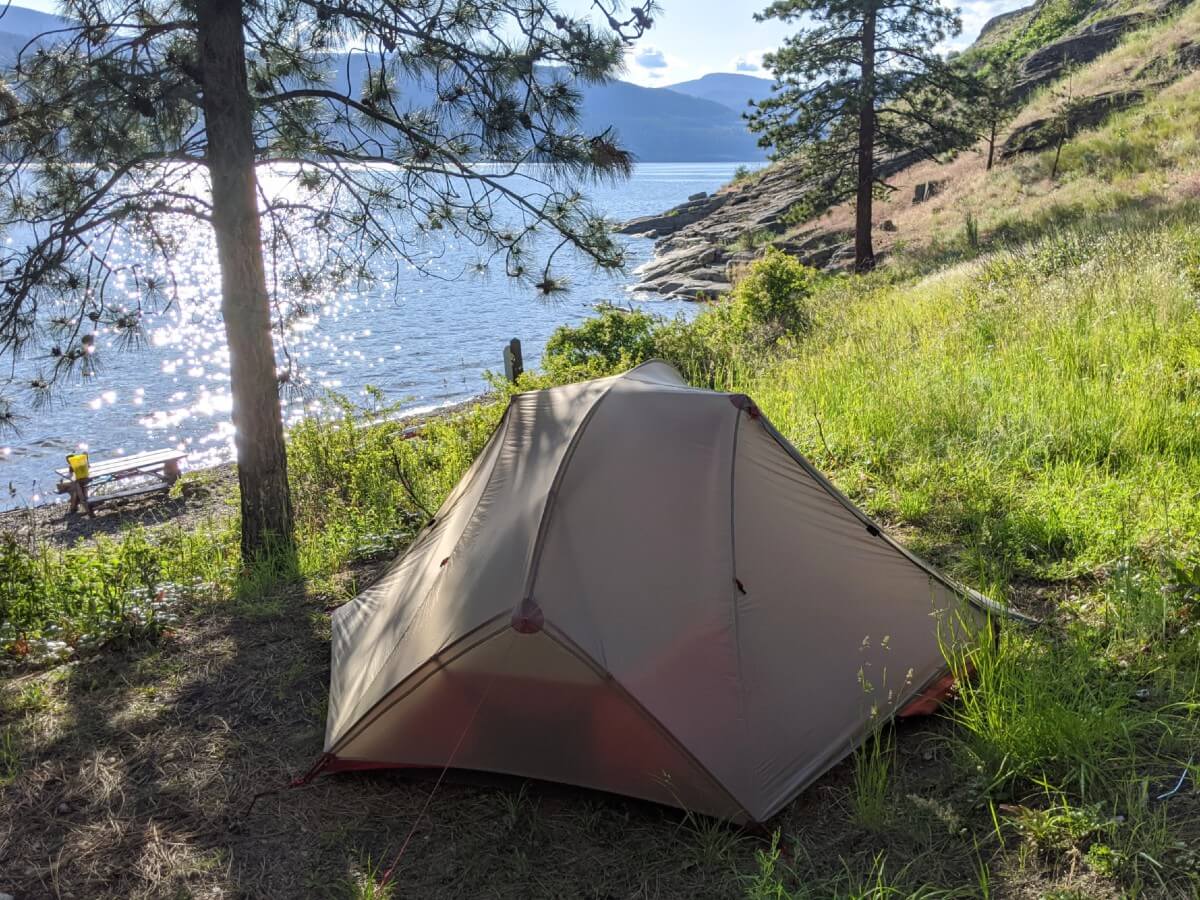 Hike or bike Campbell Mountain
The closest peak to downtown Penticton, Campbell Mountain is host to dozens of trails suitable for both hiking and mountain biking. Views abound from the summit (844m) and on the 'Meat and Potatoes' traverse trail. The main parking lot is located on the corner of Greyback Mountain Road and Spiller Road.
Visit the McCulloch Trestle on the KVR Trail
Named after the Kettle Valley Railway's chief engineer, the McCulloch Trestle is another highlight of this section of the KVR Trail. This wooden bridge offers wonderful views of Okanagan Lake as well as surrounding vineyards and orchards. It is a 2.6km round trip walk from the Poplar Grove/Naramata Road parking lot or 5km return from Vancouver Place (Penticton).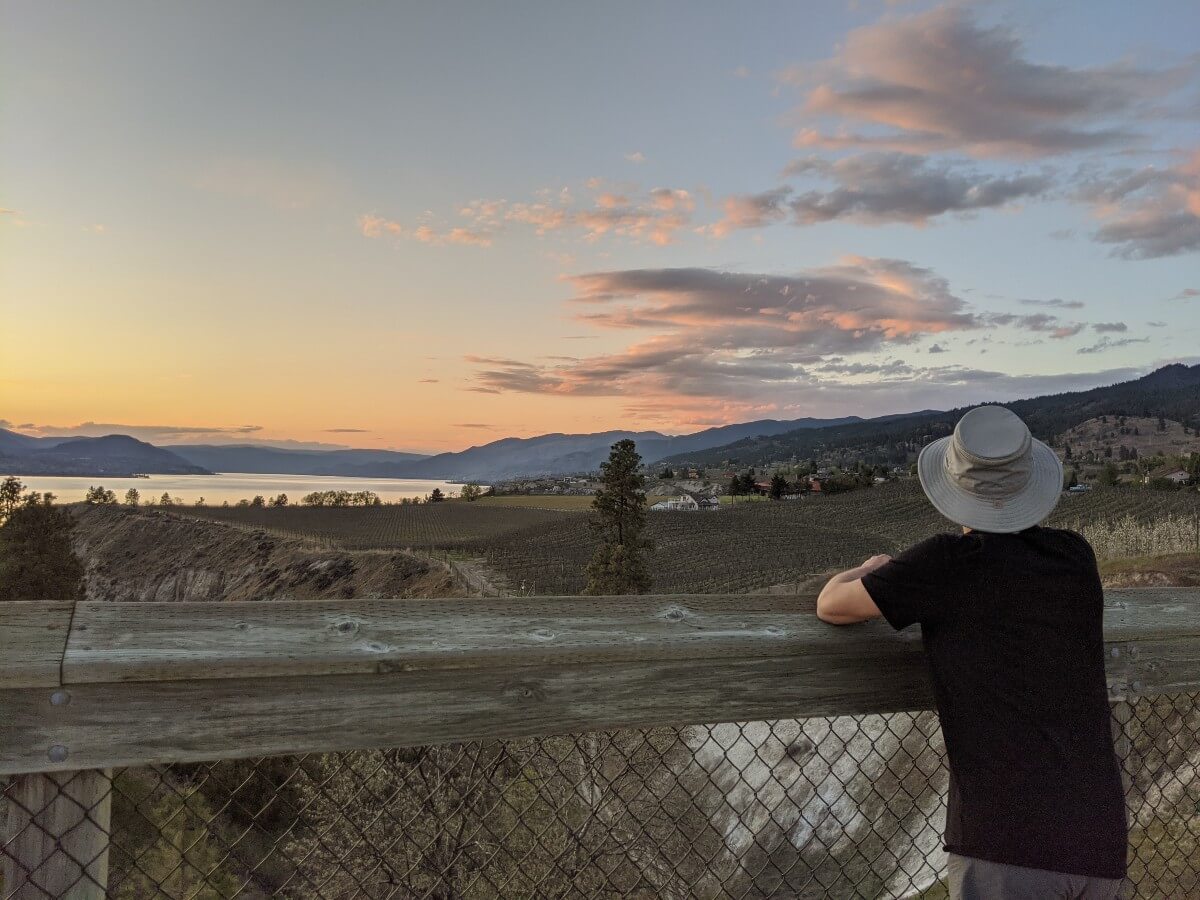 Hike to Rock Oven Regional Park
Rock Oven Regional Park features thirteen dome shaped rock ovens, built and used by Kettle Valley Railway construction workers to bake bread. To access the park, hike towards the Little Tunnel and then take the signposted detour at the 4km mark.
Ride the Poplar Grove Cycling Pump Track
Want to build up your riding skills and confidence before heading to Three Blind Mice? Check out the Poplar Grove Cycling Pump Track. A pump track is basically a circuit featuring banked turns and small hills, designed to be ridden by momentum ('pumping') rather than pedal power. This pump track is very popular with young families.
Hike to the highest point in Okanagan Mountain Park
Looking for a challenging all day hike? The Mountain Goat Trail traverses the rugged landscape of Okanagan Mountain Provincial Park, offering superb views on the way to Divide Lake and the Okanagan Mountain summit (1576m). The hike is 10km return, with 550m total elevation gain. Camping is available at Divide Lake.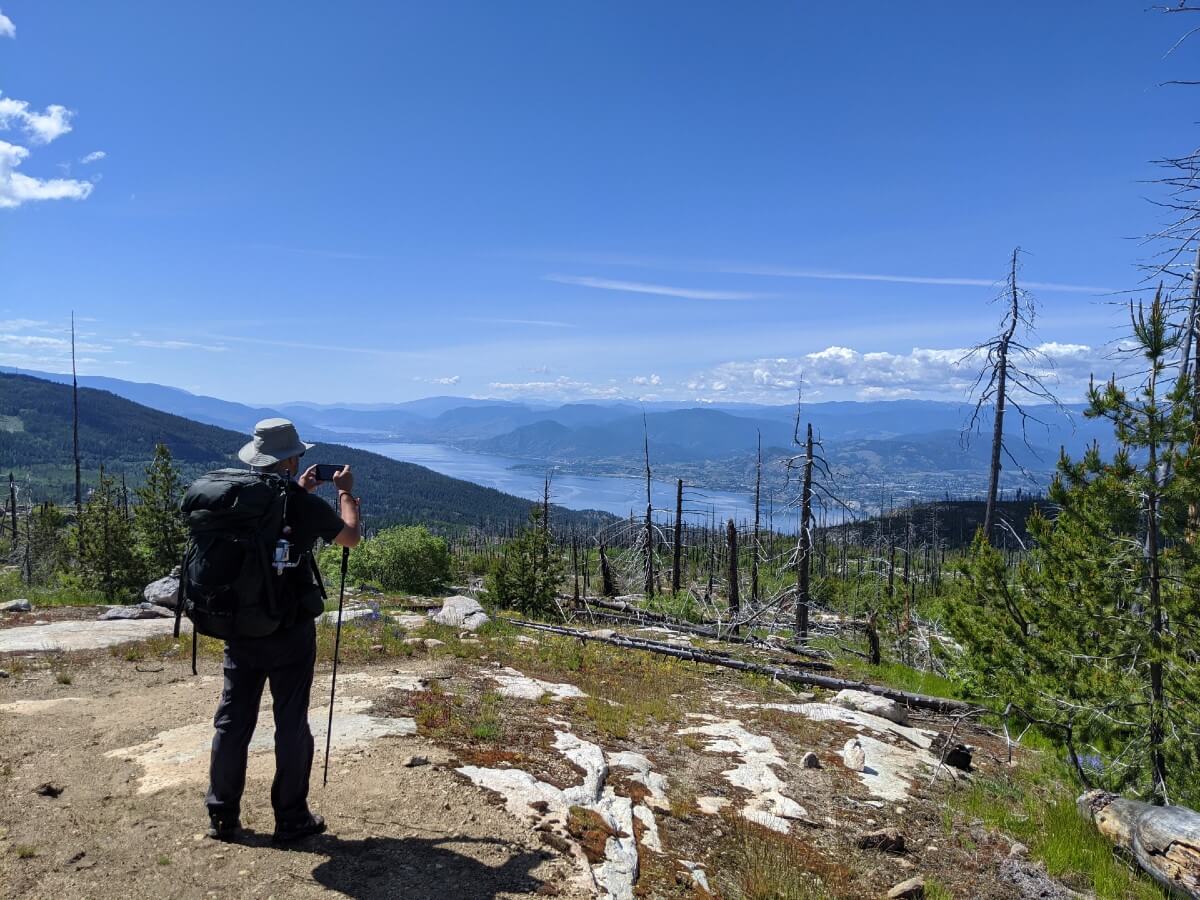 Visit the Adra Tunnel on the KVR
The 490m Adra Tunnel was the longest on the KVR. Rock collapse means that it is only posible to walk 100m of the tunnel, but it's still impressive to visit (bring a headlamp). To get there, plan for 24km round trip cycle from the Little Tunnel. Hikers can reach the Adra Tunnel via Rock Oven Regional Park (extra 5km return).
Local food and drink
The Naramata Bench may be best known for wine but the food and drink scene certainly doesn't stop there! Here are nine fun foodie activities to try while visiting the Naramata Bench.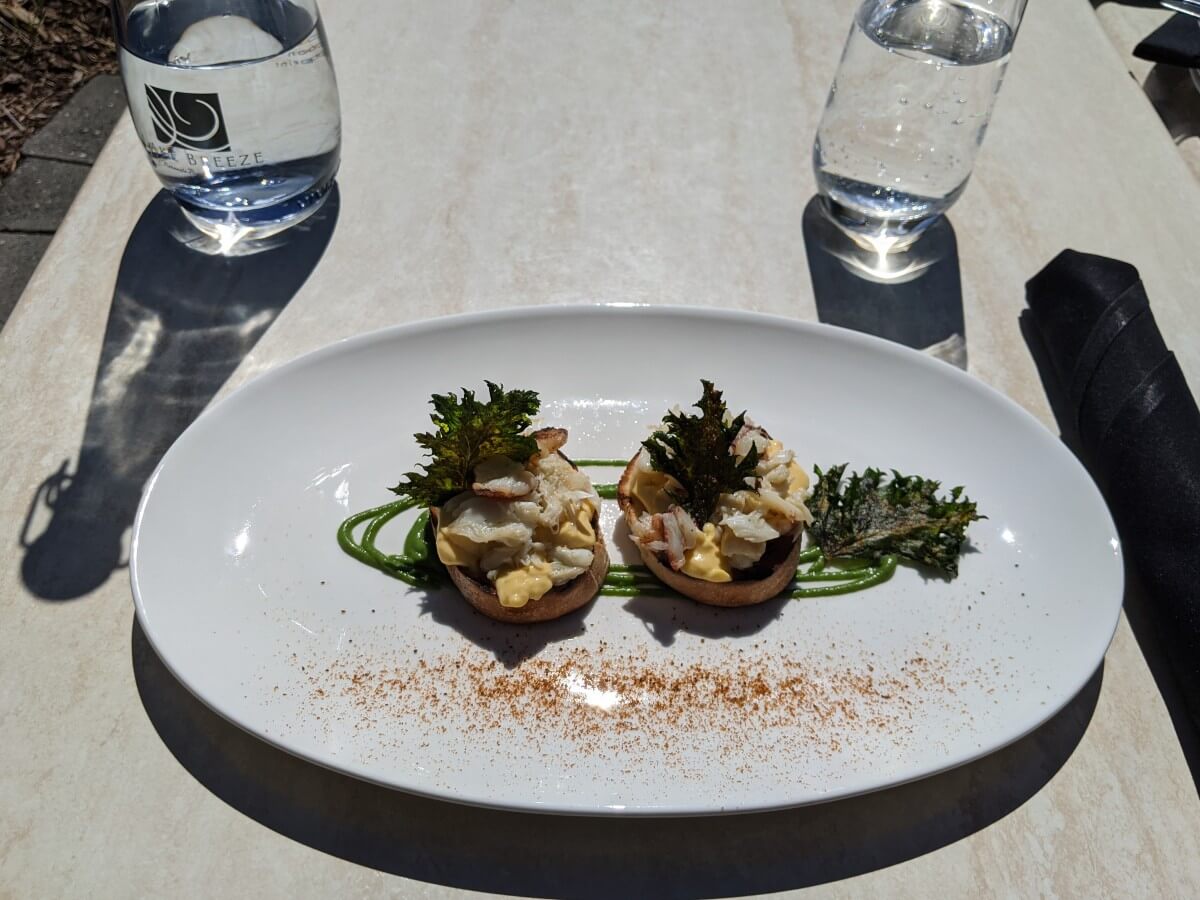 Shop for fresh, local produce at the fruit stands
The Naramata Bench has been a major fruit growing area since the 1800's. Vines may be more prominent than orchards these days, but it's still possible to taste some of the luscious local produce at a number of fruit stands. One of the easiest to access is the Jasar Fruit Stand on Upper Bench Road.
Sip on local cider
The Naramata Bench currently has three cideries, with two of these hosting rustic tasting rooms. Both Creek & Gully and La Petite Abeille utilise the fruit on their own orchards to make elegant, small batch dry ciders.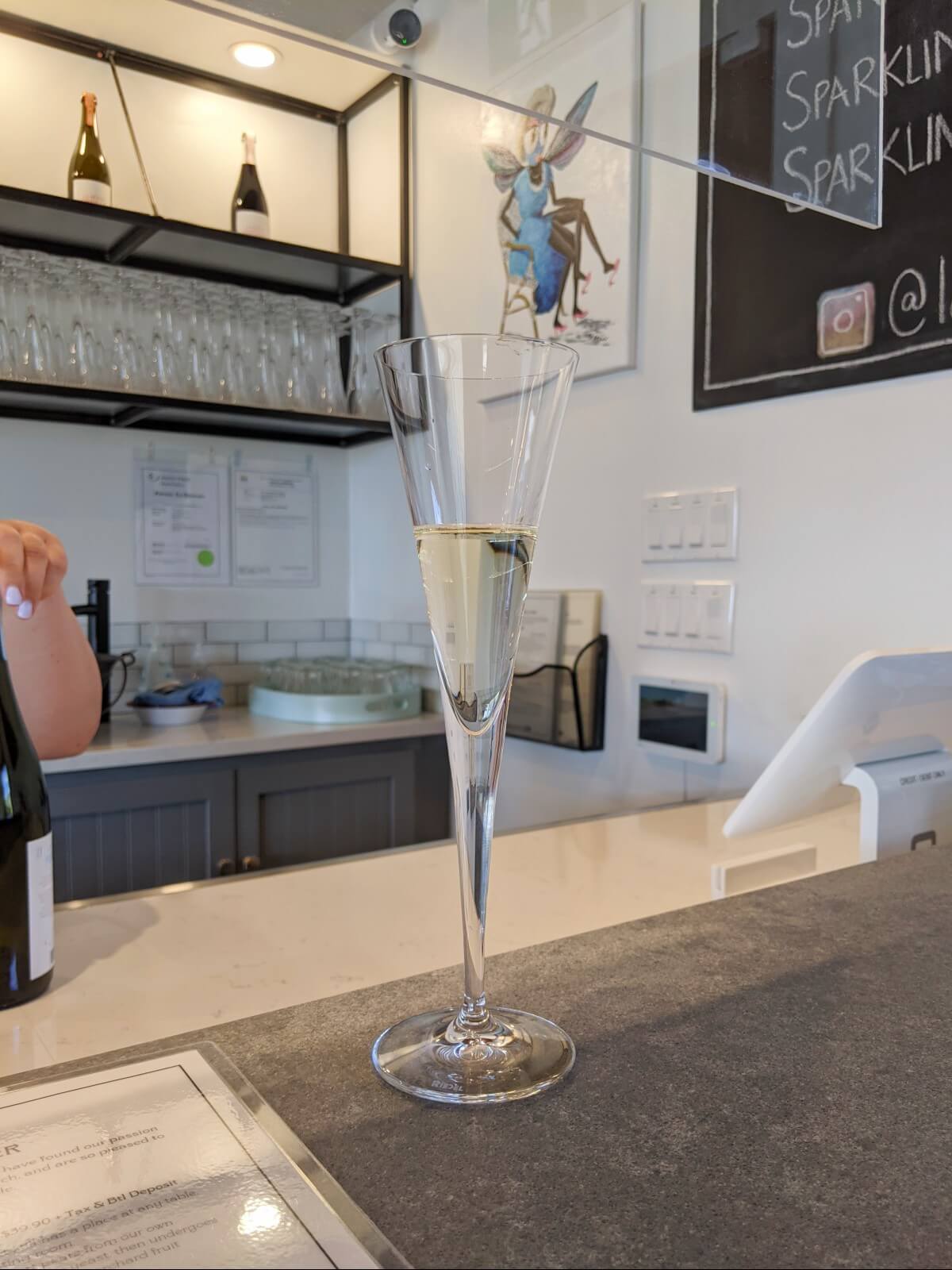 Order Real Things Pizza and eat on the beach
Real Things Pizza is a Naramata institution, specialising in handmade, unique pizza topping combinations. It's also one of the only takeout options on the Naramata Bench! Pursue the extensive menu and then order directly to the beach.
Enjoy lunch at a winery restaurant
There are eight winery restaurants on the Naramata Bench, each offering upscale dining with a view (please note, some are temporarily closed or have reduced hours). Paired wines are a given, with local produce and sustainability also highlighted.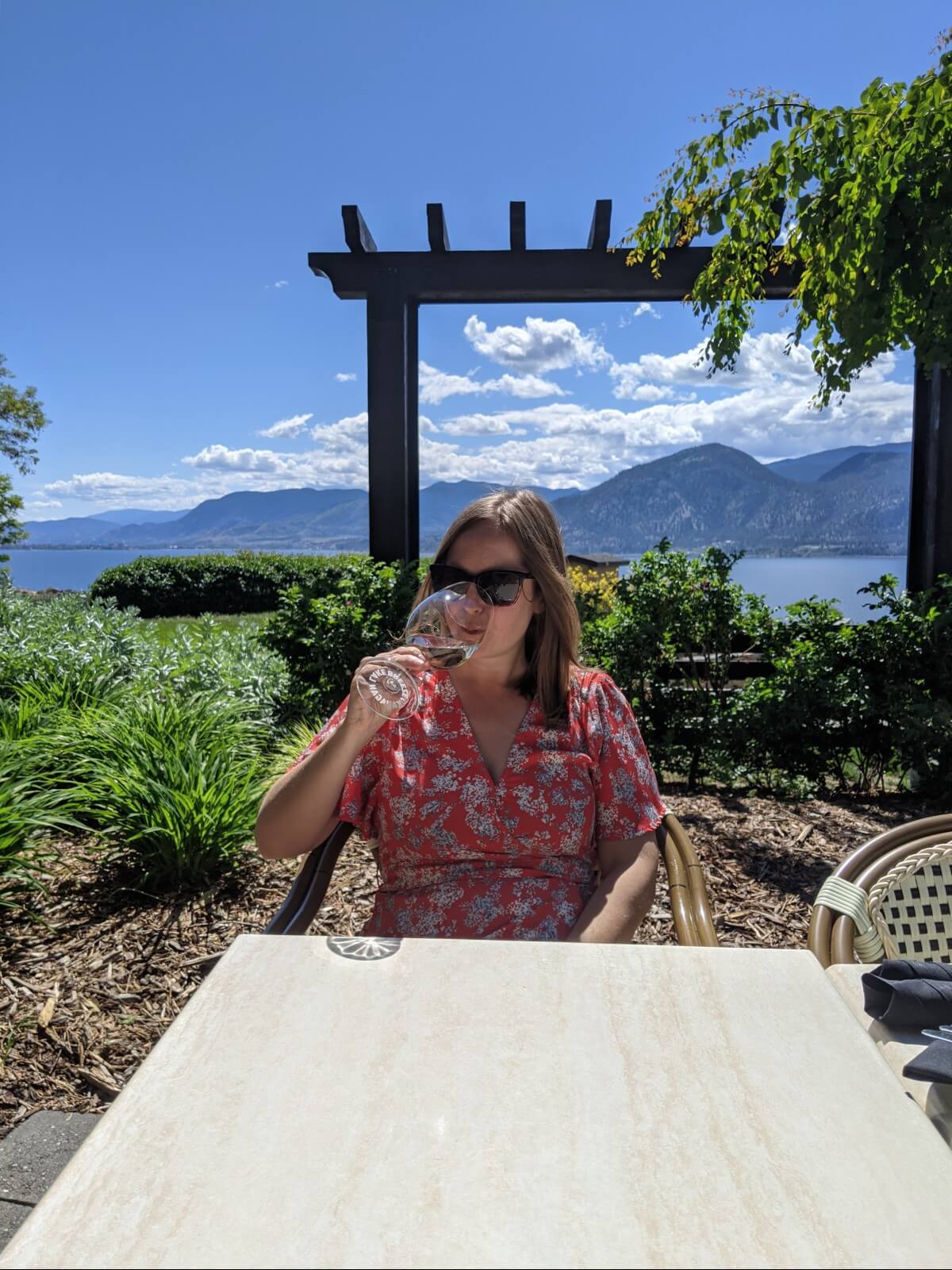 Have a winery picnic
Many Naramata Bench wineries have designated picnic areas, with the option to buy wine by the glass or bottle (license depending). Some wineries sell individual deli items while others have pre-made charcuterie boxes. Of course, DIY is totally acceptable too!
Sample spirits at local distilleries
For such a relatively small place, the Naramata Bench really has all aspects of drinking covered! Handcrafted, small batch cocktails, liqueurs and spirits are available to taste at Maple Leaf Spirits and Legends Distilling. The latter also has a dog-friendly patio for drinks and picnic fare with a view.
Treat yourself with dinner at the Naramata Inn
Experience hyper-local dining at the Naramata Inn, where the seasonal menu celebrates Naramata's growers and artisans. Lunch and dinner are both prix fixe, with options to add on a glass of wine from the Inn's extensive wine list. Go on, treat yourself!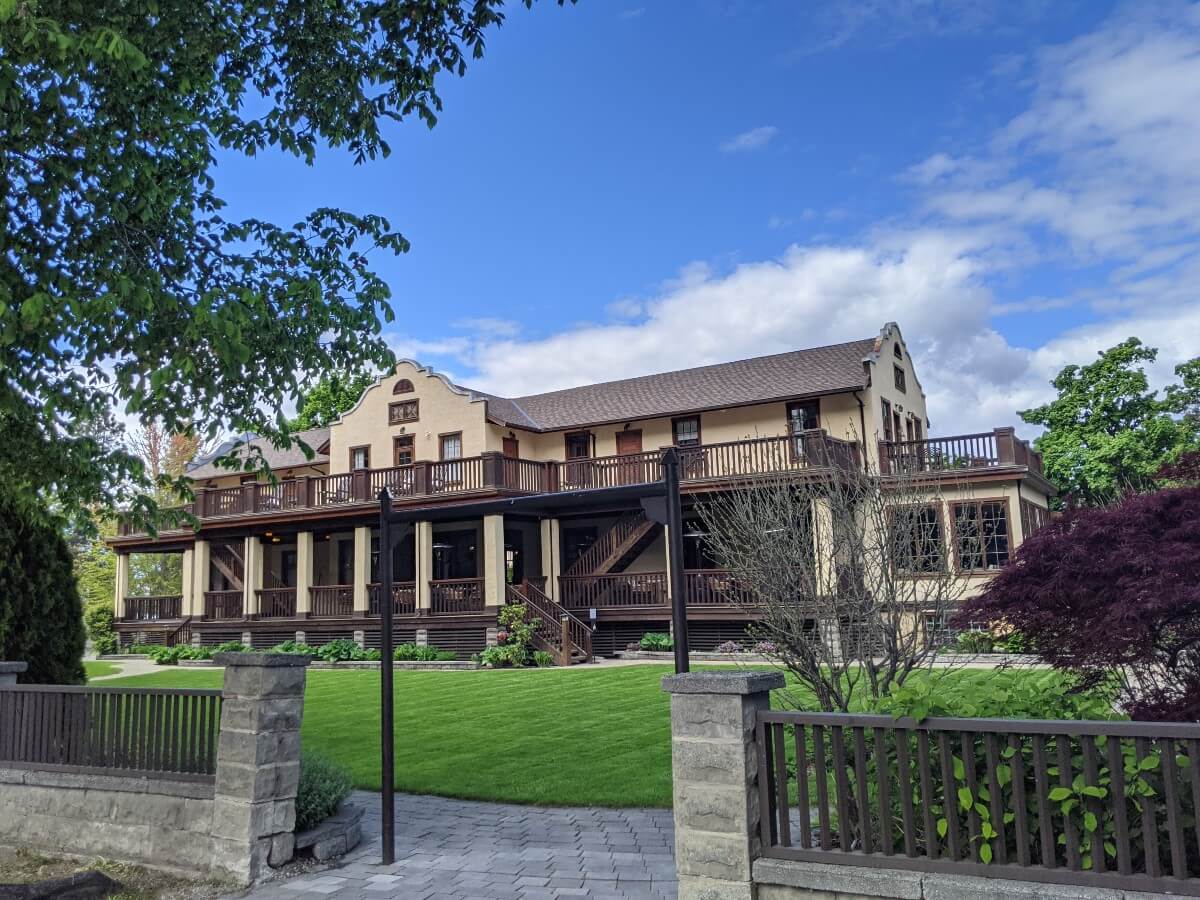 Taste local beers at the Abandoned Rail Brewing Company
The Naramata Bench drinking scene will soon be rounded out with the addition of a local brewery. Located right on the KVR Trail near the McCulloch Trestle, the Abandoned Rail Brewing Company will feature a covered patio, tasting room and food truck grub. The anticipated opening date is late summer 2021.
Have breakfast at the Grape Leaf Café
For tasty and sustaining Canadian classics, look no further than the Grape Leaf Café. This family run restaurant located on Robinson Avenue serves breakfast all day, plus sandwiches, soups and salads at lunchtime.
Even more things to do on the Naramata Bench
If you have extra time, here are some more of our favourite things to do in this beautiful area!
Enjoy the panoramas from the Sun Rock Lookout
From the Robinson Ave junction, drive 4km along North Naramata Road to discover one of the Bench's most scenic spots – the Sun Rock Viewpoint. This informal (and rocky) area offers spectacular sunsets.
Visit historic Chute Lake Lodge
Drive beyond Naramata to discover Chute Lake Lodge, a historic resort perched on the edge of a mountain lake and adjacent to the KVR Trail. Rent a canoe and paddle on the lake or have lunch in the restaurant.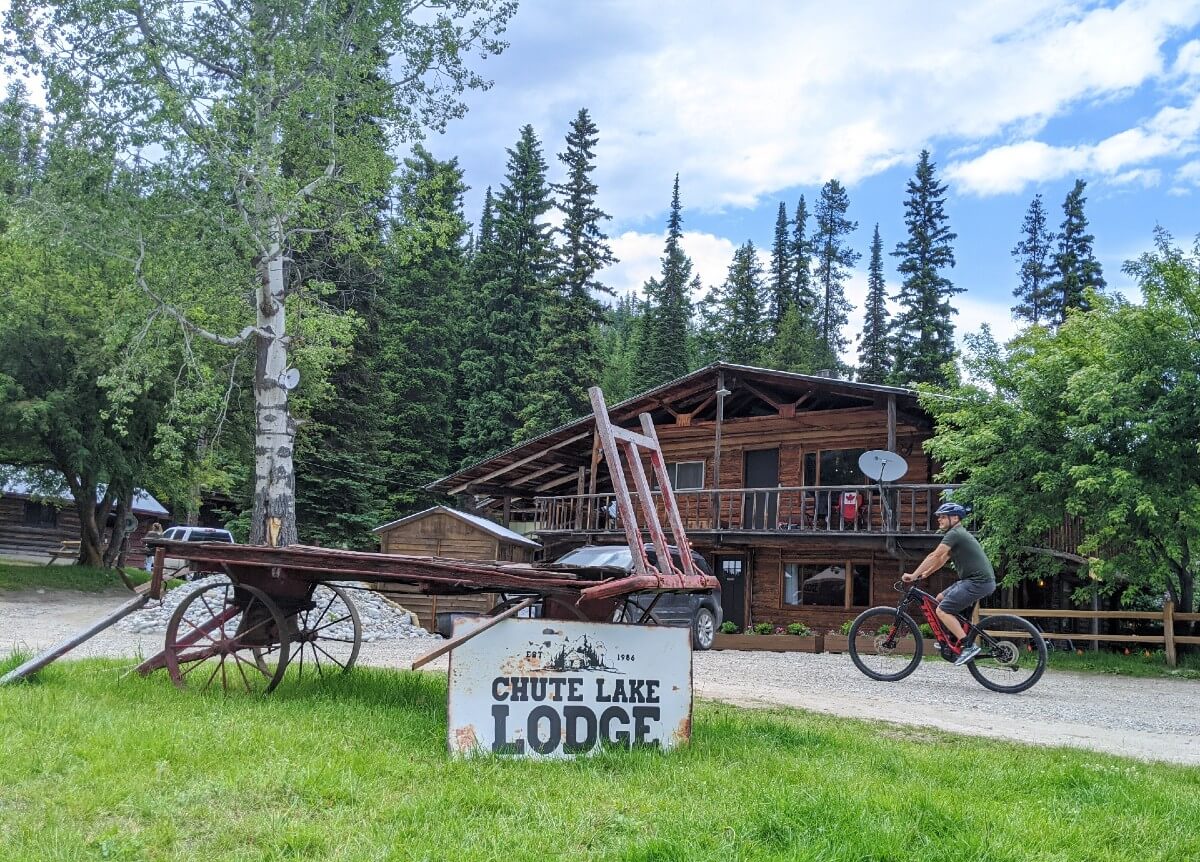 Buy beautiful fresh blossoms
Take the opportunity to pick up some pretty locally grown flowers at the self service stand on Middle Bench Road – look for it near Poplar Grove Winery (cash only).
Visit Three Mile Beach
This tucked away peninsula features two small pebble beaches, one of which is clothes optional (the northern side, facing the town of Naramata) and the other is dog-friendly. Parking is limited.
Walk on the jetty at Wharf Park
Once the access point for the Naramata Fruit Packinghouse (the heart of Naramata for many years), Wharf Park is now a beautiful spot to take in far reaching lake and mountain views.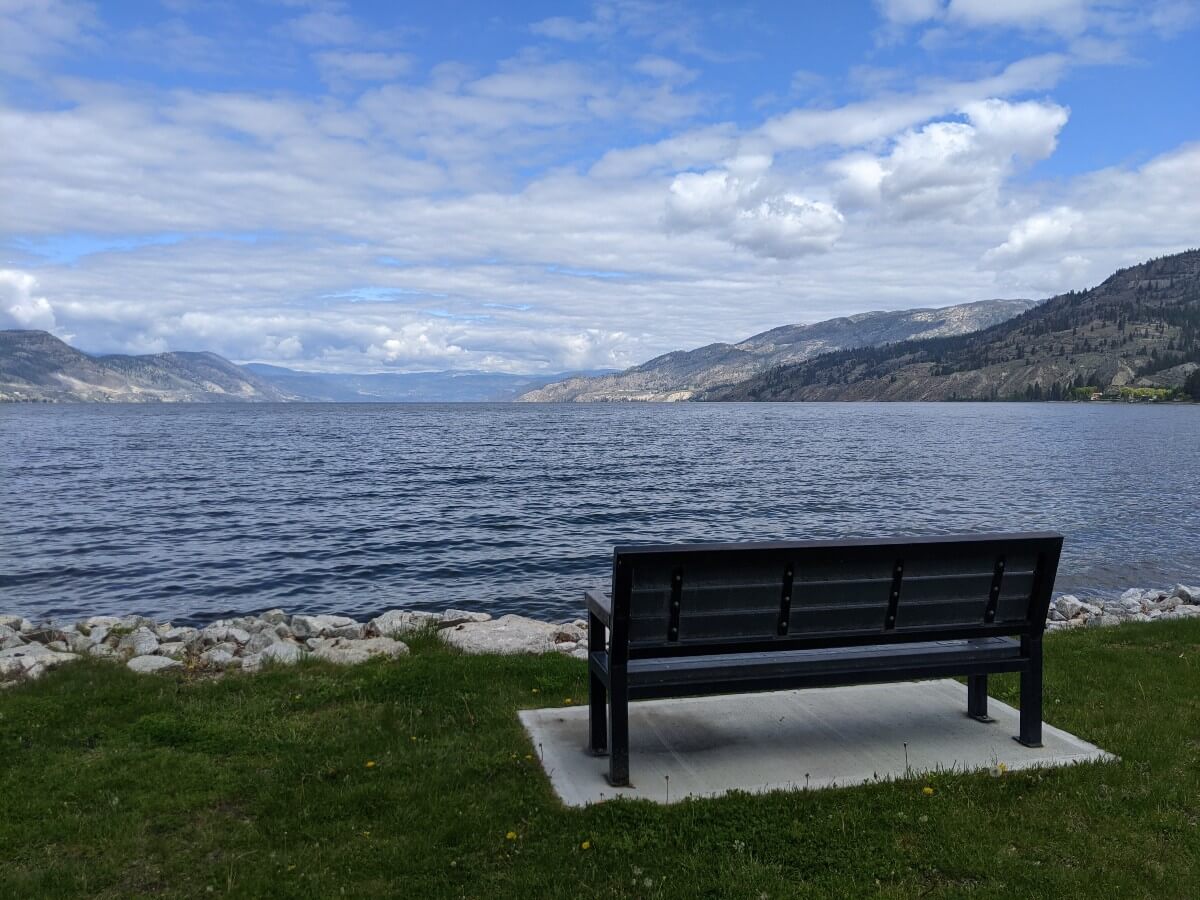 Looking for the best accommodation in Penticton?
Discover Penticton