Penticton comes alive with Christmas light displays at the end of November. Celebrate the season with a tour of the best Christmas lights in Penticton – it's sure to boost your festive spirit. This family friendly activity is not only free, but also super easy to organise and enjoy.
This post shares the best places to go to see Christmas lights in Penticton, from the downtown displays to the best decorated houses. We have put together a map of the best displays, along with a suggested driving route.
Whatever you do and whichever light displays you visit in Penticton – Merry Christmas!
Published 1st December 2022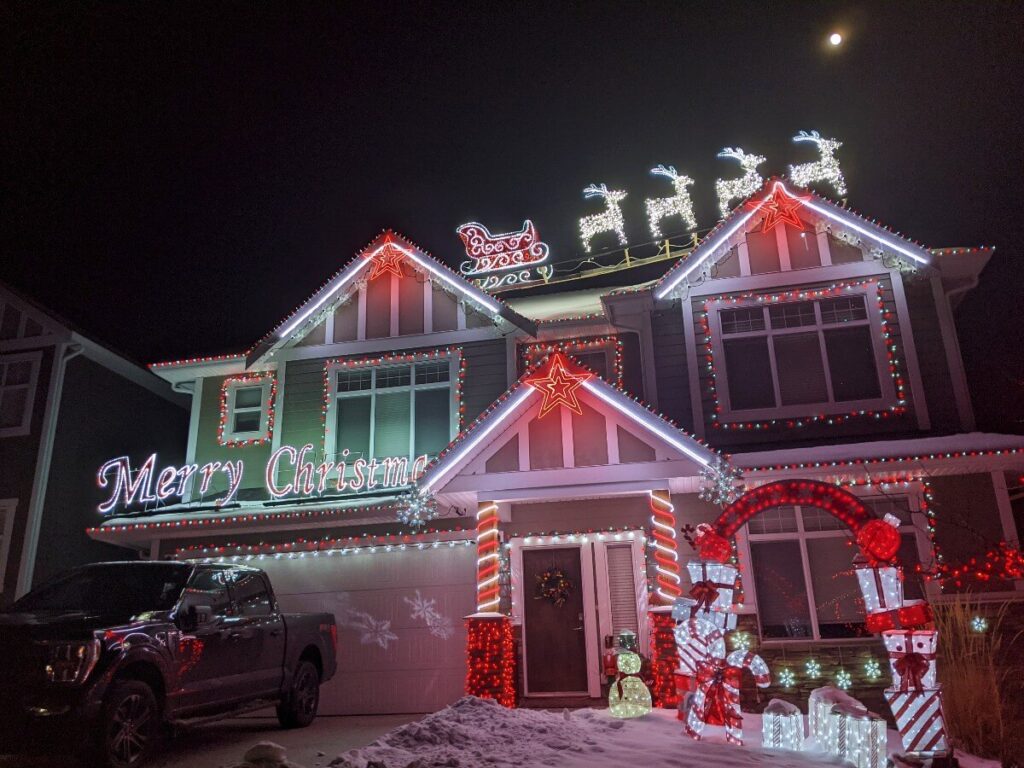 The best Christmas lights in Penticton: where to go
Almost every street in Penticton has at least one Christmas light display. There are, however, some households that go above and beyond when it comes to decorating their homes for Christmas.
And when groups of these households happen to be living on the same street, magic happens! Think twinkling lights in the trees, projections, full sized reindeer, Santa, Disney characters, snowmen and more.
Our favourite streets for Christmas light viewing in Penticton are:
Kiwinning Street
King Street
Killarney Street
Huth Avenue (see 'Christmas Wonderland' below)
Granby Avenue (#123 is Grinch heaven!)
Penticton Avenue (IGA side)
Coleman Street (between Blairmore Crescent and Green Avenue)
Lawrence Avenue (Sendero Canyon)
Holden Road (Sendero Canyon)
Other fabulous streets to visit include:
Hansen Street
Moosejaw Street
Atkinson Street (near Cherry Lane Shopping Centre)
Cornwall Drive (look out for #2447)
Pineview Road
Wiltse Boulevard
Carmi Avenue (around Columbia Street)
Maccleave Avenue
Ross Avenue
Dewdney Crescent
Hatfield Avenue
Beatty Court (look for #178)
Penticton Avenue (look for #1675)
Edna Avenue (close to Government Street)
Nelson Avenue (close to Government Street)
Government Street (near Carmi, look for #1473)
Walden Crescent
Grandview Street
All of these locations are marked on our Penticton Christmas light displays Google Map (scroll down).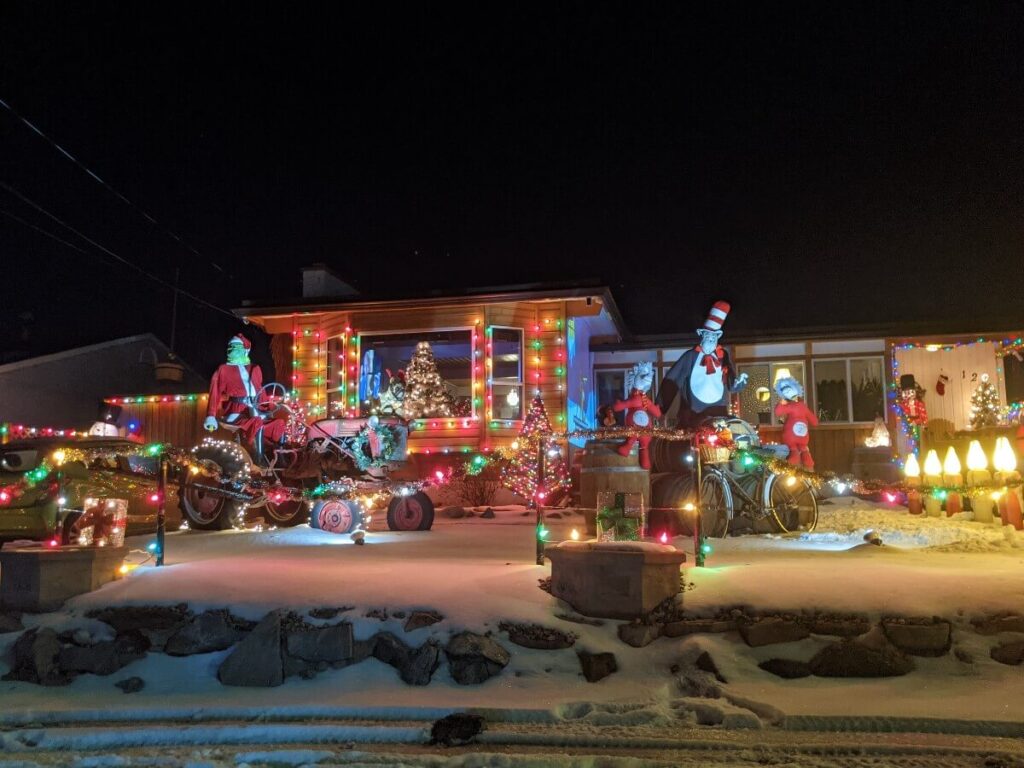 Christmas Wonderland
238 Huth Ave is home to Christmas Wonderland, a family run extravaganza of lights and festive theming. This is a must see for families.
On select December days, visitors can explore the backyard and discover a Christmas Village, full sized Santa sleigh and elf house. The colourful front yard is always open for viewing.
The backyard Wonderland is open on Thursdays, Fridays, Saturdays and Sundays (until 23rd December) from 6pm to 8pm. Entry is free, but food bank donations are gratefully accepted and donated to Oasis United Food Cupboard and SOWINS.
Downtown Penticton
There are some lovely Christmas light displays to be found in downtown Penticton too.
The City of Penticton has really gone to town with decorating City Hall this year, with the front of the building being draped in lights. There's a beautiful Christmas tree just around the corner of the building, next to the new skating rink.
The downtown side of Main Street is also lit up, as well as Front Street and some of Westminster Avenue. On the other side of Lakeshore Drive, the historic SS Sicamous paddlewheeler is also looking festive.
Christmas lights in Penticton: The best driving route
To see the best of Penticton's Christmas light displays, take a driving tour. This 22km route takes 42 minutes to drive without stopping. Allow at least an hour to avoid rushing. Add additional time if you want to visit the Christmas Wonderland on Huth Avenue (see details above).
If you don't have time for the full route, I would suggest focusing on just the 'K Streets' (Kiwinning Street, Killarney Street and King Street), Huth Avenue and Granby Avenue. Sendero Canyon is also a lovely drive.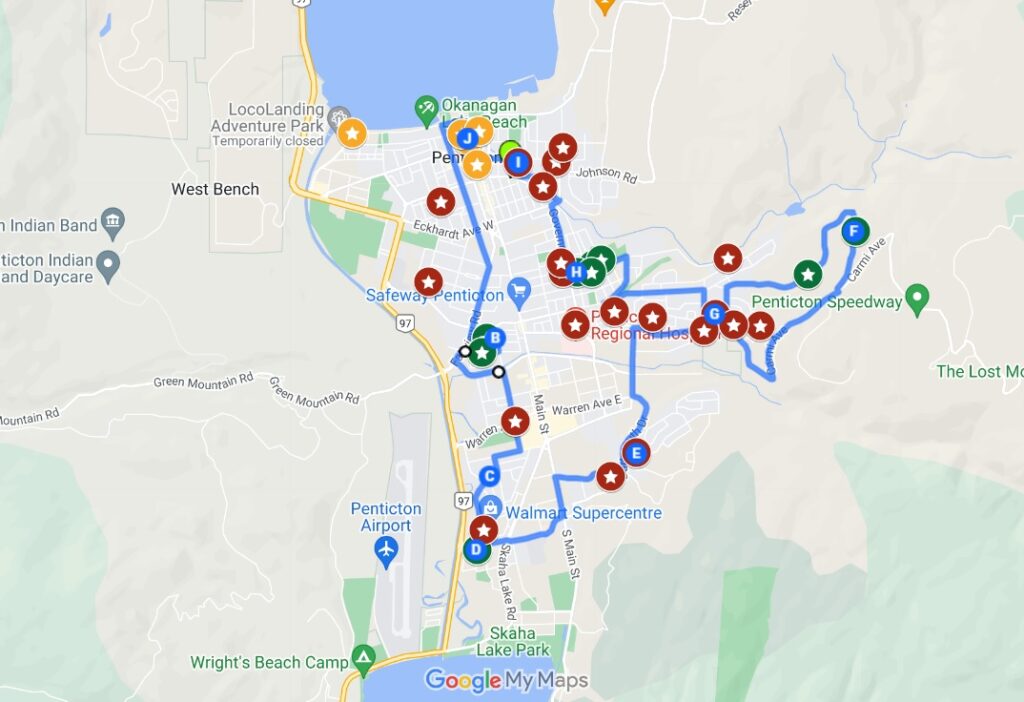 BC Transit Lights Tour
If you don't want to drive, consider joining BC Transit's Lights Tour. This free bus ride offers a chance to see all of the best Christmas light displays in Penticton.
In 2022, the Lights Tour runs on one day only – Wednesday 14th December. The route is a loop, with the following scheduled pick-up and drop-off locations:
Wade Ave and Martin St (downtown) at 6.30pm and 7.45pm
Penticton Plaza (1301 Main St) at 6.35 pm and 7.50 pm
Cherry Lane Shopping Centre at 6.40 pm and 7.55 pm
Peachtree Mall (Walmart) at 6.45 pm and 8.00pm
The full loop lasts around 1 hour and 15 minutes. It follows a similar route to our suggested driving tour (above).
For more information, head to the BC Transit website (scroll down to Penticton).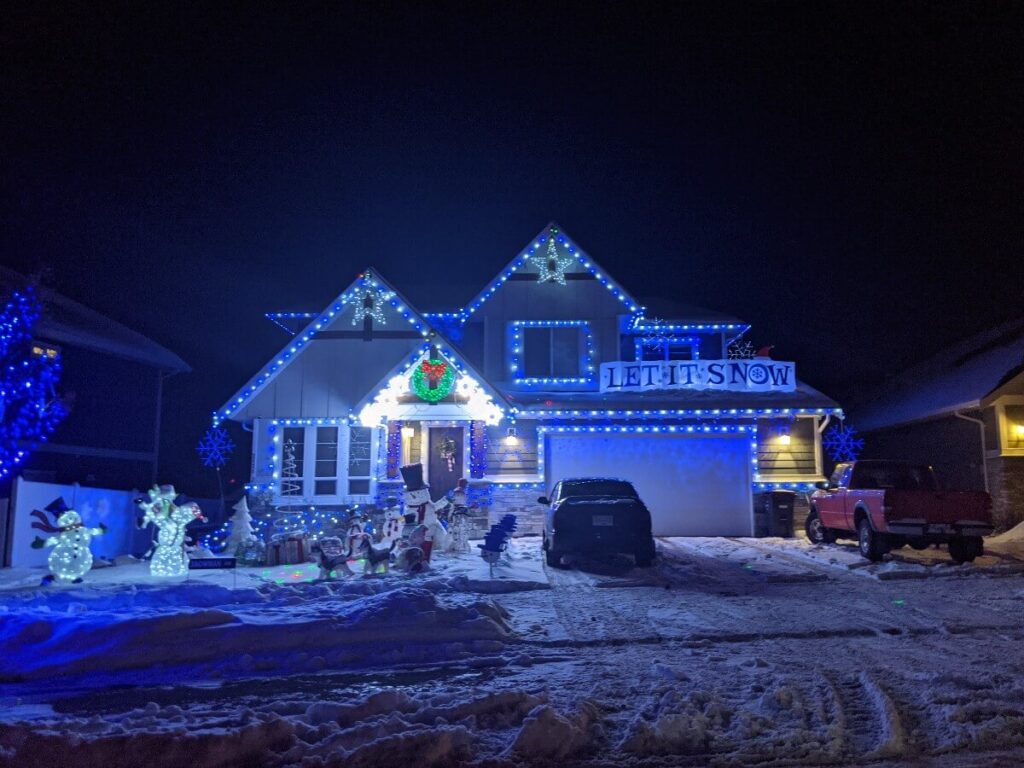 Other viewing options
With some of the best Christmas lights in Penticton being located on adjacent streets, it's also possible to go on a walking tour. I would suggest:
The 'K' Streets – Kiwinning Street, Killarney Street and King Street, optional detour to Nelson Avenue and Edna Avenue
Granby Avenue and Huth Avenue – This includes two of the best decorated houses in Penticton at 123 Granby Ave and 238 Huth Ave (donations graciously accepted for the latter)
Downtown Penticton – Main Street and Front Street, with an optional detour along Lakeshore Drive to the SS Sicamous

Discover Penticton