As one of the most visible and impressive wineries on the Naramata Bench, it is no wonder that visitors flock to Poplar Grove.
The experience inside doesn't disappoint, with an expansive, airy and modern tasting room with plenty of huge windows to enjoy the gorgeous views of Okanagan Lake and Penticton.
Classic Naramata Bench varietals adorn the extensive wine list, alongside premium, pre-aged reds.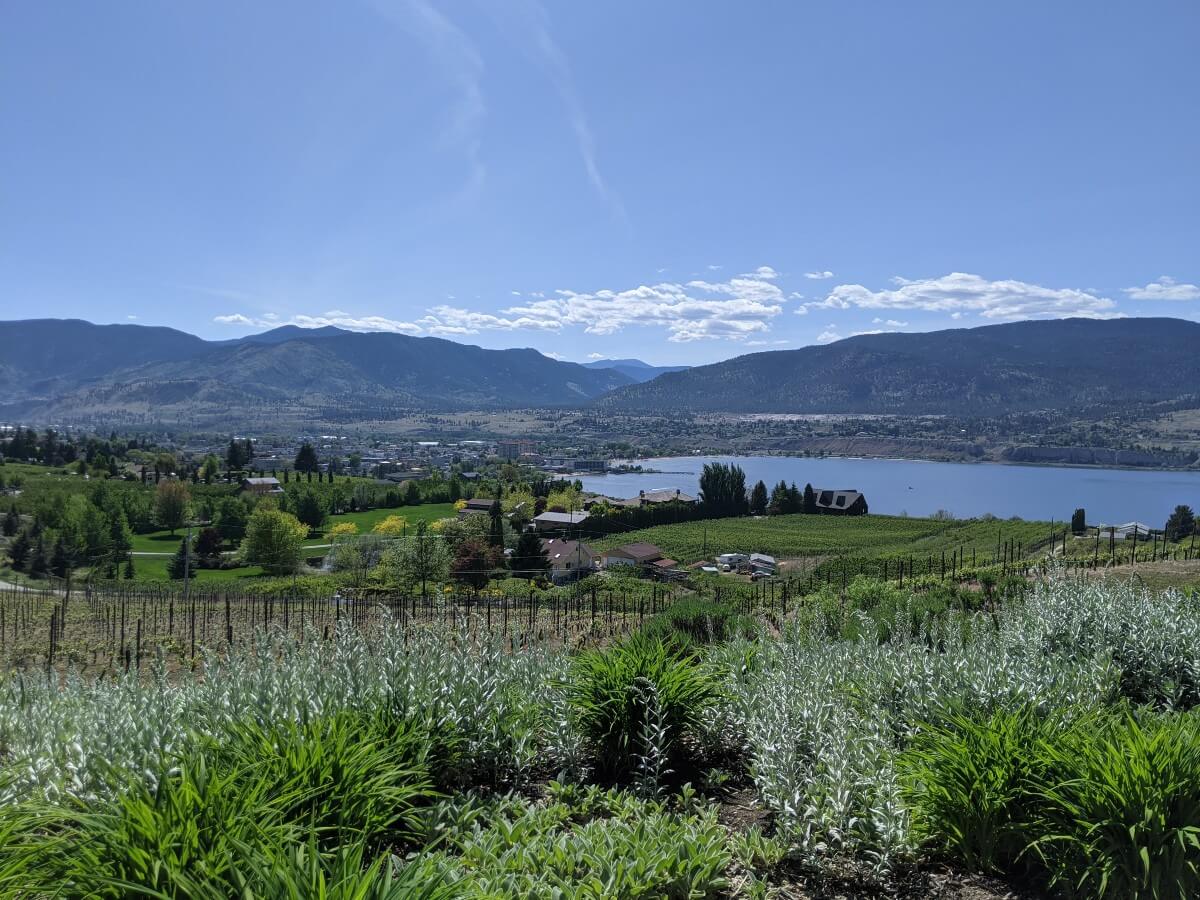 An elegant dining experience awaits at the Restaurant, located just beyond the tasting space. Featuring indoor and outdoor dining options, there's a view from almost every seat.
Established in 1993, Poplar Grove is one of the original wineries on the Naramata Bench. The winery is now owned and operated by the Holler family, who follow traditional farming and winemaking principles.
The Hollers also own neighbouring Monster Vineyards, which produces fruit-forward, easy-drinking wines.
At a Glance
Wine shop times: 12pm – 5pm daily
Tasting room times: 12pm – 4.30pm daily
Tasting reservation: Required
Tasting style: Inside, standing
Tasting cost: $5 fee, non refundable
Food/restaurant: Yes
Accommodation: No
Child friendly: Yes (see info below)
Pet friendly: No
Weddings and private events: Yes
Last updated June 2022. For the most up-to-date information, contact individual businesses before visiting. There are some affiliate links in this post. If you make a purchase, we may receive a small percentage of the sale.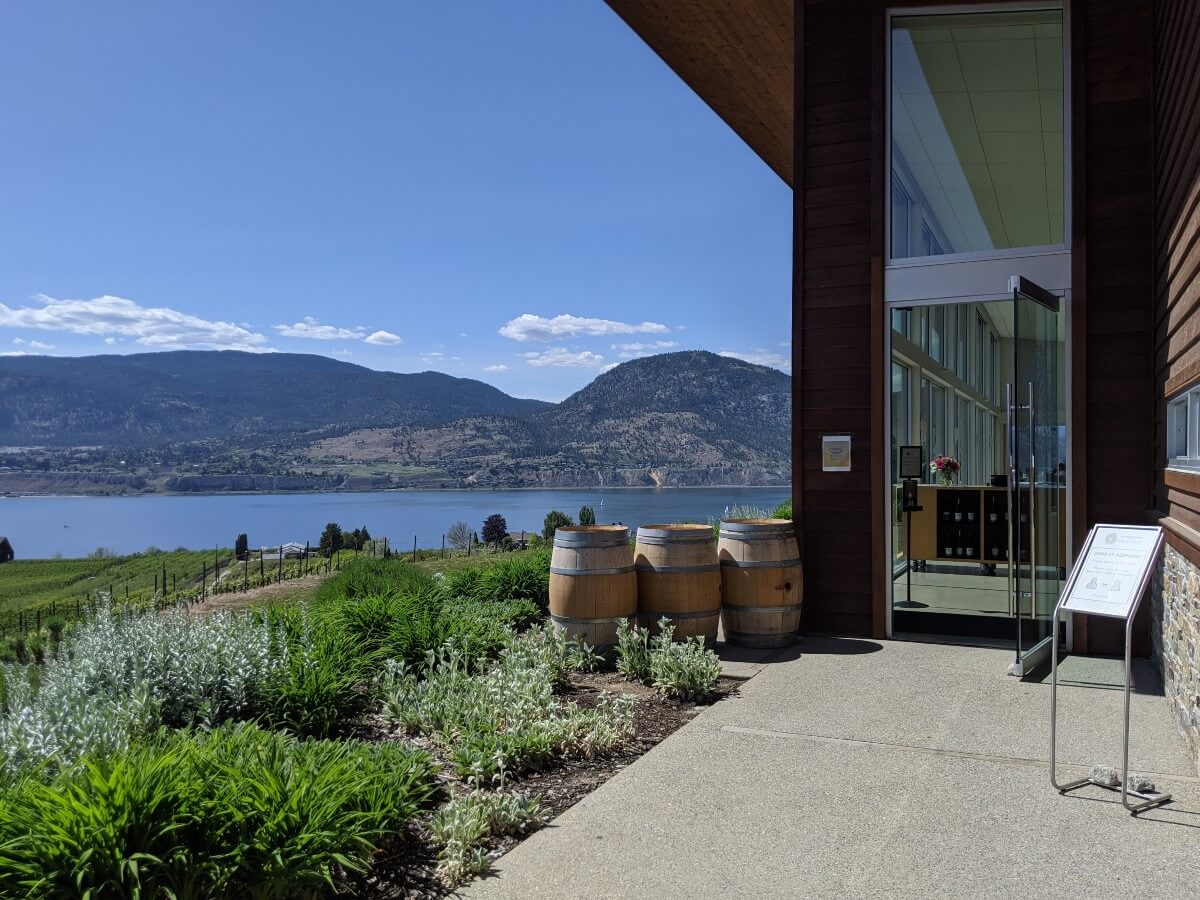 Wine Tastings and Wine Shop
Wine tastings are held within the spacious wine shop at one of two 'pods,' curving tasting bars which face the stunning floor to ceiling windows.
Tastings are by reservation only and cost $5 per person. This fee is non-refundable for guests who are not members of Poplar Grove's wine club.
The standard 'Benchmark' tasting includes five wines and takes around 20 to 30 minutes.
Located so close to Penticton and open a little later than most Naramata Bench wineries (the last wine tasting is at 5.30pm), Poplar Grove is an ideal choice for the last stop on a wine tour. This is particularly true if you plan to have dinner there afterwards (see below for more info)!
First time wine touring on the Naramata Bench? Read this post next – Naramata Bench Wine Tasting Etiquette and Tips
Restaurant
The Restaurant is Poplar Grove's elegant dining space, serving both dinner and lunch. The menu is inspired by the chef's experiences cooking in London (UK) and features refined classics with a twist, peppered with local ingredients.
The majority of the restaurant seating is located on the patio, which overlooks Poplar Grove's Pinot Gris vineyard. Even on a cloudy day, the views from the restaurant are spectacular.
Poplar Grove also has a picnic area, situated just below the restaurant patio. It has similar views but with a more casual ambience and lawn underfoot! Picnic supplies can be purchased at Poplar Grove, along with individual glasses of wine.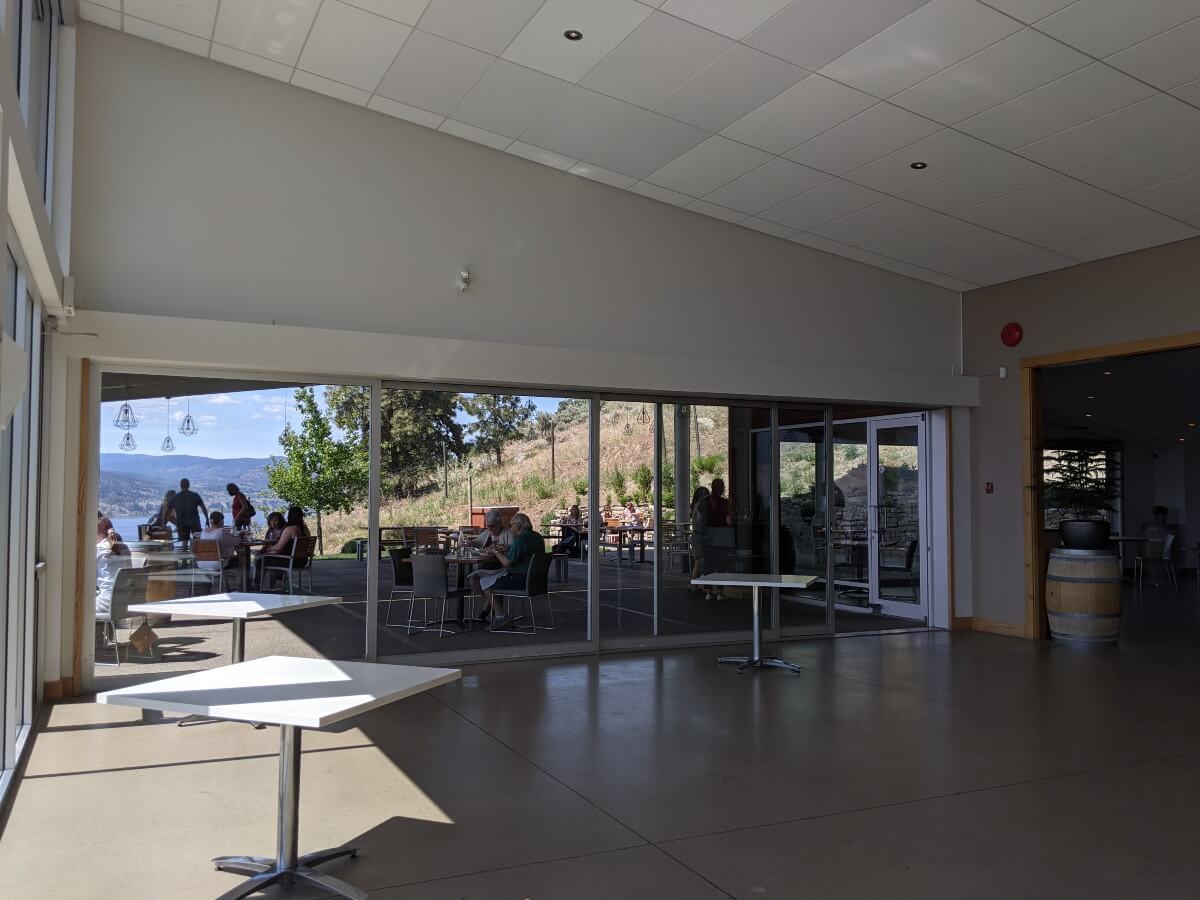 Accommodation
This winery does not have on-site accommodation at this time but here is a list of recommendation for this area:
Weddings and Private Events
Poplar Grove is a very popular Naramata Bench wedding venue. At the time of writing, the winery is fully booked from May to October in 2021, 2022 and 2023.
The full venue package has a capacity of 130 guests and features an outdoor ceremony, a customizable menu and use of the tasting room and outside patio. The partial venue option has a smaller capacity of 30-60, with a more intimate space to suit.
Poplar Grove also hosts corporate meetings and other private functions. More information is available on the Poplar Grove website here.
Dog Friendly
This winery is not dog friendly. Some local alternatives include:
Child Friendly
Supervised children are allowed to join adults in the Restaurant, picnic area and wine tasting room. Poplar Grove Winery does cater for an adult audience and, as such, there are child-specific facilities. These local wineries may be a better option: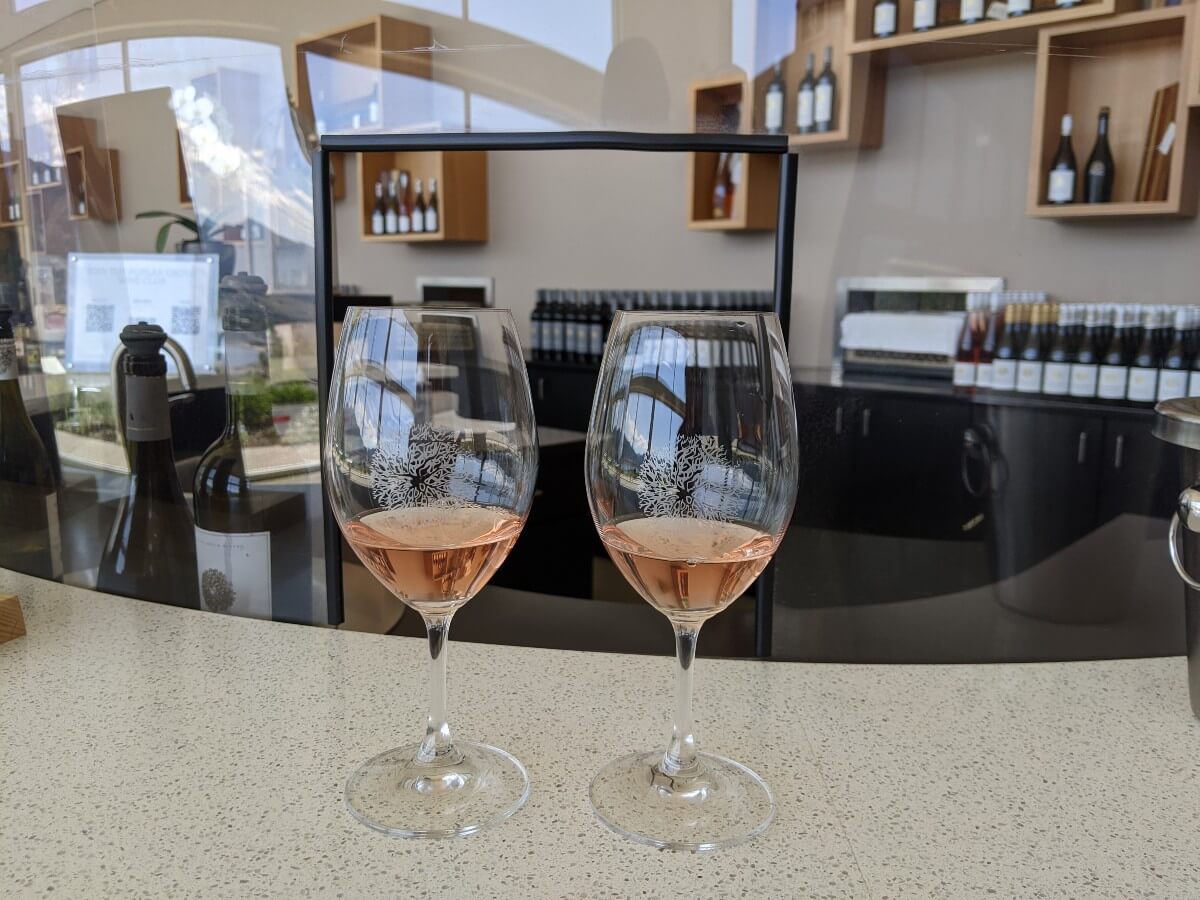 Wine Club
The Poplar Grove Wine Club features eighteen bottles of exclusive or limited wine per calendar year, sent in three packages of six bottles of wine. All wines are specially selected by Poplar Grove's winemaker.
There are three different subscriptions to choose from:
Family Tree – Red wine only
Family Roots – White wine only
Family Branch – Both red and white wine
Wine packages are sent in March, July and November. There is an additional charge for shipping. Free shipping is available for Wine Club members who add six bottles or more to their subscription package.
Other perks of membership to Poplar Grove's wine club include (one year commitment minimum):
10% discount on future purchases
Access to exclusive wine library
Specialty tastings
Complimentary tastings for up to six people
Event invitations
Discount on barrel hall rental
Loyalty rewards
Varietals
Here are some of the varietals most commonly found at Poplar Grove Winery:
Merlot
Malbec
Cabernet Sauvignon
Cabernet Franc
Syrah
Petit Verdot
Chardonnay
Pinot Gris
Viognier
Wines
Wine name
Description/Varietal
Price Per Bottle
2020 Pinot Gris
White. Pinot Gris
$19.04
2019 Benchmark Pinot Gris
White. Pinot Gris
$19.04
2018 Chardonnay
White. Chardonnay
$21.65
2018 Reserve Chardonnay
White. Chardonnay
$30.35
2019 Viognier
White. Viognier
$21.65
2017 Merlot
Red. Merlot, Malbec, Cabernet
Sauvignon, Cabernet Franc
$26.00
2017 Cabernet Franc
Red. Cabernet Franc
$34.70
2016 Munson Mountain
Red. Cabernet Franc
$34.70
2015 Munson Mountain
Red. Cabernet Franc
$34.70
2017 Syrah
Red. Syrah
$34.70
2016 Syrah
Red. Syrah
$34.70
2017 CSM
Red. Blend
$30.35
2015 Benchmark
Red. Malbec, Merlot, Cabernet Franc
$30.35
2014 Benchmark
Red. Merlot, Malbec, Cabernet Franc,
Cabernet Sauvignon
$34.70
2016 Legacy
Red. Cabernet Franc, Malbec, Merlot,
Cabernet Sauvignon, Petit Verdot
$60.78
2015 Legacy
Cabernet Sauvignon, Merlot, Malbec,
Cabernet Franc, Petit Verdot
$60.78
2020 Rosé
Rosé. Merlot, Malbec, and Syrah
$21.65
Contact Information
Phone: 1-250-493-9463
Address: 425 Middle Bench
Website: poplargrove.ca
Discover more wineries