Celebrating the 'art of good living,' JoieFarm has one of the larger acreages on the Naramata Bench.
Taking a fairly non-interventionist approach towards winemaking, the self-taught owner sways towards Burgundian varietals such as Chardonnay, Pinot Noir, and Gamay plus Alsatian varietals like Riesling and Gewürztraminer.
The custom-built red farmhouse, visible from Naramata Road, is one of Joie's most distinctive features. It hints at the 'farm to table' ethos and relaxed vibe of the winery, while offering beautiful views over the vineyard to the lake beyond.
In normal years, JoieFarm has served wood fired pizza on the farmhouse patio and surrounding Picnique lawn. In 2021, curated Spanish Conserva boxes are available but the Picnique lawn is reserved for wine club members only.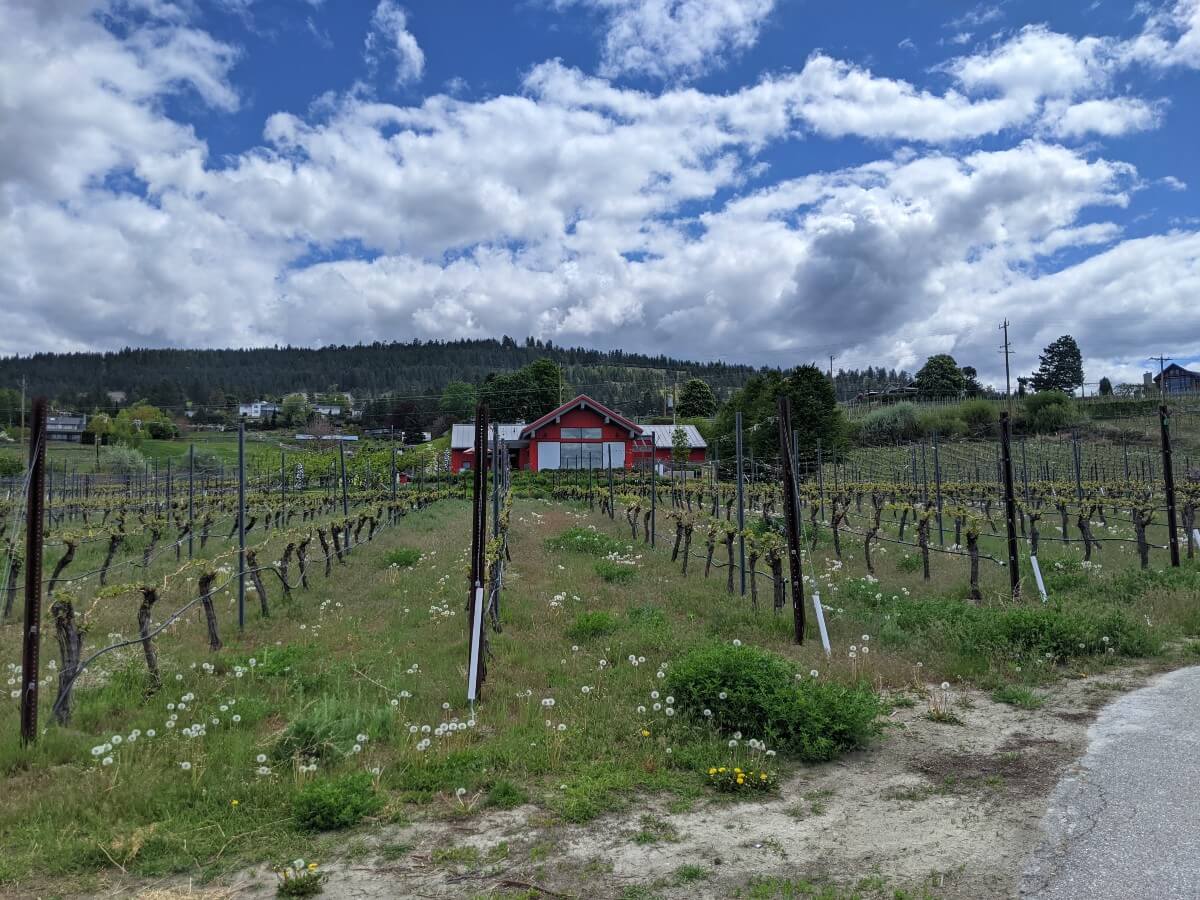 At a Glance
Wine shop times: 11.30pm to 5pm, Thurs to Mon
Tasting room times: 11.30pm to 5pm, Thurs to Mon
Tasting reservation: Required
Tasting style: Outdoor, 45 minutes, 5 wines
Tasting cost: $15, non-refundable
Food/restaurant: Lunch box available
Accommodation: No
Child friendly: Unknown
Pet friendly: Unknown
Weddings and private events: No
Last updated June 2022. For the most up-to-date information, contact individual businesses before visiting. There are some affiliate links in this post. If you make a purchase, we may receive a small percentage of the sale.
Wine Club
Fans of JoieFarm can join the En Famille Wine Club. Members receive three curated shipments of six wine bottles, shipped in March, July and November. Other membership perks include:
Guaranteed access to entire JoieFarm portfolio
Member exclusive releases
Complimentary tastings
Discount on purchases
Private use of JoieFarm's Picnique lawn
Free shipping for shipments of 12 bottles or more
Access to exclusive sale events
Varietals
Here is a list of varietals you may encounter at JoieFarm Winery:
Chardonnay
Riesling
Gewurztraminer
Pinot Blanc
Pinot Gris
Pinot Auxerrois
Muscat
Pinot Noir
Gamay
Merlot
Wines
Wine name
Description/Varietal
Price Per Bottle
2019 A Noble Blend
White, Gewürztraminer, Riesling, Pinot Blanc,
Pinot Auxerois, Muscat
$22.52
2019 Un-Oaked Chardonnay
White, Chardonnay
$22.52
2018 En Famille Chardonnay
White, Chardonnay
$31.22
2019 Picnique Rouge
Red, Pinot Noir, Gamay
$24.26
2019 PTG
Red, Pinot Noir, Gamay
$24.26
2018 Pinot Noir
Red, Pinot Noir
$30.35
2017 En Famille Pinot Noir
Red, Pinot Noir
$39.04
2020 Rose
Rose, Pinot Noir, Pinot Gris
$22.52
2019 Chic Fille Merlot
Rose, Merlot
$22.52
2019 Quotidien Brut
Sparkling, Chardonnay, Riesling `
$24.26
2020 Quotidien Brut
Sparkling, half bottle (375ml)
$15.57
JoieFarm Winery also has an exclusive library of wines for the En Famille Wine Club members.
Contact Information
Phone: 1-250-496-0093
Address: 2825 Naramata Road
Website: joiefarm.com
Discover more wineries