Located right on Naramata Road, Moraine is one of the most convenient Naramata Bench wineries to visit. It's also one of the most impressive, with the grand, newly renovated wine shop and tasting room offering unrestricted panoramas of the surrounding vineyards and Okanagan Lake.
Moraine is owned and operated by husband-wife team Oleg and Svetlana. The vineyards are lovingly named after their daughters. The winery gets its own name from the Naramata Bench's signature clay bluffs, which were created by glacial activity thousands of years ago.
With such a large and wide ranging portfolio of elegant yet fruit forward wines, Moraine is an ideal stop for wine touring groups with varied taste. The approachable Cliffhanger series is great for everyday wine, while the award winning reserves are perfect for a special occasion.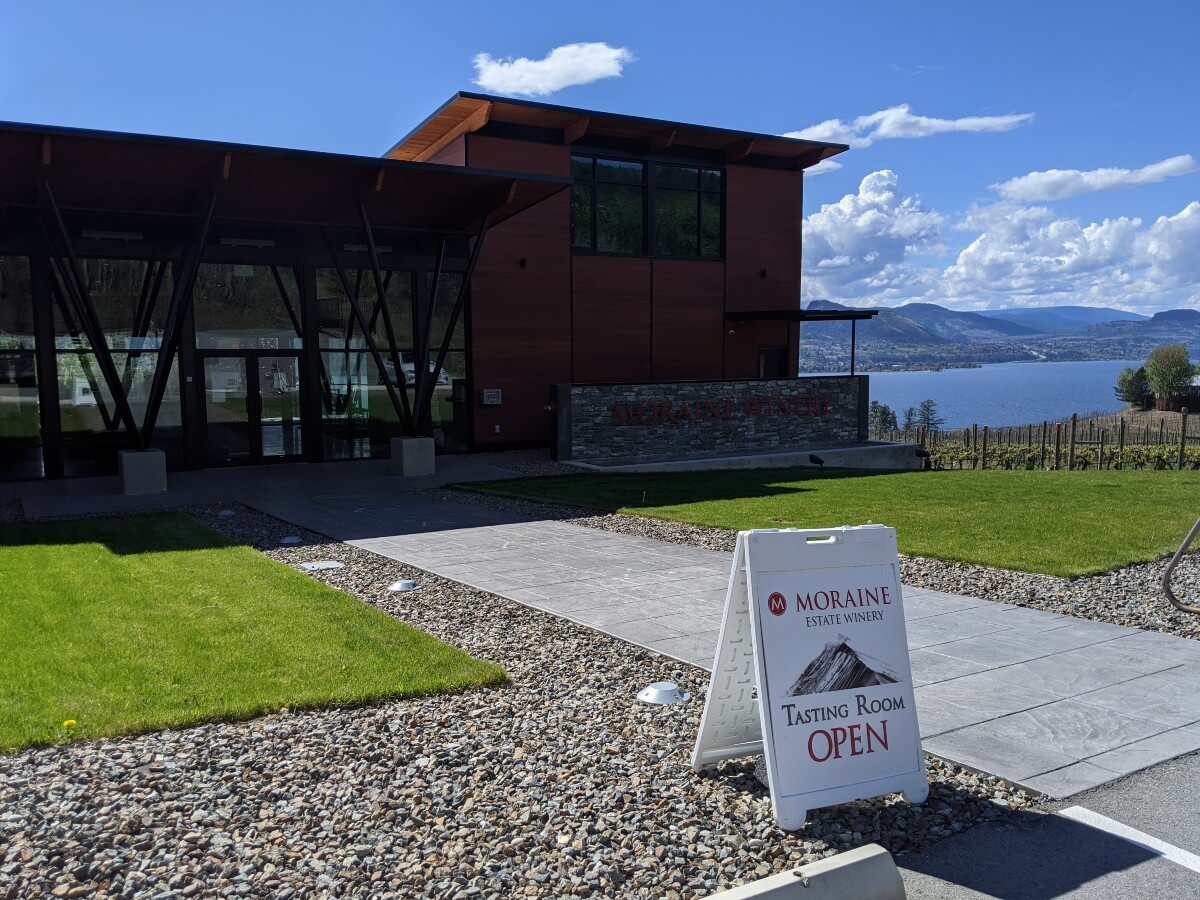 At a Glance
Wine shop times: Daily, 11am to 5pm
Tasting room times: Daily, 11am to 5pm
Tasting reservation: Recommended, walk-ins welcomed
Tasting style: Seated (outside patio), standing at inside bar
Tasting cost: $16,waived on purchase (1 tasting waived per bottle), $30(min 4pp) wine pairing
Food/restaurant: Picnic area
Accommodation: Yes
Child friendly: Yes
Pet friendly: Yes
Weddings and private events: On request
Last updated June 2022. For the most up-to-date information, contact individual businesses before visiting. There are some affiliate links in this post. If you make a purchase, we may receive a small percentage of the sale.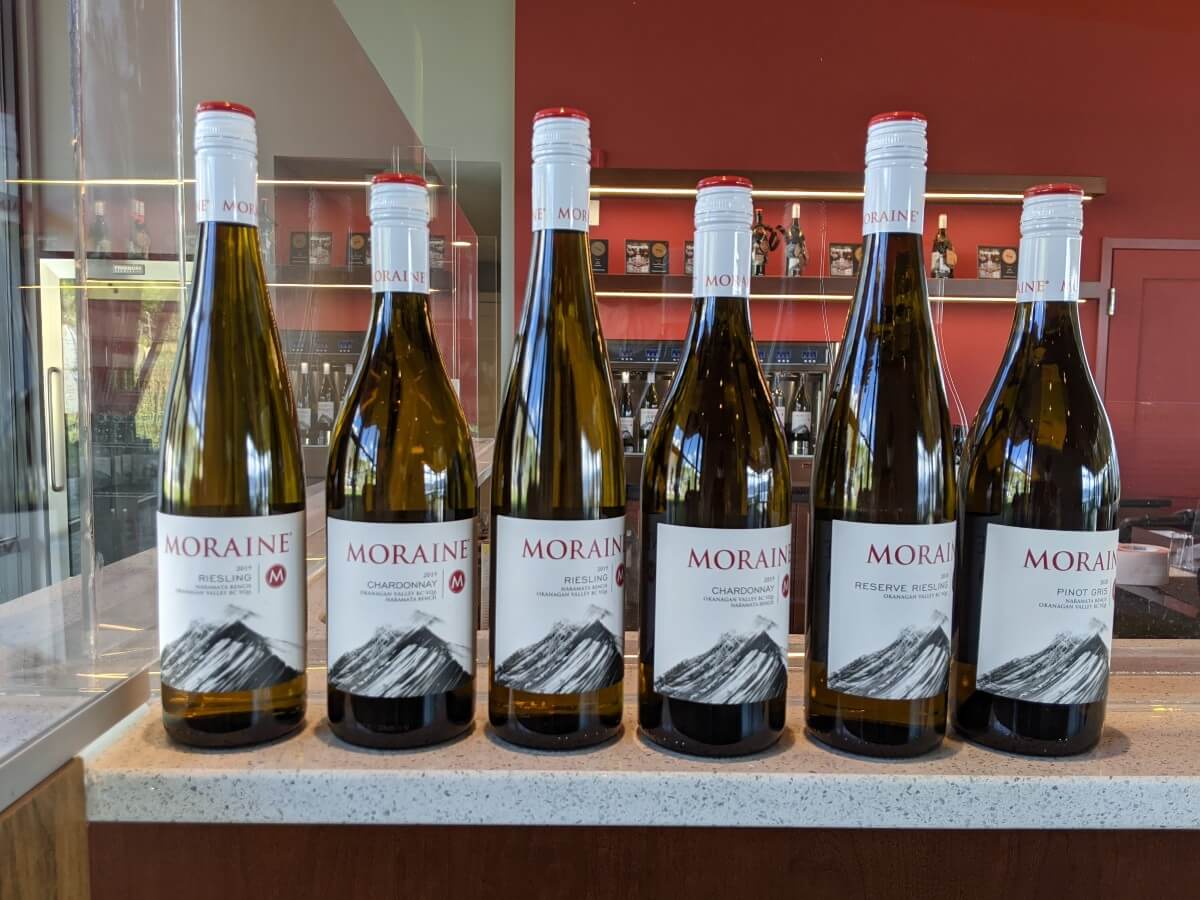 Wine Tastings and Wine Shop
Moraine Winery specialises in seated tastings, held on a second floor patio adjacent to the wine shop. This cosy, covered space offers stunning panoramas of the vineyard below, as well as Okanagan Lake and surrounding mountains.
There is a $ per person tasting fee, which is waived with the purchase of wine. Moraine usually has a long list of open wines available for tasting, so guests can make the choice of which different wines to try.
The tasting style is relaxed, with the wine server pouring wine, sharing knowledge and tasting notes and then leaving to allow the guest to enjoy the wine at leisure. Allow at least 45 minutes for a seated tasting. You won't want to rush anyway – the patio views are just that spectacular!
Guests who do not have much time may have the opportunity to taste at the bar inside.
First time wine touring on the Naramata Bench? Read this post next – Naramata Bench Wine Tasting Etiquette and Tips
Restaurant
This winery does not have a restaurant or food available but there is a scenic picnic area located on the ground floor behind the main wine shop building.
With the purchase of wine, guests can bring picnic supplies and enjoy lunch or a snack on the lawn here, while taking in the beautiful views of the vineyard and lake. Wine is available by the glass or bottle, but the latter usually ends up being better value!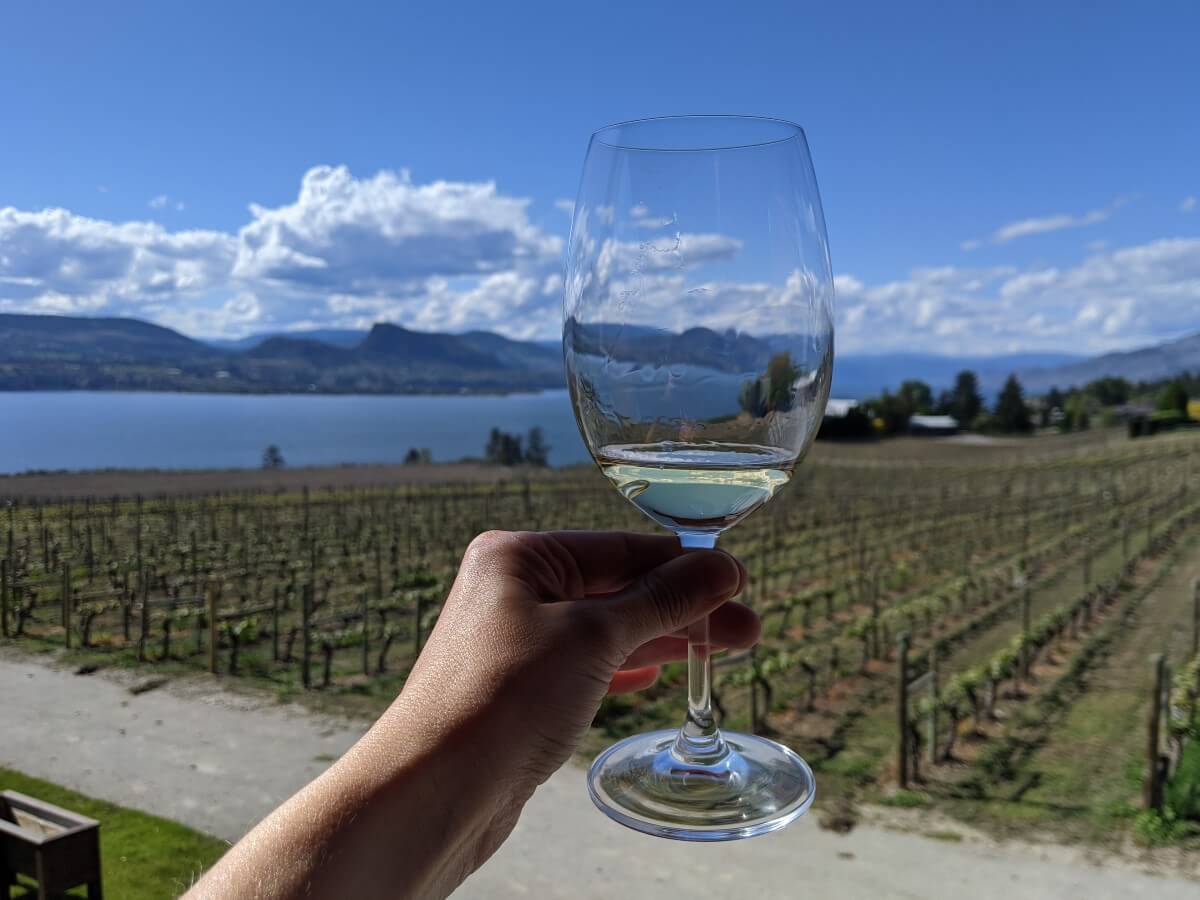 Accommodation
Moraine Winery has a spacious two bedroom guest suite located in the main wine shop building, just steps away from the tasting room. Only ten minutes drive from downtown Penticton, the suite offers the perfect base for touring the Naramata Bench or the southern Okanagan area in general.
Not only is the location exceptionally convenient, but it's absolutely breathtaking too. Both the living area and master bedroom have huge floor to ceiling windows overlooking the surrounding vineyards, which are backdropped by Okanagan Lake and the mountains beyond.
Modern yet comfortably furnished, the suite has everything you need for a short or extended stay in the area. The full kitchen provides the flexibility to eat out at one of the local winery restaurants or cook in the suite.
Suite guests receive a complimentary bottle of wine, a tasting at the winery next door and 10% discount on wine purchases.
Moraine Winery's suite can be booked through Airbnb.
Weddings and Private Events
Moraine Estate Winery does not have a formal wedding or private event program, but the owners are open to event requests. Contact the winery directly for more details.
Local wineries regularly hosting weddings and events include: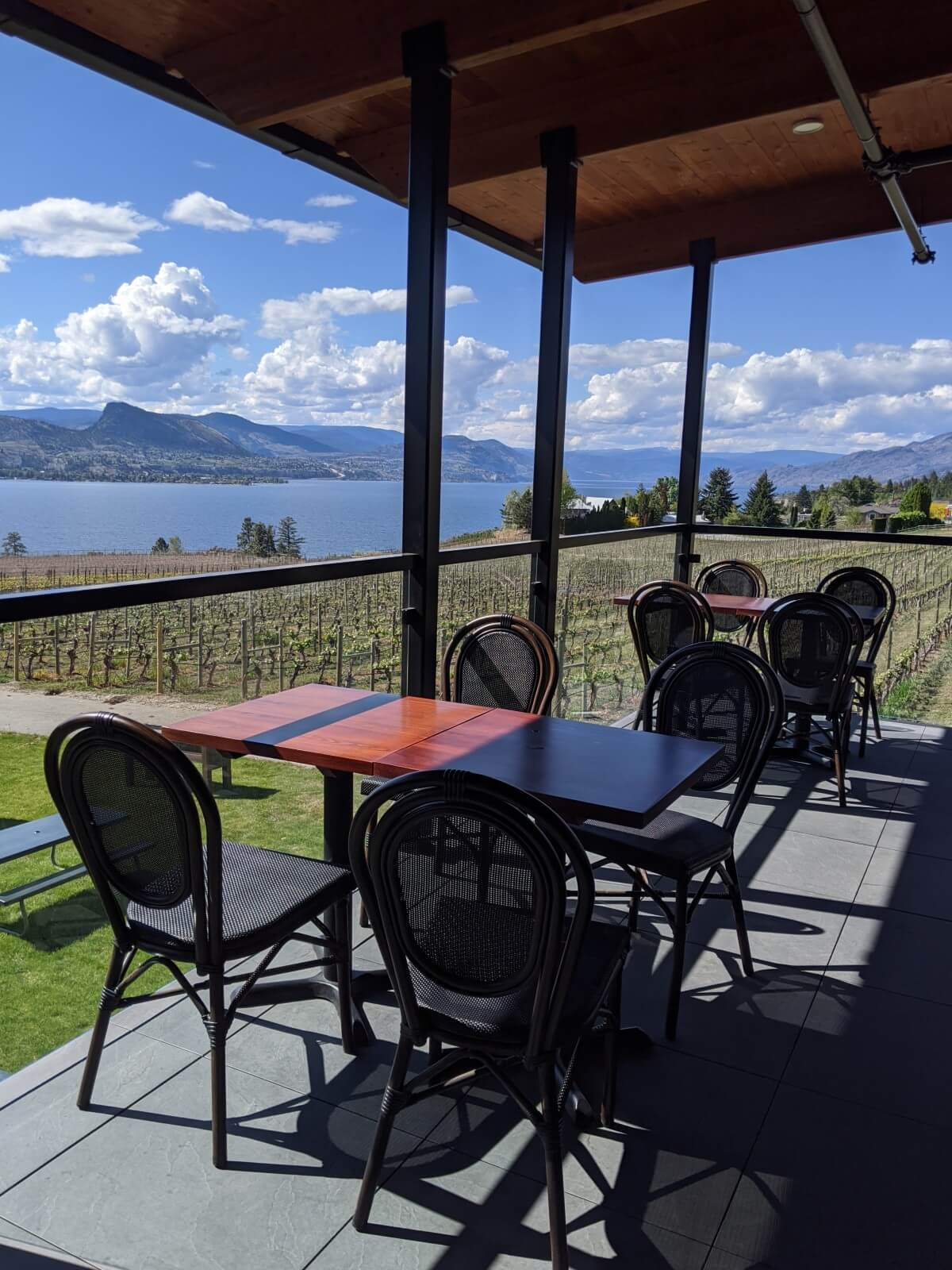 Dog Friendly
Moraine Winery is dog friendly, with leashed dogs allowed on the (unfenced) lower picnic lawn. There are a couple of large trees offering shade here.
Keep your eyes peeled for Priya, a two year old border collie owned by winemaker Dwight.
Child Friendly
Children are welcome to visit Moraine Winery within a family group. They are allowed in the tasting spaces and also in the picnic area below the winery, where there is an expansive grassed picnic area, with picnic tables and trees for shade.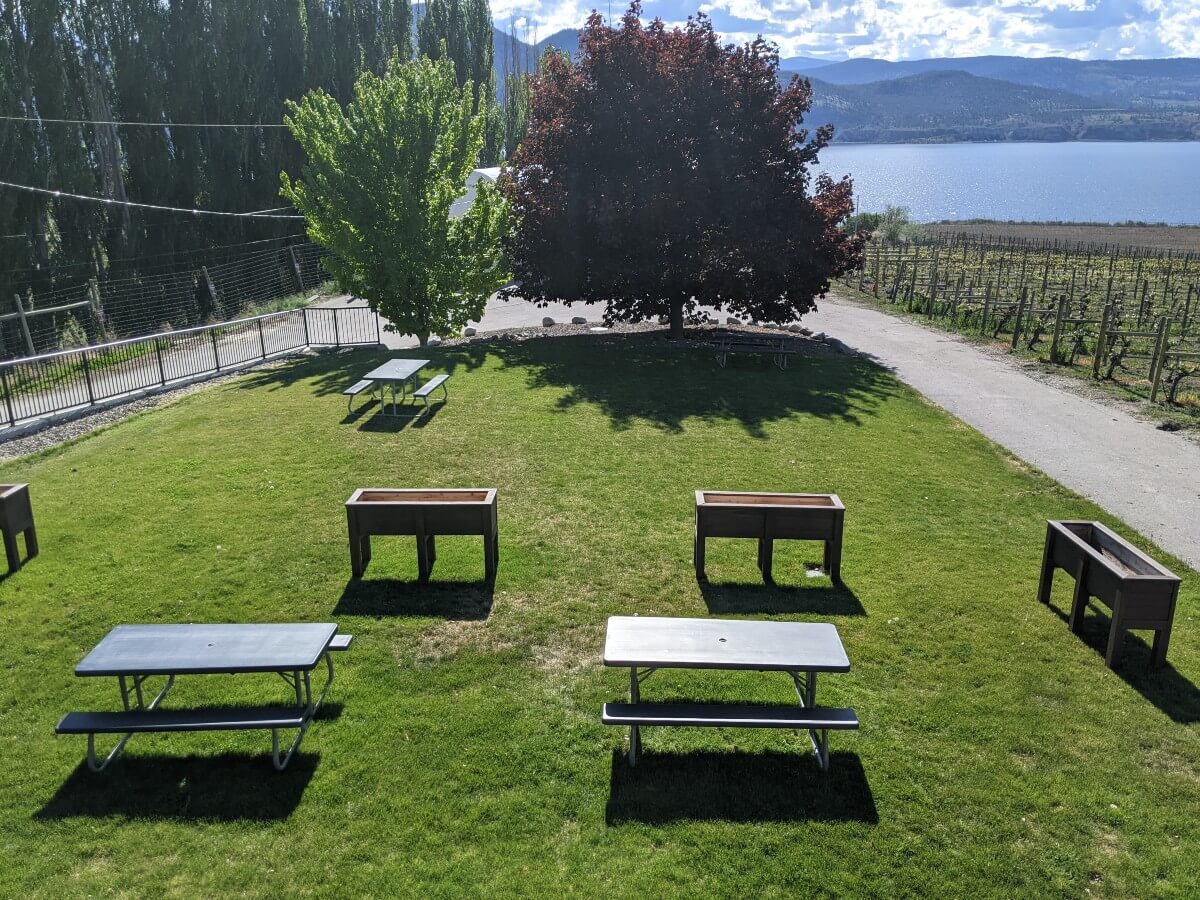 Wine Club
The Moraine Wine Club offers two annual shipments of wine, with the choice of six or twelve bottles (mixed red and white wines). Members can choose specific wines or receive a surprise with the Winemaker's Selection.
Wine packages are sent in May and October. There is a one year commitment.
Other perks included with Moraine Wine Club membership include:
10% discount on six bottle wine purchases
15% discount on twelve bottle wine purchases
Complimentary tastings for up to four people
Early access to new releases and limited production wines
Exclusive events
Special Wine Club member sales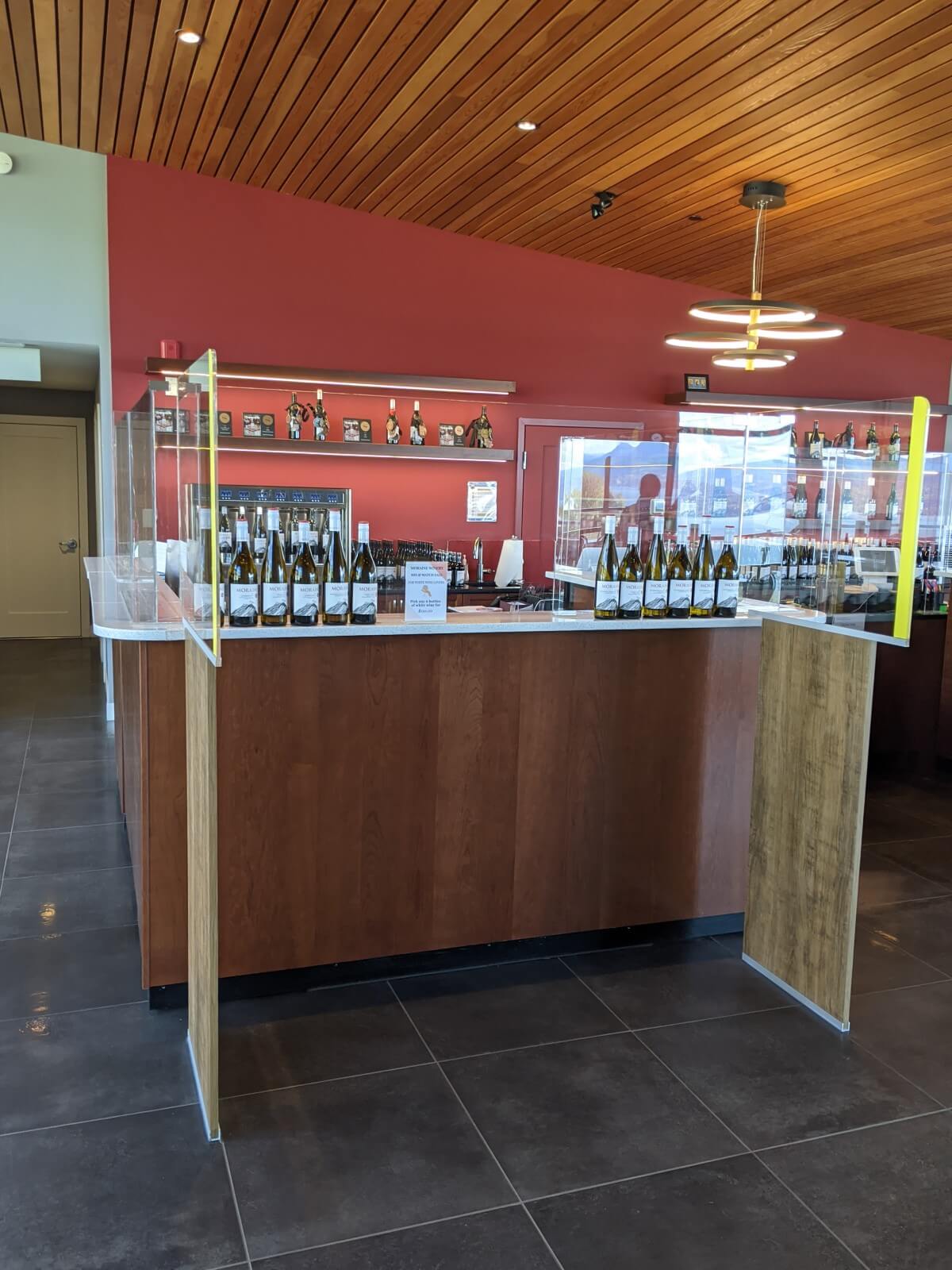 Varietals
Here are some of the varietals to expect at Moraine Winery:
Pinot Gris
Gewürztraminer
Viognier
Riesling
Chardonnay
Gamay
Malbec
Syrah
Merlot
Pinot Noir
Pinot Auxerrois
Contact Information
Phone: 1-236-422-3534
Address: 1865 Naramata Rd
Website: morainewinery.com
Discover more wineries