Experience a taste of Italy on the Naramata Bench at D'Angelo Estate Winery. The owner, Sal, was the first individual grower-vitner producing wines in both British Columbia and Ontario.
The Naramata Bench isn't necessarily renowned for red wines (yet!) but if you prefer red wines over white, D'Angelo should be top of your list to visit. They have the largest block of Tempranillo grapes on the Naramata Bench and generally only produce a very small amount of white wine per year (Viognier).
Sal's philosophy for winemaking is 'quality is grown.' and you can definitely taste the quality in the wines at D'Angelo. Be sure to try the 'Vino d'Casa,' an approachable wine perfect for every day drinking.
D'Angelo Winery is only a few minutes walk from the KVR Trail, which makes it a perfect detour on a walking or biking wine tour. The property is expansive, featuring a large grassy space stretching towards Okanagan Lake, with gorgeous views on a sunny day.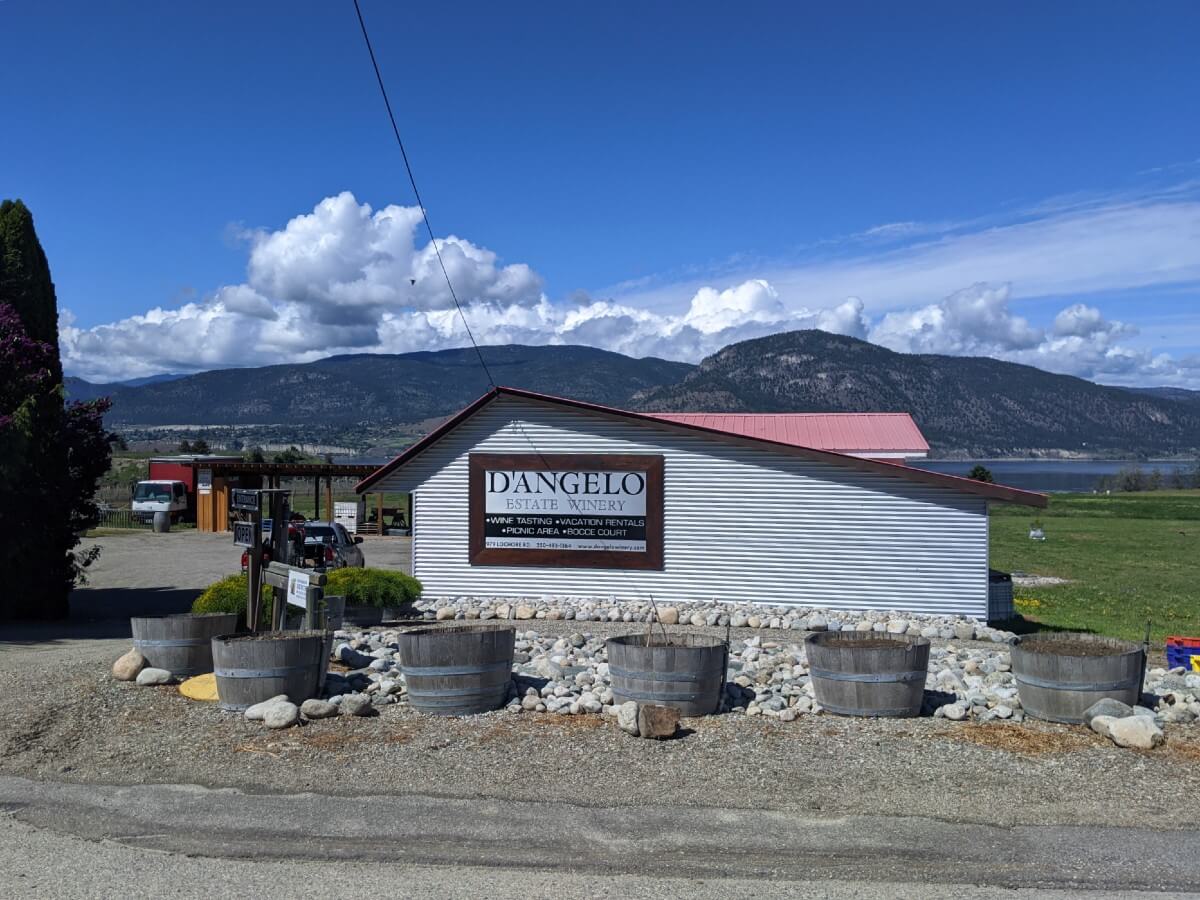 At a Glance
Wine shop times: Mon-Sat 10am to 5pm, Sun 11am-5pm
Tasting room times: Mon-Sat 10am to 5pm, Sun 11am-5pm
Tasting reservation: Walk-in only (no reservations!)
Tasting style: Outside bar service
Tasting cost: Free
Food/restaurant: Food truck
Accommodation: Yes
Child friendly: Yes
Pet friendly: Yes
Weddings and private events: Yes
Last updated June 2022. For the most up-to-date information, contact individual businesses before visiting. There are some affiliate links in this post. If you make a purchase, we may receive a small percentage of the sale.
Tastings and Wine Shop
Tastings at D'Angelo are under a covered area, just outside the wine shop. There are three bars avaliable, allowing three groups to taste at the same time. Tastings are 30 minutes long and usually including 4 different wines. The wine server may also offer the chance to try some dessert wines.
D'Angelo is one of the few Naramata Bench wineries to still give free tastings. In addition, they do not have a reservation system so all tastings are offered on a first come, first serve basis. The D'Angelo property is quite large, so it's easy to maintain social distancing while waiting for a tasting.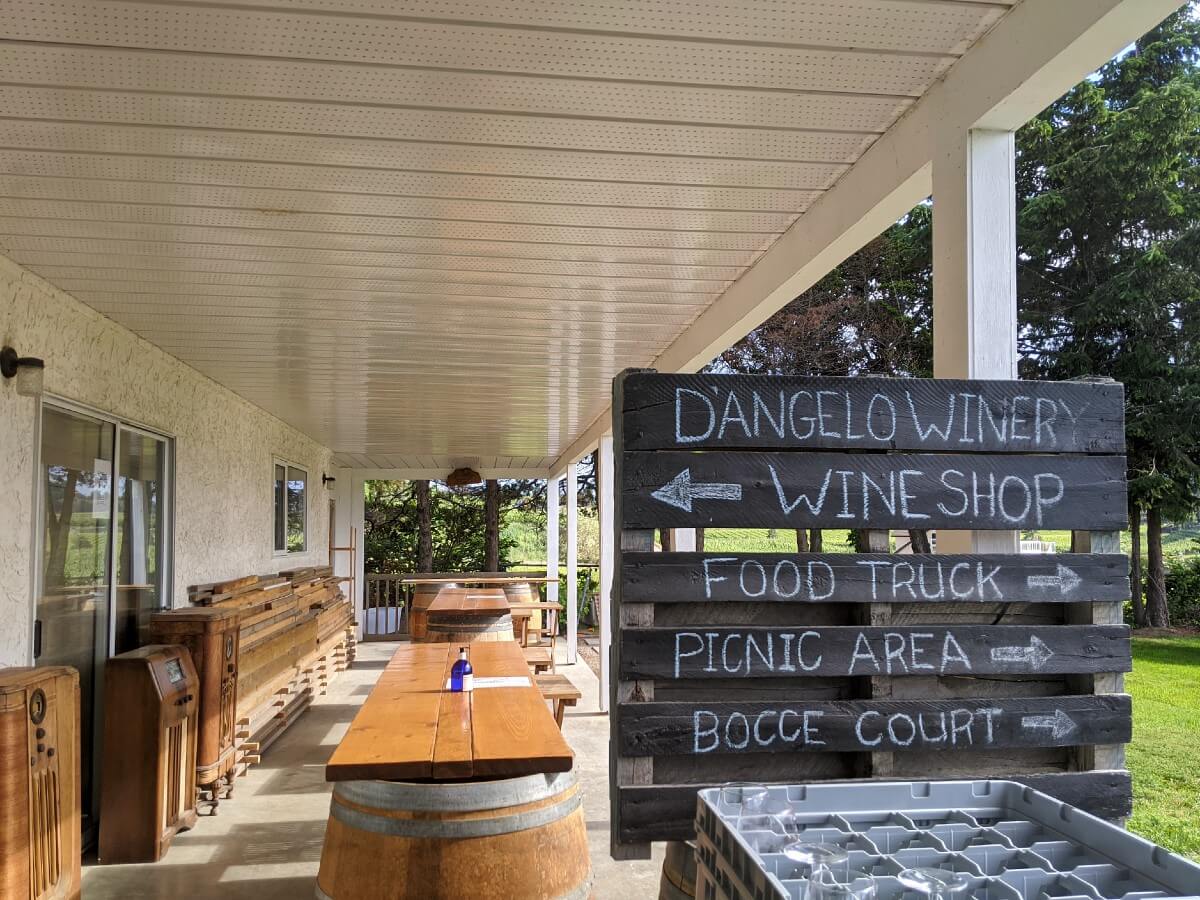 Restaurant
This winery does not have a restaurant but does have a on-site food truck and picnic area.
Danelo's Food Truck serves authentic Italian style sandwiches on organic ancient grain focaccia bread. There are six different varieties available including prosciutto with tomato and provolone and salami with pesto and roasted red peppers. Danelo's food truck also sells gelato.
Accommodation
Tucked out of sight from the wine shop and tasting area is D'Angelo's Guest House. Overlooking Okanagan Lake, this spacious three floor building features a three bedroom suite (that can also be rented as a two bedrooms) as well as a number of small bachelor suites. All of the suites are self contained, with full kitchens and individual patios. There is a large (seasonal) in-ground pool located at the front of the property, shared by all guests.
Book a stay now or learn more in our Naramata Bench accommodation guide.
Weddings and Private Events
At the current time, D'Angelo Winery does not organise weddings or private events, but has been used as a venue in the past. The ceremony area, just a short walk from the wine shop, looks out over the bluffs to Okanagan Lake. Contact D'Angelo Winery directly for more details on possible options for weddings and private events.
Dog Friendliness
Dogs are welcome to visit D'Angelo Winery while on leash. Dogs need to be on leash. There is a large roped grassy picnic area with umbrellas for shade, with even more grassy space beyond.
Child Friendliness
This winery is one of the most child friendly wineries on the Naramata Bench. The owner's daughter, Stephanie, has young children and you may spot them around and about the property.
There is a large, flat, grassy area in front of the wine shop and tasting area. One section has been roped off to create a picnic area, for customers who would like to enjoy a bottle of wine in the sun. There is scattered seating and umbrellas, with some toys and a mini slide for children.
To the side of this grassy space, there is a bocce court. Equipment is available to use on request.
Danelo's Food Truck is parked close to the bocce court and serves Italian style sandwiches as well as gelato.
Wine Club
D'Angelo Winery has a popular wine club, featuring two shipments a year. Members have the choice to receive six (half case) or twelve (full case) bottles. Wines are pre selected for each shipment. There is no shipping fee.
Wine club members receive 20% discount at D'Angelo's Guest House. Members who sign up for full case shipments also receive 10% discount on all future wine purchases.
Varietals
Tempranillo
Pinot Noir
Viognier
Wines
Wine name
Description/Varietal
Price Per Bottle
Rosalina
Merlot and Tempranillo grapes and
fermented in stainless steel tanks
$17.39
Pinot Noir 2017
Medium body,
fresh and elegant
$26.10
Vino D'Casa
Red, summer fruit forward
(cherry and ripe berries)
$19.99
Sette Coppa 2017
Red, full bodied to the palate,
ripe sweet cherry and wild herbs
$36.52
Dolce Vita Rosso
Desert wine made from Tempranillo
wine and fortified with brandy
$17.40/$41.75
Dolce Vita Bianca
Desert wine made from Viognier
and fortified with brandy
$13.05/$32.95
Tardiva Late Harvest
Late harvest Viognier
$17.39
Contact Information
Phone: 1-250-493-1364
Address: 979 Lochore Road
Website: dangelowinery.com
Discover more wineries