If you're looking for a taste of India in Penticton, you're in luck. This small city is home to a number of fantastic Indian restaurants, each with their own unique offerings.
From classic curries and tandoori dishes to vegetarian, vegan and gluten-free options, there's something for everyone to enjoy.
Better still, Penticton's Indian restaurants are usually open all week long. This makes them a particularly great pick on Sunday and Monday, when many other local restaurants are closed.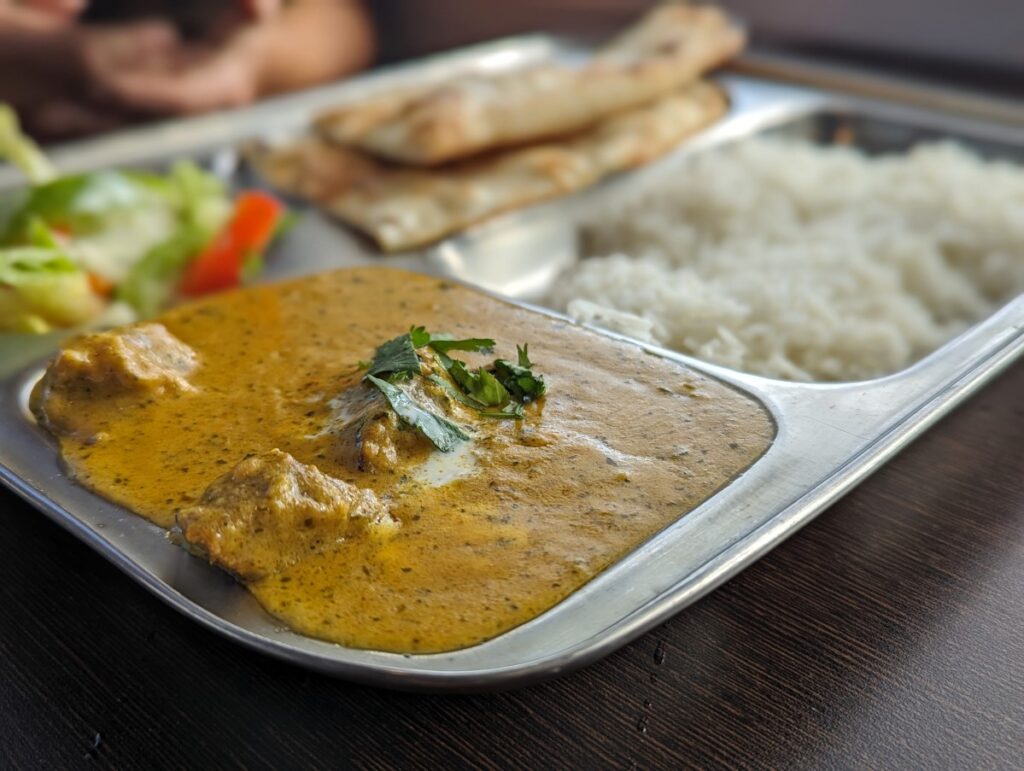 I personally love Indian food, especially when sharing with others. I enjoy being able to try and compare many different flavourful curries at once, mopped up with warm naan bread and basmati rice.
Thankfully, I feel spoiled for choice of Indian restaurants here in Penticton! As a local, I've been able to try all of the Indian restaurants on this list multiple times.
In this post, I'll share our pick of Penticton's Indian restaurants. All offer extensive menus with Canadian favourites such as Butter Chicken, Vindaloo, Tandoori, Palak Paneer and more.
Last updated November 2023. For the most up-to-date information, contact individual businesses before visiting. There may be affiliate links in this post. If you make a purchase, we may receive a small percentage of the sale.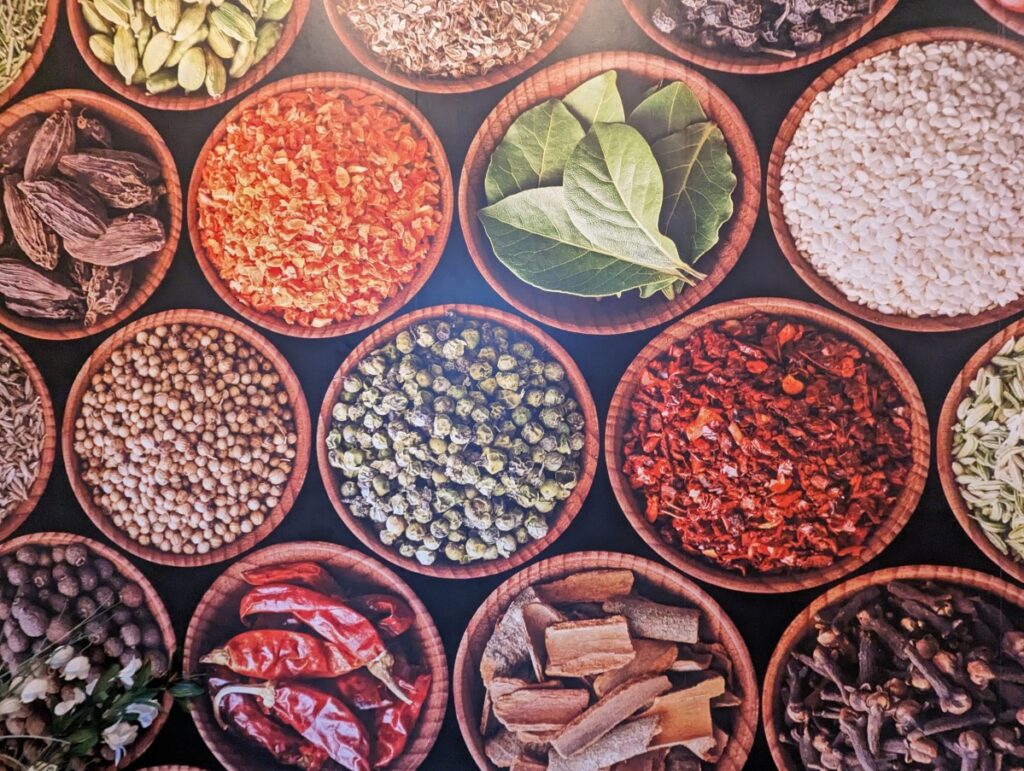 Our top picks for Indian food in Penticton
For such a relatively small city, Penticton has a surprising number of high quality Indian restaurants.
Without any further ado, let's get into it. Read on to discover our favourite Indian restaurants in Penticton.
Penticton Indian Cuisine
Penticton Indian Cuisine is our frontrunner for best Indian restaurant in Penticton. The reason? Each dish we have received from Penticton Indian Cuisine has been absolutely bursting with flavour. And there's complexity too.
Combined with perfect sauce consistency, tasty (and unusual) appetizers and decent portions, we think Penticton Indian Cuisine is a real winner. There are gluten-free, dairy-free and vegan options to help with most common dietary requirements.
The husband and wife ownership team hail from Nepal but learned to cook in New Delhi, India. Their culinary adventures continued in Cyprus and Japan, before leading them to Penticton.
Penticton Indian Cuisine's lunch and dinner specials offer excellent value and choice, especially if you're a couple/group with one person eating meat and the other not (like us). The 'dinner for one' combination is surprisingly large – I usually take some home!
The dining room is on the small size but is therefore cozier than some of the other local restaurants. There is a compact street patio outside, offering the chance to enjoy Penticton's warm weather while eating.
Location: 325 Main St, Penticton, V2A 5B7
Facebook | Website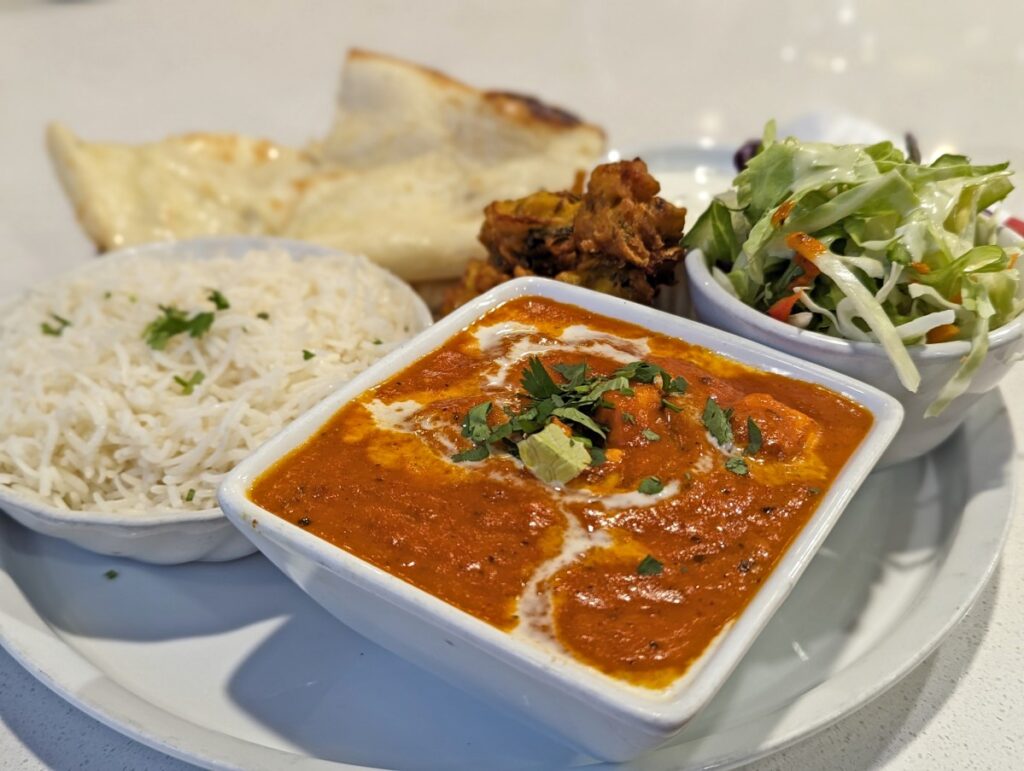 Lachi Fine Indian Cuisine
Lachi Fine Indian Cuisine is Penticton's most beloved Indian restaurant, operating since 2009. The owners grew up in the Punjab region of India, with the extensive menu reflecting some favourites from this area. The vegetarian side of the menu is the most varied around. If you're a paneer lover, Lachi should be your go-to.
My favourite dish from Lachi is actually a side dish. The soft naans are, in my opinion, the best in town, with the garlic version being my top pick. If you're eating as a couple, the dinner specials are a great deal.
Though our vote for best Indian restaurant in Penticton has recently switched to Penticton Indian Cuisine, Lachi still remains our second favourite. It's just so reliably good!
The restaurant recently moved to a new corner location, just down the street from the other premises. This newly renovated space is bright and modern, offering extra capacity and a more upscale dining experience.
I would rate Lachi to be the most attractive-looking Indian restaurant in Penticton. Good ambience and good food, what's not to love?
Location: 504 Main St, Penticton, V2A 5C7
Facebook | Website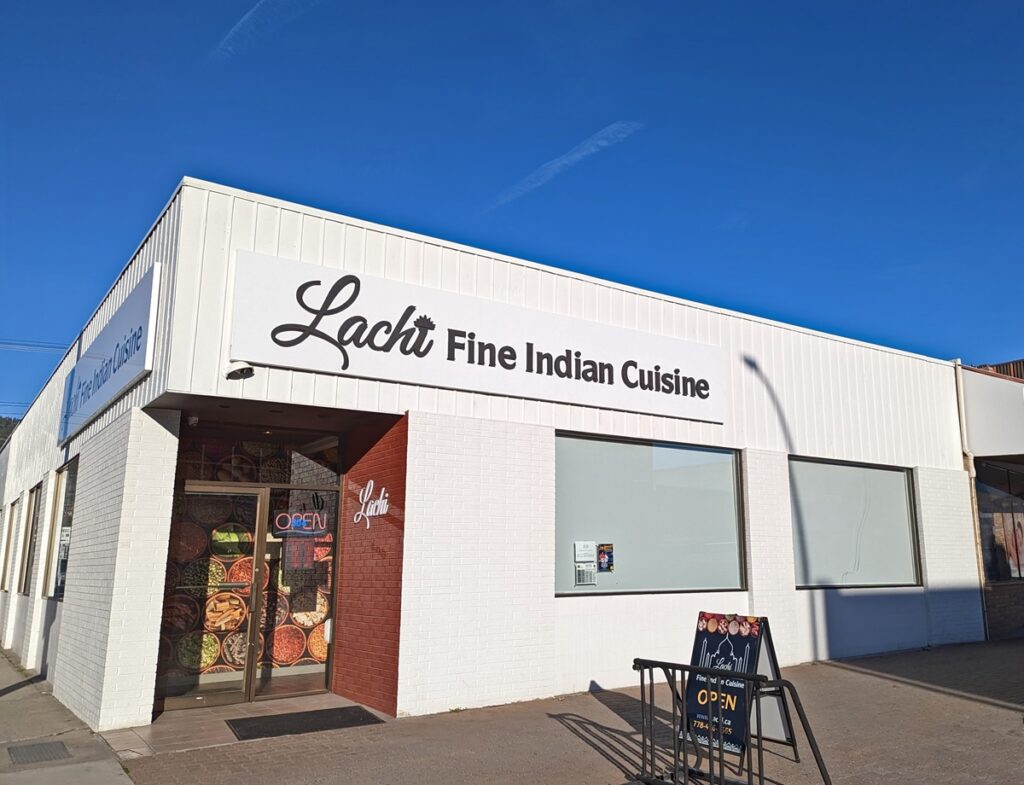 More great Indian restaurants in Penticton
While Penticton Indian Cuisine and Lachi are my favourite Indian restaurants in Penticton, they are not the only options. In general, I would say that Indian food is served to a high standard in this small city.
Ashoka Indian Cuisine
Perched on the corner of Westminster Avenue and Martin Street in downtown Penticton, Ashoka Indian Cuisine is the most prominent Indian restaurant in the city. I walk past it almost every day and the smell is so intoxicating!
Ashoka has a wide range of classic Indian dishes, including both vegetarian and meat/fish options. The combination specials (particularly at lunch) are great value, with very generous portions.
The large dining room is elegant in size. There is a small side patio as well, making Ashoka one of the only Indian restaurants in Penticton with outside dining space.
Another unique aspect of this Indian restaurant is that all curry dishes are gluten-free. They are also MSG-free as well. As a bit of a niche side note, I really like that Ashoka serves onion bhajis (my favourite). I haven't found many Indian restaurants in Canada that do.
Location: 101 Westminster Ave W, Penticton, V2A 1J7
Instagram | Facebook | Website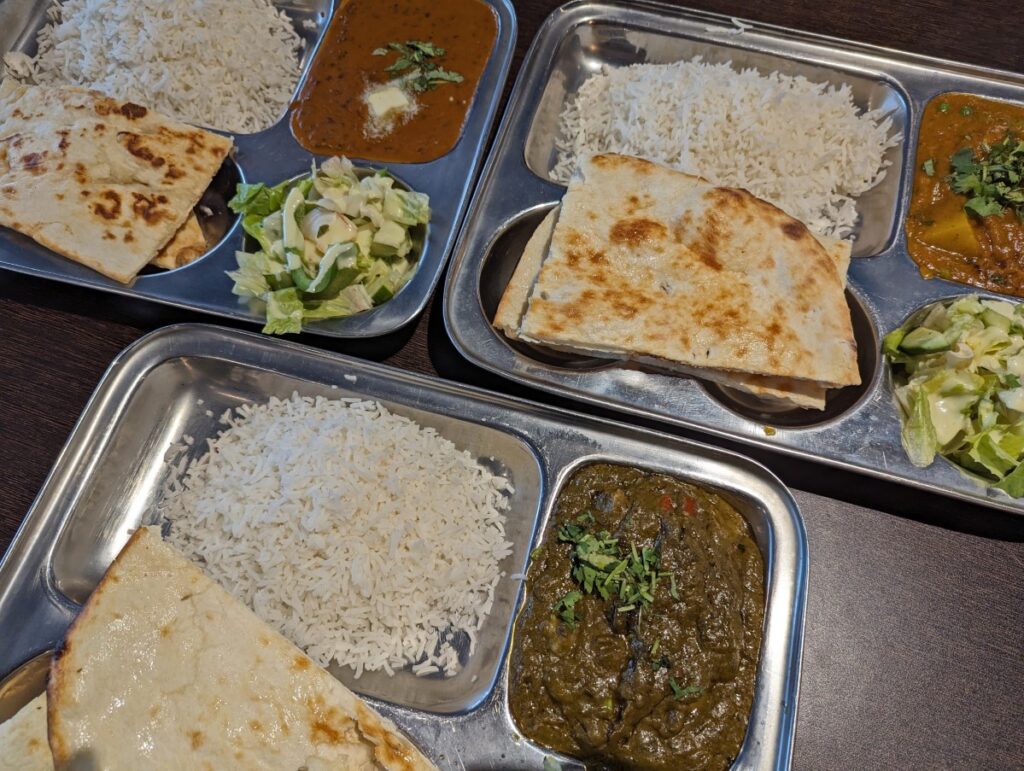 Lala Ji's
Located on the south side of Penticton, Lala Ji's is something of a hidden gem. In my opinion, it is also Penticton's most unique Indian restaurant. This is because Lala Ji's has a focus on Indian street food.
Nowhere else in Penticton can you order dishes like Achari Chaap, Gol Gappa and Ladoo Karare. There are some more familiar street food dishes as well, like the Allo Tikka Burger (mashed potato patty) and Sweet Chili Garlic Cauliflower.
Lala Ji's serves all of these specialities, as well as a large range of classic Indian dishes. Think Butter Chicken, Sag Paneer, Tandoori Chicken, Lamb Rogan Josh, Biryani and more. Combination and lunch specials are available, with all-you-can-eat buffets on most holidays.
The owners of Lala Ji's are a father/son chef team with international cooking experience. They also own Lala Ji's Pizzeria, situated in downtown Penticton. Alongside classic toppings, there are plenty of Indian-inspired pizzas as well (Butter Chicken, Veggie Korma and Tandoori Prawn just to name a few).
Location: 120-2436 Skaha Lake Rd, Penticton, V2A 6E9
Facebook | Website
Samosa Express
While it's not a permanent restaurant per se, I thought Samosa Express deserved a spot on this list of Penticton's best Indian restaurants.
Samosa Express is a food truck, most often seen at the Penticton Farmers' Market on Saturday mornings. Besides the tasty samosas (fried savoury pastries) that the truck is named after, I really like the combination platters.
These platters usually include a veggie or meat curry dish with naan bread and rice. The veggie combo often comes with a second curry dish as well. Everything is homemade by the friendliest local family. The majority of the menu is vegetarian, with most being vegan too.
The Penticton Farmers' Market runs every Saturday 8.30am to 1pm from April to October. Samosa Express also appears at the Naramata Farmers' Market (Wednesday afternoons) and the Summerland Farmers' Market (Sunday mornings). It is also occasionally parked at the Cannery Backyard.
Location: Food truck, see above for details
Instagram | Facebook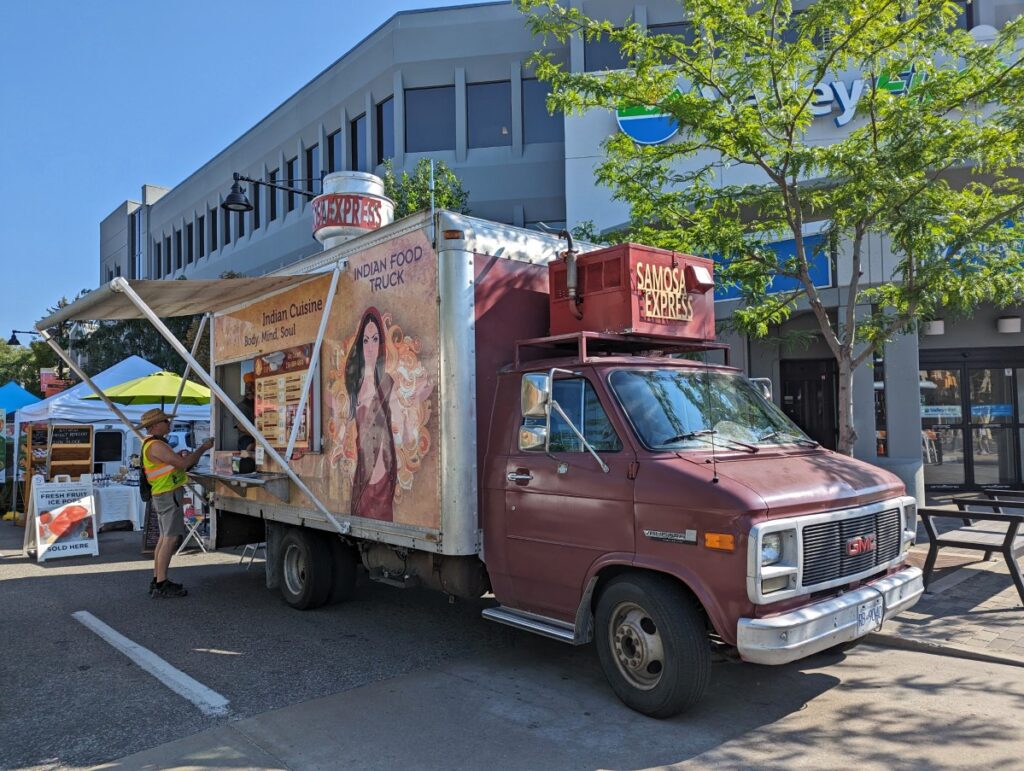 Penticton's best Indian restaurants
Overall, Penticton has no shortage of great Indian restaurants to choose from, with each offering a unique and flavorful experience.
Whether you're a fan of spicy curries, hearty biryanis, or tender tandoori dishes, there's something for everyone at these top-notch Indian restaurants in Penticton. Whichever you choose, enjoy your meal!

Discover Penticton
Looking for the best accommodation in Penticton?