Four Shadows is a fairly new Naramata Bench winery with a focus on family. Owners Joka and Wilbert Borren grew up in the Netherlands and farmed in Alberta before moving to Penticton in 2011.
Initially, they grew grapes for other producers before starting their very own winery. The tasting room opened in 2019.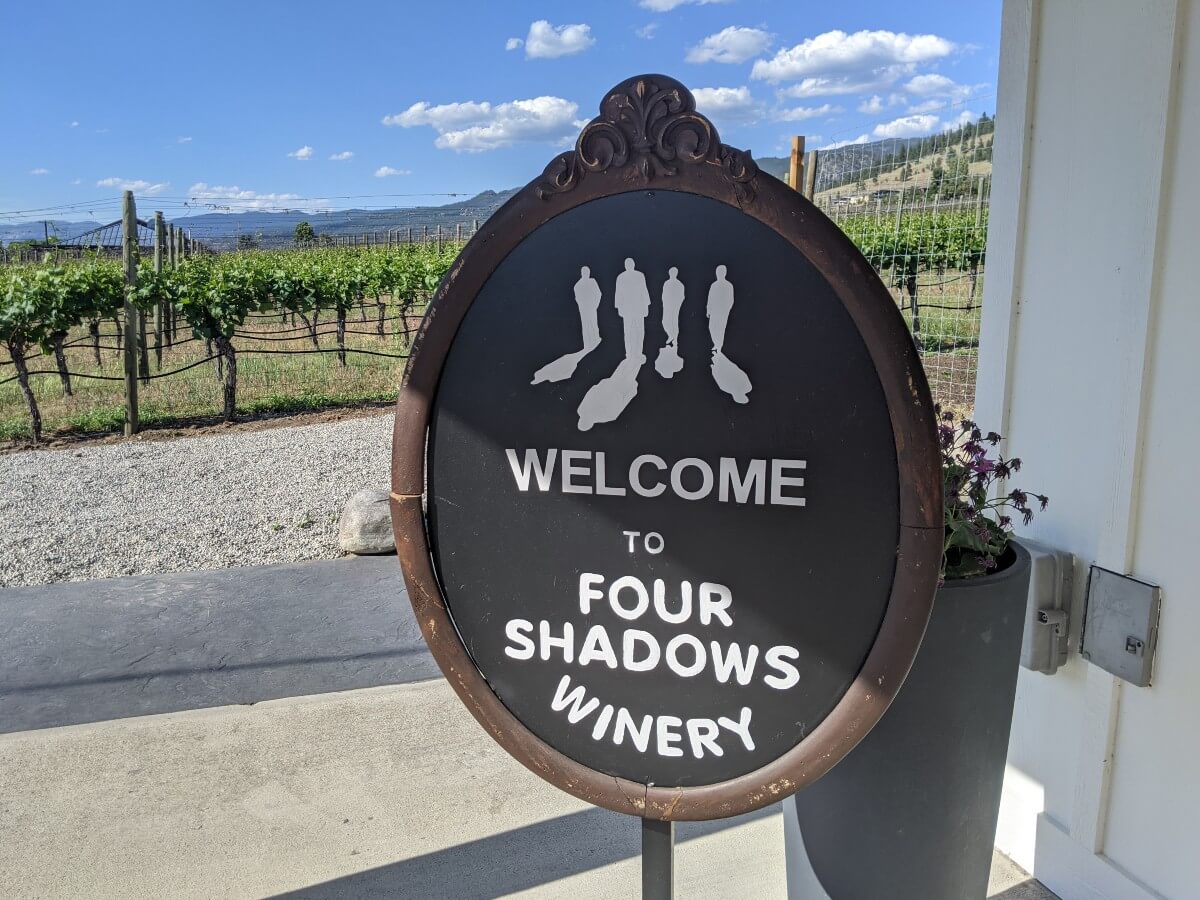 Four Shadows may sound like an unusual name for a winery but there's a lot of heart behind it. The four shadows in question are Joka and Wilbert's four sons, inspired by a photograph taken on a family holiday. Their silhouettes now welcome guests to the winery and adorn every bottle of wine sold.
Fans of Riesling and (oaked) Chardonnay will enjoy the opportunity to try and buy multiple varieties at Four Shadows. Other vintages include Merlot, Pinot and Rosé.
At a Glance
Wine shop times: Mon-Sat 11:00-6:00 Sun 1:00-6:00
Tasting room times: Mon-Sat 11:00-6:00 Sun 1:00-6:00
Tasting reservation: Reservations accepted by phone/email, walk-ins also welcome
Tasting style: Tasting bar, outside seating
Tasting cost: $5/pp, waived on purchase
Food/restaurant: No
Accommodation: Yes
Child friendly: Yes
Pet friendly: Yes
Weddings and private events: No
Last updated June 2022. For the most up-to-date information, contact individual businesses before visiting. There are some affiliate links in this post. If you make a purchase, we may receive a small percentage of the sale.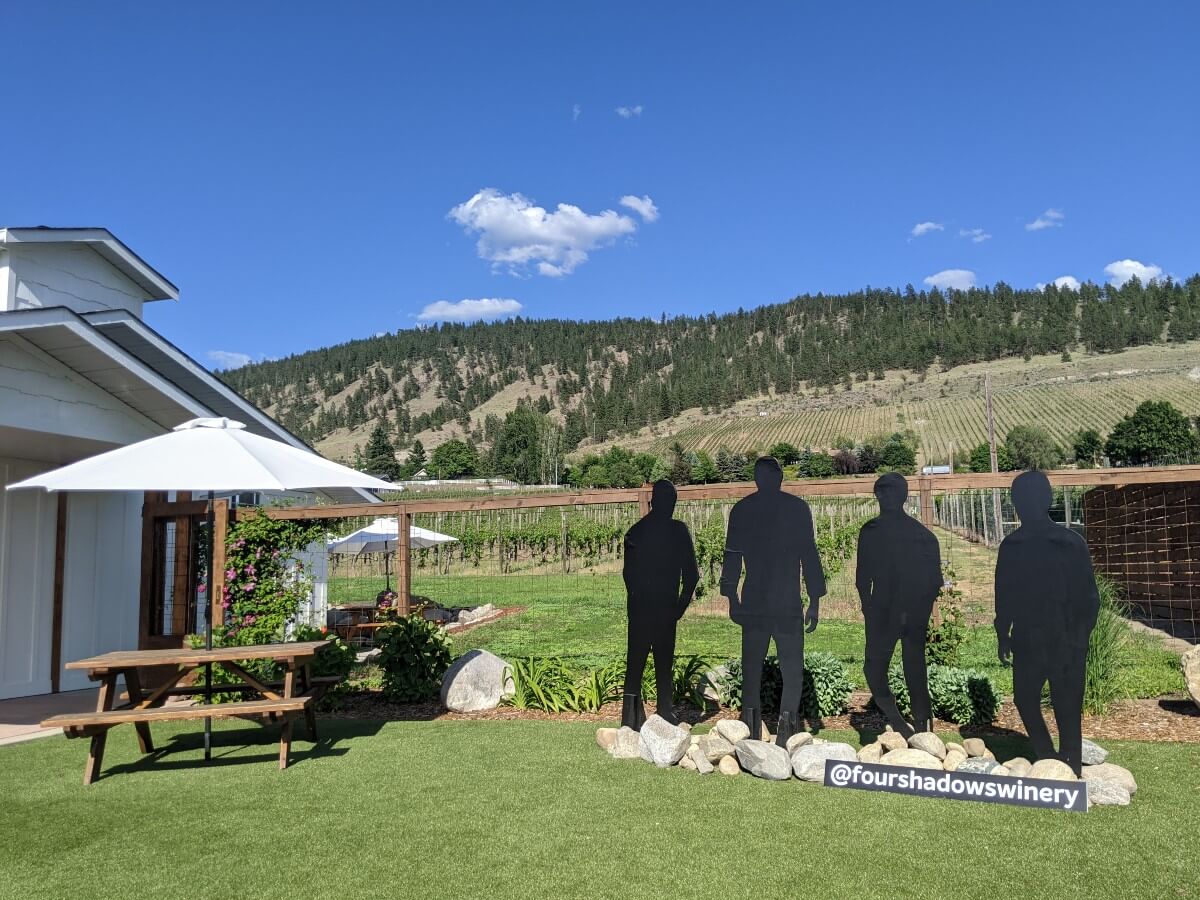 Tastings and Wine Shop
Four Shadows has two different spaces for tasting – at a 'U' shaped bar inside or on a paved patio outside. The latter features picnic tables with umbrellas and is surrounded by vineyards and views of Campbell Mountain above.
The tasting room inside is airy and bright, with high ceilings and exposed rafters. Both tasting spaces are open later than most on the Naramata Bench, so Four Shadows is ideal for a late afternoon stop.
The Four Shadows tasting experience is friendly, fun and informative, with some storytelling blended in. There is the possibility of being served by a member of the family, particularly in the quieter tasting months.
The tasting fee at Four Shadows is $5 per person and usually include five different wines. The fee is waived with the purchase of wine.
Reservations are accepted by phone or email, but walk-ins are also welcome when space permits.
First time wine touring on the Naramata Bench? Read this post next – Naramata Bench Wine Tasting Etiquette and Tips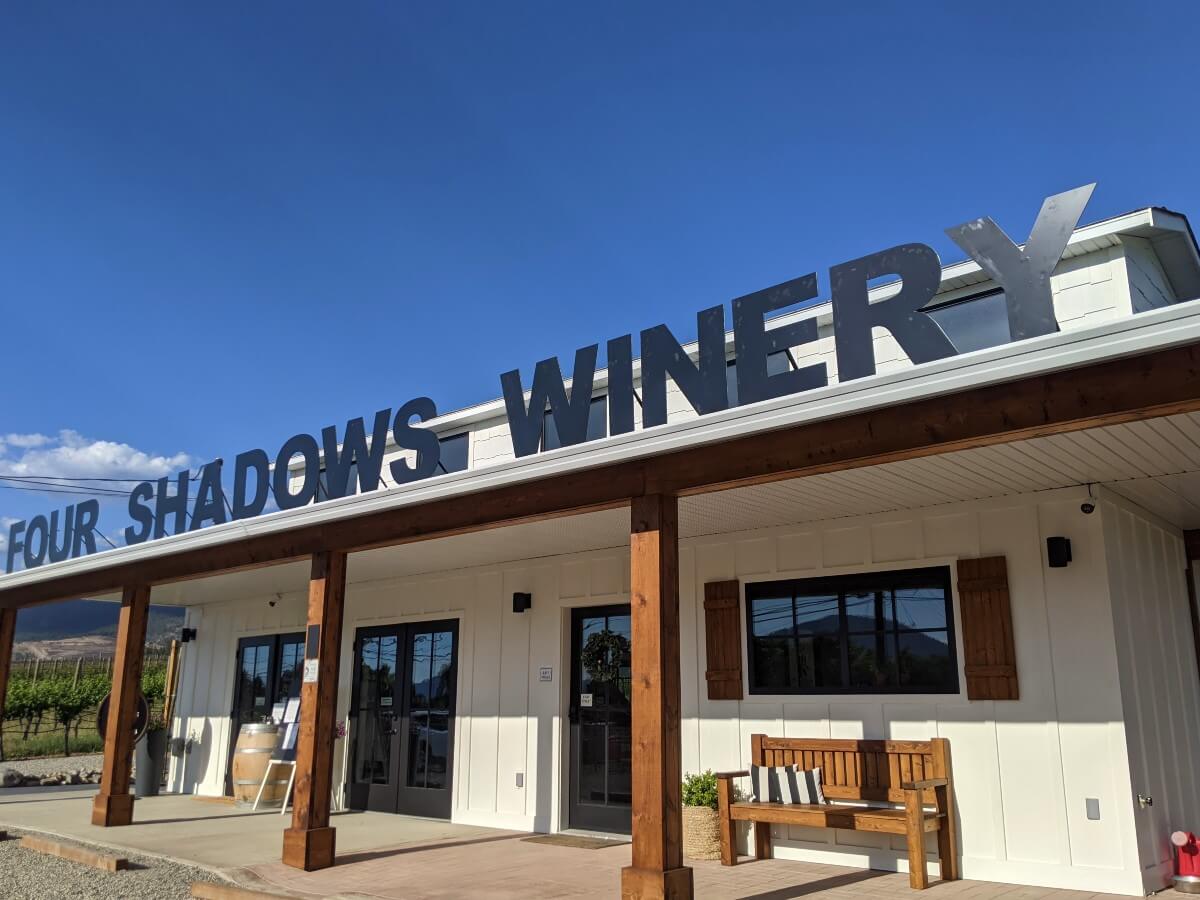 Restaurant
This winery does not have a restaurant or food available at this time but they do have a small picnic lawn area behind the tasting room. Guests can bring their own picnic and purchase wine by the bottle for consumption in the picnic area.
Accommodation
Four Shadows has a small private guest house for rental via VRBO called 'Pinot Blanc.' Separated from the tasting room by a gently sloping vineyard, the cottage looks out over the beautiful rolling landscape of the Naramata Bench as well as Okanagan Lake and the mountains beyond.
With one bedroom and one bathroom, Pinot Blanc is the ideal destination for a romantic getaway.
The cottage is completely self contained with a full kitchen in the main living space. There is a lovely shaded deck with a BBQ, overlooking the vineyard and tasting room.
With Four Shadows being only minutes from downtown Penticton, this guest house offers exceptional convenience while still being very private and rural.
Weddings and Private Events
This winery does not offer weddings or private events but here is some recommended local wineries which do: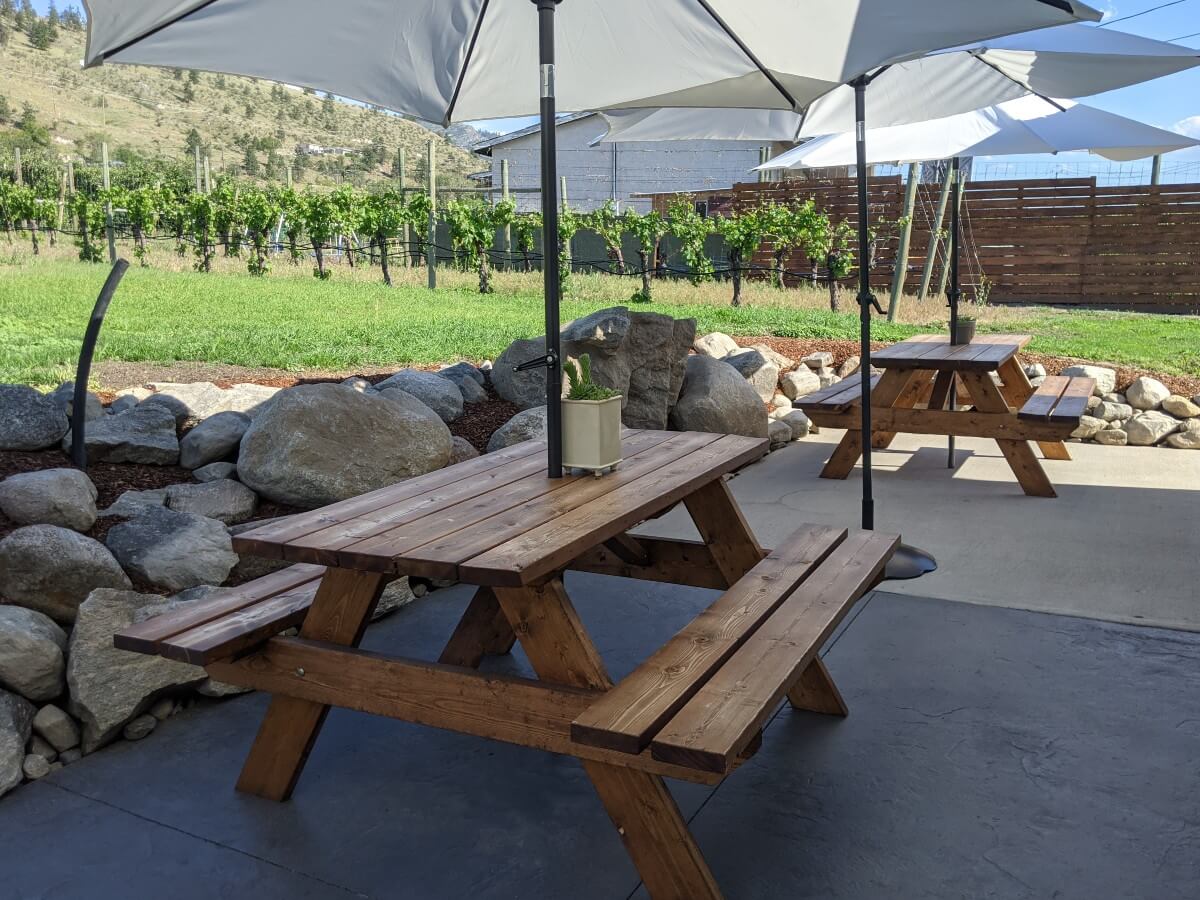 Dog Friendly
Dogs are welcome to accompany guests seated outside. The picnic tables on Four Shadows' paved patio have umbrellas and plenty of space between them. In the late afternoon, this paved patio is well shaded from the sun. Dogs should be on leash at all times.
Child Friendly
Four Shadows welcomes children but does not have any child-specific facilities such as toys or a playground.
Outside tastings are conducted on a paved patio, which is surrounded on two sides by a well manicured lawn. As mentioned above, the paved patio becomes shaded later in the day. There are washrooms inside the tasting room.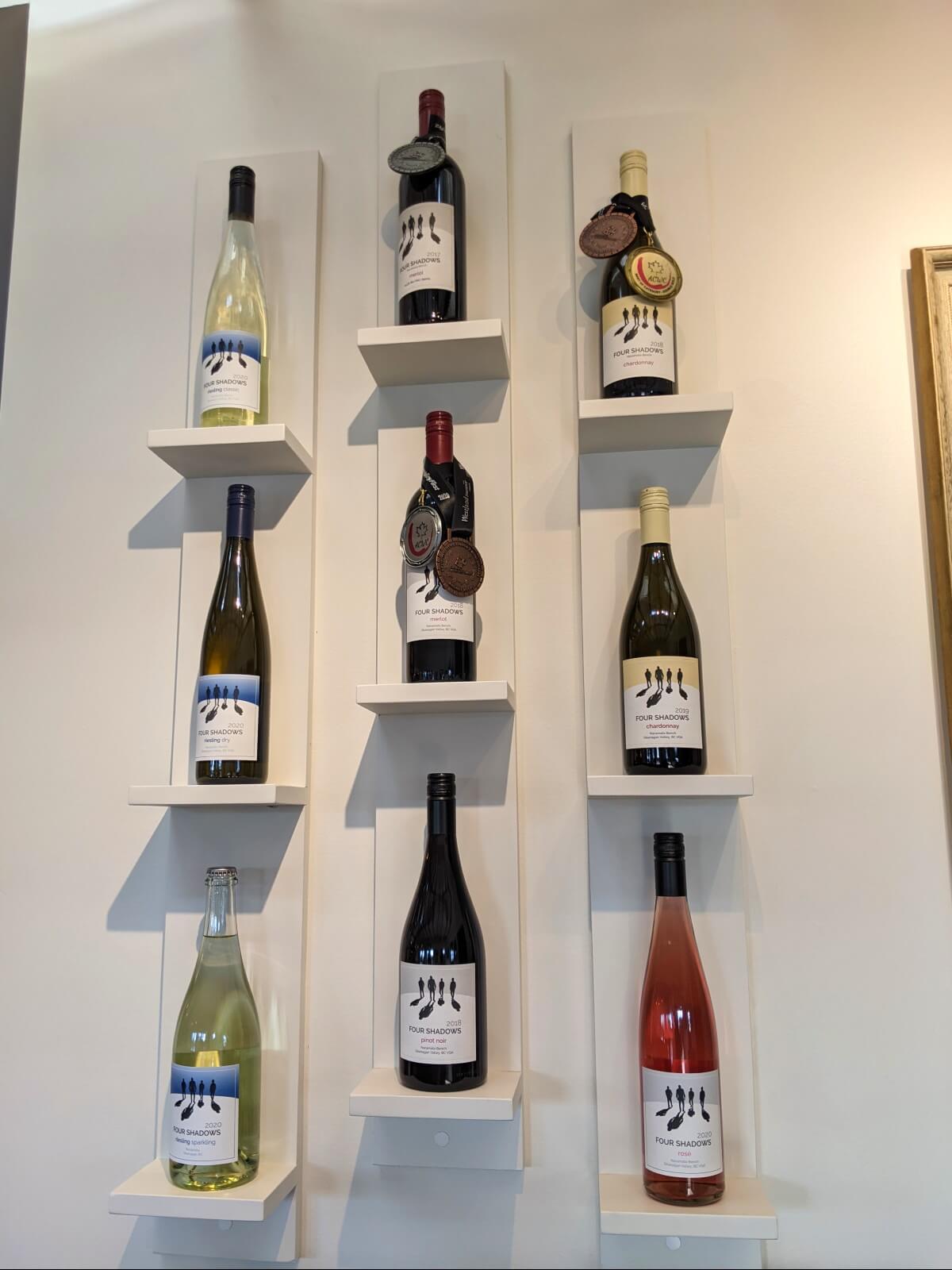 Wine Club
Four Shadows Vineyard and Winery has a wine club, with two discounted, customizable shipments per year. Members have the choice of a half case (six bottles with shipping charge) or a full case (twelve bottles with free shipping).
Wine club members also receive:
10% off tasting room purchases
Complimentary tastings
Entry into a draw for a two night guest house stay
Advance access to new vintages
Free bottle of wine for wine club referrals
To sign up, visit the Four Shadows' tasting room or download and email a form from their website.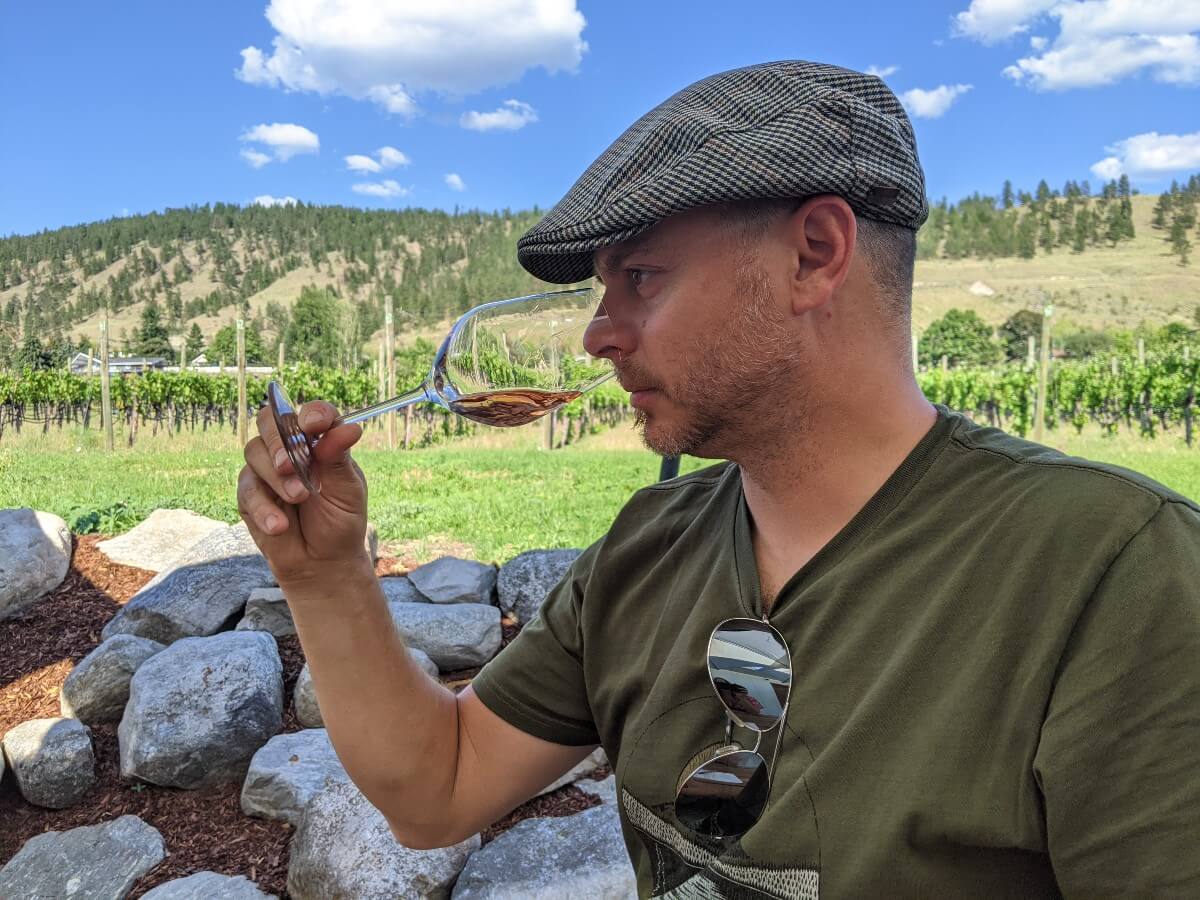 Varietals
Chardonnay
Riesling
Pinot Noir
Merlot
Contact Information
Phone: 1-250-493-3625
Address: 250 Upper Bench Road South
Website: fourshadowswineyard.com
Discover more wineries
Discover Penticton