As a long time popular holiday destination, Penticton has plentiful choice for accommodation. But it can get overwhelming when it's time to book. This is especially true if you're unfamiliar with Penticton and you're not even sure where in the city you'd like to stay!
As local residents, we are often asked for our recommendations for the best places to stay in Penticton. After all, we know the city better than most!
This post offers a complete guide to the best Penticton accommodation. It includes a break down of different city areas and their advantages (and disadvantages!) I also share the best hotels, motels and vacation rentals to help you find the perfect Penticton accommodation for your next trip.
Last updated June 2022. For the most up-to-date information, contact individual businesses before visiting. There are some affiliate links in this post. If you make a purchase, we may receive a small percentage of the sale.
Here's what to expect:

Okanagan Lake
The largest concentration of Penticton accommodation is found at the very north end of town, on or very close to the shores of Okanagan Lake.
Besides the appeal of the lakeside beaches and parks, downtown is within easy walking distance. This means great accessibility to restaurants, cafes, breweries, shops, the cinema and even the Farmers Market (Saturdays only). If you love the beach, eating out and socializing, this is the place to be!
On the downside, it can be a little noisy on weekend evenings and some weekdays in summer. Nothing too wild (Penticton does not have any clubs) but it's something to be aware of. Having said that, I'd still recommend this area to families due to the proximity of the lake and beaches.
Penticton Lakeside Resort
The premier place to stay in Penticton is definitely the Lakeside Resort. In terms of location, it really doesn't get any better than this – the hotel sits right on the shore of Okanagan Lake, surrounded by municipal parks.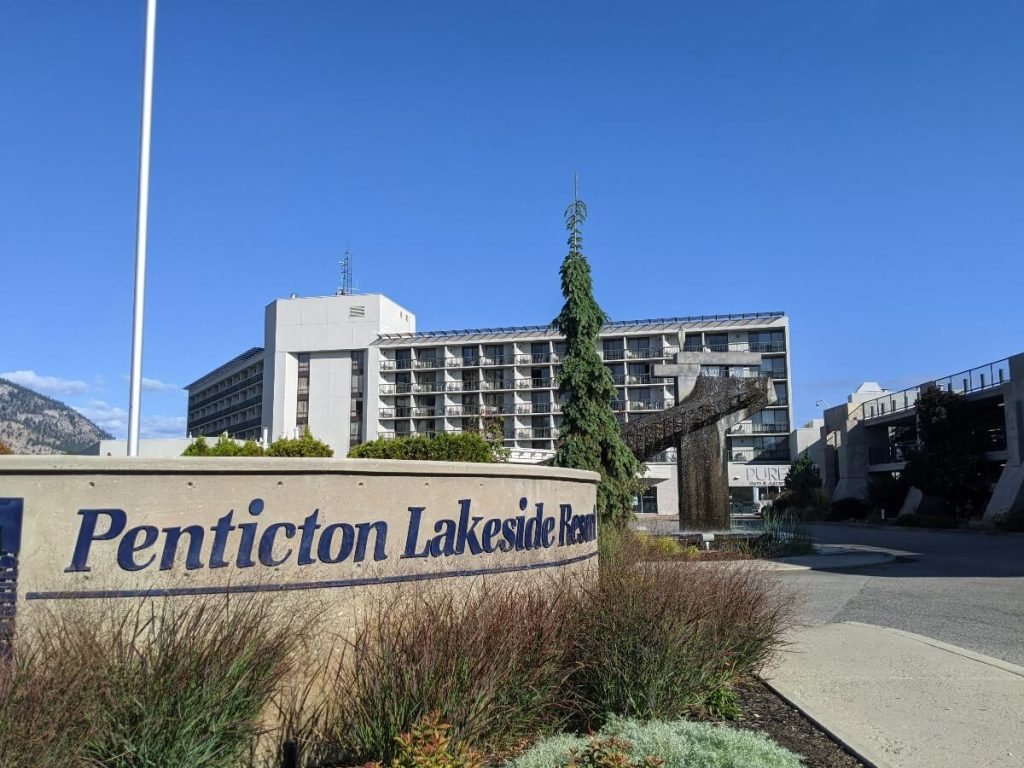 There are three places to dine within the resort itself and a private beach with marina. With the hotel being situated at the end of Main Street, downtown Penticton is less than five minutes walk away.
Rooms and suites are set into two accommodation buildings, with the newer 'West Wing' offering the most upscale surroundings. Some rooms have gorgeous lake views.
Dogs: Yes (extra charge, designated rooms)
Phone: 250-493-8221
Address: 21 Lakeshore Drive W (click for directions)
Tiki Shores Beach Resort
A row of two and three start motels lines the western end of Lakeshore Drive, just across the road from Okanagan Lake. One of the best is Tiki Shores, a relaxed, family friendly resort with heated outdoor pool, BBQ area and on-site Asian fusion restaurant.
There is a range of suite configurations and comfort levels, from smaller studio rooms with kitchenettes to three bedroom and penthouse suites with full kitchens. Some rooms have direct lake views, with private patios.
Dogs: Yes (extra charge)
Phone: 250-492-8769
Address: 914 Lakeshore Dr W (click for directions)

North Gateway
The North Gateway area is located to the west of downtown, immediately above and around Highway 97. A small cluster of chain hotels and independent motels are found here, as well as a shopping complex (Riverside) and golf course (Penticton Golf & Country Club). At the centre of this area is the South Okanagan Events Centre and the Trade and Convention Centre.
The western side of the North Gateway is around 2-3 blocks from Okanagan Beach (10 minutes walk) and around 4-6 blocks from downtown (20 minutes walk). It's therefore still a convenient area for those who don't want to drive anywhere, but a little quieter and cheaper than staying right on Okanagan Lake.
The North Gateway is, however, not the prettiest of places to stay. At the time of writing, it is undergoing extensive redevelopment so this may change in the next few years.
Days Inn by Wyndham Penticton
This chain hotel provides comfortable accommodation in an advantageous location. It's less than 10 minutes away from Okanagan Lake and just across the street from a skate park, Loco Landing and the start of the channel float. The hotel has an indoor and outdoor pool as well. For this reason, I think the Days Inn is a great choice for families in particular.
Food options are a little limited in the immediate area, though the nearby Riverside shopping complex does offer some fast options (Starbucks, Dominos, A&W, Quality Greens grocery store). The Station Public House at the Ramada is fairly close.
Please note that at the time of writing, there are townhouses being constructed on the block opposite the Days Inn. Normally, this area is relatively quiet. I believe this development will be completed sometime in 2022.
Dogs: No
Phone: 250-980-3952
Address: 152 Riverside Drive (click for directions)

Ramada by Wyndham Penticton Hotel & Suites
Despite being located just off Highway 97, this Ramada hotel is surprisingly scenic. This is because it sits right in front of the Penticton Golf and Country Club. Many of the rooms and suites look directly out onto the links. If you like golf, it's a no brainer to stay here!
Accessing the beach by foot is still possible, though the start of the 20-25 minute walk is pretty industrial. Downtown is a little further – most guests will drive.
The on-site restaurant, the Station Public House, is reliably good, with a menu featuring many pub classics. A wide range of local beers and wines are usually available as well.
Dogs: Yes (extra charge, designated rooms)
Phone: 250-492-8926
Address: 1050 Eckhardt Avenue W (click for directions)
Fairfield by Marriott Inn & Suites Penticton
This new hotel is just at the extreme edge of the North Gateway area. It's most convenient for people who are primarily visiting Penticton to watch a hockey game or attend a conference.
Vacationers will enjoy the upscale accommodation and complimentary breakfast. The beach is still only a short drive or 20-25 minute walk away.
Dogs: Yes (extra charge, designated floor)
Phone: 236-422-0821
Address: 602 Eckhardt Avenue W (click for directions)

Downtown Penticton
Downtown Penticton is at the northern end of the city, close to Okanagan Lake. The center of the shopping action is Main Street, with additional stores and restaurants spread across Front Street, Winnipeg Street, Martin Street and Westminster Street.
Five of Penticton's eight breweries are located right in the downtown core, alongside a winery and distillery. There is a six screen Landmark Cinema here as well.
Visitors who like to be in the centre of the action will enjoy staying in downtown Penticton. The lake and beaches are still only a few blocks away and easy to access by foot or bike.
While Penticton isn't the party city it used to be, expect some noise in the downtown area on summer weekends and some weekdays. Most summer events (such as PeachFest) are held in parks close to downtown, with live music until 11pm or so.
Vancouver Hill Beach House (VRBO)
This conveniently located townhouse is one block away from a quiet beach and about five minutes walk to downtown. The Bench Market, one of the best coffee spots in Penticton is next door and the Vancouver Place trailhead for the Kettle Valley Rail (KVR) Trail is just up the hill.
With three bedrooms, two and a half baths and two patios, this property is an ideal size for a group of friends or two families travelling together. Laundry facilities, a BBQ and dishwasher perfect the package.
Simi's Penticton Getaway – Lake View Condo (VRBO)
If the Vancouver Hill Beach House is a little too big for your needs, consider this smaller Penticton accommodation rental. Set less than a block away from Okanagan Lake (within sight of the Peach!), the condo is a stone's throw from beaches, breweries and stores.
Couples will love the spacious master en-suite bedroom with walk-in closet and lake view deck. The main floor features an open plan kitchen, living room, dining space, full bathroom and additional deck.
The property sits just above above KOYA, one of the best restaurants in Penticton.

Commercial Centre
The southern half of Main Street is Penticton's commercial centre and is where you'll find all of the big box stores and fast food outlets. The hospital is located close by as well.
The commercial centre is not the prettiest place to stay, but it can be very convenient. Highway 97 runs roughly parallel to Main Street, so there is fairly quick access in and out of the city. Follow Main Street north and you'll reach downtown and Okanagan Lake. Go directly south and you'll be at Skaha Lake.
Two star motels are common in this area, as well as house and apartment rentals.
Best Western Inn at Penticton
The Best Western Inn is situated at the very southern tip of Penticton's commercial centre, just up the street from Skaha Lake (more details below). Away from the busy main drag, the Best Western enjoys a quiet location.
This hotel offers good value for money, with two swimming pools, hot tub and complimentary hot breakfast for all guests. It's an ideal place to wind down after a busy day on the trails or climbing at Skaha Bluffs! The interior of the Best Western is a bit dated but still comfortable and functional.
Dogs: Yes (extra charge, designated rooms)
Phone: 250-493-0311
Address: 3180 Skaha Lake Road (click for directions)

Trail House (VRBO)
One of the highest rated accommodation rentals in this area is Trail House, a newly constructed two bedroom house with three bathrooms.
The ground floor features an open concept kitchen and living room, with bathroom, laundry and patio. Two spacious bedrooms await upstairs, each with an en-suite bathroom.
Being so well equipped, Trail House is an ideal pick for families or two couples. Wineries, downtown and both lakes are within easy driving distance. The Kettle Valley Rail (KVR) Trail is just a short ride away.

Skaha Lake
The Skaha Lake side of town is definitely quieter than Okanagan Lake but is full of life in summer. The highlight is Skaha Lake Park, which features gorgeous golden sand beach backed by green space and playgrounds.
Accommodation options here include a range of two star motels and campgrounds, making the area relatively budget friendly (in the grand scheme of Penticton accommodation!) There are not many restaurants on this side of town, however, so expect to drive more if you like to eat out.
In summer 2022, Skaha Lake will be connected to Okanagan Lake with the help of a protected bike route (designed with families in mind). This will ensure better accessibility to downtown Penticton without the use of a vehicle.
Traveler's Motel
The Traveler's Motel is as well located as it is colourful! Just three minutes walk from Skaha Lake Park, it's an ideal spot for families or anyone with limited time to spend in Penticton.
The second floor of the motel was added within the last few years, so the upper rooms are bright and modern. The ground floor rooms are a bit more dated but still clean and comfortable.
There is a mix of rooms available, from basic doubles to two bedroom suites with full kitchens. All guests can enjoy the seasonal outdoor pool and BBQ facilities.
Dogs: No
Phone: 250-493-1520
Address: 3590 Skaha Lake Road (click for directions)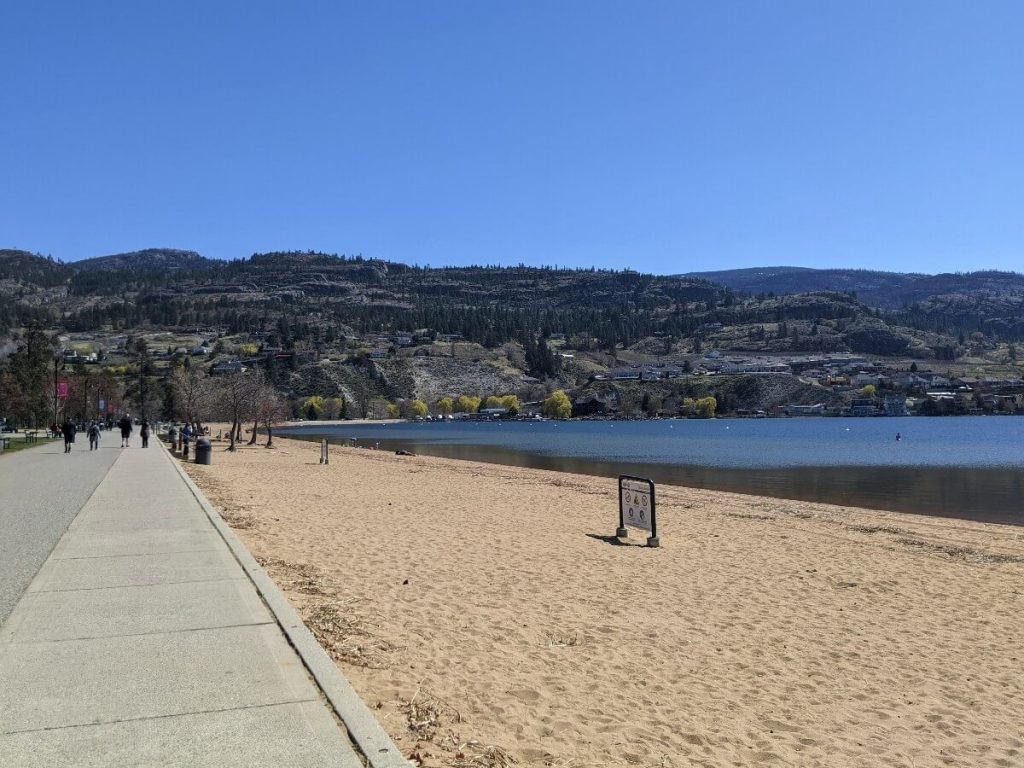 Lakeside Villa Inn and Suites
Just one turn off Highway 97 is the Lakeside Villa Inn and Suites. This modest and unfussy motel features studio rooms, one bedroom suites and family suites.
The larger rooms have full kitchens, though all guests have access to a garden space and BBQs. Due to the location, there is some road noise to be aware of.
A nearby underpass leads to a private beach on Skaha Lake, shared with the surrounding properties. The underpass also provides a connection to the multi-use Kettle Valley Rail (KVR) Trail, which winds its way along the western side of Skaha Lake towards Kaleden and Okanagan Falls.
There is a restaurant at the adjacent Barefoot Beach Resort as well as a handful of seasonal stores.
Dogs: No
Phone: 250-492-7111
Address: 4101 Skaha Lake Road (click for directions)

Sendero Canyon and beyond
Sendero Canyon is a planned community of 200+ homes on the western side of Penticton, perched between Campbell Mountain, Penticton Creek and Carmi Avenue. Some properties have views across the city to Skaha Lake.
Staying in this brand new residential area may seem like an unusual choice, but these high end properties offer the chance to enjoy quiet surroundings and luxury facilities (such as private swimming pools).
Downtown Penticton is still less than 10 minutes drive away, with the beaches of Skaha and Okanagan only a few minutes more. There are no stores or restaurants within walking distance, though there are hiking trails and playgrounds within the development.
Lost Moose Cabins (Airbnb)
If quiet is what you're looking for, consider a drive further up Carmi Avenue to Lost Moose. Three fully self contained cabins sit high above the city of Penticton, each individually furnished and decorated to a high standard.
Though the cabins do not have direct views, there is a panoramic deck for all guests to use. Behind each cabin is a private hot tub and fire pit. It's possible to see the lights of the city below from Cabin 1's hot tub, which is also the most private.
Located 20 minutes drive up the hill from downtown Penticton, Lost Moose is also about 600m higher in elevation. Summer temperatures are therefore a little cooler than they are in the city, a bonus if you struggle with heat!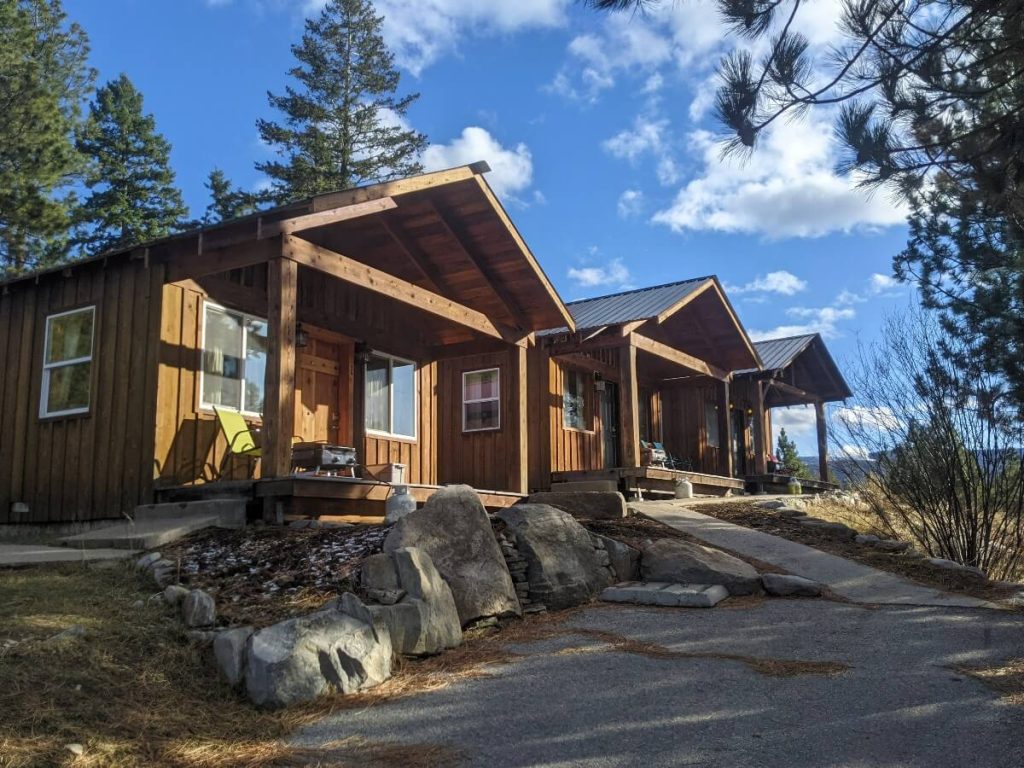 Mountain View Suite (VRBO)
Enjoy a home from home experience at this two bedroom Penticton accommodation rental in Sendero Canyon. It enjoys beautiful sunset views of the surrounding mountains and valley right from the first porch.
In addition to the two good sized bedrooms, there is a full kitchen, well equipped bathroom, laundry and BBQ. Four people can stay comfortably in this modern suite. Couples will find it quite spacious.

Naramata Bench
If relaxing is your number one priority, consider a stay on the Naramata Bench. This is the strip of (bench) land that rises from Penticton and follows the eastern shore of Okanagan Lake.
The first third of the Naramata Bench sits within Penticton city limits and is only a quick drive from downtown. Even so, it feels like a world away. The rolling hills are covered with vineyards, which gently slope towards Okanagan Lake. On a sunny day, it's a little piece of Tuscany in Canada.
Not only are the views spectacular from the Naramata Bench, but there's the added convenience of being close to wineries and hiking/biking trails. Most of the Penticton accommodation in this area is on the smaller, intimate side – think B&Bs and guesthouses.
The disadvantage of staying on the Bench is limited eating options; you'll need to plan ahead and book accommodation with a kitchen, reserve a spot at one of the winery restaurants or be prepared to head into Penticton/Naramata.
Wesbert Winery & Guest Suites
Perfect for a romantic getaway, Wesbert Winery hosts three beautiful guest suites. Each has a private balcony overlooking vineyards and Okanagan Lake. Upscale features include king size beds, separate baths and a complimentary continental breakfast.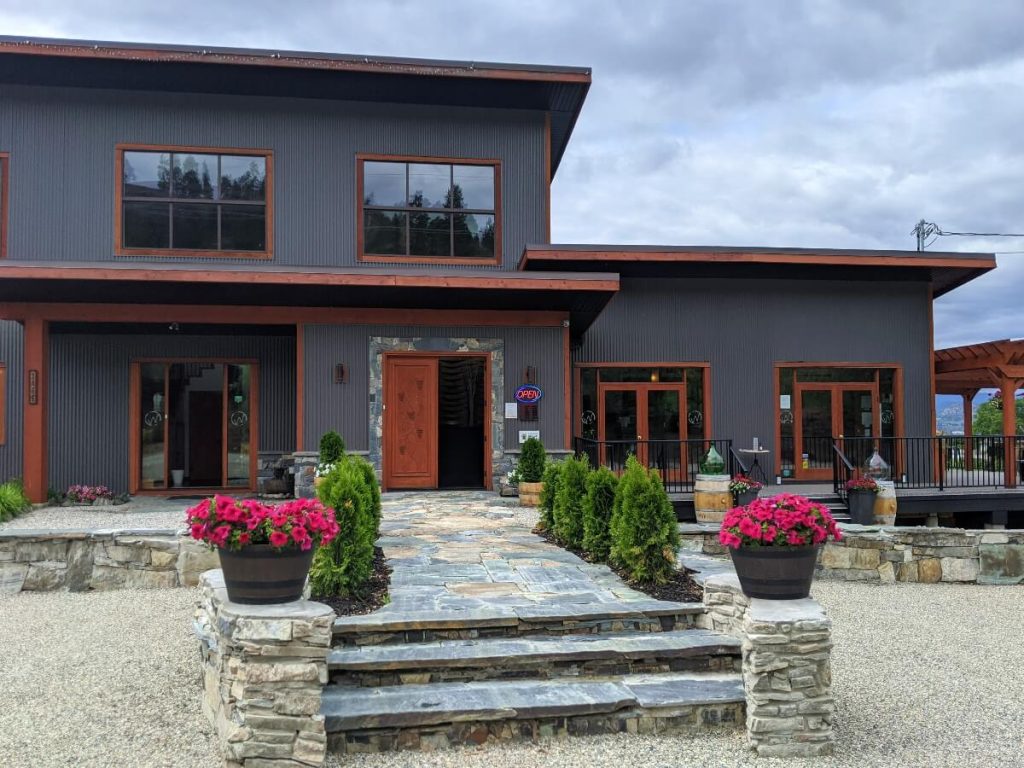 The suites are located in the main winery building itself just upstairs from the tasting room. There is a small guest area on the landing with coffee making facilities and a small kitchenette.
Despite being located right on Naramata Road, the guest suites are still remarkably peaceful. This convenient location ensures quick access to Penticton and the rest of the Naramata Bench. If you don't feel like driving, there are four wineries within only five minutes walking distance!
Dogs: Yes (extra charge)
Phone: 778-738-1113
Address: 1465 Naramata Road (click for directions)
D'Angelo Winery Guest House
Sleep surrounded by vineyards at D'Angelo Winery's Guest House. All of the studio rooms and suites are self contained, with private balconies featuring panoramic Okanagan Lake views. The property has a large (seasonal) swimming pool, shared by all suites.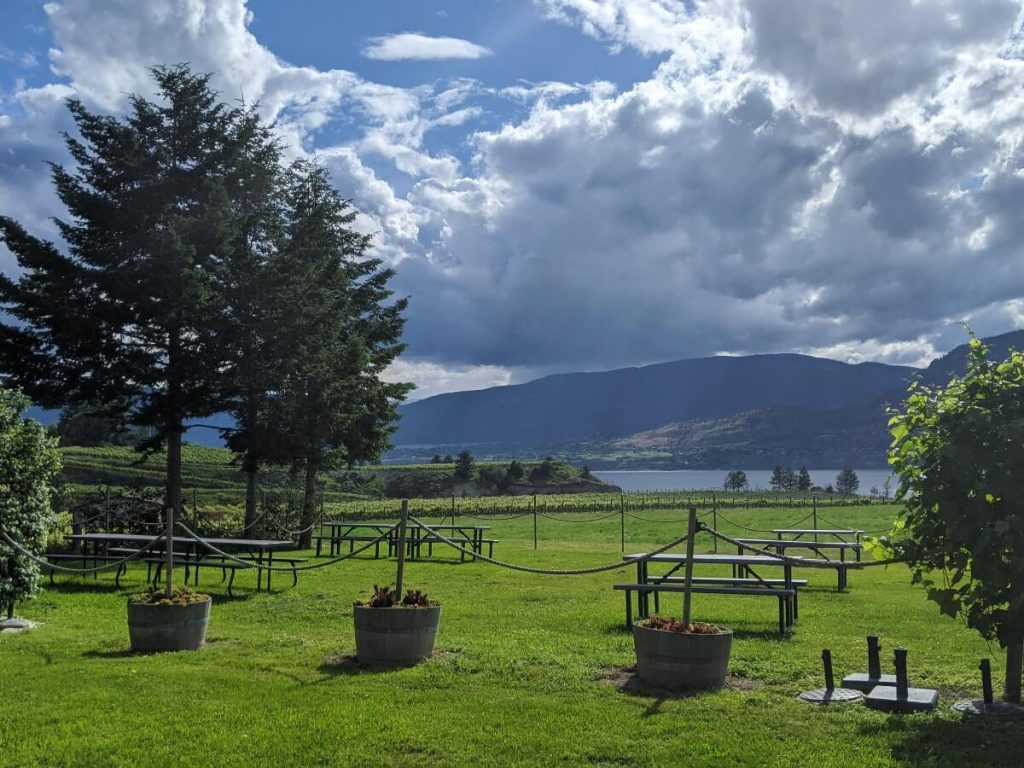 Located just off the Kettle Valley Railway (KVR) Trail, guests can bike and walk to many local destinations. Penticton, for example, is only 4km away – a quick 20 minute cycle (or 50 minutes on foot).
The D'Angelo Winery tasting room is in the adjacent vineyard and features a picnic area, with wine available for purchase by the bottle. In summer, an Italian food truck serves lunch.
Dogs: Yes (extra charge)
Phone: 250-493-1364
Address: 979 Lochore Road (click for directions)

Discover Penticton