Singletree Winery was founded in 2010 by the Etsells, a farming family from the Fraser Valley. There are currently two locations – Abbotsford and Naramata, with the latter being the newest of the two.
The small but bright Naramata tasting room looks out onto three acres of Pinot Gris, Pinot Blanc, Merlot and Cabernet Franc grapes. Okanagan Lake provides a beautiful background, showcased on the tasting room's back patio. Conveniently, Singletree is immediately adjacent to Wesbert Winery and a very short stroll from Hillside Winery.
The name of the winery is not a reference to a lone tree, but the heritage of the Etsell family. The singletree was a harness yoke commonly used on farms during the late 1800s.
Wines sold at the Naramata location use grapes from the Fraser Valley as well as the Naramata Bench. For this reason, you'll find an excellent line-up of crisp white wines as well as fuller reds.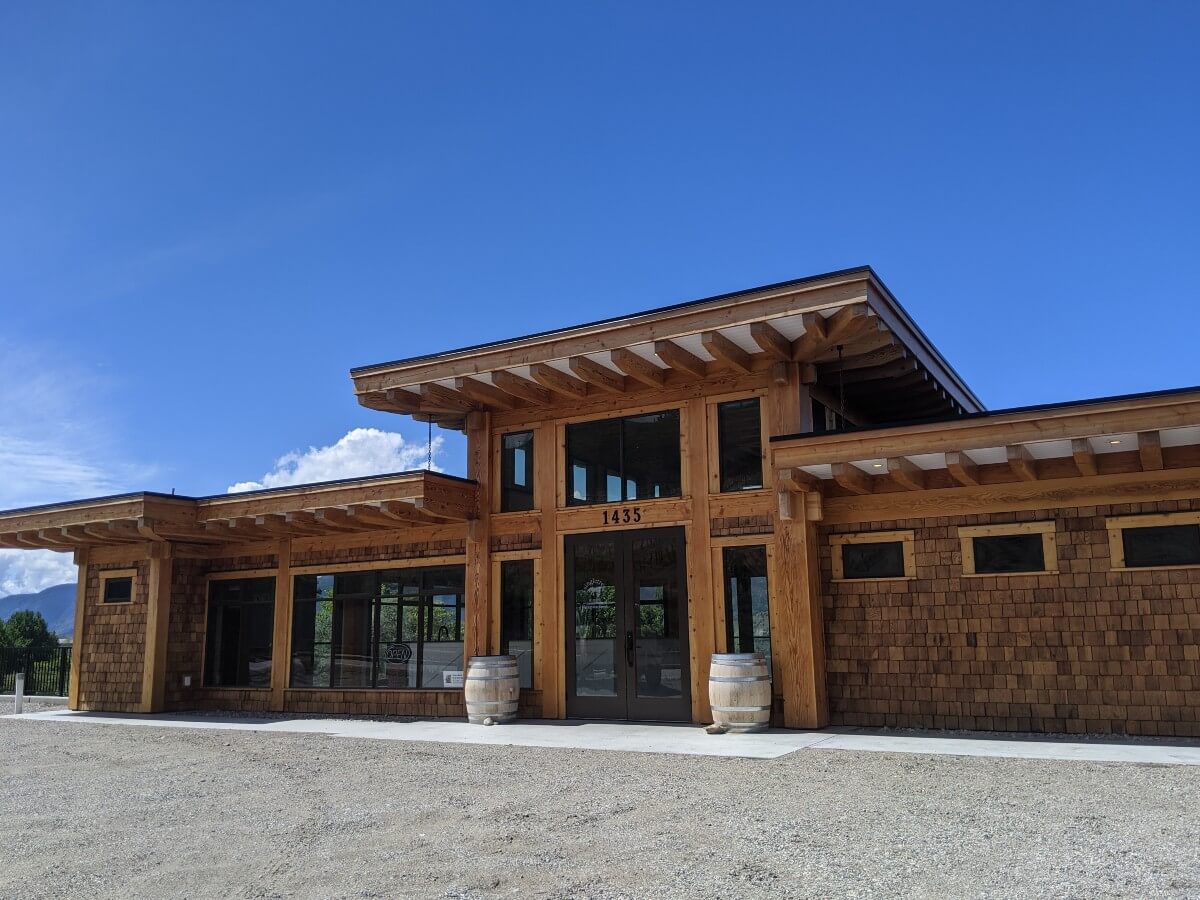 At a Glance
Wine shop times: 12pm-5pm Fri to Sun
Tasting room times: 12pm-5pm Fri to Sun
Tasting reservation: Walk-ins, after hour available
Tasting style: Bar patio
Tasting cost:
Food/restaurant: No
Accommodation: No
Child friendly: No
Pet friendly: No
Weddings and private events: No
Last updated June 2022. Please note that the following information may change at any time due to Covid19 related policies and procedures. For the most up-to-date information, contact individual businesses before visiting. There are some affiliate links in this post – if you click one and make a purchase, we may receive a percentage of the sale at no extra cost to you.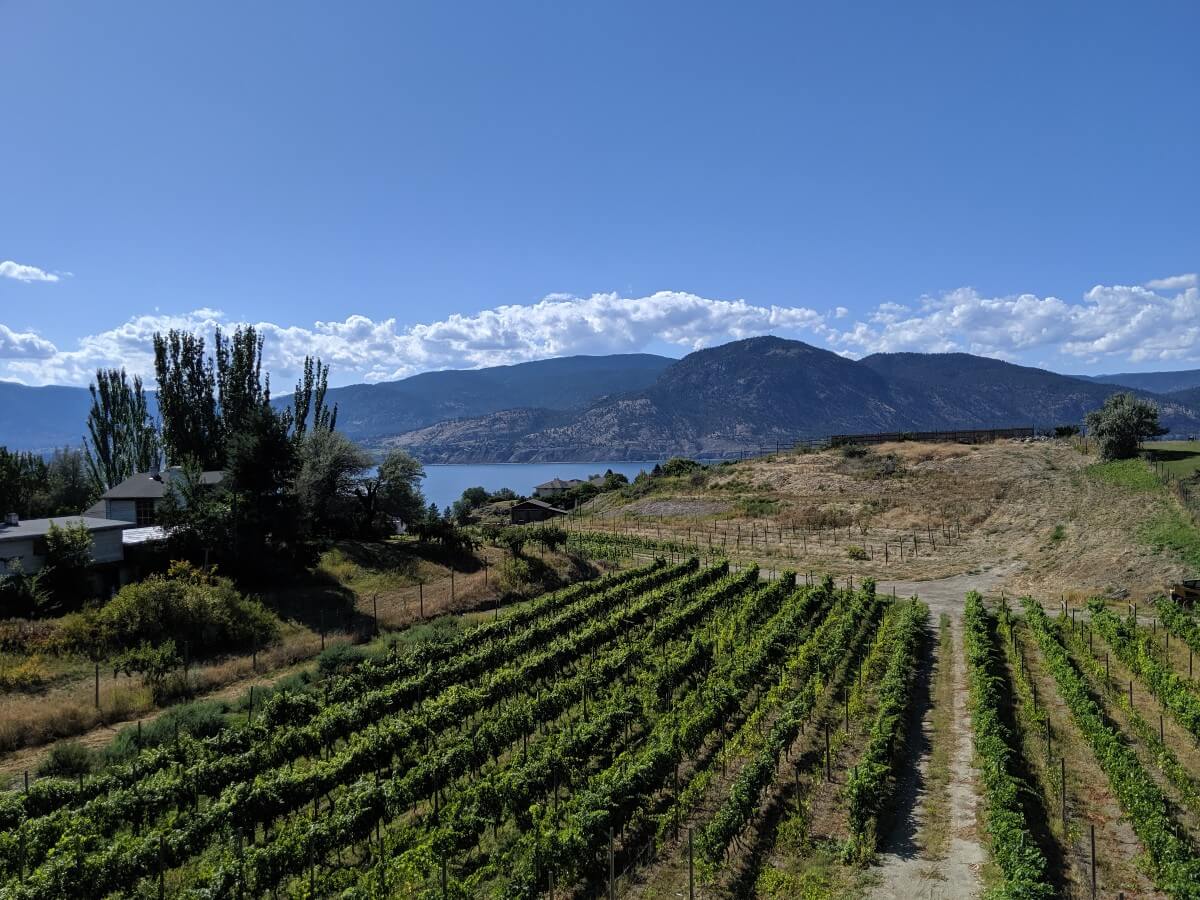 Varietals
Here are some of the varietals you may find in Single tree wines:
Siegerrebe
Viognier
Pinot Gris
Gruner Veltliner
Chardonnay
Sauvignon Blanc
Cabernet Sauvignon
Merlot
Malbec
Wines
| | | |
| --- | --- | --- |
| Name | Description/Varietal | Price Per Bottle |
| 2019 Siggy | White. Siegerrebe | $16.00 |
| 2019 Viognier | White. Viognier | $19.58 |
| 2019 Pinot Gris | White. Pinot Gris | $17.40 |
| 2019 Gruner Veltliner | White. Gruner Veltliner | $17.40 |
| 2017 Sieggie | White. Siegerrebe | $16.10 |
| 2015 Chardonnay | White. Chardonnay | $15.60 |
| 2016 Wild Siggy | White. Siegerrebe | $21.76 |
| 2018 Sauvignon Blanc | White. Sauvignon Blanc | $13.08 |
| 2018 Pinot Gris Fraser Valley | White. Pinot Gris | $13.08 |
| 2018 Siggy | White. Siegerrebe | $13.08 |
| 2017 Sauvignon Blanc | White. Sauvignon blanc | $17.40 |
| 2014 | Red. Merlot, Cabernet Sauvigon | $37.85 |
| 2017 Merlot | Red. Merlot | $26.10 |
| 2018 Malbec | Red. Malbec | $20.10 |
| 2016 Harness | Red. Blend | $30.45 |
| 2018 Victory | Sparkling White. Siegerrebe | $20.87 |
| 2016 Merryfield | Sparkling White. Chardonnay, Pinot Noir | $34.64 |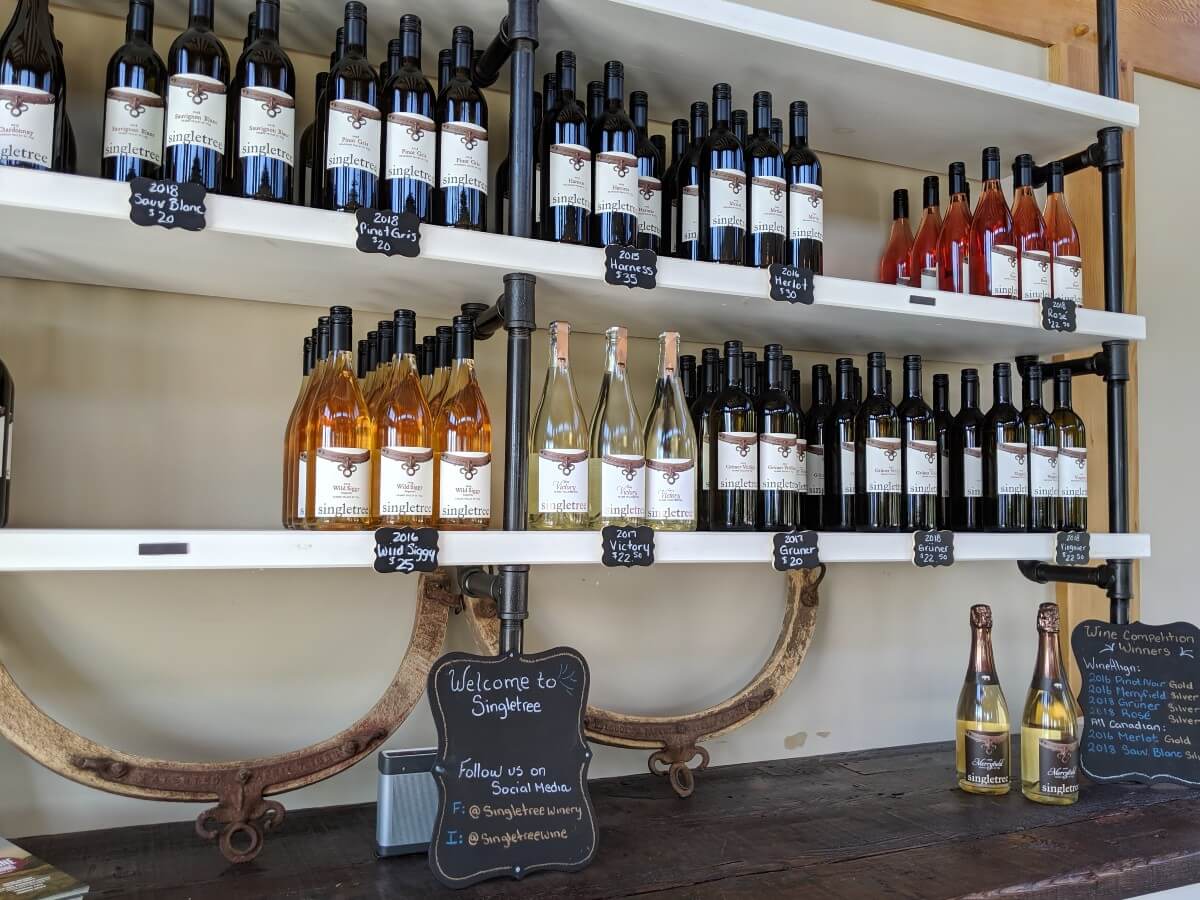 Contact Information
Phone: 1-236-422-0090
Address: 1435 Naramata Road
Website: singletreewinery.com
Discover more wineries