Monster Vineyards is the playful little brother (or sister) of Poplar Grove Winery. Same owners, same winemakers but with a different approach, price point and vibe.
Providing a fun take on the local Ogopogo legend, Monster Vineyards has to be one of the most quirky and fun wineries on the Naramata Bench.
Monster produces a wide choice of approachable wines, ranging from bubbles to crisp whites and deeper red blends and single varietals. A couple of the wines are available in 3L box form, perfect for camping trips or group outings to the beach.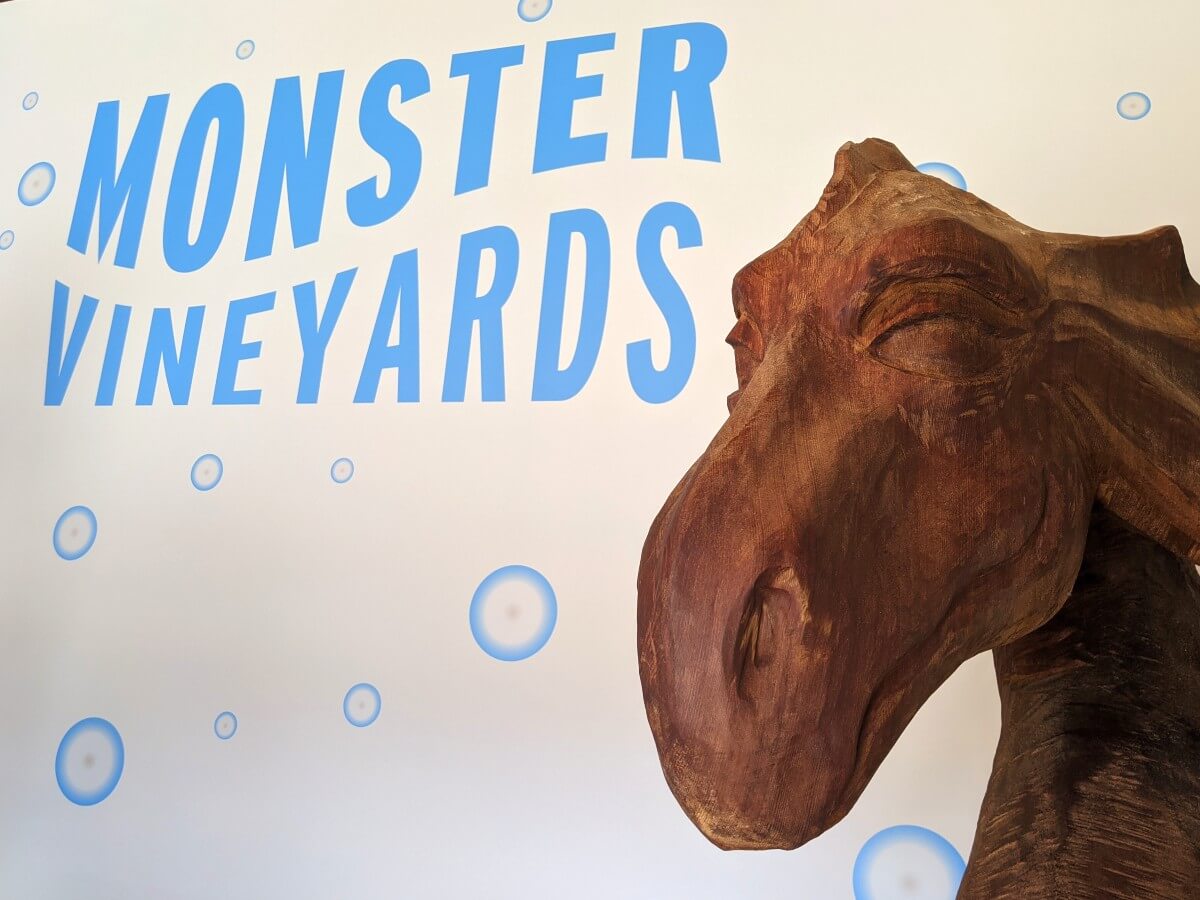 At a Glance
Wine shop times: 11am to 5pm, Thurs to Sun
Tasting room times: 11am to 5pm, Thurs to Sun
Tasting reservation: Recommended
Tasting style: Seated, outside, 20 minutes, 5 wines
Tasting cost: $5, 50% of which is redeemable with purchase
Food/restaurant: Small picnic area
Accommodation: No
Child friendly: Yes
Pet friendly: Yes
Weddings and private events: No
Last updated June 2022. Please note that the following information may change at any time due to Covid19 related policies and procedures. For the most up-to-date information, contact individual businesses before visiting. There are some affiliate links in this post – if you click one and make a purchase, we may receive a percentage of the sale at no extra cost to you.
Varietals
Merlot, Malbec
Cabernet Franc
Cabernet Sauvignon
Petit Verdot
Pinot Gris
Muscat
Viognier
Chardonnay
Verdejo
Wines
| | | |
| --- | --- | --- |
| Wine name | Description/Varietal | Price Per Bottle |
| 2018 Red Eyed | Red. Merlot, Malbec, Cabernet Franc, Cabernet Sauvignon, Petit Verdot | $17.30 |
| 2018 Merlot | Red. Merlot | $17.30 |
| 2017 Cabs | Red. Cabernet Sauvignon, Cabernet Franc | $17.30 |
| 2019 Riesling | White. Riesling | $17.30 |
| 2019 White Knuckle | White. Pinot Gris, Muscat, Viognier, Chardonnay, Verdejo | $17.30 |
| 2019 Skinny Dip | White. Chardonnay | $17.30 |
| 2019 Brut | White. Muscat, Pinot Gris, Viognier, Chardonnay, Verdejo | $17.30 |
| 2019 Rosé | Rosé. Merlot, Malbec, Syrah, Cabernet Franc | $15.57 |
| 2019 Rosie | Sparkling. Merlot, Malbec, Syrah, Cabernet Franc | $17.30 |
| | | |
Contact Information
Phone: 1-250-493-9463
Address: 1010 Tupper Ave
Website: monstervineyards.ca
Discover more wineries